Sponsor Content: Fjällräven
5 of the Country's Most Unique Treks
From traversing forgotten Pacific coastline to walking back in geologic time in Wisconsin, these backpacking trails are unlike anything else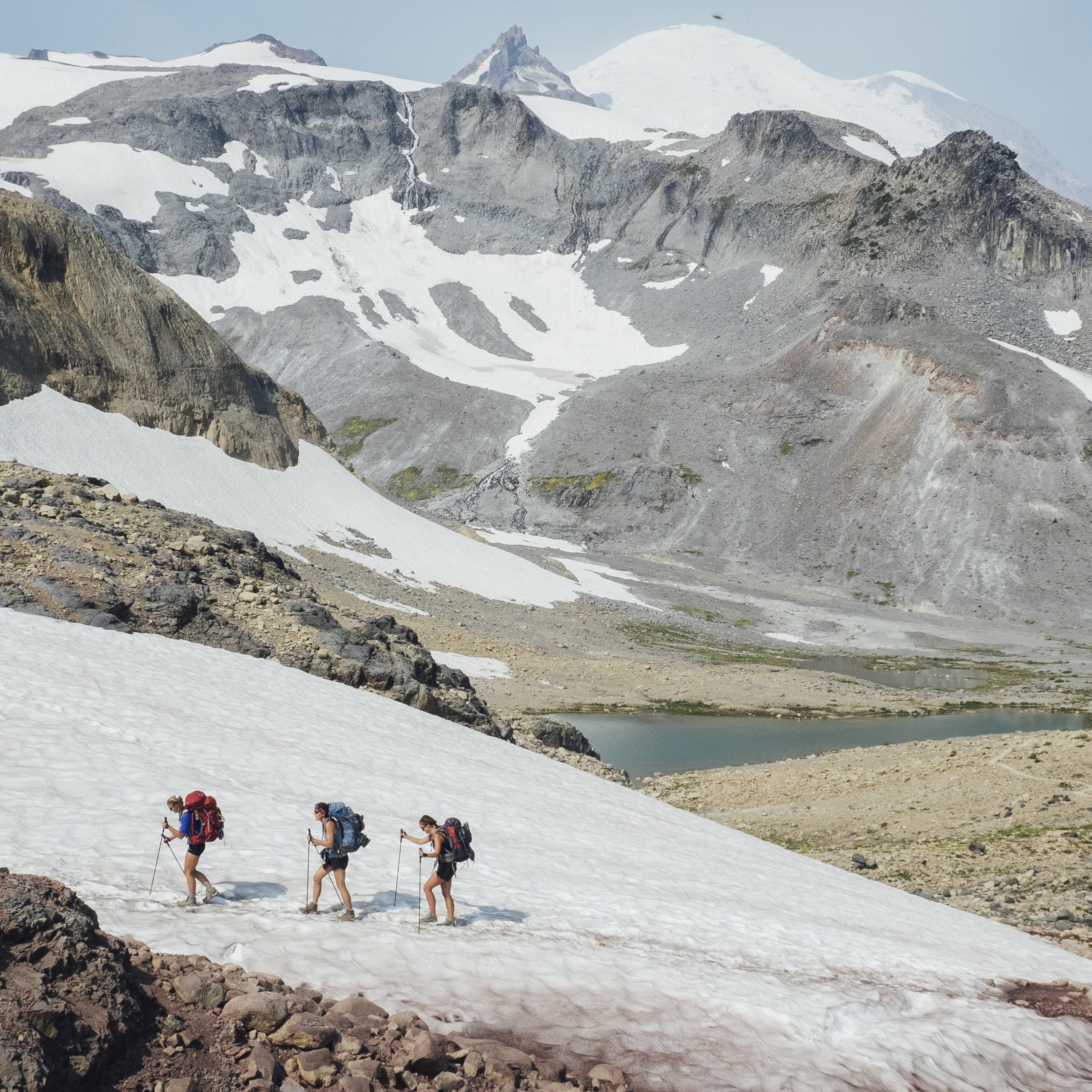 Backpackers in the U.S. have a good problem: There are literally hundreds of world-class trails—of every length, difficulty, and accessibility level—scattered across the country. So where to start? We teamed up with iconic Swedish gearmaker Fjällräven to round up some of the country's most interesting treks. Check out all 18 of our picks, or read on to learn more about five of America's most unique trekking experiences.  
Mountains to Desert Thru-Hike: Arizona Trail, AZ
Difficulty: Moderate | Distance: 880 Miles | Time: 6-8 Weeks
The Arizona Trail snakes 800 gloriously varied miles border to border from Mexico to Utah. Over the course of 43 segments, called "passages," the AZT runs through rolling grassland and stands of saguaro cacti, ascends several of the state's "sky island" mountain ranges, reaches the dramatic Mogollon Rim, traverses forested terrain near Flagstaff, and serves up a crux plunge into and out of the Grand Canyon. Combine passages 11 and 12 near Tucson for a 34-mile, five-to-six-day journey through the Santa Catalina Mountains, where a welcome swimming hole called Hutch's Pool greets you midway. Farther along you'll skirt the Mount Lemmon ski area and pass through mining country near Oracle.
Start: Montezuma Pass near Coronado National Memorial, about 2.5 hours southeast of Tucson.
Tip: The fierce desert heat makes full-on AZT thru-hiking a rarity. Think in terms of segments, and always get the latest word on water availability.
Info: aztrail.org
U.S. Trekking Guide
From classic thru hikes to lesser-known overnights, these are the country's most scenic treks.
Volcanic Circumnavigation: Wonderland Trail, WA
Difficulty: Challenging | Distance: 93 Miles | Time: 10-14 Days
This loop around massive Mount Rainier is one of the true epic hikes in the national park system. You'll pass through massive old-growth forests, climb into the high alpine zone to witness amazing wildflower shows, stare down a dozen or more glaciers, and cross the wild, foamy rivers they feed. All the while, you'll sense the presence of the 14,411-foot behemoth—as impressive in girth as in height. You'll behold its white-capped summit often as you undulate over its numerous ridges—total elevation gain (and loss) is more than 20,000 feet. Wonderland's logistics are simpler than that of most thru-hikes. The trail can be accessed from any of nine trailheads, so it's possible to break up the hike into shorter sections or to do it over the course of several seasons. Eighteen trail camps make life easier, plus you can stash caches at designated spots (accessible by car) in advance. And no small bonus: you end up where you started.
Start: Longmire is the most accessible trailhead, 2.5 hours from Seattle or Portland.
Tip: Permits are in high demand. Apply between March 15 and April 1 and hope for the best.
Info: nps.gov/mora
Prehistoric Amble: Ice Age Trail, WI
Difficulty: Moderate | Distance: 1,200 Miles | Time: 7-12 Weeks
The IAT is not like most thru-hikes. For starters, much of it is incomplete. And it's not really a remote wilderness experience; most of the state's population lives within a short drive of the trail. But it's a gorgeous plunge back in time—drumlins, eskers, kettles, and moraines harken back to the last ice age. Add in old-growth forests, rolling hills, and the odd wolf pack and you have a great hike, no matter which sections you choose to ply. The seven-mile Chippewa Moraine segment, which threads around 20 kettle lakes with campsites galore, makes for a perfect long weekend. Heading east, add the five-mile Harwood Lakes segment—camp on an isthmus between lakes—and then the 6.5-mile Firth Lake stretch, which skirts the rims of kettle lakes in deep forest.
Start: Interstate State Park in St. Croix Falls, about an hour northeast of Minneapolis.
Tip: Early summer is humid and buggy; hold off till late summer or fall if possible.
Info: iceagetrail.org
Tropical Trek: Kalalau Trail, HI
Difficulty: Challenging | Distance: 11 miles | Time: 3 days
The soaring, fluted palisades of the Na Pali Coast appear inaccessibly rugged when viewed from a kayak, helicopter, or coffee- table book. For hikers, they're merely tough, occasionally slippery (read: trekking poles), and wildly rewarding. The Kalalau Trail negotiates those hairy ramparts in 11 steep, winding, narrow miles, plunging into river valleys and to beaches and always back up again until it deposits hikers on Kalalau Beach. Your views of the Pacific are likely to be electrified by the breaching of humpback whales. A layover at Hanakoa Valley (six miles from the trailhead) allows a leisurely pace, and a side trip to Hanakapi'ai Falls, an hour up a river valley from Hanakapi'ai Beach, is more than worth the detour. Kalalau, at the trail's terminus, is an expansive valley with a lovely beach and convenient beachside waterfall for a post-hike shower. Plan to spend the free day exploring the valley, swimming in pools, and hiking through terraces overgrown with java plums, guava, and mango trees.
Start: Haena State Park, about an hour north of Lihue Airport.
Tip: Ocean rip currents mean you should favor river swimming over playing in the surf.
Info: dlnr.hawaii.gov
Coastal Cruise: Lost Coast Trail, CA
Difficulty: Moderate | Distance: 25 miles | Time: 4 days
This remote stretch of California coast is so wild and rugged that it defied the Highway 1 road builders. The fabled Coast Highway had to veer inland between Fort Bragg and Eureka, leaving a pristine Lost Coast of 80 miles, 25 of which are blissfully hikeable. As you trek south to north, the ocean puts on a show to your left, while oceanfront cliffs and the rugged King Range rise dramatically to your right. You'll see whales, river otters, sea lions, and wild surf. Mostly it's an experience of wave-washed solitude, with one man-made highlight along the way: the 1912 Punta Gorda Lighthouse. Elevation gain is negligible, but the terrain is no cakewalk—bring trekking poles. And a few stretches are impassible at high tide—bring a tide table. Other logistics are simple: water sources and campsites are plentiful, and local shuttle services can help you stash a car at trail's end.
Start: Shelter Cove, 4.5 hours north of San Francisco.
Tip: Surfside bears? You bet. Bring a bear canister.
Info: blm.gov
---
In 1960, Åke Nordin founded Fjällräven in his basement in the Swedish town of Örnsköldsvik. Since then the brand has stayed true to its mission of developing timeless, functional, and durable outdoor equipment, acting responsibly toward people, animals, and the environment, and inspiring more people to discover outdoor life.