Apparently the Big Guy Likes it Wet
The ever-soggy West Coast Trail isn't for everyone. You know who to thank for small favors.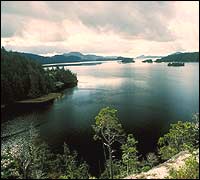 Heading out the door? Read this article on the new Outside+ app available now on iOS devices for members! Download the app.
If you plan to hike Vancouver Island's west coast trail, be prepared: merciless rains can turn the trail, a favorite among serious Canadian hikers, into a hell-slog. So pray to the weather gods before undertaking all or part of the route, because when the sun is shining, there's simply no better place to revel in wild scenes of kelpy northern ocean and tangled temperate rainforest.


The trail—cutting across 48 miles of rocky headlands, undeveloped beaches, and cedar and fir forests—runs from Port Renfrew in the south to Bamfield in the north. Because the trail is part of the Pacific Rim National Park, access is tightly regulated: Just 52 people are allowed to hike it each day, 26 in each direction. Of those, six at each trailhead are permitted on a first-come, first-served basis; the other spots can be reserved as much as 90 days in advance. (For information and reservations, call the park at 250-726-7721 or 250-726-4212.) The West Coast Trail is open from May to September, but the best (i.e., driest) months are July and August. It'll cost you $17 to reserve a spot; the trail-use fee is an extra $47. Additionally, there are Indian-run ferries that take you across the Gordon River and the Nitinat Narrows for $8 each (tickets are refundable if you don't use them).
The trail is not for novices, but boasts man-made niceties to give hikers a fighting chance. Boardwalks, hand-operated cable cars, and 70 sets of ladders (sometimes treacherous due to a lack of maintenance) help get you through the more difficult parts, particularly along the southernmost stretch. Rewards are plentiful though: a quick dip into the heart-charging 50-degree surf, an unrushed meander through the old-growth forest of Carmanah Valley, the discovery of brightly patterned nudibranchs, sponges, and box crabs in pools left by ebbing tides.


If all that sounds good, but a round-trip along the trail doesn't, daily shuttles run by West Coast Trail Express (250-477-8700) make the return leg unnecessary. A bus ride to Victoria from Port Renfrew will set you back $20; from Bamfield, it's $34.