The Ultimate Baja, Mexico Travel Guide
Mexico's 775-mile-long Baja Peninsula is a magnet for travelers in search of their own arid slice of adventure paradise. From surfing to mountain biking to beach lounging, here's how to get off the beaten path and do it right.
Heading out the door? Read this article on the new Outside+ app available now on iOS devices for members! Download the app.
More than 75 percent of Baja's 3.3 million residents live in the northern cities of Tijuana and Ensenada. Much of the rest of the 55,366-square-mile peninsula—surrounded by the Pacific Ocean on the west coast and the Gulf of California on the east coast—is wide-open space, an increasing amount of which is becoming preserved as federal lands, private reserves, and community projects. In total there are more than 14 million acres of protected land and water, including seven national parks, like Sierra de San Pedro Mártir in northern Baja, where Picacho del Diablo, the peninsula's highest peak, rises to 10,154 feet. The rocky hike to the top is rewarded with views of the Pacific and the Sea of Cortez. Mountain bikers can get in on ocean views, too, with an exponentially growing network of trails in the mountains surrounding La Paz, Todos Santos, and Los Cabos.
But Baja's most celebrated feature is its 2,038 miles of jagged coastline, which courts surfers, stand-up paddleboarders, sailors, scuba divers, snorkelers, paddlers, and anglers. Jacques Cousteau famously coined the Sea of Cortez, home to 800 varieties of fish, "the world's aquarium." Many of those species are protected in reserves like 27-square-mile Cabo Pulmo National Marine Park on the southern tip of Baja. On the Pacific side, the new, nearly three-million-acre Baja California Pacific Islands Biosphere Reserve is a protective sanctuary for gray whales and sea turtles.
My first experience in Baja started in Tijuana with a fish-bowl sized margarita. It was 1988, and the city was festive and gritty. Its complexity intrigued me. A decade later, I hopped a flight to the pastel-hued 17th-century mission village of Loreto to find it full of Hawaiian-shirt-clad fishermen en route to compete in a tournament for dorado, marlin, and sailfish in the Sea of Cortez. I headed south to the solitude of a nine-room eco-resort (which has since closed) on a searing white-sand beach looking out on the mysterious, cacti-studded Isla Danzante.
Three years ago, my boyfriend and I rented a car to explore the southern tip of the peninsula, mountain-biking the foothills above Los Barriles, snorkeling with sea lions off Isla Espí‪ritu Santo, and eating whole grilled red snapper while sipping jalapeño margaritas at an under-the-radar restaurant on the edge of La Paz's marina. Along the way, we found a wind-carved canyon pierced by sunlight above the Sea of Cortez and long stretches of empty Pacific white sand.
A few months ago we returned, going deeper into the peninsula, exploring a network of new mountain-bike trails, paddling the newly protected waters of the Pacific Islands Biosphere Reserve, and meeting with a young entrepreneur, Adolfo de la Peña, in the old mining community of San Antonio, where he is trying to resurrect his historic community. As quickly as things are changing in Baja, some of the best things remain the same, like that La Paz restaurant, where we returned to eat grilled red snapper. The fish was as exquisitely fresh as we remembered it.
What You Need to Know Before Visiting Baja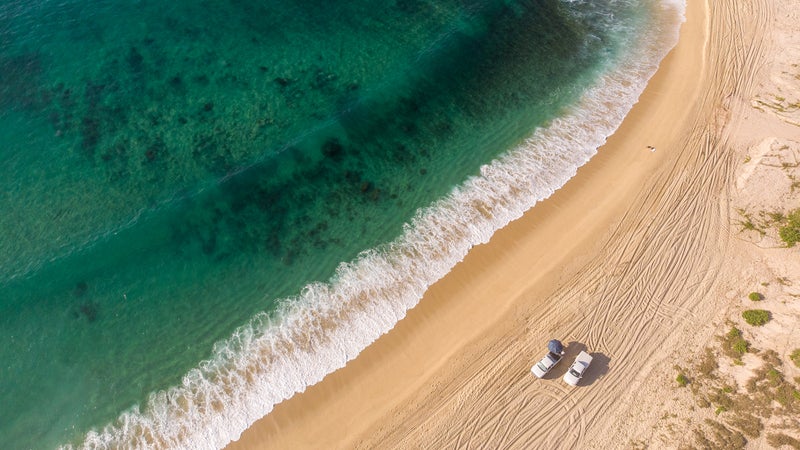 Prepare for warm days and cold water: The Baja sun is hot, but the Sea of Cortez and Pacific Ocean can be cold, so pack protective Buffs, hats, UPF 50, and quick-drying cover-ups. Also bring a solid pair of shoes beyond flip-flops—cactus spines are omnipresent, from the beaches to the mountain-bike trails.
Get supplemental car insurance: If you plan to drive your car into Baja, make sure it's in prime working order. Pending how remote you plan to get, you may not be able to find replacements parts if needed. For an idea of spare parts to bring along, visit All About Baja's Vehicle Preparation Checklist. And be sure to buy a Mexican car-insurance policy as U.S. plans don't work south of the border. Get a quote from Lewis and Lewis, a company that has been selling Mexican auto insurance since 1983, from one-day to one-year policies.
Or rent a car: If you aren't driving down yourself, unless you plan to never leave a resort, you'll want a car to explore. Note that the minimum age for car rental is 25 years old, but some companies accept drivers 21 and older with a valid driver's license from another country and add a surcharge to the rental fee. American car-rental agencies like Hertz and Thrifty are ubiquitous at the Los Cabos airport—and be sure to buy the Mexican rental insurance. According to Mexican law, uninsured drivers can be arrested and held for liable damages.
Drive only during the day: For three key reasons: there are wandering cows, the roads are narrow with no shoulders, and in the evening, there are a lot more big-rig cargo trucks.
Find a less expensive flight across the border: Fly to San Diego, then take a 30-minute shuttle, Uber, or taxi to the Cross Border Xpress (CBX) facilities, a 390-foot-long pedestrian skybridge that crosses from California into Mexico and goes directly to Tijuana International Airport. If you use the CBX service (from $16 one way, and an additional $12 one way if you use the CBX shuttle), there's no need to enter Tijuana airport's main departure lounge. You'll pass through the CBX's security and go directly to your gate. On a good day, it's possible to reach your gate in about twenty minutes (though you should always allow for extra time pending high volume travel days and other factors). Domestic Mexican airline Volaris offers direct flights to Loreto, La Paz, and Los Cabos, and Calafia Airlines has direct flights to Loreto and La Paz.
Check travel advisories for the region: The Baja Peninsula is safer than most of mainland Mexico, but the situation is fluid, so keep an eye on U.S. State Department travel advisories.
Do your camping homework: Unlike the U.S., camping is not strictly regulated in Baja, which has its pros and cons. You can find yourself alone on a stretch of golden sand savoring the sunset of a lifetime, but there are also fewer amenities, like toilets and trash receptacles. The best places to camp are near small coastal towns and away from mega resort corridors, like Los Cabos. Read online forums and feel out the vibe of the place before staking the tent.
What's the Best Time of Year to Visit Baja?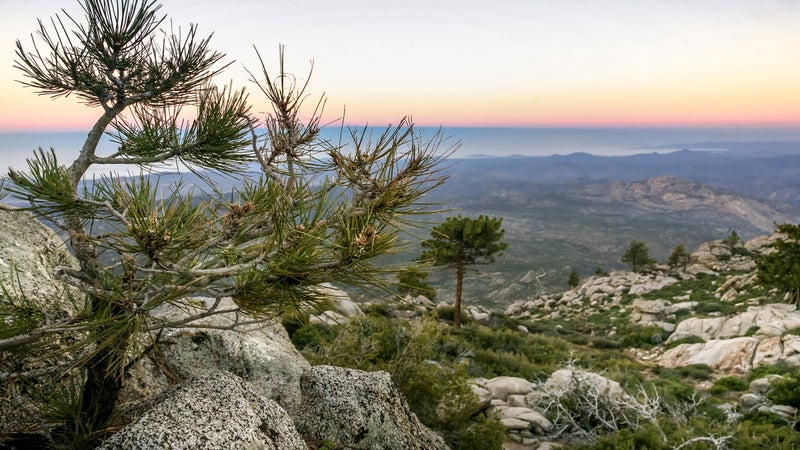 January to March is prime whale-watching season and the height of tourist visits. Summer is the best time to surf and brings temperatures that can soar into the nineties. Spring (May and June) and fall (October and November) have more moderate temperatures—the seventies to eighties—and fewer crowds, but beware that the Pacific Ocean hurricane season runs mid-May through November. In the fall of 2019, the area around La Ventana was deluged with rain, which made the desert lush and green but also left roads impassable in some places. The calmest water for sea kayakers can be had from October through early December, the best time for kiteboarders and windsurfers is mid-October to early April, and anglers can try their luck year-round, depending on what they want to catch.
Where to Go in Baja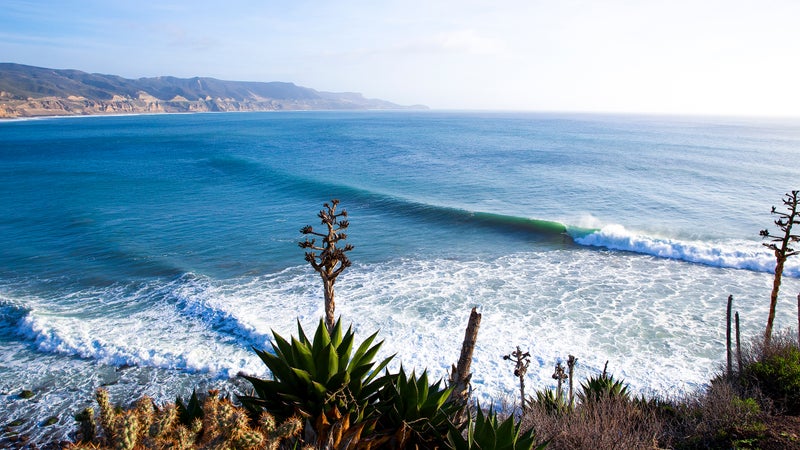 We've separated the peninsula into four general regions and chosen the best adventures and activities to do in each, from drinking world-class wine in Baja Norte, the official designation of the northern half of the state, to surfing off Los Cabos, at the southernmost tip. Driving the entire 775-mile-long peninsula, as many Americans do annually with their dogs, tents, mountain bikes, surfboards, and SUPs, takes a solid week.
Baja Norte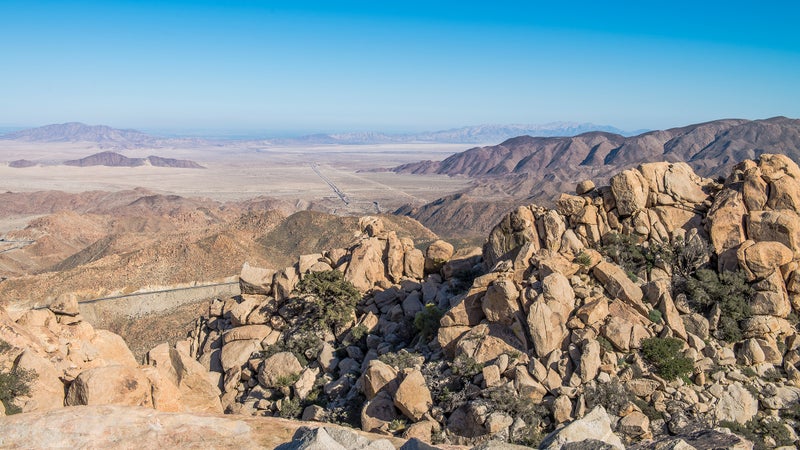 For a great starter Baja road trip, complete with surfing, hiking, canyoneering, kayaking, and an opportunity to redefine your notion of what constitutes Mexican food, try this 346-mile loop, which starts and ends in Tijuana, going through Valle de Guadalupe and its vineyards, the coastal city of Ensenada, and the little-known Constitution of 1857 National Park along the way. Add stuffing yourself with the world's most authentic fish tacos, and you've got way more fun than you can fit into a five-day outing, the ideal amount of time for an introduction to this area. Or simply choose a couple of the destinations or adventures below.
Day 1: Cross the border from San Diego into Tijuana
Tijuana is experiencing a cultural renaissance, with cutting-edge architecture, colorful murals, and a spicy food scene. Enter into Mexico at Mercado Hidalgo, a plaza flapping with Mexican flags and brimming with piñatas, sombreros, and sweet dulces. Stop for lunch at Telefónica Gastro Park, a former vacant lot turned food-truck haven where creative eats like octopus-and-corn-fungus tacos go well with smoky cucumber margaritas. In the afternoon, meander the mural-and-graffiti-filled pasajes, or artistic corridors, of El Centro. Head to Border Psycho Brewery for a smooth cream ale, then on to 52 Kool for an explosion of traditional central-Mexico flavors and classic Baja ingredients, like seafood, quail, and organic chicken.
Day 2: Head east to Tecate and then on to Valle de Guadalupe
From Tijuana, head east on Highway 2D for 36 miles to Tecate. Stop at Restaurante Amores in Tecate, where the husband-wife owner-chefs have impressive culinary pedigrees. Order the chile- and garlic-infused tortilla soup, garnished with octopus. From Tecate, turn south on Mexico 3, and drive 46 miles to Valle de Guadalupe. The award-winning wines in this region are the handiwork of a little-known sect of Russian Christians who planted grapes when they immigrated here in 1905. In the past decade, the valley has become Mexico's answer to Napa, with chic tasting rooms and sleek hotels with infinity pools. At Fauna, a relaxed restaurant within the exquisite hotel Bruma, local David Castro Hussong has created an organic oasis on 200 acres of vineyards, where the stark elegance enhances the surrounding arid landscape.
Day 3: Surf in Ensenada
A tranquilo fishing port 30 miles south of Valle de Guadalupe, the surf here stretches north and south of the city, with serious waves at beaches like La Fonda, El Pico, and Stacks. Gentler breaks are farther south, at Playa Hermosa. Stop in at Playa Hermosa Surf and Skate Shop for rentals, lessons, or to watch owner Alfredo Jaro and his crew shape boards. About 45 minutes south of the city, you'll find La Bufadora, the second-largest marine geyser in the world. It's a well-touristed spot, but it's awe-inspiring to watch the salt water blow and is also a good way to scout the incredible coasteering options available alongside the rugged Pacific. Ensenada-based X Tour offers canyoning, rappelling, hiking, kayaking, or a combination of all four in one day.
Day 4: Hike and seek wildlife in Constitution 1857 National Park
The Sierra de Juarez is 60 miles east of Ensenada on Mexico 3. An oasis for mule deer, bighorn sheep, cougars, coyotes, bobcats, and soaring falcons, the 12,380-acre forested park sits at about 5,000 feet and boasts high-alpine Hanson Lake. Hike Jeffrey Route, a two-mile loop from the visitor center. Along the path sits a representation of a Kumeyaay camp, the indigenous people who settled in what is now the southwestern U.S. and Mexico more than 12,000 years ago. Or hike to the top of Hanson Hill, the summit of which is almost 6,000 feet.
Day 5: Head back to Ensenada
Take advantage of the incredible array of fish and shrimp tacos sold at stands on nearly every Ensenada corner. They go well with the locally brewed Aguamala Astillero Imperial IPA. Tijuana is a 70-mile drive north on coast-hugging Mexico 1D.
Where to Stay in Baja Norte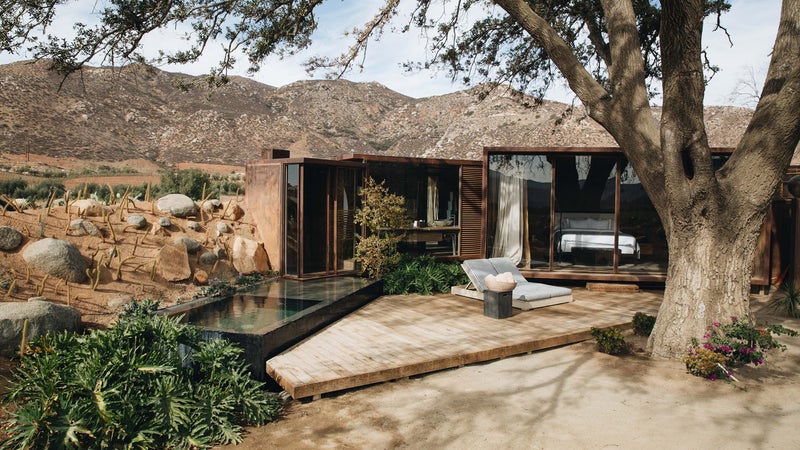 Tijuana: One Bunk Tijuana, a 14-room boutique hotel in the center of everything, with clean, modern lines, exposed brick walls, and beds so comfortable you can sleep off an all-nighter. Doubles from $55
Valle de Guadalupe: At Bruma, eight glass-and-wood suites surround a main living room, pool, and deck and are so organically designed that you feel immersed in the surrounding landscape. Doubles from $438
Ensenada: There's a good array of Airbnbs here, or book an ocean-view room at Torre Lucerna, an updated old-school resort hotel with clean and peaceful rooms. From $131
Camping: There are a few gated campgrounds, like Playa Saldamando, eight miles north of Ensenada. For a more private option, drive south of Ensenada, boot up Google Earth, zoom in, and find dirt tracks that lead to any empty remote coastline, where you can camp as long as you leave no trace.
Los Cabos and Todos Santos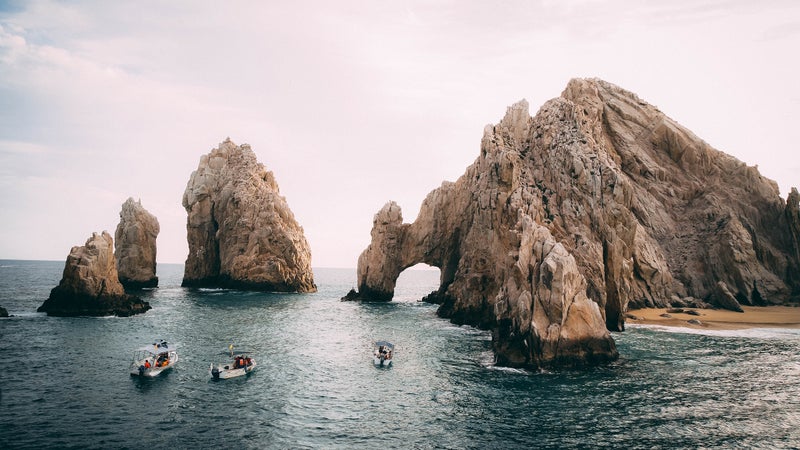 On the southern tip of Baja, you'll find Los Cabos, a collective term for the town of Cabo San Lucas, to the west; the 18th-century mission village of San José del Cabo, to the east; and the 20-mile corridor of sand and rock escarpments in between. Los Cabos deserves its rap as the hub for tequila-slamming, scantily-clad spring breakers, largely because it's easily accessed by Los Cabos International Airport. But the region still has gorgeous bones, like Cabo El Arco, the craggy rock arch that delineates where the Pacific ends and the Sea of Cortez begins, and, on the far east end of San José del Cabo, Estuary Beach, which is backed by a freshwater lagoon that harbors more than 350 species of vegetation and wildlife. In between are resorts for every budget, 11 major surf breaks, ample opportunities to watch whales or deep-sea fish for wahoo, marlin, and tuna, and culinary oases, like Flora Farms, a 25-acre organic working farm and an open-air restaurant in the foothills of Sierra de la Laguna. For those who prefer more solitude with their sand and waves, the laid-back village of Todos Santos is about an hour's drive north of Cabo San Lucas on Mexico 19. Beware: many beaches in Los Cabos are often closed to swimming due to deep drop-offs near the shoreline that create dangerous riptides and currents, so heed the signs. The most swimmable spots are Medano Beach, in the heart of Cabo San Lucas; Chileno Beach, in the luxury hotel zone northeast of Cabo San Lucas (and it has lifeguards on duty); and Playa Acapulquito, or Old Man's Beach, near San José del Cabo.
What to Do in Los Cabos and Todos Santos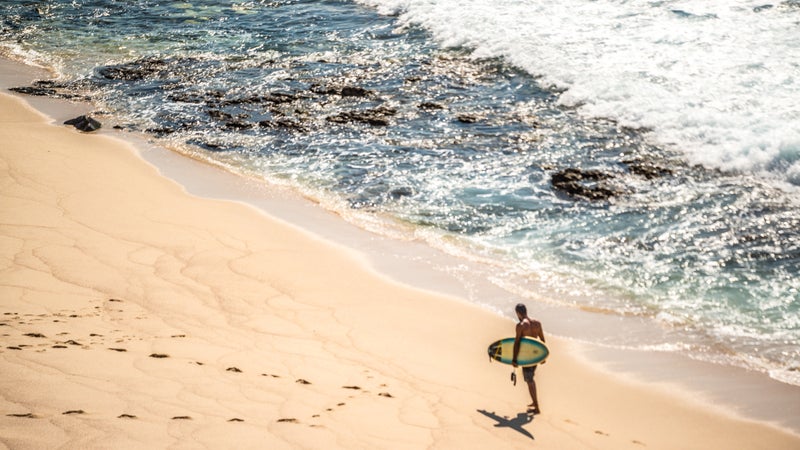 Find surf action for everyone in Los Cabos: From the hard-charging surfer to the adventurous family of five that wants the ultimate multisport ocean vacation, there's something for everyone in Los Cabos. The string of breaks around Playa Costa Azul is the center of Los Cabos surf culture. Zippers, the rocky right-point break close to the beach, is home to the Los Cabos Open of Surf in June and has been part of the women's and junior World Surf League pro tours for the past few years, while Old Man's Beach and Pescadito are favorites for longboarders and beginners. Costa Azul Surf School offers rentals, lessons, and expert guides who lead excursions to lesser known breaks.
See a humpback whale breach: It's one of the most awe-inspiring phenomena in the animal kingdom. Whales begin migrating south to the Los Cabos region in the middle of November, birth their calves in late December and January, nurse them through March and April, then begin their migration north. During this generous six-month window, take a two-and-a-half-hour Zodiac tour with Whale Watch Cabo (from $89). It's led by a marine biologist and is the most exciting way to see the whales as safely for them—and for you—as possible.
Go deep-sea fishing: Los Cabos has been hit hard with the illegal harvesting of billfish, so it's imperative that you do your research on the most ethical charter company before signing up for a day of deep-sea fishing. One of the most long-standing is Pisces Sportfishing, which started operating in La Paz in 1978 and eventually migrated south to Los Cabos. In 1995, it was honored with a Lifetime Achievement Award for Conservation by the International Game Fish Association. Since then several of its captains have been recognized with the Billfish Foundation Award for most striped marlin released worldwide. The company charters everything from 22-foot skiffs to mega yachts (from $112).
Lose the crowds in Todos Santos: This beautifully preserved 18th-century mission village an hour north of Los Cabos isn't exactly a secret, but it's still a nice big resort antidote, with artisan shops, boutique hotels, and Hotel California, mistakenly believed to be the inspiration for the famous 1976 Eagles song. Mountain bikers will want to stop in at Over the Edge, a full-service bike shop that rents current models and full-suspension mountain bikes and can guide riders or point them in the direction of the area's 30 miles of hand-built trails that roll over dunes and into the foothills and show off panoramic Pacific views.
While Todos Santos is near the Pacific, it's not actually on the Pacific. Drive west of town, and almost any road will dead-end at a dune from which you can walk the seemingly endless stretch of golden sand known as La Cachora beach. Its water is so rough that surfers gravitate five miles north of town to La Pastora, a sandy beach with fun right breaks. You'll need four-wheel drive to get there, but it's worth it, especially since it's also home to the Green Room restaurant, named for the ephemeral feel and color on the inside of a wave. The restaurant's mezcal margaritas and smoked tuna pâté, served right on the beach, are the perfect way to wind down a busy day.
South of Todos Santos is Pescadero, a reef break close to shore, and Cerritos, a sandy-bottom beach break with the most consistent surf in Baja Sur. Los Cerritos Surf Shop rents boards at the beach from sunrise to sunset. Mario Surf School and Pescadero Surf Shop, in the small hamlet of El Pescadero, also offer surfboard rentals, in addition to lessons and excursions (including kayaking and stand-up paddleboarding). Fuel up for the morning with a cup or two of organic, honey-processed java and a veggie frittata with spicy Mexican salsa from Baja Beans, an outdoor café nestled among mango trees.
Three species of endangered sea turtles nest on the beaches of Todos Santos from October through March: the olive ridley, black, and critically endangered leatherback. Help them out by volunteering with La Sirena Eco Adventures, a nonprofit that needs people to care for hatchlings, relocate nests, clean up the beach, and guard the turtle sanctuary.
Where to Stay in Los Cabos and Todos Santos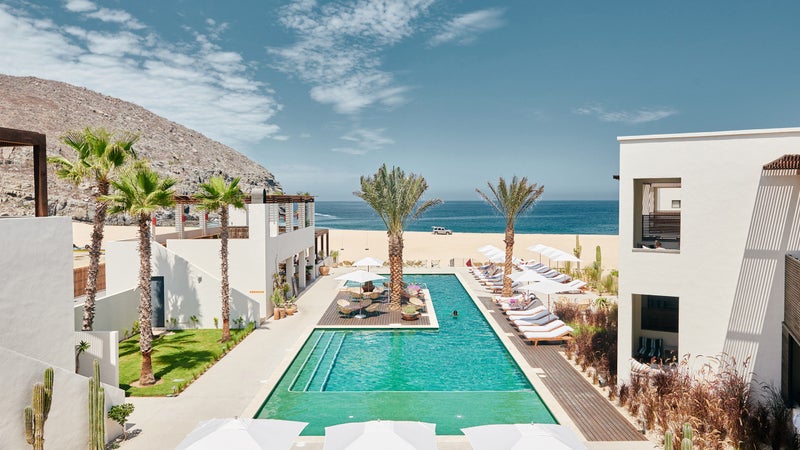 Airbnb and VRBOs are a ubiquitous option Los Cabos—Todos Santos alone offers more than 200 VRBO listings and endless Airbnb rentals, from canvas tents to palatial beachfront haciendas.
Todos Santos: At the end of a dirt road on isolated Punta Lobos beach, 3.5 miles south of town, the newly opened, 32-room Hotel San Cristóbal is a throwback to simpler times, where guests gather around a bonfire at night to sip cervezas. The on-site restaurant serves locally harvested bounty, from fish caught earlier in the day to herbs and greens pulled from nearby fields. From $270
Or check out La Sirena Eco Adventures, which offers basic, clean eco-casitas, some with fully equipped kitchens, for their volunteers. From $60
Los Cabos: Los Milagros, a 12-room boutique hotel, is a surprisingly inexpensive and peaceful oasis in the heart of Cabo. It was founded by a cyclist who rode his bike the length of the Baja Peninsula and loved Los Cabos so much that he founded the property in 1996. The walled courtyard and trellised bougainvillea are welcome respites from the action outside. From $70
Another great option is the Montage Los Cabos, the first Montage property to open outside the U.S. This luxurious and intimate new resort fronts a sandy crescent beach on Santa Maria Bay, which protects swimmers and snorkelers from the riptides and waves. There's a 40,000-square-foot spa, but lounging by the exquisite infinity pool is a meditation unto itself. From $825
The East Cape and La Paz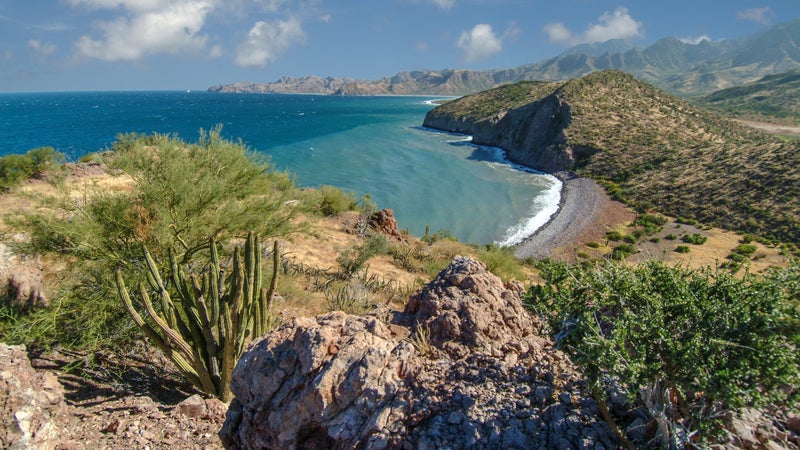 Long the haunt of sea-loving luminaries like John Steinbeck and Jacques Cousteau, Baja's Sea of Cortez on the east coast is a marine biologist's dream. It's also a wind machine from mid-November to early March for kiteboarders and windsurfers. The less traveled East Cape stretches from the marina of San José del Cabo some 90 miles north through Cabo Pulmo National Park to the gentrifying coastal villages of Los Barriles and La Ventana. Fifty miles farther north is La Paz; this city of 240,000 residents, with its hopping malecón, or seaside promenade, is the jumping-off point for the 244 protected World Heritage site islands, the largest of which is Isla Espíritu Santo. Drive 221 miles farther north and you'll find the 17th-century mission village of Loreto, the original point from which Jesuit priests set out to evangelize the peninsula, and San Ignacio Lagoon, the winter sanctuary of the eastern Pacific gray whale. The best way to access this part of the peninsula is to fly to San Diego, cross the border to the Tijuana airport, and book a flight directly to La Paz on a regional airline. The other option is to fly into Los Cabos International Airport and rent a car. Reliable shuttles like Ecobajatours make multiple trips between the Los Cabos airport and La Paz daily.
What to Do in the East Cape and La Paz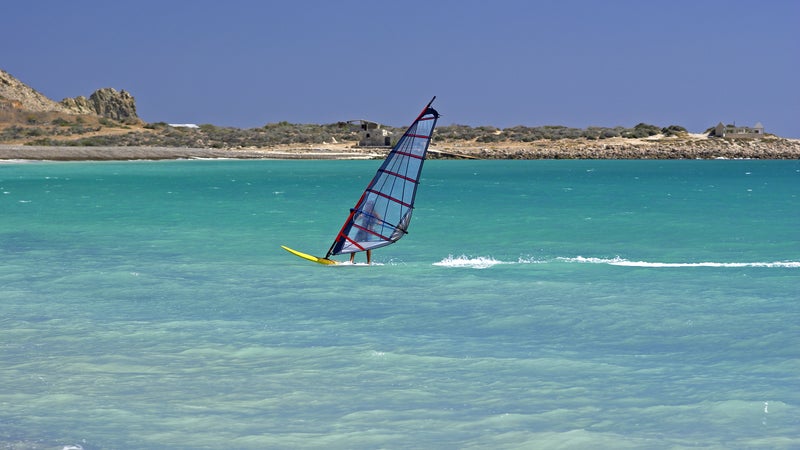 Snorkeling and scuba diving at Cabo Pulmo National Marine Reserve: In the 1990s, local fishermen stopped commercial fishing to let the waters and reefs regenerate. Since then, the reefs have rebounded, biodiversity has increased more than fourfold, and every formerly endangered major species has rebounded. Experience the comeback by snorkeling with Cabo Pulmo Sport Center, owned by the descendents of Jesus Castro Fiol, a pearl diver who was born here in 1897 and was instrumental in creating the national marine reserve. The center's two-and-a-half-hour tour (from $55) explores coral gardens and the sea life that lives in them. Go deeper with Cabo Pulmo Beach Resort, whose expert instructors offer diving at 14 sites, like the 45-foot deep El Vencedor wreck, and possible encounters with tiger and bull sharks at the coral reef La Esperanza (from $139).
Kiteboarding and windsurfing at Los Barriles and La Ventana: November through March, it's not uncommon for "El Norte" to howl down the coastline at almost 30 miles per hour, which is why the fishing villages of Los Barriles and La Ventana, 50 miles farther north, come alive with wind fanatics in the winter months. Based in the beachside Hotel Playa del Sol (from $140), Vela Baja is a one-stop shop for kiteboarding, windsurfing, stand-up paddling, freediving, mountain biking, and, now, foiling. The laid-back little enclave offers special foiling clinics from world-champion pros like Daniela Moroz, updated equipment rental, and a community of like-minded souls. La Ventana has a long beach with a natural arc that, thanks to the wind direction, ensures even beginners will eventually wash ashore. The hotel, restaurant, and surf school Baja Joe's is situated in the heart of the beach, which means instantaneous action when the wind blows. It offers International Kiteboarding Association–certified instruction for all levels, three-day camps, equipment rentals, or storage for surfers who bring their own gear.
Mountain biking at Rancho Cacachilas: Mountain bikers head to the hills at Rancho Cacachilas, a solar-powered adventure resort that sprawls across 35,000 acres in the Sierra Cacachilas between La Ventana and La Paz. With 24 miles of existing and 43 miles of planned International Mountain Biking Association–sanctioned singletrack on the ranch, the riding is designed for all skill levels and and offers great ocean views. There's also 37 miles of trails for running and hiking, and the ranch offers sustainability-oriented classes like beekeeping, artisan cheesemaking, seed storage, and water collection.
Sea kayaking and snorkeling: La Paz has a three-mile-long seaside promenade that makes for fun people watching during a sunset stroll after dinner at La Costa, a low-key seafood restaurant tucked into the marina with tables in the sand. Spend a night in the city, then launch into the Sea of Cortez to kayak, snorkel among sea lions and whale sharks, and stretch out on the sand at one of many empty beaches. Sea Kayak Adventures offers one-to-ten-day journeys from La Paz up to Loreto and over to the Pacific Ocean's Magdalena Bay. Trips include everything from kayaking to whale-watching to hiking. To take a deep dive into outdoor leadership and personal communication skills, sign on to one of NOLS's three Baja adult expeditions, an eight-day coed or women-only coastal sailing expedition, or a seven-day women's sea-kayaking expedition.
Surfing: The waves on the Sea of Cortez are less consistent than the Pacific. Most breaks require a big south swell or a strong storm. If you hit the timing right, you'll find a nice, lonely right break at Nine Palms Beach in Santa Elena Bay, about an hour east of San José del Cabo. BYO boards.
Hiking: This region of Baja has a rich human history that dates back at least 10,000 years. The aforementioned Sea Kayak Adventures offers a five-day Cowboys and Cave Paintings journey from Loreto to the Sierra de San Francisco, where guests hike to visit many of the thousands of Unesco World Heritage cave paintings of people, deer, snakes, birds, and even whales. Another great day hike between La Paz and La Ventana that offers an opportunity to interact with locals is the old, partially cobblestoned Camino Real de Santa Ana, the route miners used for 300 years to transport precious metals north to San Diego. Start at the Museo Ruta de Plata in El Triunfo, then hike roughly five miles along the Camino to the town of San Antonio, where local Adolfo de la Peña, whose father was a miner, has started the the cooperative Las Realeños de San Antonio. You can book an appointment with Adolfo, who will guide you through the town's mining history, complete with a hike to two nearby mines—one of which is underground—and the best local sites, including the home of Bertholita, who cooks visitors spicy empanadas and queso fresco, and a local art cooperative.
Where to Stay in the East Cape and La Paz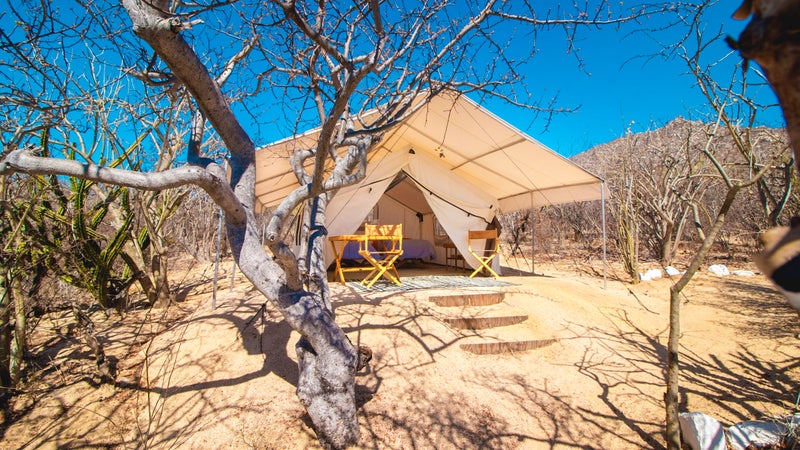 Cabo Pulmo: Cabo Pulmo Beach Resort has various-size villas and bungalows, all of them clean and colorful, some with full kitchens, and most within a few steps of the beach. From $89
La Ventana: Camping La Ventana has ten campsites and three RV sites for rent just 200 feet away from the beach, hot showers, and a washing machine. From $20
Rancho Cacachilas: Chivato Base Camp, the rustic main lodging area at the ranch, has ten cabin tents in addition to six bunk rooms that sleep two people each, plus outdoor showers, composting toilets, and a central outdoor kitchen and gathering space. Or try Los Pisos, a ranch camp higher in the mountains that offers platform safari-style tents surrounding an outdoor kitchen. From $175 all-inclusive, minimum stay two nights; open October 1 to April 30
La Paz: Posada Luna Sol, within a few blocks of the promenade, is a delightful jumping-off point for Sea of Cortez adventures, with breakfast by the pool, a third-floor terrace with views to La Paz Bay, clean rooms, and cruiser bike rentals for $10 per day. From $55 
On the other end of the promenade, Seven Crown La Paz Centro Historico is located in the heart of La Paz's historic district and within steps of chic new restaurants, like Marinera Poke and Seafood (try the gyozas del puerto and the pin-up margarita), and offers free breakfasts at a street-side café next door. From $73
How to Be Conscious in Baja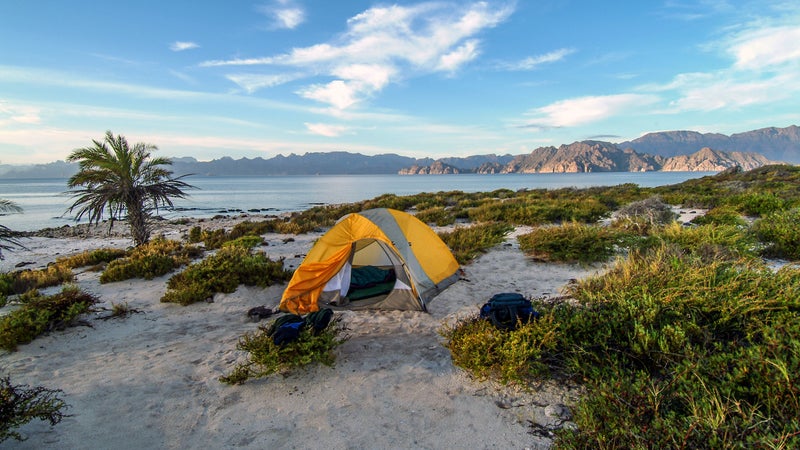 Go local: A common practice in Baja is for gringos to buy up rental properties, fishing charters, and yachts, then use them to provide under-the-table tourist services to other out-of-town "friends" without paying local taxes or using local guides. This depletes residents' resources. Be sure any U.S-owned entities—from fishing guides to hacienda owners—are doing fair and honest business that benefits the locals by providing training and income and puts money back into the communities. Better yet, look for locally owned businesses and guides, like Adolfo de la Peña in San Antonio.
Speak the language: It's always respectful to speak the language of the country you're visiting, so study up on your rusty high school Spanish.
If camping, pack out what you pack in: Garbage collection isn't always consistent, so keep it with you until you can find a place to properly dispose of it.
Be frugal with your water use: Baja Californians have the country's lowest availability of fresh water per inhabitant—785 cubic meters per year—when the Mexican  national average is 4,200, according to data from the National Institute of Statistics, Geography and Information Technology. The lack of water will become a serious issue soon, especially if resort development remains unchecked. Be conscientious of your usage, and choose lodging and outfitters who are as well.
See marine life and other wildlife in an ethical way: Baja is one of the only places in the world guests can get within close proximity to gray whales after they've birthed calves in the Sea of Cortez lagoons or humpback whales as they start to migrate north to cooler Pacific waters. The most ethical way to see these giants is with boat operators who give them wide berths and heed local rules, like obeying limits on the numbers of vessels allowed on the water at any given time.
Looped video (seen on the desktop version) by ianmcdonnell/Getty
Lead Photo: ferrantraite/iStock