Sponsor Content: Honda
The Best Adventures in Every State
From sportfishing on massive inland seas to spelunking through otherworldly caverns, America's heartland is also its unsung adventure hub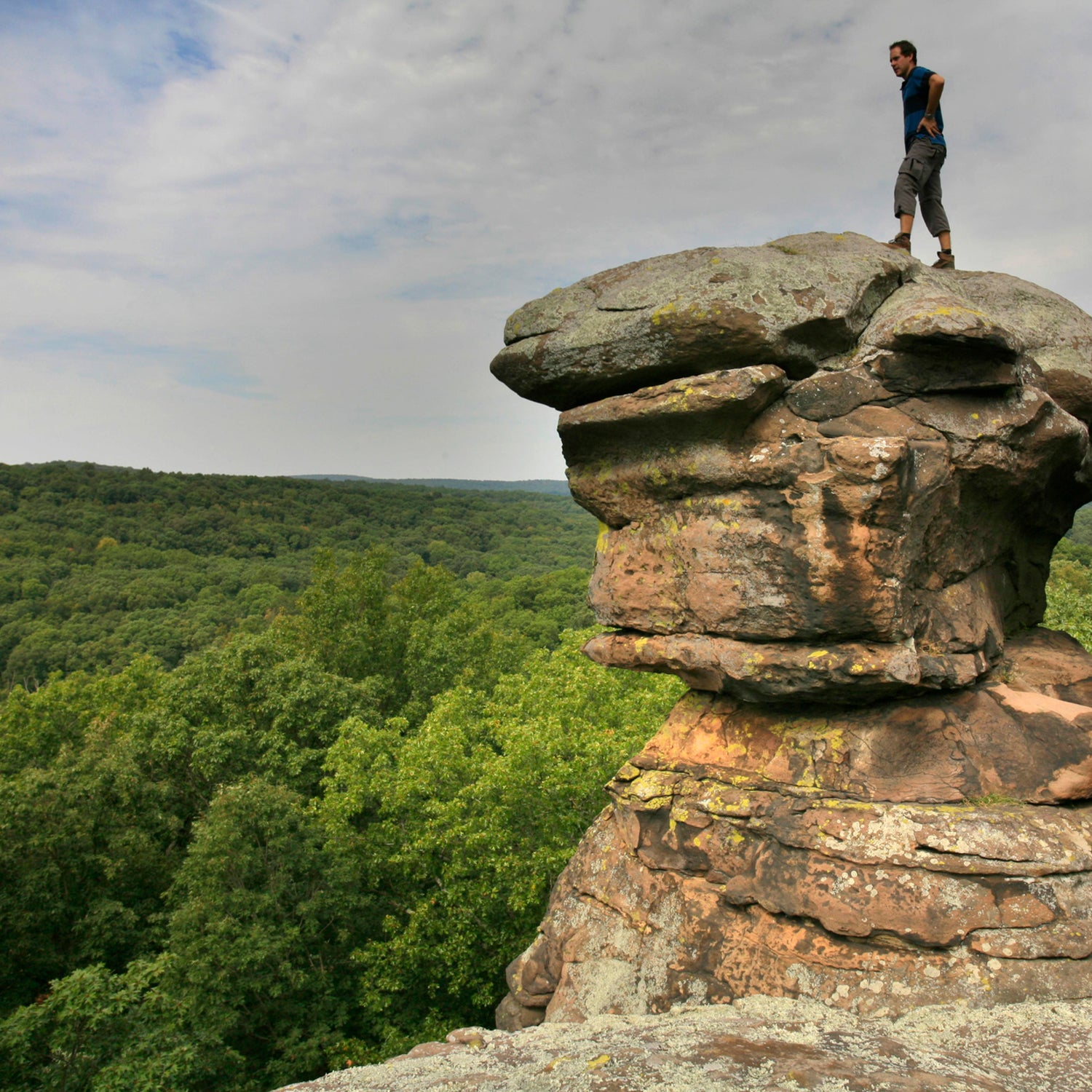 Michael Szonyi / Getty Images(Photo)
When it comes to geographic diversity, few countries can shake a stick what the United States has going on. And because of that diversity—including just about every flavor of mountain, water body, and landscape imaginable—America also happens to be one of the best places in the world for outdoor adventures. You can surf in the heartland on ocean-size freshwater lakes, ski in the summer on volcanic glaciers, and follow trails through geologic time. Bottom line: there are adventures to be had in every corner of every state.
The Midwest will surprise you. Its southernmost states are home to free-flowing rivers, gorgeous lakes, and an increasing number of great mountain biking trail networks. The farther north you get, the wilder it gets, with world-class fly-fishing, rugged sea kayaking, and remote stretches of forest laced with hiking trails. And the best part? There are state parks and campgrounds galore.
Best Quick Escape: Starved Rock State Park, Illinois
It's just two hours from Chicago, but Starved Rock is a world apart. It starts with 13 miles of hiking trails that cut through towering forests and open onto bluffs overlooking the Illinois River. The park is cut by no fewer than 18 sandstone canyons, and, in spring or after rain, waterfalls tumble through 14 of them, all reachable via short hikes.
Best Backpacking: Porcupine Mountains Wilderness State Park, Michigan
With 60,000 acres, 35,000 of them covered with old-growth maples and hemlocks, plus rivers, streams, waterfalls, 90 miles of trails, and a long, secluded stretch of Lake Superior shoreline, Porcupine Mountains Wilderness State Park is a wild world of its own up on the western portion of the Upper Peninsula.
Best River Paddling: St. Croix National Scenic Riverway, Minnesota
The St. Croix runs wild for 250 wooded miles along the Wisconsin state line, most of it in the St. Croix National Scenic Riverway, and fairly easy paddling by canoe or kayak. There are literally hundreds of places to camp and access the river—the 52-mile Lower St. Croix makes for a great day or weekend trip out of Minneapolis.
Best Mountain Biking: Little Missouri National Grassland, North Dakota
The 144-mile Maah Daah Hey Trail traverses everything from badland buttes to grassy flats and river-washed plains as it links 11 campgrounds on public lands. It's a bucket-list-worthy ride, which is why the International Mountain Bicycling Association gave the trail its coveted "Epic" moniker.
---
Looking for adventures closer to home or in another part of the country? We've got you covered. Check out the United States of Adventure interactive map, which features our favorite state parks, lakeshores, national forests, and more in every state.
Lead Photo: Michael Szonyi / Getty Images