8 of the Most Awe-Inspiring Alpine Lake Hikes in America
It'll take some miles to reach these eight remote, high-elevation lakes, but what better way to cap off a strenuous trek than diving into cool, crystal-clear water?
Courtesy Amie Engerbretson
Heading out the door? Read this article on the new Outside+ app available now on iOS devices for members! Download the app.
Pro skier Amie Engerbretson remembers the first alpine lake she swam in. She was around eight years old and on a camping trip in the Sierra Nevada with her dad, not far from her hometown of Truckee, California. They paddled a canoe across a lake, went for a hike, and swam at the base of a waterfall. "It felt like we were finding our own secret spot," recalls Engerbretson.
Since then, she's spent much of her summers hiking and backpacking in the Sierra and elsewhere, looking for stunning pools she can leap into. "In the summer, I'm in the water every day," she says. "There's something about cold water—it feels like a reset. Plus, it's fun when you can find your own place of seclusion."
We asked Engerbretson, and a few other fans of remote swimming holes, for their favorite spots to hike to.
Phelps Lake
Grand Teton National Park, Wyoming
The glacially carved Phelps Lake, about 40 minutes from the town of Jackson, Wyoming, is hardly unknown: this is a popular summertime destination within Grand Teton National Park. It's a two-mile hike from the Phelps Lake trailhead, and there's a six-mile trail that loops around the water, along which, despite the crowds, you'll be able find a quiet spot to call your own. Don't miss the 20-foot-tall granite jumping rock on its northeast side. "It's a casual hike with a fun cliff jump," Engerbretson says. "You've got views of the Tetons right there and it's an A-plus swimming experience."
Upper Sardine Lake
Sierra Buttes, California
Upper Sardine Lake is so stunning that it feels like it should be harder to get to, but it's less than a mile from the main road. The pool lies at the base of the Sierra Buttes in California's Lakes Basin region, about 30 minutes from the old mining town turned mountain-bike mecca of Downieville. "It's at the end of a short 4×4 road," Engerbretson says. "If you have an aggressive off-road vehicle, you can drive up. Once you're there, you'll find crystal-clear blue water, the Sierra Buttes jutting up, and big granite boulders for lounging and sunbathing. It's the most picturesque alpine spot." Sardine Lake Resort (from $250) has cabins and a dockside bar at the lower body of water, which is at the start of the hike to Upper Sardine.
Lake of the Clouds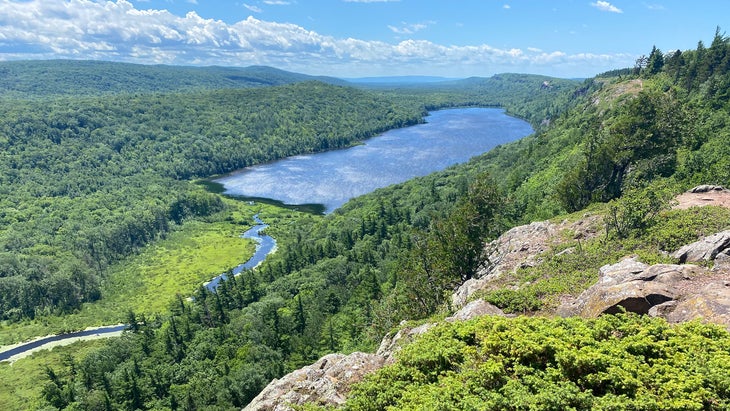 Ontonagon, Michigan
Lake of the Clouds, on Michigan's Upper Peninsula, is within the Porcupine Mountain range. "There's a viewpoint that's accessible by car, but if you wish to get closer, you can hike the 1.8 miles down," says Scott Joseph, a hiking guide with The High Five Tribe, which leads guided backpacking trips into the Michigan wilderness. "I recommend the Escarpment Trail, which hugs the ridgeline above, providing over four miles of pristine views. That's where I proposed to my wife."
Lake Lois
Desolation Wilderness, California
"Desolation Wilderness has one of the highest concentrations of alpine lakes," Engerbretson says. "Everyone goes to Aloha Lake, but there are so many others." She likes the 14-mile round-trip hike over Rockbound Pass to Lake Lois and neighboring Lake Doris. Make it an overnight trip if you'd like, but you'll need a Desolation Wilderness backcountry permit if you're camping. "I find coming into Desolation Wilderness from Rockbound Pass means you get the pristine beauty with a lot less of the crowds," Engerbretson says.
Indigo Lake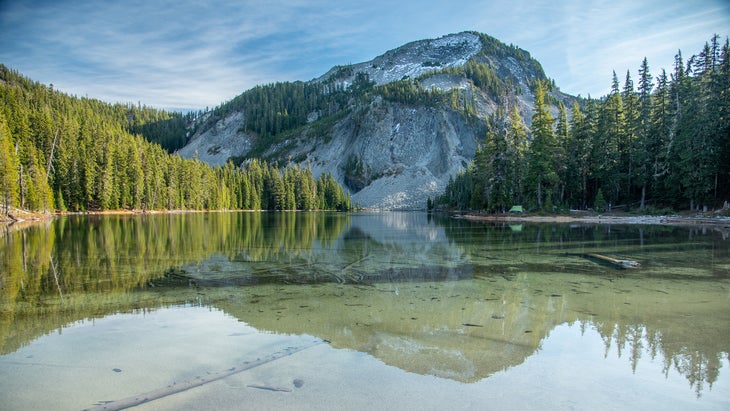 Oakridge, Oregon
To get to Indigo Lake, on the southern edge of Willamette National Forest about an hour and a half's drive from the town of Oakridge, you'll hike 4.5 miles there and back. "The hike takes you through a thick mossy forest of mountain hemlock and Pacific silver fir trees," says Franziska Weinheimer, who runs the hiking website Hike Oregon and is the author of the new book Lakes of the Cascades: 50 Enchanting Oregon Lake Hikes, due out in early May. "The trail is lined with huckleberry bushes that ripen in early August and make for a great snack while hiking up to the pool, which has a picture-perfect backdrop of 7,300-foot tall Sawtooth Mountain." Weinheimer says there's backcountry camping nearby and a mile-long loop that follows the shoreline. The road to the trailhead is usually passable from June to mid-November, and you don't need a permit to hike this trail, but watch out for mosquitoes in the peak of summer.
Lonesome Lake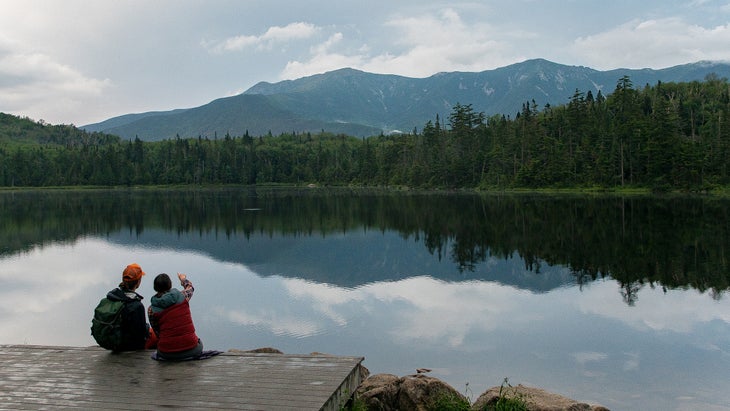 Franconia Notch State Park, New Hampshire
When asked for their favorite lake, guides from the Appalachian Mountain Club picked this spot, nestled at 2,730 feet in elevation within Franconia Notch State Park. Hikers can score a striking view of Franconia Ridge. It's a short, 3.1-mile loop trail, but you'll gain around 1,000 feet of elevation through a variety of switchbacks. The trailhead starts at Lafayette Place Campground, about ten minutes from the town of Franconia. The AMC's full-service, off-the-grid Lonesome Lake Hut (from $128) has bunk rooms and serves up hot meals for day hikers and overnight guests.
Long Lake
Donner Summit, California
Long Lake is the kind of alpine destination where people hike in with pool floaties, towable coolers, and babies in backpacks. The hike is about 1.3 miles round-trip and mostly flat, so it's ideal for families. Once you're there, take a turn on the rope swing, go for a swim, and admire the views. "It's got granite slabs and beautiful views under Devil's Peak," says Engerbretson. "It's a good spot to float and have a couple of beers, with small rocks you can jump off."
Thornton Lakes
North Cascades National Park, Washington
A series of small, high-alpine reservoirs within North Cascades National Park makes up Thornton Lakes, reachable via a 10.2-mile out-and-back trail that starts just outside the town of Marblemount. "You get a little bit of everything on this hike: lush old-growth forest, tough elevation gain, and stellar mountain views that make you feel like you are in the middle of an incredibly remote wilderness," says Hannah Singleton, a hiking guide for outfitter Wildland Trekking. "It feels like a lot of work to get there, but the outstanding views of Mount Triumph are worth it." If you want to stay overnight at the campground by the lake's outlet, reserve a permit and summit 5,966-foot Trappers Peak in the morning. "Trappers Peak is just spicy enough that you should feel comfortable with mild exposure," adds Singleton.
How to Be a Conscious Traveler
Before you jump into any remote lake, be sure to check water-use restrictions. Do you need an overnight or day-use permit to enter the wilderness area? Is swimming even allowed there? Are pets permitted? As always, practice Leave No Trace principles. "All of your backcountry etiquette still applies: Don't leave trash. Be mindful of your waste management," Engerbretson says. "Be respectful of the people around you. Give others space." If you're going to jump off a rock of any size, always check your landing. "Get in the water and scope it out," Engerbretson says. The last thing you want is to get injured and have to call SAR. 
Lead Photo: Courtesy Amie Engerbretson