The Best Free Campsites in All 50 States
You don't need a reservation to pitch a tent at these free and dispersed camping areas on public land, from empty beaches to lush forests to hot springs. Go, enjoy, and pledge to leave the place in better shape than you found it.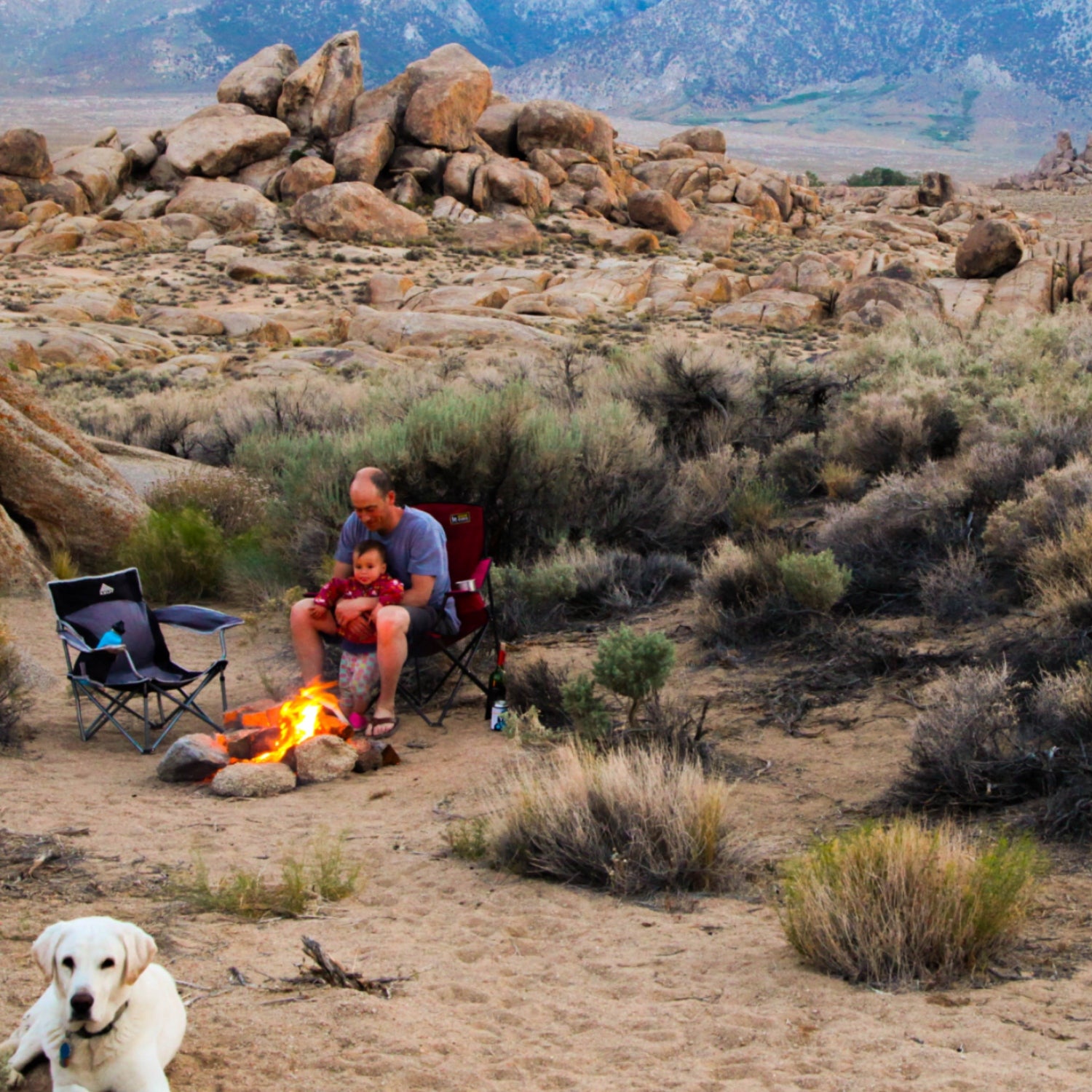 Megan Michelson
Heading out the door? Read this article on the new Outside+ app available now on iOS devices for members! Download the app.
While everyone else is scrambling to get a coveted campsite in state and national parks across the country this summer, there's a whole bunch of public land that's open (and free!) for you to enjoy. The federal government owns over a quarter of our nation's landmass—more than 640 million acres—and a good chunk of that is available for you to use and enjoy and, importantly, take care of.
Free camping in these spaces usually equates to dispersed camping, which means camping outside of designated campgrounds. You can pitch a tent or park your van overnight on grounds managed by the U.S. Forest Service or the Bureau of Land Management (BLM), in places where dispersed camping is permitted. We've included that style of camping here, whenever possible. In some states, we've highlighted free, primitive campgrounds—developed sites with minimal amenities that don't require reservations. And in the few cases of states with little to no free or dispersed camping, we've included remote, quiet campgrounds with fees of $25 a night or less.
While most of these campsites are free of charge, they aren't free of responsibility. With limited services or infrastructure, most don't include things like trash removal, toilets, or fire rings. So you're in charge of taking care of the land and your waste (all of it), following all fire bans and guidelines, and leaving the place like you found it (or better). Read more about responsible practices in our 101 Guide to Dispersed Camping.
To come up with the best free campsites across the U.S., we solicited input from a range of seasoned campers, including Jake Heller, founder of Campnado, a platform dedicated to sharing free, dispersed campsites; road-trippers Gabe and Rocio Rivero, who've spent four years living in their van and frequenting dispersed camping sites around the country; Geena Truman, a van dweller and the adventure blogger behind the site Beyond the Bucketlist; and a handful of gracious moderators at iOverlander, a crowdsourced mapping project.
For additional data on where to find dispersed campsites, check out  Campendium, Free Campsites, The Dyrt, and the BLM's dispersed camping map and regulations. Gaia GPS has topographical maps to get you there. (Gaia GPS is owned by the same parent company as Outside, and Gaia GPS is now included with an Outside+ membership.)
OK, here you go: the best places to camp for free (or almost free) in all 50 states, organized by geographic region.
The Pacific West
California: Alabama Hills, Lone Pine
Near the base of 14,505-foot Mount Whitney, the highest peak in the lower 48, is a vast area known as the Alabama Hills. This BLM-operated land is covered with massive boulders and rock formations, which form relatively private camping areas with stunning views of Mount Whitney. To get here, drive up Whitney Portal Road, a few minutes from the town of Lone Pine, on California's Highway 395, approximately three hours north of Los Angeles along the eastern slope of the Sierra Nevada. And note that while dispersed camping is allowed here, it's also extremely popular. Overuse in the area has recently led the BLM to close off certain zones to campers and install a new (albeit free) permitting process, so be sure to check requirements and restrictions before you go.
Oregon: Summit Rock, Fremont-Winema National Forest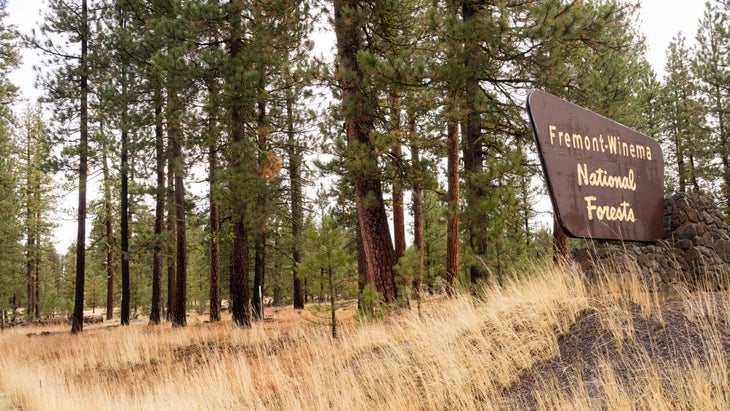 Just a few miles from the northern entrance to Crater Lake National Park, you'll find Forest Road 960, in Fremont-Winema National Forest. Camping is allowed in designated sites along this road, but larger vehicles like RVs or trailers should stick to the first few sites. If you have four-wheel drive and more clearance, you can continue up the bumpy dirt road toward Summit Rock, which has panoramic views from the top. (If you can't drive all the way, be sure to hike up the road for the view.) Camping is popular here in the summer months, but if it's completely full, there are campgrounds and other dispersed zones in the surrounding area.
Washington: Quinault Ridge Road, Olympic National Forest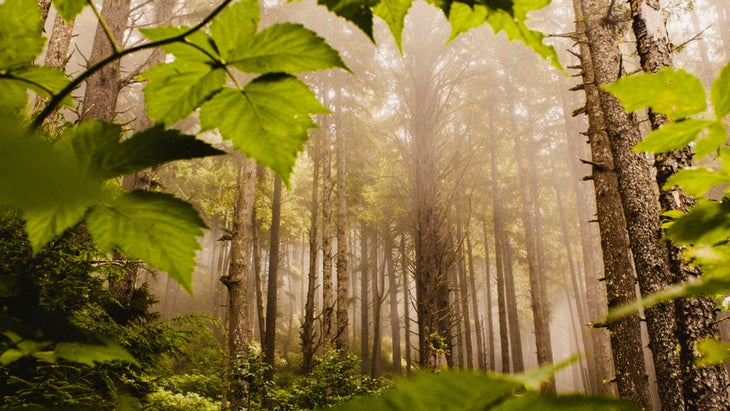 You can't disperse camp within Olympic National Park, but it is allowed in Olympic National Forest, not far from the entrance to the national park. Check out the roadside spots off Quinault Ridge Road, which is Forest Road 2258, just off Highway 101 north of the town of Aberdeen. These spots are scenic and quiet, and a handful can be found within the first mile of the road. If you're in an extra-large vehicle, you may find turning around challenging, so choose a site wisely or head to another zone, like Forest Road 29, near the town of Forks.
Alaska: Chena Hot Springs Road, Chena River State Recreation Area
Here's the thing about Alaska: it's so big and has so much public land that the amount of dispersed camping you can do here is endless, which is why picking the single best spot feels a little silly. But there's a destination that won't disappoint: outside Fairbanks, there are three established campgrounds on Chena Hot Springs Road, but you can also drive down that road and look for campsites on any number of dirt pullouts and roads alongside the Chena River, within Chena River State Recreation Area. (For detailed descriptions of many of the pullouts, turn to iOverlander.) This is an excellent area to enjoy the northern lights, and Chena Hot Springs, a geothermal resort, is located nearby.
Hawaii: Papalaua Wayside Park, Maui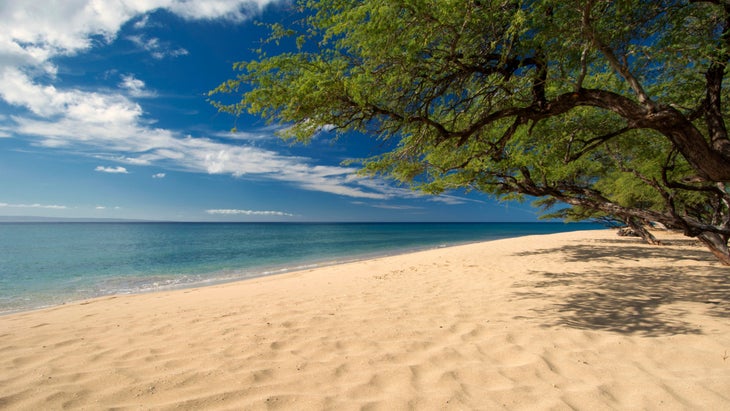 In Hawaii, camping is allowed only in designated places and by permit. In other words, legal, free dispersed camping doesn't exist here, and for good reason: it's a form of protection for the islands and their communities. The good news is that much of the camping at places like county-run campgrounds or on state or national parklands is both accessible and affordable. The county-owned Papalaua Wayside Park, on the west shore of Maui, has good snorkeling and is right off Honoapiilani Highway on the way to Lahaina. Camping fees start at $5 per person (though note that the park is closed to camping on Tuesdays and Wednesdays). Permits must be obtained from one of the County of Maui Department of Parks and Recreation district permit offices.
The Southwest
Nevada: Spencer Hot Springs, Austin
Camping in the middle of nowhere? Sometimes that's what you need to truly get away. But camping in the middle of nowhere next to some hot springs? Now we're talking. Spencer Hot Springs is on BLM land about 20 miles outside the town of Austin, which is on U.S. Route 50, nicknamed the Loneliest Highway in America. You can camp for free on pullouts along dirt roads anywhere around the hot springs, which consists of three rustic soaking tubs. Don't camp right at the springs—pitch your tent at least 300 feet from any water source and then walk to a tub.
New Mexico: Cebolla Mesa, Carson National Forest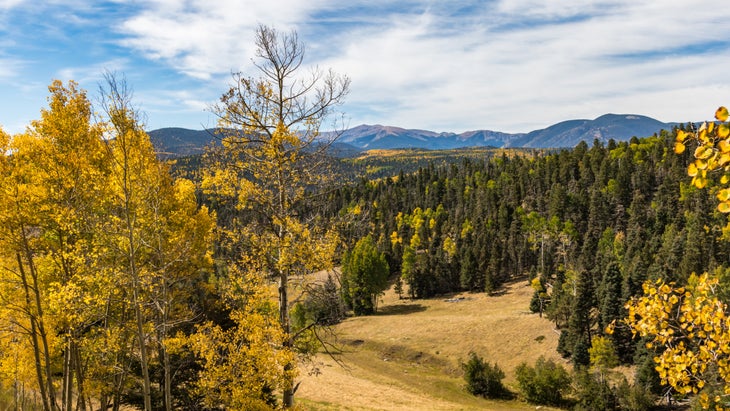 A primitive free campground within Carson National Forest about 25 minutes north of Taos, Cebolla Mesa has a handful of campsites literally on the edge of the Rio Grande Gorge. The road in is three miles long and very rough (so consider your vehicle before you go), but once you make it here, you'll be treated to outstanding views, plus amenities like picnic tables, fire pits, and a pit toilet. There are dispersed camping sites along the road in as well. Don't miss the hiking trail into the canyon that starts from camp and drops over a mile and nearly a thousand vertical feet to the river.
Arizona: Pumphouse Wash, Coconino National Forest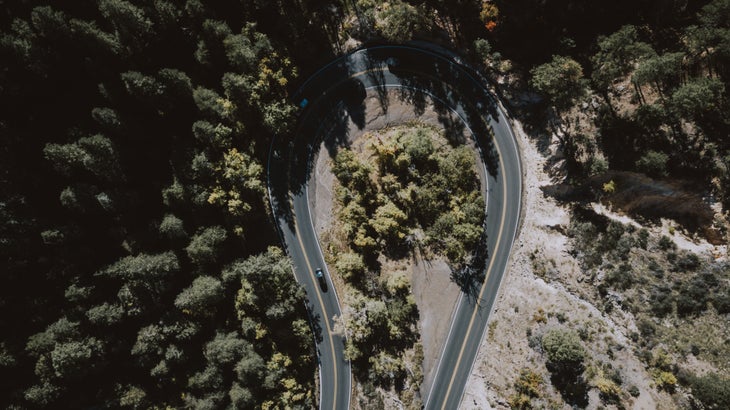 Sedona has miles of trails, vast red-rock desert, and heaps of campsites, both developed and dispersed. One of more popular and regulated dispersed camping grounds in these parts is at Pumphouse Wash, on Forest Road 237, between Sedona and Flagstaff. You're asked to stay within four designated free camping areas, but they're large enough to accommodate RVs or groups and there's relative privacy in between sites, thanks to a pine forest. A few trailheads for hiking and biking are easily accessible from camp.
Utah: Muley Point, Glen Canyon National Recreation Area
There may be no more scenic free camping site in the country than Muley Point, an overlook within Glen Canyon National Recreation Area that's set atop thousand-foot cliffs above the San Juan River Canyon, near the town and rock formation known as Mexican Hat. Park your rig here and you'll be high above Goosenecks State Park, with views into Monument Valley. You'll sacrifice privacy for the postcard-worthy vistas, though. To get here, take Utah State Route 261, the Moki Dugway Scenic Backway, and pull off on the dirt Muley Point Road. Tread carefully—don't park too close to the edge—and watch out for high winds and extreme heat in the summertime.
Texas: Grapevine Hills, Big Bend National Park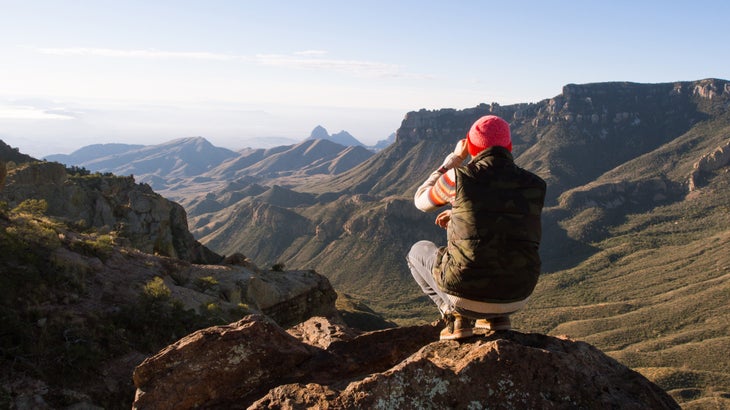 This spot isn't technically free—it's within Big Bend National Park and you'll need a $10 backcountry permit to camp overnight here. But the five scenic sites along the gravel Grapeville Hills Road, just west of Panther Junction, offer quiet solace, views of the Chisos Mountains, and first-come, first-served primitive camping along a rugged backcountry road. There are no amenities or services here and you'll need a high-clearance four-wheel-drive vehicle, so plan accordingly.
The West
Colorado: Piney Lake, White River National Forest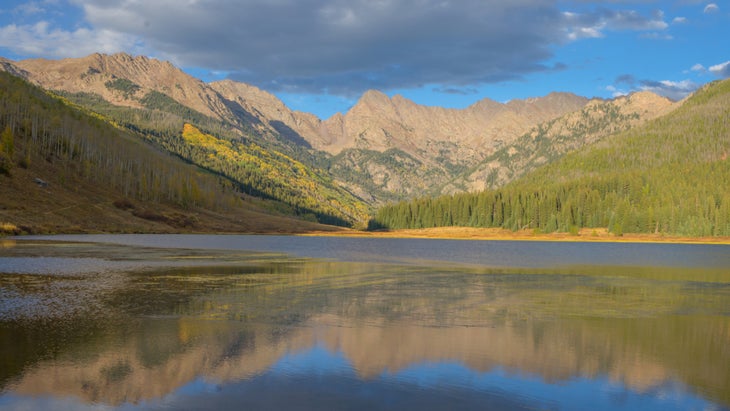 The drive from Vail toward Piney Lake is just 11 miles, via exit 176 off Interstate 70, but it'll take you about 45 minutes on the rough dirt road. Once you enter White River National Forest, there are a handful of first-come, first-served dispersed camping sites along Piney River Road, outside Piney River Ranch, a summertime retreat with cabins you can rent near the shores of Piney Lake and with views of the Gore Range. Camp in designated spots and follow all posted signage. Take the six-mile round-trip hike to reach Upper Piney Lake from your site.
Idaho: North Fork of the Big Wood River, Sawtooth National Forest
Camping along the North Fork of the Big Wood River has the benefits of dispersed camping—no fees, no reservations—but with a bit more campground-like infrastructure. Due to a surge in demand, the Forest Service recently installed numbered sites along North Fork Canyon Road, which is Forest Road 146, about ten miles north of Ketchum within Sawtooth National Forest. You must camp in a numbered site; there are currently 14, and they fill up quickly most summer weekends. The 28-site North Fork Campground ($18), down the road, takes reservations, if you'd prefer an actual campground.
Wyoming: Shadow Mountain, Bridger-Teton National Forest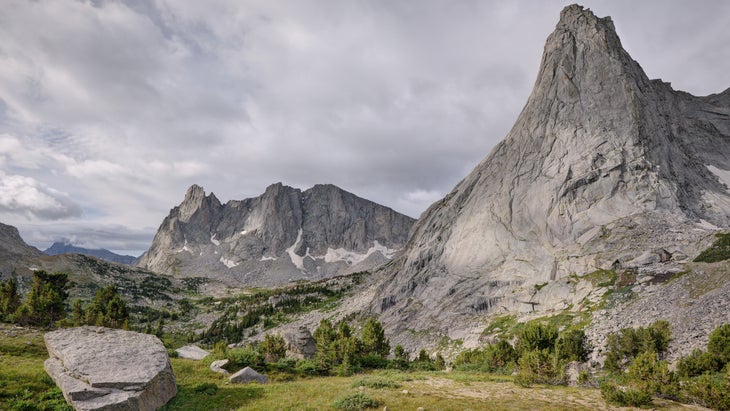 This spot is hardly a secret anymore—it fills up every day all summer long—but if you can snag a spot, you are one happy camper. Located within Bridger-Teton National Forest's approved dispersed camping areas, Shadow Mountain and Ditch Creek have designated roadside camp spots with stellar views of the Gros Ventre and Teton ranges and are just on the outskirts of Grand Teton National Park. A toilet facility has been installed in the area due to crowds, and there's talk of this zone becoming a paid campground in the future.
Montana: M-K Campground, Custer Gallatin National Forest
M-K is a free Forest Service-maintained campground two miles up Main Fork Rock Creek Road (Forest Road 2421), just a few miles off the Beartooth Highway, as the scenic roadway winds toward Yellowstone National Park's northeast entrance. Part of Custer Gallatin National Forest, the campground, which has ten riverfront sites along Rock Creek and is located about 25 minutes from the town of Red Lodge, has toilets and picnic tables but no trash collection. If the campground is full, are ample dispersed camping sites can be found along the road before and after the campground.
The Midwest
Nebraska: Sandhills, Samuel R. McKelvie National Forest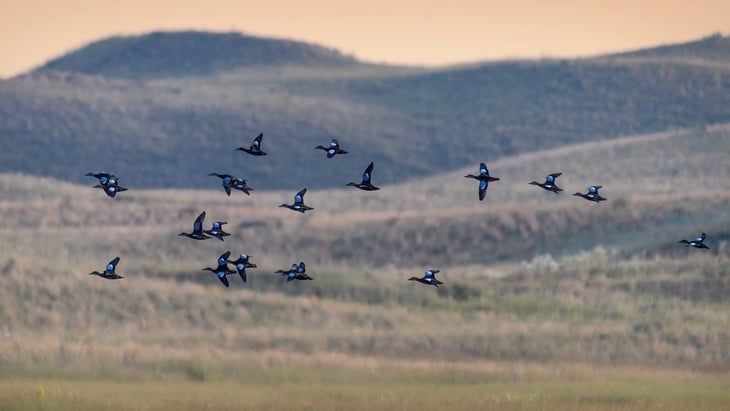 The state allows dispersed camping in a handful of its national forests, including 116,000-acre Samuel R. McKelvie National Forest, which is part of the Nebraska Sandhills, a mix of prairie and grassy sand dunes. You could post up at the 23-site Steer Creek Campground, in the southeast corner of the national forest, if you'd prefer facilities, or you're allowed to disperse-camp outside of the campground as well.
Kansas: Woodbridge Primitive Park, Lawrence
Just 30 minutes outside Topeka, you can find yourself camping—for free!—on the shores of Clinton Lake at 450-acre Woodbridge Primitive Park, managed by the U.S. Army Corps of Engineers. Primitive tent camping is allowed in the large grassy area at the park entrance, or if you want a bit more seclusion, you can hike the 4.5-mile trail that skirts the lake and choose a campsite with a designated fire pit along the trail. This spot is about 15 miles off Interstate 70 and makes for a good overnight spot if you're passing through.
North Dakota: Camels Hump Lake, Medora
This low-key campsite west of Medora shines in its accessibility—you're just off Interstate 94 on a well-maintained dirt road. Sure, you can hear the highway noise a little from camp, but you're also sleeping (for free!) next to delightful Camels Hump Lake, just 15 minutes from Theodore Roosevelt National Park. The sites are managed by North Dakota Game and Fish, and this zone is closed to camping on Tuesdays and Wednesdays. Three designated sites come with picnic tables and fire rings, but if those are full, there are other spots nearby.
South Dakota: Badlands Overlook, Wall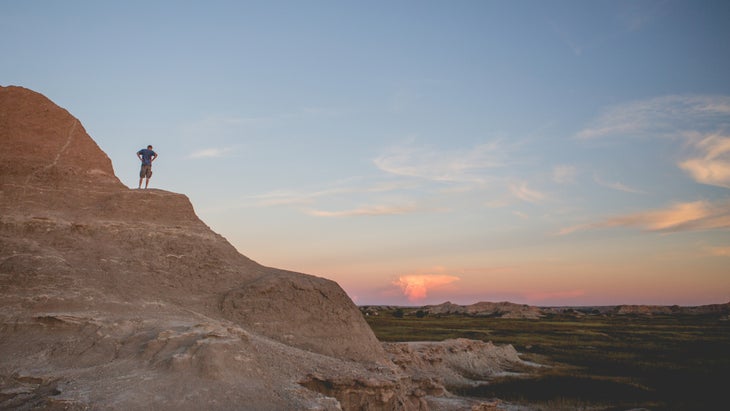 Managed by the U.S. Forest Service, this campsite (also known as Nomad View) off State Highway 240 is within Buffalo Gap National Grassland, just three miles north of the Pinnacles Entrance to Badlands National Park. You'll come to escape the crowds camping within the national park, but also for the wild views. You can park your rig or set up a tent right on the edge of the badlands, and this site is plenty big enough for RVs and trailers. It can get windy here, however, so consider yourself warned.
Minnesota: Six Mile Lake, Chippewa National Forest
Turns out, the Land of 10,000 Lakes has plenty of lakefront dispersed camping, too. Post up at Six Mile Lake, about seven miles down a Forest Service road from the town of Bena. This is a former established campground within Chippewa National Forest that now has a dozen free dispersed campsites with very limited services. There's a boat ramp onto Six Mile Lake next to the campground, with good fishing to be had in the lake's waters. Don't forget bug spray.
Wisconsin: Porcupine Lake Wilderness, Chequamegon-Nicolet National Forest
Porcupine Lake Wilderness is a quiet corner of Wisconsin's 1.5-million-acre Chequamegon-Nicolet National Forest. Free, dispersed camping is permitted here, but there's a catch: you'll have to hike into your campsite. It's about a half-mile walk from the closest parking area, located four miles southeast of the town of Drummond, to the shores of Porcupine Lake, where a few dispersed campsites dot the shoreline and are popular with anglers. The rules for camping here: set up your site at least 100 feet from a trail or bodies of water. Bonus: the 4,800-mile North Country National Scenic Trail, which stretches from Vermont to North Dakota, traverses through this zone, if you want to expand your adventures into a multiday backpacking trip.
Michigan: Hovey Lake Campground, Hiawatha National Forest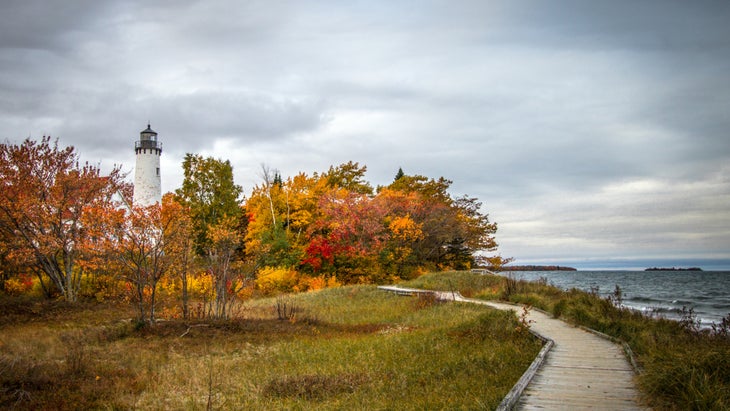 This secluded free campground on the east side of 99-acre Hovey Lake, in Michigan's Upper Peninsula, is managed by the Forest Service. Located outside the town of Munising, there's no cell service here, which can be a blessing or a curse, depending on what you're after. But there is a lake packed with trout and wooded campsites with picnic tables, fire rings, and plenty of privacy. You're about 30 minutes from Pictured Rocks National Lakeshore on Lake Superior.
Iowa: Eagle Lake State Game Management Area, Britt
Camping in the middle of a cornfield? Sounds like Iowa. The Eagle Lake State Game Management Area isn't exactly an official campsite, but the Iowa Department of Natural Resources allows dispersed camping on select state wildlife-management areas for up to 14 days. This unassuming spot, at the end of a gravel road in a bucolic wetland near Mason City, is set within an open grassy field near Eagle Lake and is popular with other boondockers.
Indiana: Blackwell Horsecamp, Hoosier National Forest
There's a reason drivers with horse trailers and RVs like the big, grassy field at Blackwell Horsecamp: the sites are spacious enough to turn around a big rig. Yet tent campers and van dwellers will find plenty to enjoy here, too, including easy access to 36 miles of hiking trails in the Charles Deam Wilderness and the scramble up the nearby historic Hickory Ridge fire lookout tower for a view of Lake Monroe. The campsite, on Tower Ridge Road and within Hoosier National Forest, is about 30 minutes from the town of Bloomington and just a mile off Highway 446.
Illinois: Dutchman Lake, Shawnee National Forest
To reach these sites, take the dirt Dutchman Lake Road (Forest Service Road 94) for about six miles until you reach Dutchman Lake, a remote 118-acre body of water known for its bass and catfish fishing that's some 30 minutes south of the city of Marion. This area is part of Shawnee National Forest, the largest publicly managed piece of land in Illinois. There's no official campground here, but dispersed camping is allowed for up to 14 days in the five or so pre-established sites near the lake.
Ohio: Jesse Owens State Park, McConnellsville
In 2017, the Ohio Department of Natural Resources inked a deal with American Electric Power to buy 60,000 acres of reclaimed land in eastern Ohio that was once mined for coal. A portion of that plot has since become Ohio's largest and newest state park, 5,735-acre Jesse Owens State Park and Wildlife Area. The best part? There are four camping areas within its grounds, and they're all free. Open from April until December, the campsites are first come, first served, and they're primitive—no electric hookups, no water—but you will have a picnic table, fire pit, and access to bathrooms. Bring a kayak or paddleboard to explore the various ponds and lakes within the park.
Missouri: Pinewoods Lake Recreation Area, Mark Twain National Forest
RVs will have no trouble fitting into the 16 sites at Pinewoods Lake Recreation Area, where free, dispersed camping is allowed within designated sites. Part of Mark Twain National Forest in southeastern Missouri, this area feels like you've entered the wilderness—you're sleeping next to a serene 32-acre lake, with a 1.3-mile walking trail around it—but offers the conveniences of an established campground (such as toilets, a fishing pier, and a boat ramp). The town of Ellsinore is three miles away, and it's just off Highway 60, but the campsite is surprisingly quiet, given its proximity to the freeway.
The South
Oklahoma: Black Kettle Campground, Black Kettle National Grassland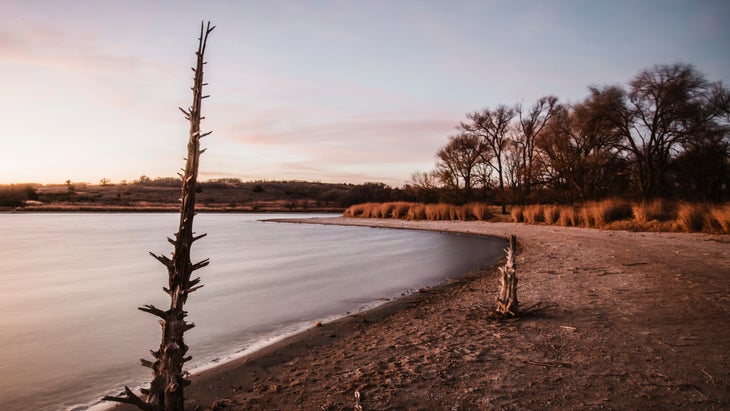 You'll find a dozen free campsites, equipped with fire pits and picnic tables, at Black Kettle Campground, part of Black Kettle National Grassland, a 31,000-acre wilderness area on the Great Plains that stretches across western Oklahoma. This spot is about 30 miles north of Interstate 40, near the town of Cheyenne, so you'll fall asleep to the sound of a hooting owl, versus a grinding freeway. From the campground, you'll find two short hiking trails and a boat ramp into Dead Warrior Lake, which has three miles of shoreline.
Arkansas: Big Fir Campground, Ouachita National Forest
The U.S. Army Corps of Engineers maintains 16 campgrounds around 40,000-acre Lake Ouachita, ranging from established campgrounds to more primitive ones. Big Fir is a midsize, primitive site on the northwest end of the lake, 30 minutes from the town of Mount Ida. It has 50 campsites, most with views of the water and typically less crowded than neighboring sites. Lake Ouachita is just west of the city of Hot Springs, making this a good base camp if you're planning to explore Hot Springs National Park. Dispersed camping is permitted anywhere in Ouachita National Forest unless a posted sign warns otherwise, and be sure to follow the state's guidelines on dispersed camping.
Louisiana: Rutherford Beach, Creole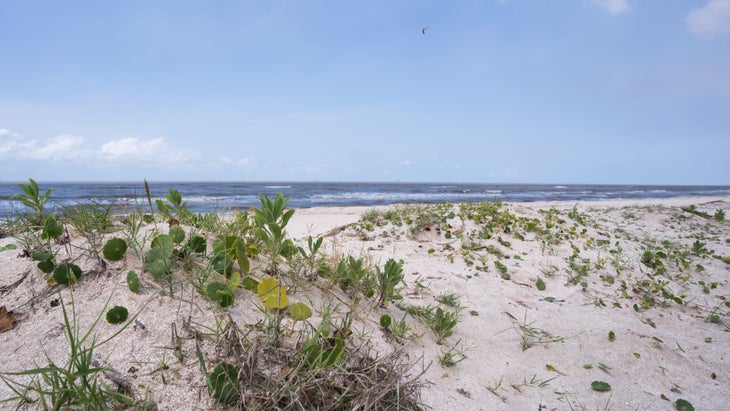 Free beach camping isn't easy to find, but Rutherford Beach, in southwest Louisiana, has it. You can camp anywhere along this roughly two-mile stretch of sand along the Gulf of Mexico and at the mouth of the Mermentau River or in the parking area nearby. To get here, drive an hour south of Lake Charles down to the Gulf of Mexico. There's no real development around, and this remote area has been hit hard by past hurricanes, so bring in all your supplies and, as always, take everything out with you.
Mississippi: Point Pleasant, Enid Lake
Most likely, you'll come to Enid Lake to fish: this is the reservoir where a five-pound, three-ounce fish hooked in 1957 still holds the world record for the largest white crappie ever caught. But you can also come here to camp for free. The U.S. Army Corps of Engineers manages three free public campsites at Point Pleasant, which extends out from the southern shore of the lake and features expansive lake views. This is an easy weekend getaway: Memphis, Tennessee, is 80 miles to the north.
Alabama: Tuskegee Primitive Camp, Tuskegee National Forest
At 11,000 acres, Tuskegee National Forest in south-central Alabama, about 20 minutes from the city of Auburn, is one of the smallest national forests in the U.S., but it's got plenty of room to explore. The eight-mile Bartram National Recreation Trail passes through here, as does the 3.8-mile Pleasant Hill Trail, with technical terrain for mountain biking. Dispersed camping is allowed, but mind the guidelines, which includes securing a free backcountry permit. A designated 14-site campground known as Tuskegee Primitive Camp offers free camping with no amenities besides a flat, level spot to park.
Georgia: Ball Field Dispersed Camping Area, Chattahoochee-Oconee National Forest
Lake Conasauga is Georgia's highest lake, at 3,150 feet elevation, near the summit of Grassy Mountain. It's an idyllic destination, beloved by bird-watchers, anglers, and hikers. Although there's a developed campground on the 19-acre lake, a mile away, dispersed camping is allowed on the expansive, grassy Ball Field, named after the stickball played here by Cherokee tribes as a means to resolve conflicts. By day, hike the nearby Emory Creek Falls Trail or the Tearbritches Trail; by night, enjoy stargazing from the field.
Florida: East Tower Hunt Camp, Osceola National Forest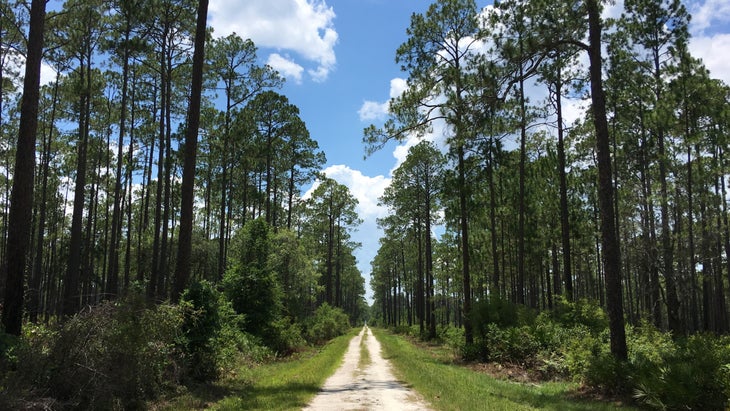 Though East Tower Hunt Camp is popular with small-game hunters, everyone is welcome here. And if you come outside of the fall hunting season, there's a good chance you'll have this area mostly to yourself. This spacious plot of dirt in Osceola National Forest, nestled into a grove of trees covered with Spanish moss amid the swamplands of northern Florida, allows dispersed camping for up to 14 days and makes for a nice spot to enjoy time off the grid.
Kentucky: Turkey Foot Campground, Daniel Boone National Forest
If you can make it to Turkey Foot Campground, down a long, steep gravel road (not suitable for trailers), then you'll be rewarded with a slice of Kentucky's finest wilderness, managed by the Forest Service. Fifteen no-frills dispersed sites are located along War Fork Creek, a good spot for trout fishing. Amenities include tables and fire rings, but be sure to pack out your trash, and know that there's no water on-site. For hikers, a section of the Sheltowee Trace National Recreation Trail passes through camp.
Tennessee: Paint Creek Corridor, Cherokee National Forest
The free dispersed sites outside of the town of Greenville, on the five-mile stretch of Forest Road 41, also known as Paint Creek Road, tend to fill up on busy weekends, so get here early or midweek to snag a coveted spot. (Or look to the 20-site Paint Creek Campground on the same road if you can't find a free site.) This is part of the 650,000-acre Cherokee National Forest, Tennessee's only national forest, and camping is allowed in designated spots only. Even if you're not spending the night, this is a scenic road to drive or stop in for a picnic, with views of Kelly and Dudley Falls.
North Carolina: Linville Gorge Wilderness, Pisgah National Forest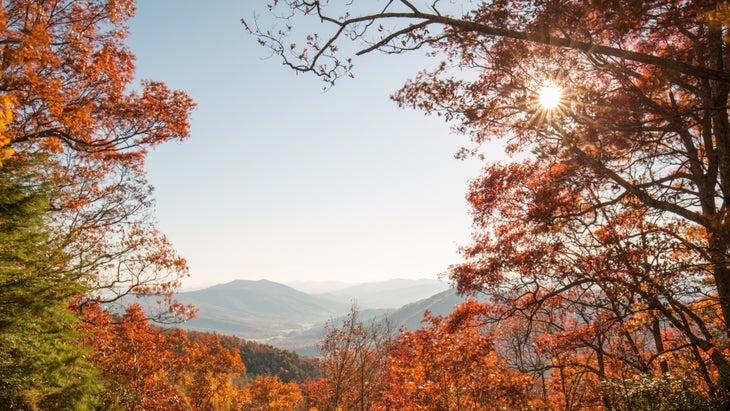 You'll need a permit to camp overnight on weekends and holidays in the Linville Gorge Wilderness, but they're free. (Call the Grandfather Ranger District to secure one.) This 12-mile-long gorge plummets 2,000 feet to the Linville River and has a variety of stunning dispersed camping along the canyon's western rim. You'll find over a dozen roadside campsites on the rugged, unpaved Old North Carolina 105, also known as Kistler Memorial Highway, with views of Table Rock Mountain in the distance and easy access to hiking trails in and around the gorge.
South Carolina: Santee Coastal Reserve Reserve Wildlife Management Area, Francis Marion National Forest
The 24,000-acre Santee Coastal Reserve Wildlife Management Area was established by the South Carolina Department of Natural Resources in 1974, and today it's a total gem for campers looking to get away. Within the marshy wildlife habitat—which is home to sea turtles and songbirds—sits a free primitive campground with eight designated sites and zero amenities (so pack everything in, everything out), right on the coast of South Carolina, about an hour north of Charleston. There are several marked trails for hikers within the reserve.
Virginia: Little Fort Recreation Area, George Washington National Forest
Virginia has two national forests—George Washington and Jefferson—and dispersed camping is allowed as long as you're set up outside of developed recreation areas (like trailheads or picnic zones). Little Fort Recreation Area, a former stagecoach stop, has nine primitive campsites with no overnight fees. If you're into riding ATVs (or you don't mind the sound of them in the background), this campground is located next to the largest ATV trail system in the state. Don't miss the two-mile round-trip hike to the Woodstock fire lookout tower, which you can access from camp.
West Virginia: Lake Buffalo, Monongahela National Forest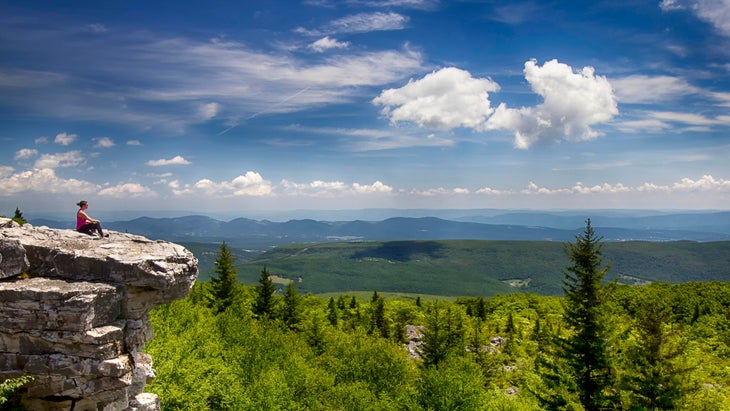 You can't swim in Lake Buffalo, but the serene 22-acre lake is stocked with trout by the West Virginia Division of Natural Resources—making it a popular site with anglers—and free, dispersed camping is allowed here. A handful of primitive sites are within walking distance of the lake. To get here, you'll drive a few miles down a well-maintained Forest Service road, outside the town of Bartow.
Maryland: Green Ridge State Forest, Allegany County
Camping in Green Ridge State Forest, on the eastern side of the Appalachian Mountains, is neither free nor dispersed. But at $10 a night, and with very primitive campsites, it's as close as you're going to get to that style of wilderness camping in Maryland. At 49,000 acres, Green Ridge State Forest has 100 established, first-come, first-served campsites with picnic tables and fire rings but little else (you'll be packing all your trash out, and most sites don't have bathrooms or water). To secure one, show up at the ranger station and use the self-service kiosk to get an overnight permit and register for a site. Once you're there, enjoy over 50 miles of hiking and mountain-biking trails.
Delaware: Blackbird State Forest, Smyrna
Though camping at Blackbird State Forest used to be free and first come, first served, the Delaware Department of Agriculture introduced a new online reservation system and $25-per-night fee in March 2021, due to increased demand for camping. But unlike a crowded state-park campground, these rustic sites are well spaced apart and come with minimal amenities. Blackbird State Forest, 30 minutes from Wilmington, has eight simple tent sites, plus a fishing pond and a few hiking trails, while Redden State Forest, just north of Georgetown, has another seven sites.
The Northeast
Pennsylvania: Moon Lake State Forest Recreation Area, Pinchot State Forest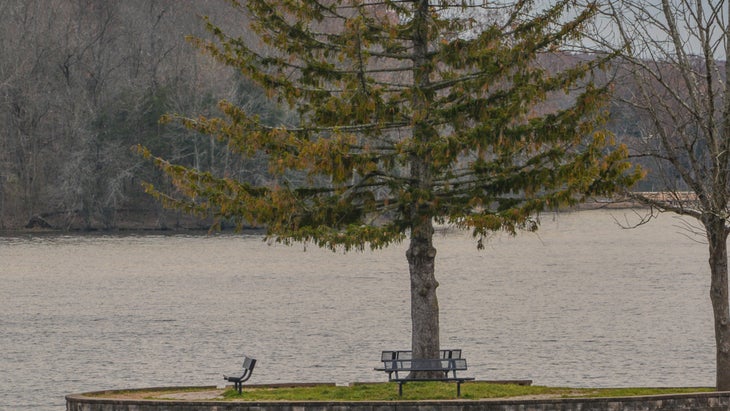 Twenty miles of mountain bike trails, plus fishing and paddling on a 48-acre spring-fed lake, await at Moon Lake State Forest Recreation Area, an hour from Scranton. You'll also find 12 rudimentary campsites, fire rings, and picnic tables. The sites are free, but you do need to secure a permit ahead of time via an online application process in order to camp here.
New Jersey: Bodine Field Campground, Wharton State Forest
Free camping in New Jersey isn't easy to find, but the rustic campsites within Wharton State Forest feel pretty secluded and wild. An overnight site at Bodine Field Campground starts at $3 per person, per night, and you'll need to secure a reservation ahead of time. At Bodine Field—15 minutes outside the township of Bass River down a dirt road—20 rustic sites line the Wading River, making it a great launching point for paddlers in canoes or kayaks. The 50-mile Batona Trail passes through the area as well.
New York: Sugar Hill Fire Tower Recreation Area, Watkins Glen
New York State allows heaps of primitive camping, and the state's Department of Environmental Conservation offers loads of tips on how to responsibly camp on state forestland. Sugar Hill State Forest, at over 9,000 acres, is one of many such spots around New York that allows camping. The dozens of free campsites near the historic 68-foot-tall Sugar Hill Fire Tower are scattered around a wide-open field, surrounded by towering trees. You don't need a reservation, but you do need to fill out a no-cost self-issued camping permit. A multitude of hiking trails leave right from camp.
Connecticut: Green Falls Campground, Pachaug State Forest
Unless you're OK sleeping in the parking lot of a casino or a Walmart, there's not much free camping in Connecticut. But there's plenty of secluded, wooded camping that feels like a wilderness experience, including the 18 forested sites at Green Falls Campground, which cost $17 a night and require reservations. A nearby pond makes for good fishing and paddling excursions.
Rhode Island: George Washington State Campground, Chepachet
You'd be hard-pressed to find a free campsite in Rhode Island, but you can find a nice gravel campsite for under $20 at George Washington State Campground, near the shores of Bowdish Reservoir. The 100-acre camping area has 45 sites, suitable for RVs or tents, with easy access to fishing, paddling, and hiking trails. You'll need to make a reservation ahead of time, and rates start at $18 a night.
Massachusetts: Beartown State Forest, Great Barrington
With free camping in Massachusetts limited mostly to rest stops and parking lots, we're highlighting an out-of-the-way state-forest campground with low overnight fees instead. You'll need to make a reservation at Beartown State Forest, where campsites start at $14 a night, but with only 12 primitive sites, the place feels quiet and remote. You're in the heart of the beautiful Berkshires, just outside the town of Great Barrington, and campsites at Beartown neighbor 35-acre Benedict Pond, a great spot for fishing, paddling, or hiking the 1.5-mile loop around the pond.
New Hampshire: Gale River Loop Road, White Mountain National Forest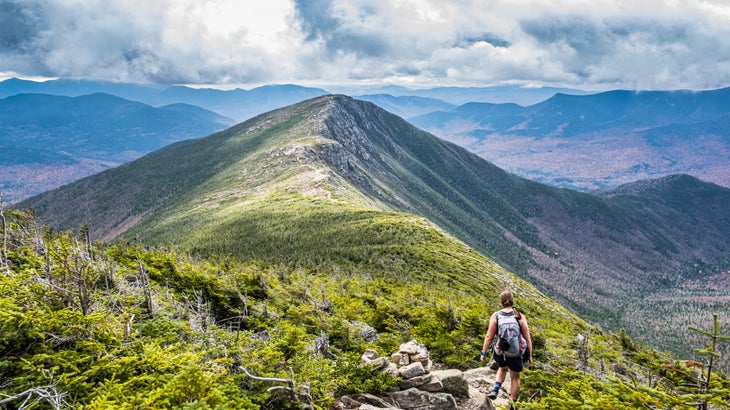 Dispersed camping is allowed in the backcountry of 750,000-acre White Mountain National Forest as long as you're farther than 200 feet from trails or bodies of water. (Be sure to read the full rules and regulations.) The Forest Service allows camping along designated roadways as well, including 11 established free campsites along Gale River Loop Road, also known as Forest Road 25 and Forest Road 92, outside Franconia. These roads are closed in the winter, but they make for picturesque forest camping from late May until October. These are popular first-come, first-served sites, and you have to camp in an established spot, so get there early or midweek to snag something.
Vermont: Somerset Airfield Campground, Green Mountain National Forest
A former airfield has been converted into a dispersed camping area in a bucolic corner of southern Vermont. From the town of Searsburg, take the gravel Forest Road 71 for several miles until you reach Somerset Airfield Campground, a primitive campground with roughly a dozen free spots and easy access to trails and the Somerset Reservoir. There are also a handful of great sites along the road as you drive in. Be sure to read up on the dispersed-camping regulations within Green Mountain National Forest.
Maine: Round Barn Campsite, Bigelow Preserve
Western Maine's Bigelow Preserve stretches across 36,000 acres of public land, with peaks rising to over 4,000 feet within the surrounding Bigelow Range. There are backcountry campsites and lean-tos throughout the preserve, but you can't beat the ten free first-come, first-served campsites at Round Barn, which is accessible via the gravel East Flagstaff Road, north of the town of Carrabassett Valley. From there, you've got 20,000-acre Flagstaff Lake and hiking on the Safford Brook Trail right out of your tent. As always, take care of the landscape and use best-wilderness practices.
Lead Photo: Megan Michelson