The Best Ski Town Eats
Our picks for the resort town cuisine in four destinations.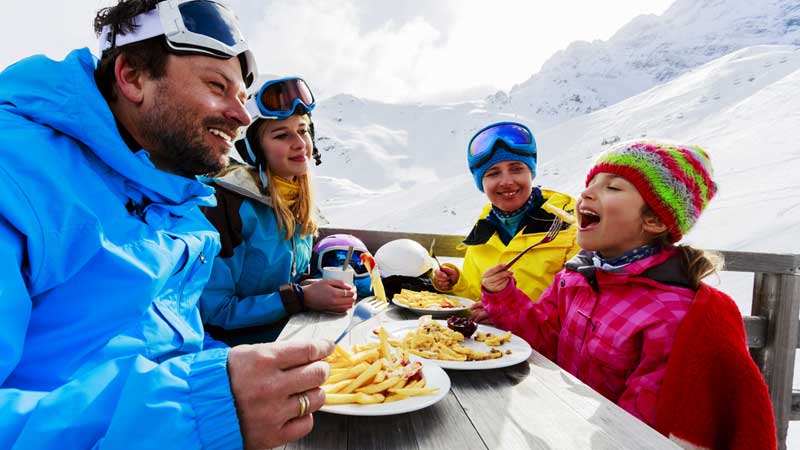 Heading out the door? Read this article on the new Outside+ app available now on iOS devices for members! Download the app.
Whistler, Stowe, Park City, Sun Valley. They're not exactly Paris, New York, London, or Milan. But in these ski towns, the food is as good as the powder.
Here's your guide to dining, whether you're looking for white linen service, the best burger and fries, or a place to hang out with the locals.
Whistler, British Columbia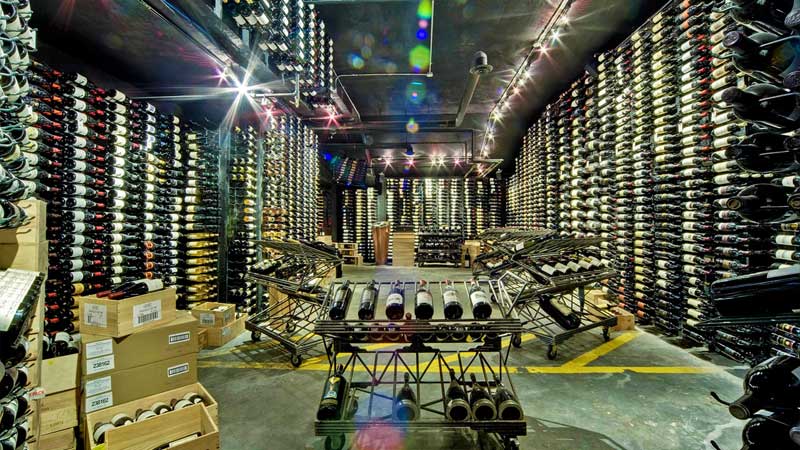 White linen: Bearfoot Bistro
What it does best: Go overboard. Between courses you can pop the tops off champagne bottles in the Bistro's underground wine cellar amongst the world's finest wines and bubblies. Or, don a Canada Goose parka worthy of an arctic expedition and sample vodkas in the restaurant's minus-25-degree Belvedere Ice Room, where more than 50 varieties from around the world are stored.

Signature dish: Nitro Ice Cream—liquid nitrogen transforms cream into ice cream tableside; embellish with traditional Sunday toppings.
For the ultimate Bearfoot Bistro experience, after you've ordered a cocktail (prepared tableside), allow Executive Chef Melissa Craig to create a five-course tasting menu for you. At your request, the restaurant's wine director will pair Craig's selections with the perfect wines to complement each dish.
Bearfoot has a playful name, but it's an exclusive venue. Tables are placed discreetly so that diners have some privacy. The lighting is low and romantic. Plan to spend the evening.
Best nachos: Garibaldi Lift Company Bar & Grill

What it does best: Slopeside après; no need to remove your ski boots.

Signature dish: GLC Nachos loaded with the usual toppings, plus banana peppers, and ground beef, pulled pork, chicken, or chorizo.
If you're looking for a relaxed, pub-style atmosphere, good beer, and unusual bar snacks, head to GLC. It's slopeside above the Whistler Gondola building, the perfect location for a happy hour hangout. In addition to standard bar fare such as nachos and wings, GLC also offers international treats, including an ahi tuna crunch roll, poutine, and cashew chicken lettuce cups. Kid-friendly until 8 p.m., it's Whistler's best venue to grab a burger with friends or family.
Locals' favorite: Sushi Village
What it does best: Sushi, any way you like it.
Signature dish: Local tuna and sockeye salmon sashimi that's so fresh it's practically still moving.
Sushi Village is Whistler's most popular restaurant, whether you're headed for the tatami room to see just how many Fish Ta-Cones it takes to absorb a saké margarita, or just looking for the area's best fresh seafood. The restaurant imports fish from around the globe, including local salmon and tuna from Canada's West Coast, hirame from the eastern provinces, and fresh snapper and prawns from Vancouver.
We recommend the Box Sushi roll: layered salmon, shrimp, scallop, avocado, and thinly sliced lemon pressed into a box shape.
Stowe, Vermont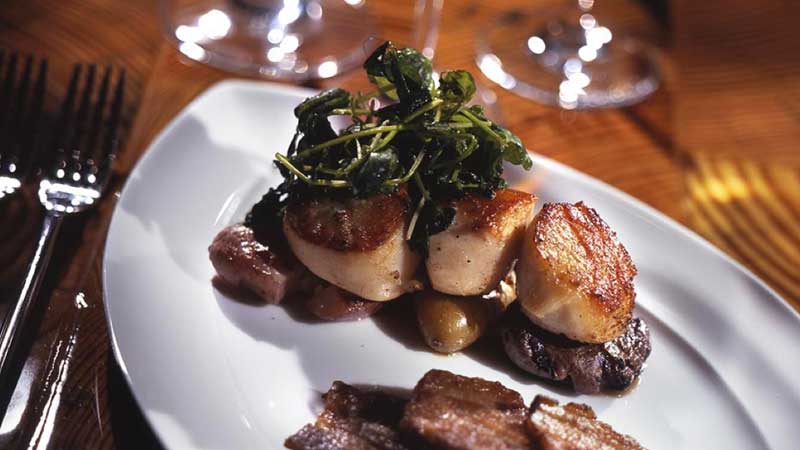 White linen: Solstice at Stowe Mountain Lodge
What it does best: Seasonal localvore haute cuisine in a luxury lodge setting.
Signature dish: Braised lamb shank with creamy polenta, vegetables, and
preserved lemon gremolata.
When Stowe built Vermont's only luxury lodge, it created a dining experience to match the Lodge's exclusive charm: Cathedral ceilings, overstuffed chairs, and stately round wooden tables made by Vermont woodworkers are arranged in an airy open lodge with panoramic views of Stowe's Spruce Peak. Tables are topped with local potter Set the tables with custom pottery designed by Miranda Thomas. Before you've even sampled the food, you can be pretty sure you're in Stowe's finest eatery.
Meals are prepared in an open kitchen on the edge of the dining room, where chefs primarily use organic ingredients, many of which come from Vermont farms. The menu changes seasonally to best feature what can be harvested locally.
Don't pass up the charcuterie and local cheese spread. The meats, sausages, terrines, and artisanal Vermont cheeses are complemented with house pickled vegetables, homemade fruit chutney, and fennel mustard.
It's not a steak house, but if you like a good cut of beef you won't be disappointed. And if surf-and-turf is your thing, Solstice offers "enhancements" served atop main course, including butter poached lobster and lump crab.
Best taco: Frida's
What it does best: South-of-the-border après ski.
Signature dish: Guacamole made tableside in a mortar and pestle.
Before you even consider ordering food, get started with Frida's Special Margarita, which uses El Jimador Reposado, fresh lime juice, agave nectar, and nothing else. When you're ready to dive into dinner, don't pass up the tacos, which are served on house-made soft corn tortillas and filled with anything from fried Atlantic cod to pineapple-braised pork to chayote squash.
Gluten free? Order the Gordita, a fluffy gluten free sandwich stuffed with chicken, avocado or roasted pork. If you'd prefer comfort food, the Pasta Horeneado Verde is essentially mac and cheese with spinach and poblano chiles that will warm your tummy.
Locals' Favorite: Hen of the Wood

What it does best: Farmhouse chic.
Signature dish: The restaurant's namesake, served on grilled bread with a poached farm egg, and house bacon.
Hen of the Wood is a special-occasion kind of place, not because it's exceptionally fancy or expensive, but because it's so popular that reservations can be hard to come by. If you can get a table, go with friends and order lots of sides, so you can all sample each other's food.
Housed in an historic gristmill on Stowe Street, in nearby Waterbury, the restaurant's glass doors open onto the Thatcher Brook waterfall that used to power the mill.
Chef Eric Warnstadt, a two-time Best Chef Northeast finalist for the James Beard Awards, owns Hen of the Wood with his sommelier partner William McNeil. Their pride as Vermonters and commitment to local food shows in their menu, which changes daily based on availability of meats, vegetables, cheeses, and other local products from the restaurant's stable of growers, cultivators, and artisans.
Park City, Utah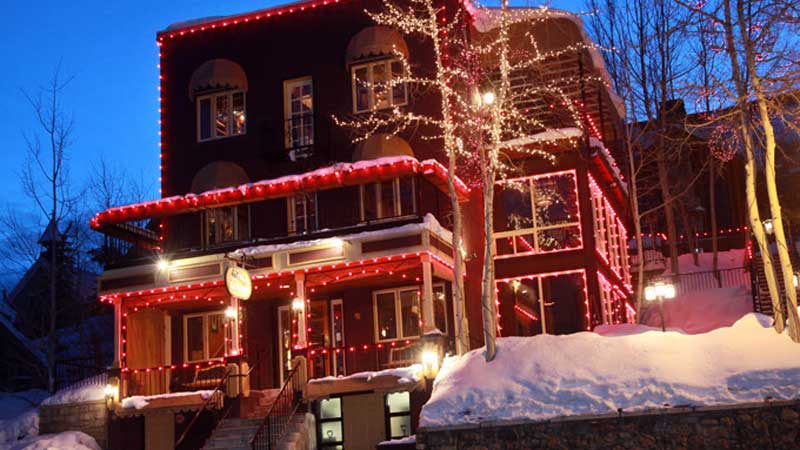 White linen: Grappa
What it does best: Romantic, upscale Italian.
Signature dish: The Veal Osso Bucco, a 16- to18-ounce veal shank braised for eight to ten hours, has been on the menu since the restaurant opened 20 years ago.
Perched at the top of Main Street in an 18th-century wood-and-brick miners' lodge, the restaurant has the feel of an old, rustic farmhouse. A tiled Zeus statue greets you at the entrance. A stately brick fireplace with a copper covered mantle crackles near a mosaic of the Wasatch, while a massive iron chandelier dangles thorough the second floor to illuminate the first. On the restaurant's south side, floor-to-ceiling glass windows offer sweeping views of Main Street.
Homemade pastas are featured in many dishes, such as the braised short rib cannelloni and red snapper over house made ravioli. Finish your meal with treats from the in-house pastry chef—tiramisu, cheesecake, and Italian cookies are favorites.
Grappa has received Wine Spectator's Award of Excellence every year since 1994. And with more than a dozen varieties of Grappa on hand, you're sure to find one that pairs well with your meal.
Best taco: Lone Star Taqueria
What it does best: Slow cooked, authentic Mexican.
Signature dish: The best fresh fish taco north of Mexico.
It's worth the drive into Salt Lake for a Lone Star taco or burrito. Look for the refurbished 1950s-era drive-through diner with an old station wagon parked permanently out front, possibly held together by the stickers that cover it.
Lone Star has authentic Mexican food, sizable portions, and it's super affordable. Established in 1995, the décor is kitschy and vibrant, a colorful backdrop for the continuous stream of bros in ski pants, local office jockeys, and families looking for a meal everyone can dig into. The chips are all handmade and deliciously crispy.
Locals' pick: High West  
What it does best: Western comfort food with a dash of whiskey in every dish.
Signature dish: Utah Ballard Farms pulled pork with fried golden tomatoes and pepper sauce.
This ski-in distillery and gastro-saloon makes small batch Rocky Mountain whiskeys in a 250-gallon copper pot in its basement. Take a tour, do a tasting, then wander upstairs to the rustic, mountain-themed rooms for the kind of home cooking you'd enjoy if your grandma were a rancher.
All dishes—except for those on the kids' menu—have a sauce, herb, or grain that's used in High West's distilled spirits. On request, your server will pair whiskeys with your meal. It's saloon food from a cowboy chef who seems to have traveled a lot. Maybe that's how the Swiss Raclette (called Melted Mountain Cheese here) made its way onto the menu.
Not hungry? Have a drink at the bar, made from reclaimed wood from the Great Salt Lake Trestle Bridge of 1904.

Sun Valley, Idaho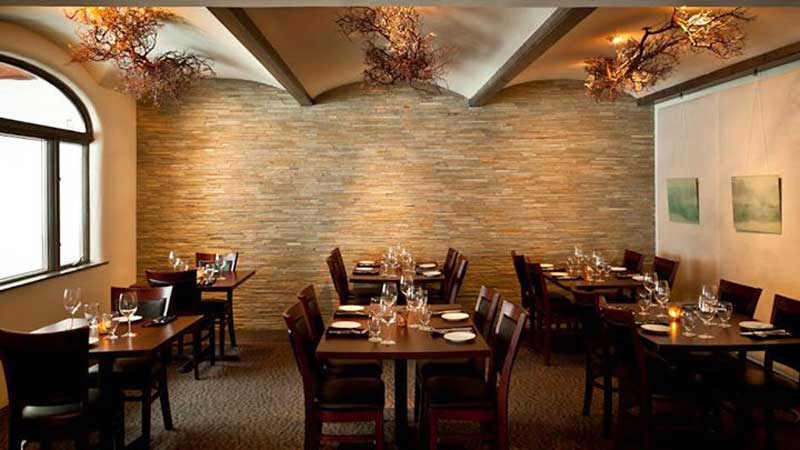 White linen: Knob Hill Inn

What it does best: Simple and refined Rocky Mountain cuisine.

Signature dish: Home-style southern fried chicken with mashed potatoes and vegetables.
A recent $2 million renovation transformed the Knob Hill Inn into a boutique hotel that contains one of Sun Valley's finest restaurants, The Grill at Knob Hill. Owned and operated by the former proprietors of Warm Spring Ranch, the restaurant, which is walking distance from downtown, brings in a good mix of locals and tourists.
The restaurant is a mix of modern and mountain, with a distinctively Northwestern menu that features local trout and prime rib filets right next to calamari, fried chicken and wiener schnitzel. If you're looking for a quick bite, the bar menu is just as good as the full menu.
Best burger: Power House
What it does best: Fit bikes, pour beers, serve burgers.
Half bike shop, half brewpub, go to Power House if you want to meet kindred outdoor spirits and have a great meal. Order the signature burger—organic, grass fed beef served on a challah bun from Bigwood Bread, and topped with mustard, mayo, lettuce, tomato, onion, and your choice of cheese, with a pickle on the side. To really stretch the waistband of your pants, ask the Idaho Nachos (hand cut fries with chili and cheese). Wipe your hands on shop towels and chat with your neighbor.
Powerhouse isn't in Sun Valley proper; it's in Hailey, the next town over. And don't worry, they'll be nice to you even if you don't ski or bike. The experience is always as good as the food and beer selection, which are exceptional.
Locals' favorite: Della Mano
What it does best: Farm-to-table homestyle Italian.
Signature dish: Anything with a sauce—all of Della Mano's are homemade daily.
If you're looking for a fancy restaurant where you won't have to interact with strangers, pick a different eatery. Della Mano takes family style to a new level. The servers wear jeans, drinks are served in sawed off wine punts, and most patrons—young and old, foodie or not—are seated at 12-person tables. So not only do you get a great meal, you make new friends.
Della Mano's chef and co-owner Tayte Pearson, former Executive Director of Fine Dining for Wolfgang Puck, moved to Sun Valley because flyfishing 200 days a year was as important to him as cooking. The same holds true for his business partner, pastry chef Sarah Lipton.
The duo has created a 400-square foot slice of Italy on Main Street in Sun Valley where every ingredient comes from as close to home as possible. They cure their own meats, grind their own Bolognese, and have personal relationships with the local famers who supply them. They make their own pasta and fillings. "Our philosophy is: Buy the best quality product you can afford and treat it with respect and simplicity," Lipton says. "Cook with your heart, cook with passion, cook with truth."
Lead Photo: Gorilla Images