Friday Fantasy
KitFox Is Southwest Glamping at Its Best
Long a local secret, the remote 11-tent glamping getaway KitFox is only open for a few short months each year. Trust us when we say book now.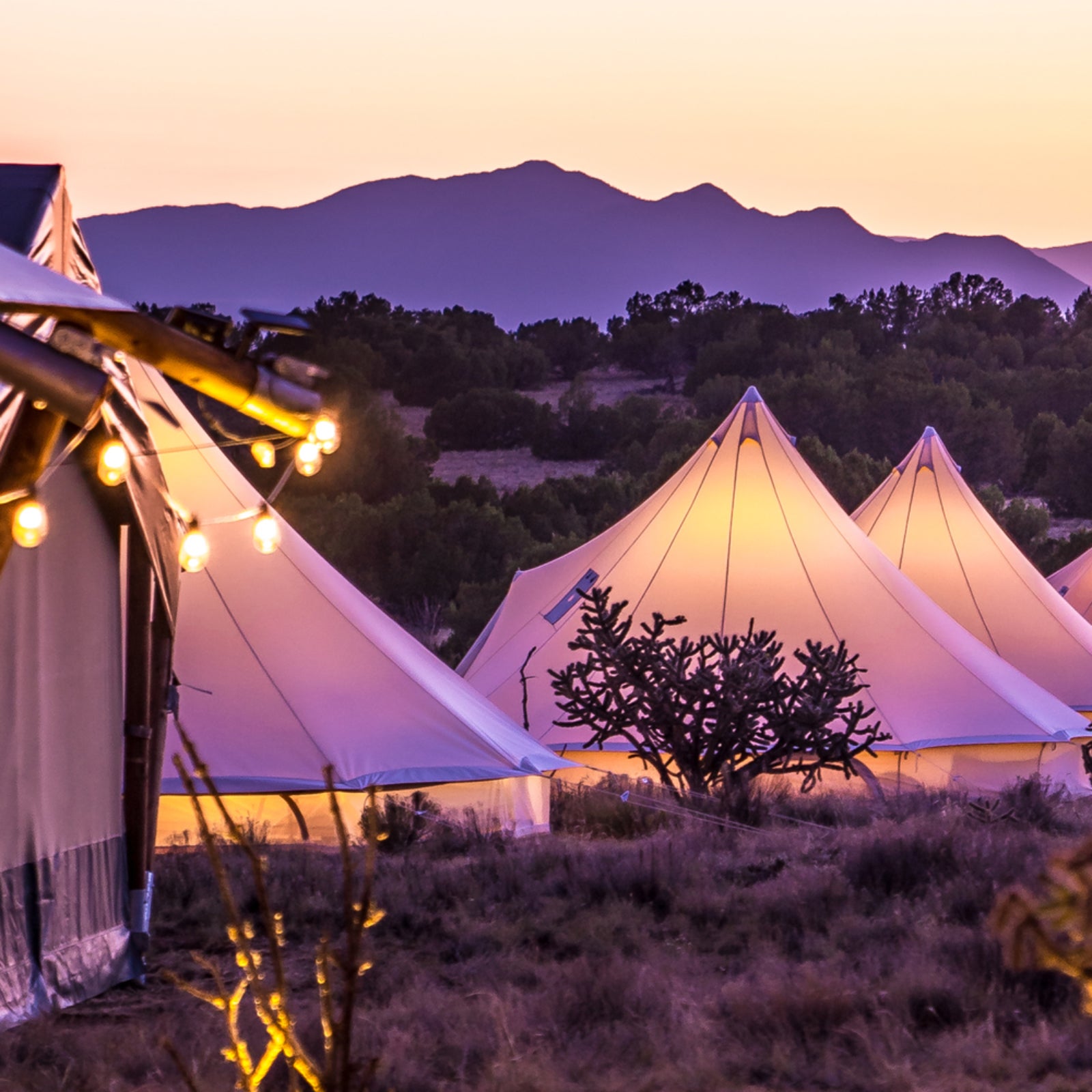 Courtesy KitFox/Ian Beckley
Heading out the door? Read this article on the new Outside+ app available now on iOS devices for members! Download the app.
Ever come across an incredible hotel that stops you mid-scroll and makes you think, Wow, wouldn't it be something to stay there? Us, too—all the time. Welcome to Friday Fantasy, where we highlight hotels, lodges, cabins, tents, campsites, and other places perched in perfect outdoor settings. Read on for the intel you need to book an upcoming adventure here. Or at least dream about it.
Why We Love KitFox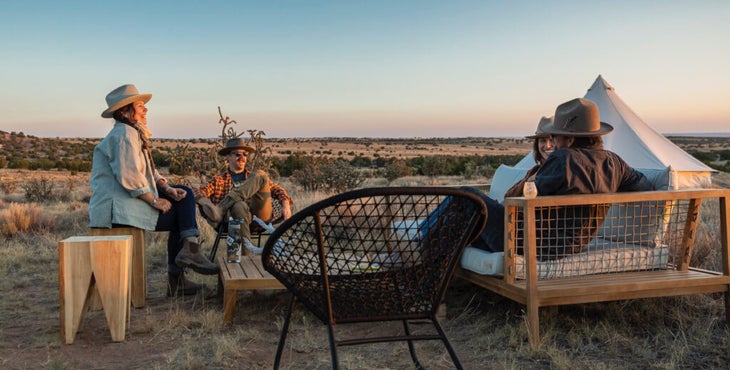 Set under the wide-open sky of northern New Mexico (just 20 minutes south of Santa Fe), between three ranges of the southern Rockies in the high-desert grasslands of the 10,000-acre Galisteo Basin Preserve, KitFox feels exquisitely remote and takes wild glamping to a new level. Owner Jenn Kolker grew up in New Mexico but moved away to work in fashion for several years before the magnetic pull of home called her back. With her local roots and sophisticated eye she's created a safari-meets-the–American West experience. Coyotes howling in the distance at night complete the vibe.
Two other elements set KitFox apart: it's completely solar powered, and it partners with Dig and Serve, a bespoke catering company that specializes in off-the-grid, farm-to-table dining. The best cup of coffee I ever tasted was here—organic, locally roasted, and served by French press with a plunge that was timed to the second—on a frost-laced October morning while watching the sun rise over the Sangre de Cristo Mountains. Soon to follow was the heartiest egg-and-veggie skillet breakfast I've had the pleasure of eating.
Adventure Intel near KitFox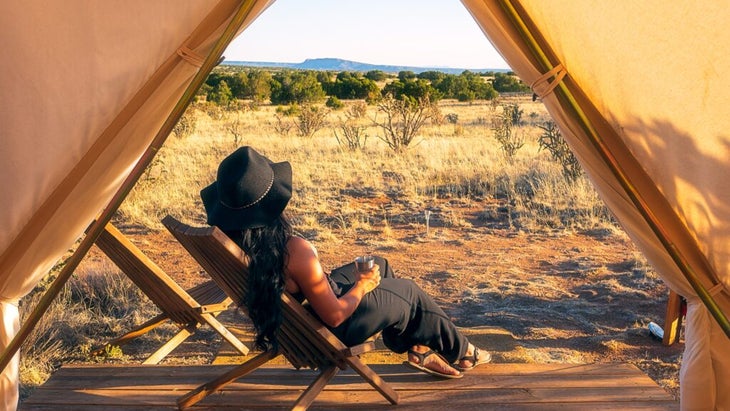 A few hundred steps from the private tents is a covered communal deck for yoga and meditation. Also on property are three miles of hiking trails that loop through arroyos, wind-eroded rock formations, and rolling hills filled with cholla and prickly pear cactus, juniper, and piñon. An archery range can be set up for special programming, with an instructor and equipment. Within the surrounding preserve there are 40 miles (and growing) of well-marked hiking, mountain-biking, and equestrian trails that roll over the hills. (Bring your own bike or rent one from Mellow Velo or New Mexico Bike N Sport in Santa Fe.) The ever-changing 360-degree view of the sky is an adventure in itself, whether that means watching a summer monsoon sweep in, following a bloodred moon across the heavens, or standing in awe of the glittering Milky Way.
Choice Tent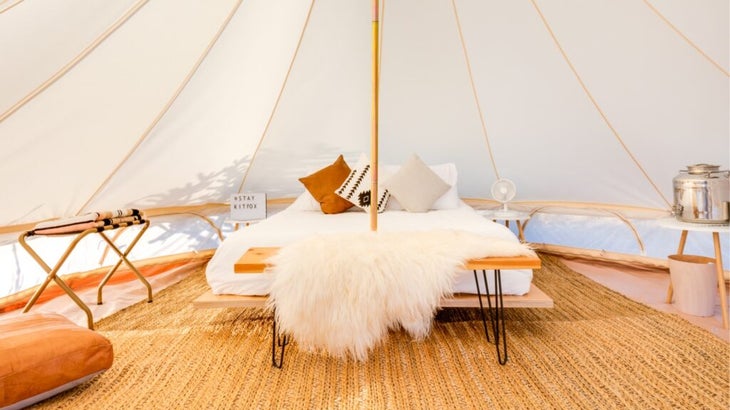 Ten bell-shaped canvas tents are spaced about 25 yards apart in two rows. All are the same size, roomy enough to include a queen or two twin beds. The remaining interior decor is sparse yet luxurious: a jute rug, a sheepskin throw, a bench for sitting, a purified-water dispenser, and phone-charging cords. A small deck outside has two lounge chairs—ideal for spending an afternoon reading a book. One larger safari-style tent on a raised platform offers a king bed. Some tents are pet friendly, and all offer stellar sunrise views.
Eat and Drink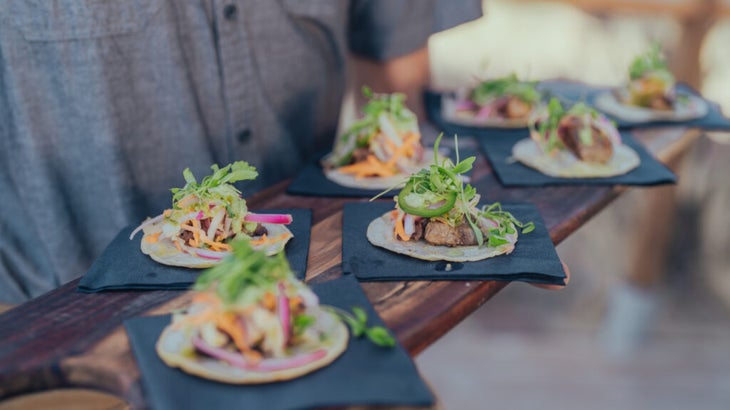 KitFox offers a weekend package that includes a Saturday camp-style dinner under the stars and a Sunday picnic-style breakfast with a choice of Iconoclast organic coffee from Iconik Coffee Roasters in Santa Fe or Teo.O.Graphy loose-leaf teas from Taos ($250 for two people). Meals are mostly plant based (and made with seasonal, locally sourced food, so the menu changes) and may include a rainbow-colored salad loaded with arugula, carrot, and purple daikon, chile-braised beef short rib that's grilled outside, or a vegetarian option like seared trumpet mushrooms. Locally made sparkling beverages and herbal bitters are sold à la carte in KitFox's small general store and are perfect for mixing your own mocktails or cocktails.
When to Go
KitFox is open Fridays to Mondays from May through October, and there's no bad month as long as you pack plenty of layers. The elevation here is around 6,000 feet, and temperatures can dip below freezing, especially in the fall. A lot of visitors plan their trip around the sky—a full moon, an eclipse, or a meteor shower. Local astronomers claim that October is a particularly clear month to view stars in these parts.
How to Get There
The closest major airport is 75 miles south, in Albuquerque. Or the smaller Santa Fe Regional Airport is 25 miles northwest. The rural town of Lamy is close by, but KitFox prefers not to publish specific directions to keep traffic and nonguests from wandering the property. Make a reservation and they'll send detailed driving instructions 48 hours prior to your stay.
Don't Miss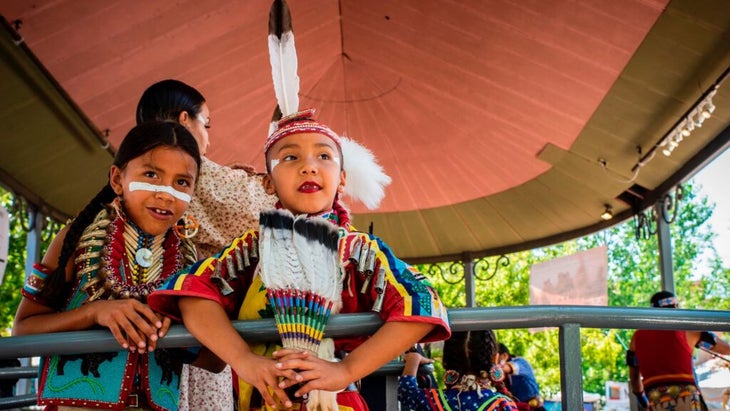 Every summer at the International Folk Art Market in Santa Fe, folk artists from around the world gather to sell their one-of-a-kind wares; the four-day event draws everyone from Haitian metal sculptors to Peruvian retablo artists to Kazakh jewelers. (The Folk Art Market has already taken place this year, but look for 2024 dates soon.)
There's also the Traditional Spanish Art Market, which will be held July 29 and 30 this year, showcasing beautiful work from local Hispanic artists, and the Santa Fe Indian Market on August 19 and 20, an impressive gathering of Native artisans and performers. The Railyard is home to Santa Fe Farmers' Market, one of the oldest, largest, and most successful growers' markets in the country, every Tuesday and Saturday from 8 A.M. to 1 P.M.
Farther afield, roughly 50 miles northwest, is one of the most surreal sightseeing combinations: the peaceful canyons of Bandelier National Monument, where the Ancestral Puebloans farmed corn and beans and lived in cliff dwellings thousands of years ago; nearby is the city of Los Alamos, home to the Bradbury Science Museum, which walks visitors through the history of the Manhattan Project. Exploring these two vastly different historical segments of what is now the United States will give you enough to noodle on for months.
Details
To Book: StayKitFox.com
Price: From $200 per night, not including meals
Check out This Gaia GPS Map of the Area: (Disclosure: Gaia GPS is owned by Outside Inc., which also owns Outside Online.)
Lead Photo: Courtesy KitFox/Ian Beckley
Trending on Outside Online