The Best View in Every State
Stunning and easy-to-access vistas to bookmark for your next road trip
Heading out the door? Read this article on the new Outside+ app available now on iOS devices for members! Download the app.
One of the best things about living in a country with a landscape as diverse as the U.S. is the ability to pick up and set off for a stunning vista, no matter what state you live in.
Our final choices were narrowed-down from a long list of prospects to bring you the best view in each state, with a special emphasis on accessibility, educational signage, and family-friendly hikes. You won't need to break a sweat or own a 4WD vehicle to soak up the scenery at these stunning sites.
Alabama
Canyon View Overlook, Little River Canyon National Preserve
A haven for anglers, birders, and cyclists, Little River Canyon is a rocky, mountainous gem in otherwise flat Alabama. For those more interested in auto touring and relaxing with a picnic basket and an epic cliffside drop off, the Canyon View Overlook (especially in autumn), provides breathtaking vistas of Little River and maybe even a few climbers along its sandstone walls.
Alaska
Wonder Lake, Denali National Park
If you're lucky enough to snag one of the coveted campsites, there's no better place to watch the sun rise and set across the Denali skyline than at Wonder Lake. For those merely day tripping into this storied national park, there are tour and transit buses available that will take you down the length of the park road, where you can search for moose, grizzly bears, caribou, Dall sheep, and wolves along the way.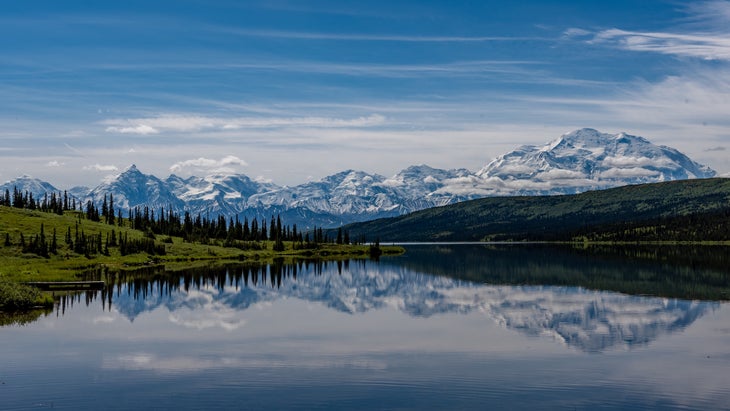 Arizona
Mather Point, Grand Canyon National Park
A short stroll from the Grand Canyon's incredible visitor center is Mather Point, a striking panoramic vista down into the bright red maw of the world's longest canyon. This is often the first glimpse that visitors get of the famous ravine, and it's a doozy for anyone with a fear of heights—the ground falls away for nearly 5,000 feet down to the roiling Colorado River below.
Arkansas
Cedar Falls Overlook, Petit Jean State Park
Want a short hike with a lot of bang for your metaphorical buck? The .3-mile jaunt over to Cedar Falls Overlook is one of the most accessible in Petit Jean State Park, a woodsy hillside expanse with striking views of the Arkansas River. Cedar Falls is the most-photographed waterfall in the state, with a powerful cascade that roars through the neighboring forest.
California
Tunnel View, Yosemite National Park
Every time I drive through the nearly mile-long Wawona Tunnel, I want to hear the Jurassic Park theme song blasting through my speakers when the scenery from the other side wallops my senses. Its magic is overwhelming. Tunnel View is one of the most famous photo-ops in the entire park system and is a phenomenal perch from which to gaze out at El Capitan, Half Dome, Sentinel Rock, and Bridalveil Fall. Go at sunrise to avoid the inevitable crowds.
Colorado
Maroon Lake, Maroon Bells-Snowmass Wilderness
Perhaps the most-photographed 14ers in all of Colorado, Aspen's Maroon Bells are so popular that a parking and shuttle reservation system now exists to space out visitation during busy summer and autumn months. Book your $16 shuttle ticket early and enjoy the leisurely seven-mile journey from T Lazy 7 Ranch. Once parked, stretch your legs on an easy, 1.3-mile hike around the lake.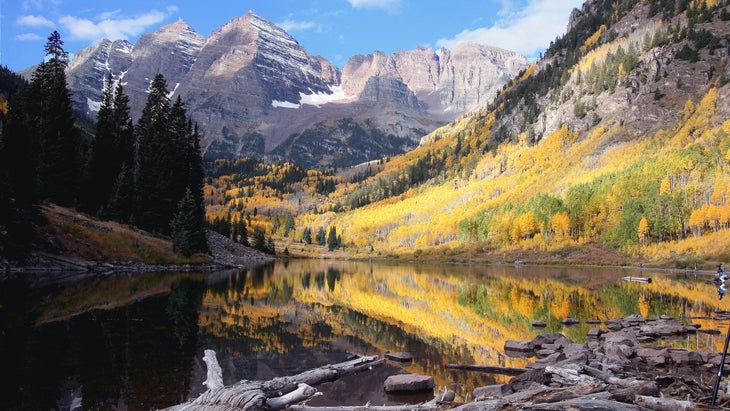 Connecticut
Lovers Leap, Lovers Leap State Park
Though steeped in tragic folklore—it is said that Pootatuck Indian Chief Waramaug's daughter, Princess Lillinonah, and her lover jumped to their deaths from these cliffs—Lovers Leap State Park is a serene, natural escape where visitors can gaze out at the breathtaking waters of Lake Lillinonah or go for a short saunter on one of the park's many trails.
Delaware
Rockford Tower, Rockford Park
What Delaware may lack in cliffs-edge overlooks, it more than makes up for in miles of verdant, green farmland. The centerpiece of this historic park is 100-year-old Rockfort Tower, a cut stone water tower now offering scheduled tours and grand vistas to the public. From the observation deck, stare out at the lush, green Brandywine Valley and the city of Wilmington.
Florida
Seven Mile Bridge, Florida Keys
Originally known as the "Eighth Wonder of the World," this roadway near Pigeon Key in southern Florida was once a harrowing railroad bridge, completed in 1912, and a marvel of modern engineering. These days, it's been widened to allow for tourists and their cars to cruise slowly along and comfortably take in the surrounding tropical blue water on their way to Bahia Honda and Key West.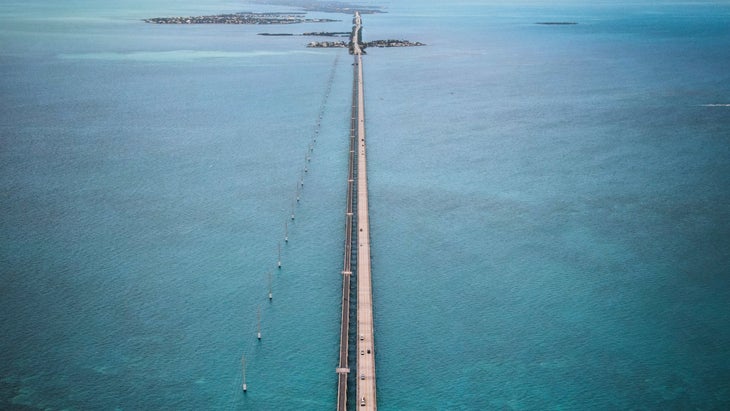 Georgia
Main Overlook, Cloudland Canyon State Park
Formed over millions of years of erosion by the Bear and Daniels Creeks, Cloudland Canyon is a geological marvel of deep-cut sedimentary rock filled with lush sugar maples, American sycamores, and nine types of oak tree. The mellow, one-mile trail to the park's main overlook begins behind the interpretive center and features excellent glimpses of the creeks' intersection and some seriously stunning fiery foliage, come autumn.
Hawaii
Pu'u Hinahina Lookout, Waimea Canyon State Park
The best way to see Waimea Canyon State Park, a dramatic series of rippling red cliffs that plunge towards the Waimea River, is by getting out and hiking. Check out the easy Cliff Trail for a quick pit stop. The park also offers a couple of scenic overlooks for those who prefer a relaxing drive. My favorite is the Pu'u Hinahina Lookout, with its jaw-dropping views into the rust-red depths of 3,500-foot deep Waimea Canyon.
Idaho
Bruneau Canyon Overlook, Bruneau-Jarbidge Rivers Wilderness
This viewpoint might be in the middle of nowhere on a rambling country road, but I promise it's well worth the mileage to reach it. Plunging 1,200 feet to the Bruneau River Below, Bruneau Canyon's maze of metamorphic cliffs and towering spires are a drama-filled addition to any Idaho road trip. Wildlife lovers: keep your eyes peeled for bighorn sheep, coyotes, and river otters.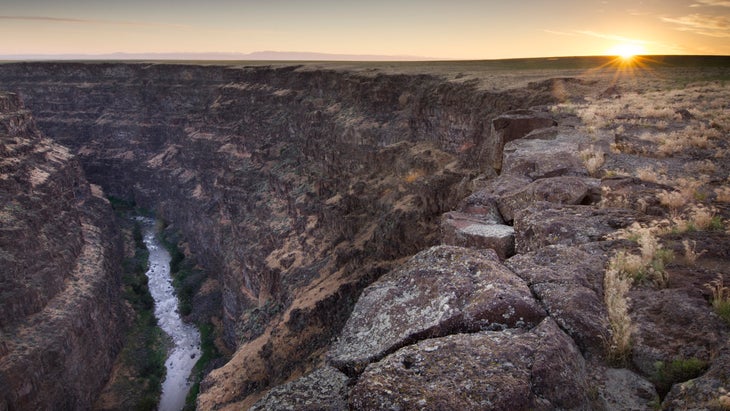 Illinois
Observation Trail, Shawnee National Forest
Wind and rain patiently chip away at layers of 320-million-year-old sedimentary rock in Illinois' Shawnee National Forest, leaving a series of terraced ledges overlooking a colorful woodland canopy. From the short, quarter-mile observation trail, visitors of all ages can stroll along a wooden platform overlooking the most picturesque formations at Garden of the Gods.
Indiana
Cataract Falls, Cataract Falls State Recreation Area
Screw the song and go chase waterfalls in one of Indiana's most-visited recreation areas. Cataract Falls consists of two churning cascades, spaced one mile apart, with a mellow stroll between them for visitors who like to get their steps in. The Upper Falls is the higher of the two, dropping 45 feet to the water-carved rocky shores of Mill Creek.
Iowa
Primary Overlook, Pikes Peak State Park
While it may not be the Pikes Peak most people first think of, Iowa's Pikes Peak State Park is home to pristine, wooded hillsides and some of the best views of the Mississippi River in the country. Learn about the area's Native history at Bear Mound, or take the 0.9-mile trek down to Bridal Veil Falls to enjoy the cool mist on a warm, summer day.
Kansas
Lookout Point, Arikaree Breaks
Standing in stark contrast to the grasslands and prairie some might associate with Kansas, the Arikaree Breaks are a series of deep gullies and ravines formed into the otherwise wide-open landscape by wind-deposited sand, silt, and clay particles called loess. The Breaks are part of Kansas' agriculturally-focused Land and Sky Scenic Byway.
Kentucky
Skylift Overlook, Natural Bridge State Resort Park
Situated in the popular climbing mecca of Red River Gorge, Kentucky's Natural Bridge is a towering hunk of sandstone that's been naturally carved into a striking arch formation 65 feet high and over 75 feet across. Visitors wanting to get up close and personal with the bridge can soar above the forest on a scenic skylift, then traverse a short trail to a fantastic viewpoint.
Louisiana
Dock View, Chicot State Park
Louisiana's waterways are a perfect excuse to saunter up to more pristine, meditative scenes than many of the teeth-gritting, knife's-edge vistas you'll find on this list. Lake Chicot, lauded for its largemouth bass fishing, is surrounded by a tranquil, bottomland hardwood forest, and for those lucky enough to nab a lakeside campsite, the sunset views from the dock can't be beat.
Maine
Cadillac Mountain, Acadia National Park
When a view is so popular that the National Park Service implements a reservation system to space-out visitors who want to experience its magic, pay attention. Gazing out at the sunrise from Cadillac Mountain, the first point in the U.S. to catch the sun's rays from October 7 to March 6, is a rite of passage for anyone heading to Acadia. From the top, stare out at the glacially-carved Schoodic Peninsula and dozens of small islets sprinkled across the Atlantic as the sun turns from periwinkle to brilliant marigold.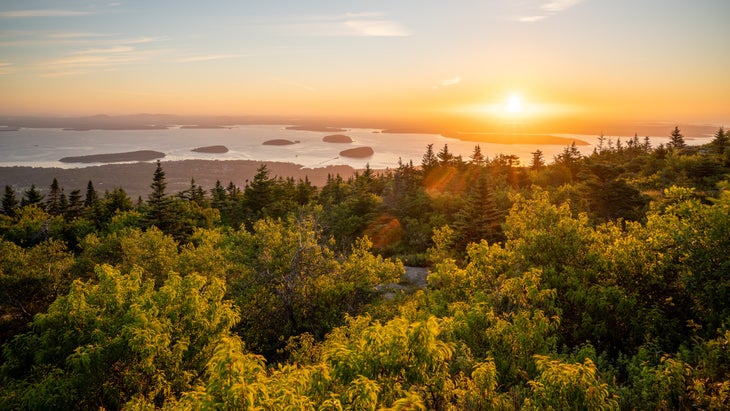 Maryland
Dan's Rock Overlook, Dan's Mountain State Park
In autumn, when the leaves are aglow in their end-of-season finest, the view from the top of Dan's Rock is, by far, the most spectacular in all of Maryland. After ascending a quick incline of stairs from the parking area, travelers here can grab a 180-degree panorama of the rolling hillsides of the Allegheny Front.
Massachusetts
Aquinnah Cliffs Overlook, Martha's Vineyard
Watching the sunset atop these epic clay cliffs will have you feeling like you're standing at the edge of the universe. One of the most popular destinations on the island of Martha's Vineyard, the Aquinnah Cliffs are home to several gently sloping, family-friendly trails that allow people to explore the escarpments from their grassy tops or stroll along the beach below. When the parking lot fills in summer months, a local bus can still take you to this snapshot-worthy lookout.
Michigan
Miners Castle Overlook, Pictured Rocks National Lakeshore
Many of the most unique formations at Pictured Rocks require an all-day paddling trip around the southern edge of Lake Superior to explore them up close, but the Miners Castle Overlook allows for motor tourists to pull right up and soak in a little Upper Peninsula allure. From the parking area, a wheelchair-accessible trail leads visitors past interpretive signs and enchanting picture-perfect glances at Grand Island and the rocky shoreline that make this area so majestic.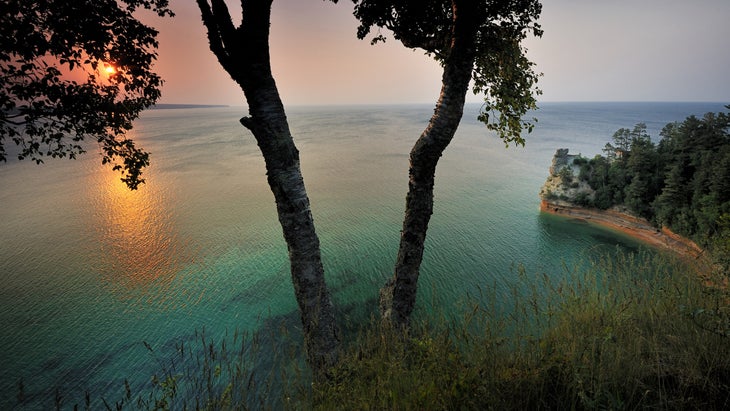 Minnesota
North Overlook, Great River Bluffs State Park
In a park known for its commanding views of the mighty Mississippi, the North Overlook at Great River Bluffs really steals the show when it comes to good looks. Easily found from the park's picnic grounds by a 200-yard trail, this vista point has a wealth of interpretive signage identifying nearby landmarks and telling the story of the Mississippi River Valley.
Mississippi
Reservoir Overlook, Natchez Trace Parkway
The Natchez Trace Parkway is a 444-mile recreational roadway that follows roughly 10,000 years of human history by traversing a historic corridor used by early Native Americans. At milepost 105.6 is Reservoir Overlook, a tremendous view of the manmade Ross Barnett Reservoir, which parallels the parkway for eight miles.
Missouri
Castle Trail, Ha Ha Tonka State Park
Roughly translated from an Osage phrase meaning "smiling waters," Ha Ha Tonka State Park is home to an outstanding bird's-eye perspective of Lake of the Ozarks, plus the ruins of an early-1900s castle that have since been taken over by the state. From the accessible, half-mile Castle Trail, visitors can gaze out at the calm, blue lake water and explore the abandoned estate of wealthy Kansas City businessman, Robert Snyder.
Montana
Lake McDonald, Glacier National Park
Famous for its Instagram photos of colorful "Fruity Pebbles rocks," the view from the dock at Lake McDonald is one of the first that many travelers to Glacier National Park encounter. At ten miles long and 500 feet deep, the glacially-carved lake is staggering in its size and offers a far-flung glimpse at the park's higher peaks.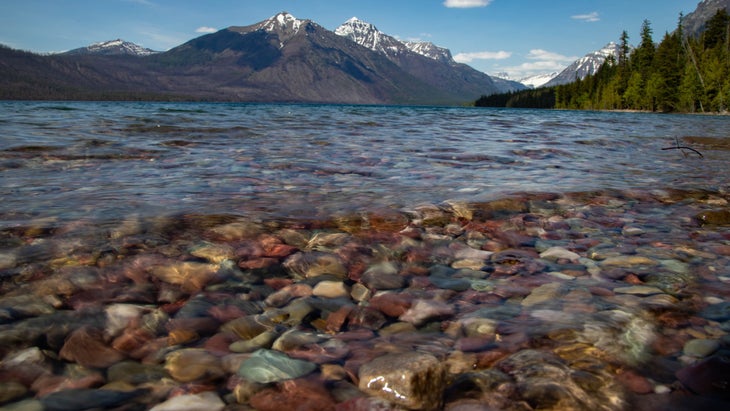 Nebraska
North Overlook, Scotts Bluff National Monument
An important monument for both Native Americans and early settlers on the Oregon Trail, Scotts Bluff is an 800-foot tower of sedimentary rock standing tall along the North Platte River in western Nebraska. The half-mile North Overlook Trail lets hikers take in the expansive scenery of the Great Plains from the very top of the plateau.
Nevada
Mather Overlook, Great Basin National Park
For impressive photos of 13,065-foot Wheeler Peak, the second-highest in Nevada, look no further than Mather Overlook. Situated along the main scenic drive in Great Basin National Park, this viewpoint gazes out at a craggy alpine cirque, ancient bristlecone forests, and, of course, the summit proper.
New Hampshire
Pemigewasset Overlook, White Mountain National Forest
This easy pullout on the Kancamagus Highway brings motorists face-to-face with a spellbinding view of the White Mountains that stretches on for miles. New Hampshire's Pemigewasset Overlook, named after an Abenaki word meaning "where the entering current is," features a shade structure and several benches for maximum enjoyment; bring a picnic and enjoy the treetops from way up high.
New Jersey
State Line Lookout, Palisades Interstate Park
Marked by the highest point in New Jersey's Palisade Cliffs, at 520 feet above sea level, State Line Lookout offers a striking view of the Hudson River and access to miles of hiking and cross-country ski trails. The site is located just half a mile from the New Jersey-New York state line along the Palisades Interstate Parkway.
New Mexico
White Rock Overlook, White Rock
With its jaw-dropping views of the Rio Grande and the Jemez Mountains, it's no wonder that White Rock Overlook is a must-see for anyone traveling through the Los Alamos area. Situated atop a bluff across the Rio Grande from the Diablo Canyon Recreation Area, the views down into Mortandad Canyon and the greater river basin are the perfect way to wind down after a day spent on the trails or at the crag.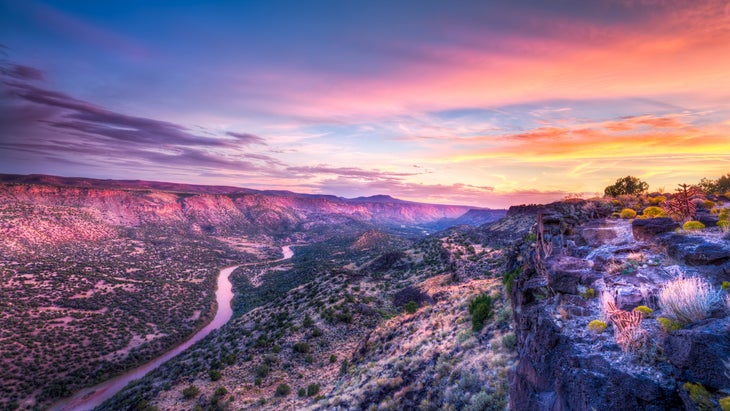 New York
Taughannock Falls Overlook, Taughannock Falls State Park
The Finger Lakes Region of upstate New York is one of the best places to escape the city, and Taughannock Falls' 215-foot plunge through a gorge of shale, sandstone, and limestone offers a wonderful vantage point from which to take in the area's epic nature. If you're looking to stretch your legs, take the 1.9-mile Gorge Trail for thrilling views of the falls from the bottom-up.
North Carolina
Wisemans View, Linville Gorge Wilderness Area
Just outside of the adorable mountain town of Asheville, 1,400-foot deep Linville Gorge is one of the defining features of the Smoky Mountain Range. A spectacular, bird's-eye look at the action is easily accessible at Wisemans View, off the Kistler Memorial Highway. From the top, peer out at "The Grand Canyon of the East" and unencumbered views of both Hawksbill Mountain and Table Rock.
North Dakota
Painted Canyon Overlook, Theodore Roosevelt National Park
Panoramic views of colorful badlands formations seemingly come out of nowhere on this highway rest stop off North Dakota's Interstate 94. Take in the sunset from the paved pathway up top, or hike into the maze of striped rock on the one-mile Painted Canyon Nature Trail.
Ohio
Ledges Overlook, Cuyahoga Valley National Park
Set high above the Cuyahoga Valley, between Cleveland and Akron, the Ledges Overlook is home to water-carved rock terraces, tree-strewn hillsides, and a seriously memorable sunset lookout. After spending an afternoon on the popular, 1.8-mile Ledges Trail, there's no better place to stop and enjoy the charm of this eastern national park.
Oklahoma
Winding Stair Picnic Area, Winding Stair Mountain National Recreation Area
Undulating through Oklahoma's woodsy backroads is the Talimena Scenic Byway, a 54-mile route through Choctaw Country, and the Winding Stair Picnic Area is the most dazzling of the drive. Get lost in daydream while overlooking the verdant Ouachita National Forest, which stretches on for miles from this top-down vantage point.
Oregon
Discovery Point Overlook, Crater Lake National Park
Of all the scenic drives in America's national parks, Crater Lake's beloved Rim Drive is one for the record books. Built in the 1930s, this engineering marvel circumnavigates the deepest lake in the U.S., and Discovery Point, where it's said that gold prospector John Wesley Hillman was the first white man to spot the lake in 1853, will make you feel like you've stepped through a portal to another world. Gaze out at the sapphire water from the paved walkway, or perhaps crunch your boots along the 2.4-mile Discovery Point Trail.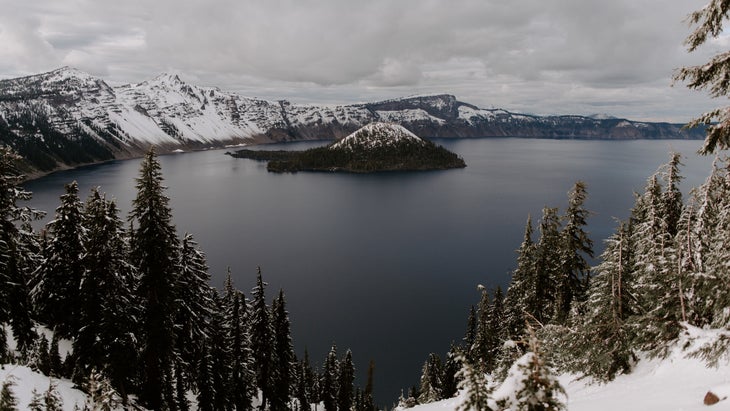 Pennsylvania
Hawn Overlook, Raystown Lake
Sure, there are more accessible overlooks at Raystown Lake, but if you're up for a 300-yard jaunt along a crushed stone path, Hawn's Overlook will not disappoint. From the viewpoint itself, perched on the edge of Hawn's Peninsula, visitors can stare out at a 180-degree view of the lake while learning about the area via interpretive signage.
Rhode Island
Beavertail Lighthouse, Beavertail State Park
Though it may be the smallest state in the union, Rhode Island's Beavertail State Park goes big with its views. At the southern tip of the park is Beavertail Lighthouse, which is a photo-worthy backdrop all its own, but combined with the rugged Atlantic coastline and waves breaking over the rocky shore, it's easily the most stunning spot in the joint.
South Carolina
Caesar's Head Overlook, Caesar's Head State Park
A dramatic outcropping of granitic gneiss on the otherwise wooded ridgelines of South Carolina's Blue Ridge Mountains gives Caesar's Head its name, and a short, 0.3-mile trail brings visitors of all ages to this vista point where they can check out informative signs marking nearby landmarks like Paris Mountain State Park, Campbell Mountain, and the ever-prominent Table Rock Mountain.
South Dakota
Big Badlands Overlook, Badlands National Park
If you're looking to take in the sheer scale of South Dakota's Badlands Wall, there's no better spot than Big Badlands Overlook. Located just south of the park's northeast entrance, past the green prairies and ornery bison herds, this viewpoint looks out over a veritable maze of fast-eroding, rust-tinted badlands formations.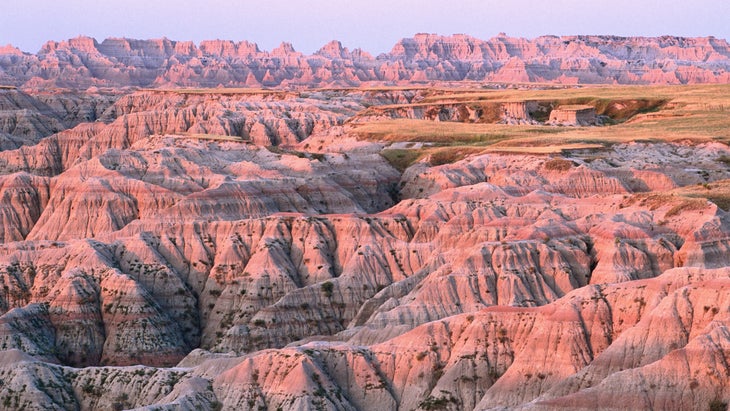 Tennessee
Newfound Gap, Great Smoky Mountains National Park
This may be the lowest drivable pass in Great Smoky Mountains, but Newfound Gap, set right on the border between Tennessee and North Carolina, will make you feel like you've summited a high peak to glean its expansive views. After winding along the West Prong of Little Pigeon River, hitch a left into the area's large parking lot and trek down to the overlook, where interpretive signage tells the story of Cherokee and settler history within the Smokies.
Texas
Palo Duro Canyon Scenic Overlook, Palo Duro Canyon State Park
Move over, Grand Canyon! There's a new overlook in town. Though not as much of a household name as other brilliant red ravines out west, Palo Duro Canyon, in the Texas panhandle, is no less striking. This overlook, near the visitor center, stares down into the maw of the striped ochre walls as they plunge 800 feet to the canyon floor below.
Utah
Grand View Point, Canyonlands National Park
The scenery surrounding this viewpoint is, well, grand. Far off in the distance, the snow-capped La Sal Mountains rise up from behind the town of Moab, and White Rim Road, 1,500 feet below, rises and falls along the canyon's rocky ledges. A 300-foot-long paved sidewalk will take visitors to the edge of the overlook, or, for the more adventurous, there's a one-mile trail extending along the rim, perfect for getting up-close with the park's many pinnacles and boulder formations.
Vermont
100-Mile View, Hogback Mountain
The name may sound like hyperbole, but, on a clear day, this view from Hogback Mountain in Marlboro truly does stretch on for dozens of miles. Stroll among the abandoned buildings of an old, historic ski area and take in the views of Mount Monadnock and Wachusett Mountain. Best explored in summer and fall.
Virginia
Hazel Mountain Overlook, Shenandoah National Park
Shenandoah's Skyline Drive is chock-full of incredible vistas, but the craggy granodiorite outcroppings and Blue Ridge Mountain views of Hazel Mountain Overlook, at mile marker 33, have won my heart. Situated south of the park's Thornton Gap Entrance Station, this sky-high glimpse of Virginia's rolling green farmlands is not to be missed.
Washington
Diablo Lake Overlook, North Cascades National Park
In a state full of dramatic mountains and ragged coastlines, it was hard to pick a top viewpoint, but the glimpses of far-flung glaciers nestled high in the North Cascades and the milky turquoise water of Diablo Lake make this accessible overlook in Washington's northernmost park an otherworldly escape. Go July through September for the lake's most luminous blue color.
West Virginia
Fayette Station Bridge, New River Gorge National Park
Rafting is a big part of West Virginia's outdoor culture, and, if you time your visit to this bridge overlook just right in summer (usually between 2 P.M. and 3 P.M.), you'll have the chance of watching dozens of boats floating downstream underneath the park's most famous landmark, the New River Gorge Bridge. Plus, the striking colors of countless oaks and maples will parade alongside your drive for the entirety of the road's switchbacks. Talk about forest bathing.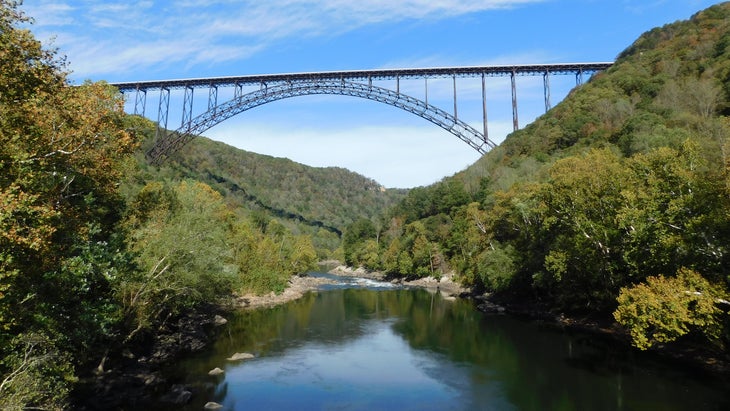 Wisconsin
Ferry Bluff, Ferry Bluff State Natural Area
Sitting over 300 feet above the confluence of the Wisconsin River and Honey Creek lies Ferry Bluff, a stunning plateau of sandstone and dolomite boasting fantastic river views through forests of ironwood, hackberry, and elm. A 0.4-mile hike up to the main overlook promises epic glimpses of the watershed, and locals say to go at sunrise to nab that perfect, magic hour light.
Wyoming
Snake River Overlook, Grand Teton National Park
Made famous by Ansel Adams in the 1940s, Snake River Overlook is one of the most iconic Grand Teton snapshots in the park. The hushed green tones of sagebrush leading up to a coniferous forest along the riverbanks make for a striking foreground for anyone looking to snap an unforgettable shot of the Grand.
Lead Photo: Aram Grigoryan, Unsplash