The Bounty Up North
Savor our top 20 wild Canadian adventures (including 5 new parks) for heaping helpings of glacial lakes, alpine meadows, swift rivers, and snowcapped peaks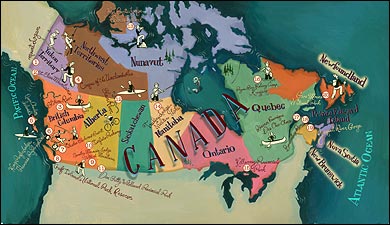 Heading out the door? Read this article on the new Outside+ app available now on iOS devices for members! Download the app.
1: Summer Skiing on Mount Logan

2: Heli-Hiking on St. Elias Mountain

3: Canoeing the Stikine River

4: Climing the Cirque of the Unclimbables

5: Sea Kayaking in the Queen Charlotte Islands

6: Fly-Fishing at King Pacific Lodge

7: Mountain Biking at Whistler Blackcomb

8: New Park: Gulf Islands National Park Reserve, BC

9: Hiding Awy in Sentry Mountain Lodge

10: Cycle Touring Along the Icefields Parkway

11: New Park: Don Getty Wildland Provincial Park, Alberta

12: Whitewater Kayaking on the Slave River

13: Solitude Seeking in High Arctic Lodge

14: Lake Fishing at Treeline Lodge

15: New Park: Killarney Provincial Park, Ontario

16: Char Fishing at Payne River Fishing Camp

17: New Park: Reserve Faunique des Chic-Chocs, Quebec

18: New Park: Jacquet River Gorge Protected Natural Area, New Brunswick

19: Canoeing on the Bonaventure River

20: Hiking in Gros Morne National Park


Mount Logan & the St. Elias Mountains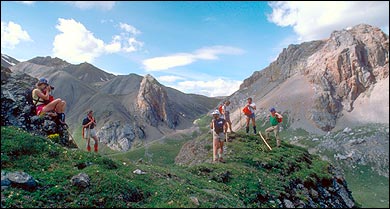 Summer Skiing
Mount Logan
Yukon Territory
By the numbers, summertime skiing on Mount Logan can seem daunting. At 19,524 feet, it's Canada's highest peak. Sitting squarely in the St. Elias Mountains of the Yukon's Kluane National Park and Reserve, Logan dominates a 12-mile plateau of eight subpeaks over 18,000 feet. The mountain itself rises more than 13,000 feet above its glacial base, which has a circumference of 100 miles.

But don't let Logan's Himalayan stats dismay you. The most popular route up, King Trench, is a North American classic—comparable to tackling Mount McKinley's West Buttress. You can ski the majority of the Trench's gently sloped glaciers, and with a dependably toasty sleeping bag and at least two weeks, intermediate skiers (with mountaineering experience and a guide) have a good shot at the summit.—Sam Moulton

DETAILS: International Mountain Guides (360-569-2609, www.mountainguides.com) will run an expedition May 30–June 19 for $4,000 per person. With Imax views, Icefield Discovery Lodge (867-633-2018, www.icefields.ca), on the St. Elias icefields, is a great base camp for ski touring. A two-night package for two costs $875, including meals and round-trip airfare from Silver City.

Heli-Hiking
St. Elias Mountains
Yukon Territory
Flying over the St. Elias peaks in Kluane National Park and Reserve, you'd never guess the Ice Age ended some 10,000 years ago. Eighty-two percent of the park is glaciated, but at 8,487 square miles, there's plenty of lower-elevation terra firma to explore. From Haines Junction, on the park's eastern edge, Paddle/Wheel Adventures can arrange guided heli-hiking on the 5,600-foot Kluane Plateau, located just outside the national park. It's a quick 35-minute flight, but it's long enough to see the Dall sheep that dance, Dean Potter–like, up the sheer Kluane mountainsides.

Once you've landed on the plateau's sprawling alpine meadows, the choice is yours: Hike down the five- or six-hour route back to the road, or stick to the ridge and rendezvous with the chopper five or so miles farther southeast near Outpost Mountain. Either way, the views of Kluane Lake, the Slims River, and the hanging glaciers on Mount Vulcan are dizzying. But do stay focused: Grizzly sightings are common in these parts.—S. M.

DETAILS: Paddle/Wheel Adventures (867-634-2683, www.paddlewheeladventures.com) runs heli-hiking trips on the Kluane Plateau starting at $190 per person for an afternoon, including lunch and guide.
Stikine River & the Cirque of the Unclimbables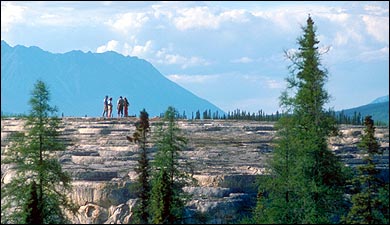 Canoeing
Stikine River
British Columbia
In a little more than a week and 150 miles of intermediate canoeing on the lower Stikine River, you can travel between two countries, among 10,000-plus-foot oceanfront peaks, and through two biological worlds—the dry eastern slopes of the Coast Mountains in British Columbia and the temperate rainforest of the southeastern Alaska coast. It's a mountain corridor so spectacular and varied that when John Muir visited in 1879, he likened the Stikine Valley to the grandeur of Yosemite.

We shoved off for our ten-day trip from Telegraph Creek, B.C., silt grinding audibly against the canoe, and dug into the swirling current, bound west for Wrangell, Alaska. We gazed up at the blue-white glaciers and the awesome barrier of the Coast Mountains. Some of the highest peaks—Devils Thumb, Kates Needle, and Castle Mountain—mark the boundary between Canada and Alaska, and shield the interior from Pacific storms.

Beneath us was the Stikine, a highway during the Klondike gold rush of the late 1800s, with a current so fast that only jet boats can navigate upstream against it. You can raft the river—and many do—but the mazes of braided channels take full advantage of a canoe's dexterity and make paddling much more satisfying than floating.

Camping along the way is simple: At the end of each 15-mile day, pick any of the Stikine's numerous gravel bars and beaches. On day eight, we camped at the Great Glacier of the Stikine, where a short trail leads to the snout of the glacier and a pool of icebergs. A magnificent delta, an important migratory stopover for sandpipers and other shorebirds, marks the journey's denouement. To reach the true conclusion, paddle till the Stikine's silty outflow gives way to green salt water, then cross the bay over to Wrangell and scrape ashore. —Byron Ricks

DETAILS: Alaska Vistas (866-874-3006, www.alaskavistas.com) runs jet-boat shuttles to the Telegraph Creek put-in from Wrangell, $1,400 for six people. Or canoe with an outfitter. Nahanni River Adventures (800-297-6927, www.nahanni.com) charges $3,160 for a 14-day Stikine trip from Whitehorse.

Climbing
Cirque of the Unclimbables
Northwest Territories
Deep in the glacier-scoured valleys of the western Northwest Territories stands a crop of sheer granite so formidable that 1950s explorers dubbed it the Cirque of the Unclimbables. Today, however, it might be better labeled Funclimbable. Take, for example, Lotus Flower Tower, a 2,200-foot wall that's a smaller version of Yosemite's El Capitan. A floatplane will drop you off at Glacier Lake, 300 miles east of Whitehorse, where a nine-hour hike will get you to Fairy Meadows, a patch of grass surrounded by a rock amphitheater. Spend two days working your way up the tower's 22 pitches, bivouacking alongside a sea of granite after the first ten. For the best shot at clear weather, pencil in a two-week block in July or August. —Tim Neville

DETAILS: Gravity Adventures (877-772-5462, www.gravityadventures.net) leads climbers up Lotus Flower Tower, starting at $3,800 (including flight from Finlayson Lake, in the Yukon).
Queen Charlotte Islands & King Pacific Lodge
canada parks, adventures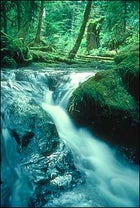 Rivers Run Throughout It: Queen Charlotte Islands, BC
Sea Kayaking
Queen Charlotte Islands
British Columbia
Despite the North Pacific storms circling off the coast, our guide, Gord Pincock, is doing his best to see us through our eight-day kayak expedition in the Queen Charlotte Islands, called Haida Gwaii by the native Haida people. For three days, we've been pinned down on a sheltered beach waiting for a weather window to open and let us continue to SGang Gwaay. The island was named for the sighing sound made when storm surf rolls across a reef, but this is a wonder Pincock doesn't want us to witness.

We're paddling the southern end of this 150-island chain through Gwaii Haanas National Park Reserve and Haida Heritage Site. Nearly 5,000 people live on Haida Gwaii; about a third are descendants of the Haida, seafaring warriors whose naval daring draws comparisons to the Vikings. Haida canoes, longhouses, and cedar totem poles represent a high point in North American art. Cedar is exceptionally durable, but in Haida Gwaii—essentially a moated rainforest—a pole stands only about 150 years. The SGang Gwaay Ilnagaay village contains the most famous poles; the island is a UNESCO World Heritage Site.

In the morning, under clear skies, we circumnavigate SGang Gwaay. The staring faces of eagles, killer whales, frogs, bears—heraldic crests of previous inhabitants—gaze back at us from 40-foot poles. Their deftly carved features are exaggerated and intimidating: Tongues loll, nostrils flare, teeth are bared, but these expressions seem more the effects of rigor mortis than of the ferocity of life; this is a place of ghosts.—John Vaillant

DETAILS: Gord Pincock and Butterfly Tours (604-740-7018, www.butterflytours.bc.ca) lead eight- and 12-day trips for $1,480–$2,230.

Fly-Fishing
King Pacific Lodge
British Columbia
You're in a luxury floating lodge moored to 870-square-mile Princess Royal Island in northern British Columbia's Great Bear Rainforest: a realm of deep fjords, islands thick with red cedars, and astounding vertical relief. Stand at the edge of the craggy rock of the ridgelines and you feel like you're on top of the world—at sea level. The channels below teem with killer and humpback whales, and the forest behind you is home to the rare white kermode ("spirit") bear.

It doesn't seem possible, but this 17-room, 15,000-square-foot structure, with its enormous, cathedral-ceiling living room, is built on a barge that gets hauled about 100 miles back to Prince Rupert in the fall. Despite the lodge's portability, no detail has been spared—from the forged-iron chandeliers to the slate floors and red cedar walls. Rooms are big enough for a king-size bed plus a couple of cushy chairs positioned for gazing out over Barnard Harbor. Jonathan Chovancek, a chef from Victoria, astounds with his fresh fish creations—yet uses a light touch, going easy on the beurre.

Most guests—typically fly-fishing gentry and splurging honeymooners—come for the summerlong parade of salmon or for catch-and-release fly-casting (cutthroat, coho, pink salmon) in mainland streams. If you're craving adventure, the lodge can set you up with a day of paddling Princess Royal's Cornwall Inlet. Or just take off out the back door and into the rainforest in search of the storied spirit bear. —Robert Earle Howells

DETAILS: An all-inclusive package at King Pacific Lodge (604-987-5452, www.kingpacificlodge.com)—with round-trip floatplane from Prince Rupert, kayaking, meals, and drinks—begins at $2,644 a person for three nights.
Whistler Blackcomb, Gulf Islands, & Sentry Mountain Lodge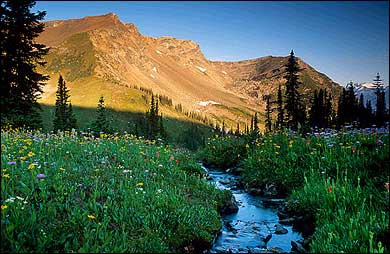 Mountain Biking
Whistler Blackcomb
British Columbia
So you call yourself a mountain biker. You rip local ribbons of singletrack, bunny-hop logs, and drop wheelies off rocky steps like a pro. But deep down inside, you know there's more. Those pictures of riders speeding over scarily narrow log bridges look like so much fun. Problem is, you're made of breakable bone, and the thought of busting a clavicle on some do-or-die jump isn't your style. Well, there's hope. This summer, Whistler Blackcomb opens about seven miles of new singletrack, accessed from the top of the Garbanzo lift, part of a network totaling more than 125 miles, with a whopping 3,200-foot vertical loss—arguably the largest downhill bike park in North America.

Here in southwestern British Columbia, the nexus of the fast-growing, thrill-based mountain-bike subgenre called freeriding, you can test your mettle at three separate areas that have jumps and stunt obstacles built by adults who know that injuries can mean lawsuits. No rickety teeter-totters built by a 14-year-old using garbage-picked wooden pallets here—the resort spent close to $750,000 building the trails. Pro riders like Richie Schley were called in to help design jumps, making sure they're solid and have good landings.

"We need to make things safe," says Whistler Mountain Bike Park manager Tom "Pro" Prochazka, whose 12-year-old son, Alex, braves every one of the park's dozens of stunts. "You'll get the same butterflies as if the net wasn't there, but we've taken out the element of danger. Last thing we want to see is a broken neck."—T. N.

DETAILS: Summertime Whistler Blackcomb lift passes cost $26 per day (800-766-0449, www.whistlerblackcomb.com). Full-suspension downhill bikes rent for $76 per day.

New Park
Gulf Islands National Park
Reserve B.C.
This 6,425-acre reserve, off the southeastern coast of Vancouver Island, has one of the province's highest densities of marine mammals. Kayak among harbor seals and the occasional killer whale; camp on any of eight islands.—Pieter vanNoordennen

DETAILS: 250-654-4000, www.pc.gc.ca/gulf

Hiding Away
Sentry Mountain Lodge
British Columbia
Your journal might read like this: "We flew in to Sentry Mountain Lodge by helicopter, dazzled by Kinbasket Lake and the Columbia Icefields. The bird dropped us at a cedar house, on a meadow at 6,920 feet, cradled by the Selkirks. Before settling in, we explored some of the lodge's 13 square miles of alpine meadows and interlaced ridges. A black bear and two cubs crossed our path in the distance, but otherwise we didn't see a soul. Afterward, we sipped Big Rock ales, basked in the alpenglow, and waited for Venus to pop out and guide us on a midnight hike." Of course, that would be just the first entry.

This hideaway, which you share with only seven other guests, feels like a European-style mountain home: vaulted ceilings, mural-size windows, and a piney kitchen in which your hosts rustle up cheese fondue and coq au vin. —Amy Marr

DETAILS: A one-week all-inclusive package (heli access from Golden, excursions, meals, and nonalcoholic drinks) begins at $1,280 at Sentry Mountain Lodge (250-344-7227).
Icefields Parkway & Don Getty Wildland Park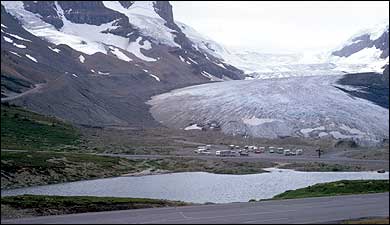 Cycle Touring
Icefields Parkway
Alberta
I've had a stiff neck before, but never from constantly looking up. Looking up around every turn. Over every pass. At mountain after mountain. But the view from the Icefields Parkway—a 143-mile ribbon of wide-shouldered road strung among the horned peaks, blue ice, and milky lakes of the Canadian Rockies between Lake Louise and Jasper—is worth the pain. It's not a secret place, this corridor that hosts Banff and Jasper national parks, but it's surely a spectacular place. Cyclists can ride one-way to Jasper from Lake Louise in a few days, or join an outfitted trip that stops at mountain lodges along the way. My wife and I wanted a more demanding tour, so we stuffed our panniers with food, camping gear, and repair equipment and took a week to pedal the parkway from Lake Louise to Jasper and back, overnighting in the parks.

We survived passes (Bow Summit, 6,781 feet, is the route's highest point) and screaming downhills. And when we got tired, we stopped. We gazed at Bow Lake, fed by one of the eight glaciers descending from the Wapta Icefield, and at pyramidal 10,850-foot Mount Chephren. We hiked Banff National Park's Parker Ridge Trail (3.4 miles round-trip) through fossil beds to catch views of the Saskatchewan Glacier. And after what seemed like infinite turns of the cranks, our quadriceps were even more appreciative of these frequent respites than our scenery-tweaked necks.—B.R.

DETAILS: The Jasper National Park Information Center (780-852-6176, www.parkscanada.gc.ca/jasper) provides national parks camping information. Backroads (800-462-2848, www.backroads.com) leads a six-day cycling trip, with accommodations in lodges, for $2,298.

New Park
Don Getty Wildland Provincial Park
Alberta
Avoid the Banff crowds at 155,115-acre Don Getty, nestled among south-central Alberta's classic parks. A five-mile climb to Forget-Me-Not Ridge is rewarded with views of 11,000-foot peaks.—P. V.

DETAILS: 403-591-6322, www.cd.gov.ab.ca
Slave River & High Arctic Lodge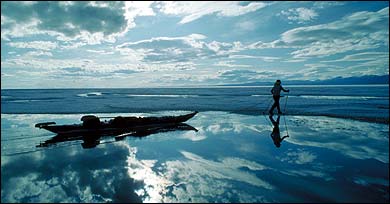 Whitewater Kayaking
Slave River
Northwest Territories
Trying to catch the biggest river wave you've ever seen in front of ten pro kayakers is like trying to catch Lance on a breakaway, so I did my best to look casual as I floated stern-first toward The Edge—a 15-foot-high curler. When I found myself actually carving down the face of this monster, my stoic veneer gave way to unhinged glee. I wasn't throwing donkey flips like I'd just seen the pros execute, but this was the most exhilarating surfing of my life.

Still, the pros and I did have something in common: We'd all come to the Slave River, in the heart of the boreal forests of the Northwest Territories, for epic playboating. Consider this: The Slave's monthly flows peak, in June, at almost 200,000 cubic feet per second—more than six times the peak monthly flows of the Colorado through the Grand Canyon. And on its 258-mile course from the northern Alberta prairie to Great Slave Lake, the Slave creates a 17-mile playboating stretch, home to four enormous Class I–VI rapids, each one several miles long. Dozens of pink granite islands dot each rapid, forming hundreds of channels, countless drop-pool rapids, and nearly every kind of river running imaginable. Rumors of this smorgasbord of liquid delights have begun to circulate among boaters, but 100 paddlers per summer would still qualify as a busy season on the Slave. And with the bonus of nearly endless subarctic sunlight, roll-savvy Class III intermediates on up through Class V hucksters can paddle till their arms fall off.

A river that takes nearly an hour to ferry across has myriad places you don't want to be—hire a guide to ensure that your intended Class III wave train isn't actually a Class Death sousehole. Book Keith Morrison, who knows the surf stashes intimately and runs Slave Kayak Lodge, a cluster of five guest tepees and a log cabin overlooking the river. After you ditch your wet duds at day's end, there's a wood-fired hot tub all warmed up and bison steaks on the grill.—Sam Bass
DETAILS: A weeklong package at the Slave Kayak Lodge (866-588-3278, www.slavekayaklodge.com), which holds up to eight people, starts at $1,000 per person, including meals.

Solitude Seeking
High Arctic Lodge
Nunavut
There's no hyperbole in the name High Arctic Lodge. Three hundred miles above the Arctic Circle on Nunavut's Victoria Island, the bright-red cabins have room for only 12 people, guaranteeing a low-impact, high-solitude vacation.

Spend your days looking for polar bears or hiking through the tundra to ancient tent rings left by the Inuit. Bring a rod (or rent one) and fish nearby Hadley Bay, where many a guest has landed a 25-pound arctic char. A flightseeing tour over the Arctic Ocean is a must: Watch icebergs slough off the edge of the polar ice cap. Take a closer look by canoeing the Nanook River, a calm ribbon of fresh water.—T.N.

DETAILS: Seven-night packages at High Arctic Lodge (800-661-3880, www.higharctic.com) start at $3,695 per person.
Treeline Lodge, Killarney Park, & Payne River Fishing Camp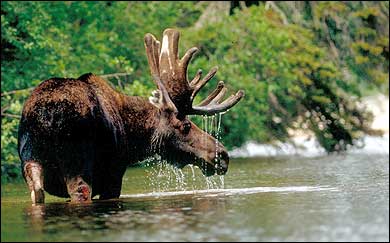 Lake Fishing
Treeline Lodge
Manitoba
When I want to see envy plastered on the faces of my fishing pals, I mention that I'm heading to Treeline Lodge, on Nueltin Lake in the roadless Manitoba wilderness, to land trout and pike longer than my legs on a body of water that's longer than the drive from Tampa to Orlando. There's no better lake than Nueltin for catching northern pike and lake trout, and there's no better lodge than Treeline from which to launch a fishing expedition. The log outpost and its surrounding clapboard cabins sit atop a sand esker 230 miles from the nearest road. It's so remote that it has its own private airstrip and flies its guests in every four days via turboprop from Winnipeg.

Treeline's registered guides are among the country's best, and in 1978 it instituted a catch-and-release policy (everyone fishes with single barbless hooks to facilitate the release of fish, unharmed, although keeping a five-pound or smaller fish for daily shore lunch is permitted), making Nueltin the first lake in Canada with such a distinction.

After a day fighting pike, anglers can return to private cabins for a shower before gathering at the lodge. First, cocktails are served around a blaze in the stone fireplace, the warmth enhanced by floor-to-ceiling lake views and the wolf-and-bearskin-rug decor. Then there's roast turkey or grilled steak for dinner. Afterward, most visitors choose to wind down the way I do: lounging on the deck and basking in the memory of the day's action while watching the faint glow of a sun that never sets. —Ken Schultz

DETAILS: The cost for a five-day trip is $1,964 per person (all-inclusive) from Winnipeg. Treeline Lodge (800-361-7177, www.nueltin.com) also runs three self-guided mini lodges on Nueltin and Shannon lakes ($1,510 for five days).

New Park
Killarney Provincial Park
Ontario
Ontario's hottest expedition-kayaking spot may soon almost double in size, but you don't have to wait: A $7.50 permit gives you access to Killarney, as well as about 74,000 acres of surrounding public lands that officials hope to add to the park soon. Put in at the George Lake campground, then explore 40 interconnected lakes and the thousands of islands scattered around Lake Huron.—P.V.

DETAILS: 705-287-2900, www.ontarioparks.com/english/kill.html

Char Fishing
Payne River Fishing Camp
Quebec
Almost 1,000 miles north of Montreal, you'll find Ungava Bay, home to some of the most plentiful arctic char in the world. After flying to Kuujjuaq, board a Twin Otter for the 45-minute flight to the Payne River Fishing Camp, a four-cabin spread with a lodge overlooking the tundra.

Your Inuit guides will show you to Payne Bay Fjord, where low tides improve your chances of landing a lunker. Nearby Payne River is the ideal spot to motor out in the lodge's 24-foot freighter canoe and test your angling skills against the native brookies. Spend your sun-filled nights watching herds of caribou before crashing in an oil-heated cabin.—T. N.

DETAILS: Arctic Adventures (800-465-9474, www.arcticadventures.ca) runs six-night trips for $4,350 (including flight from Montreal).
Reserve Faunique des Chic-Chocs, Jacquet River Gorge, Bonaventure River, & Gros Morne Park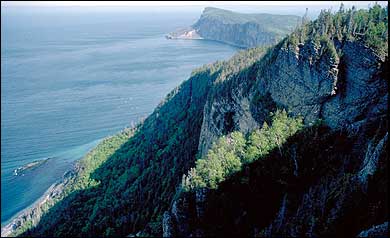 New Park
Réserve Faunique des Chic-Chocs
Quebec
The 3,000-foot Chic-Chocs are more than just fun to say: They're some of eastern Canada's highest mountains. Spot moose and other megafauna or fish for trout in this 278,982-acre reserve. —P. V.

DETAILS: 800-665-6527, www.sepaq.com

New Park
Jacquet River Gorge Protected Natural Area
New Brunswick
The Jacquet River cuts a 200-foot-deep ravine through the hills close to New Brunswick's northeastern coast. Access salmon-filled streams and Jacquet River whitewater from wilderness campsites in the 64,312-acre park. —P. V.

DETAILS: www.gnb.ca/0399/index-e.asp

Canoeing
Bonaventure River
New Brunswick
"Ah, tabernac," I swore, as my boat pinballed its way down the snaky headwaters of the Bonaventure River at the end of Quebec's Gaspé Peninsula. It had been less than an hour since the put-in, and already I was ricocheting off rocks and spinning 360s in my solo canoe. "Tricky little devil, eh?" said Claude, one of the two French-Canadian brothers who were my guides. "Look there," he said, pointing. "An eagle."

Sure enough, a bald eagle with a wingspan the length of my paddle was glaring at me from a stump. I swear the bird cackled when, in the nanosecond I took my eyes off the river to watch it take flight, I was whipped over the gunwales. The next thing I knew, I was bobbing boatless through Class III froth. They don't call it the Bonaventure, or "Good Adventure," for nothing.

In the six days it took to paddle 76 miles to Chaleur Bay, we passed 12 other humans: seven fishermen and five paddlers. The Bonaventure's eerie timelessness makes you half expect to see tepee settlements from 16th-century Micmac Indians lining the shore.

The river lacks the things that can turn canoe trips into heinous nightmares: mosquitoes, portages, and hypothermic weather. But it still proffers enough of the raw elements—icy whitewater, old-growth forests, and guides who stand up in their boats while navigating the fray.

Other than my clumsy canoe exit, the only catastrophe was losing four bottles of chilling chardonnay to the swift current. The loss would have put a dent in cocktail hour, but Ulysse, the other brother, pulled out a bottle of cognac left over from the chocolate flambé he'd prepared earlier. "You gotta have that French taste on this of all rivers," he said, winking.—Stephanie Pearson

DETAILS: Quebec Adventures (888-678-3232, www.quebecadv.com) runs six-day canoe trips on the Bonaventure from May to early July for $995 per person.

Hiking
Gros Morne National Park
Newfoundland
We had set up camp at dusk and gone in search of water when both of our flashlights went dead. Anywhere else, this would have been a mundane incident, but we were in western Newfoundland, where the spruce forest blotted out the remaining light like death itself. Our situation felt forbidding. It felt Arctic.

Forbidding had not been part of the plan. My boyfriend and I had come to 697-square-mile Gros Morne National Park strictly to relax, spending four days toodling around the slopes of Gros Morne, Newfoundland's second-highest peak. After we'd stumbled around through the dark for less than an hour, a man carrying a flashlight, a cooler, and an umbrella came whistling toward us. He gave us his spare batteries and then disappeared into the night.

The next day, we continued into the waist-high mosaic of springy conifers. The place was strung with lakes. Lakes fringed with raspberry and blueberry bushes. Lakes with moose thrashing and bellowing in the shallows. Lakes with woodland caribou grazing quietly on the shore.

We climbed the rocky, well-marked Gros Morne Mountain Trail toward the shoulder of 2,644-foot Gros Morne, pausing when an arctic hare the size of a terrier hurtled toward me. Clearing the shoulder, we saw the park's famous Long Range: green-topped plateaus edged by cliffs that plunge 2,000 feet into freshwater fjords.

While the rest of the Long Range is gray granite and gneiss, Gros Morne is rose-colored quartzite. The light was pink and ancient; the cairns marking the trail looked like early Christian crosses. We crunched slowly across the rock, as awed and quiet as monks.—Lisa Jones

DETAILS: Gros Morne Adventures (800-685-4624, www.grosmorneadventures.com) runs hiking and sea-kayaking trips in Gros Morne National Park (709-458-2066, www.parkscanada.gc.ca/grosmorne).