Captain Cook Never Sailed Here
It's a long line from the old salt to the swarms at Waikiki. So real Hawaiians head for the far sides of paradise.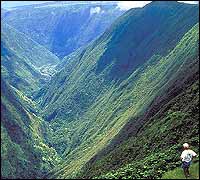 Heading out the door? Read this article on the new Outside+ app available now on iOS devices for members! Download the app.
Our boots begin to smolder as we walk across the beach. All around, pinpricks of light bob in the darkness as other hikers hop gingerly from foot to foot. Then, with a noisy hiss, crackle, and spit, another wave of molten rock hits the Pacific, rolling instantly into glowing, red-neon balls. The 2,100-degree lava burns for a moment beneath the waves until—poof—in a cloud of white steam it's transformed into grains of black-sand beach. Here, at Kilauea Volcano, on the Big Island, we've just witnessed the creation of the world's newest patch of terra firma.

Hawaii is constantly being remade. Large swaths of it have become everything that adventuresome travelers dread: crammed, canned, plasticized, mai taied. But other pockets of Hawaii remain as they always have been: serene, lush, silent. And empty. Paradoxically, the more tour groups and honeymooners crowd Waikiki and Honolulu, the quieter the island backcountry can seem. Too many discriminating types dismiss and avoid this archipelago now. It's where people go for blue drinks and a bad sunburn. It's not a land, they think, of cloud-forest treks and badlands gallops and utterly deserted beaches.


But you can have this Hawaii—and have it to yourself—if you're willing to leave behind both established resorts and voguish preconceptions of the islands. Pack a lunch and a tide chart and kayak out to an evanescent sandbar. Swim to a remote beach accessible only by boat. Stare out for hours over a sea devoid of ships, populated by humpbacks, and indistinguishable at its far edge from the horizon. This is the Hawaii of those of us who live here. This is the Hawaii we seek out and love. We need refuge from Waikiki now and then, too.

Puu Kukui, Maui

The helicopter chatters up from a razorback ridge, leaving us behind high in the remote West Maui Mountains. Rain spatters the bushes and low-standing trees. The air is hot, close, smelling of mud. We're in one of the last stretches of virgin rainforest in Hawaii, atop 5,877-foot Puu Kukui. We're here because we've won the lottery.
For most of this century, Puu Kukui has been off-limits to outsiders. Considered by early Hawaiians to be the connecting point between heaven and earth, this high, clouded mountain has been owned by the Maui Land and Pineapple company since the late 1800s. When it proved poor for pineapple cultivation, the company turned it into Hawaii's largest private nature preserve. Dedicated to scientific study, it wasn't open to the public. Until now. Beginning in 1996, this 8,661-acre plot, home to more rare native plants and birds than anywhere else in Hawaii, has been thrown open to visitors once a year—but only to the few and the lucky. Under the auspices of the Kapalua Nature Society, a lottery is used to choose 12 hikers per year (out of about 35 applicants). This exclusive little group gathers in Kapalua, chats up the naturalist guide, and then helicopters back about ten million years, to a Hawaii suffocatingly lush with orchids, daisies, gorgeous spiky silverswords, and a wild, dense profusion of ferns.


For our once-in-a-lifetime trek, it's gently raining. It usually is. Puu Kukui is one of the wettest places on earth. This perpetual sogginess discourages deep root structures, so most of the plants, including trees, are miniaturized, bonsai-like. We clamber from the helicopter landing onto a wooden boardwalk, the only evidence of human presence in this tropical wetscape. As we begin our walk, the guide explains that each foot of bog depth represents about 10,000 years of Hawaii's geological and biological history. Listening intently, I misstep, stumble from the catwalk, and sink to about A.D. 650. Ancient mud clings to my boot for the rest of our three-mile hike, as wild i'iwi birds, extinct in most of the rest of the islands, sing in the green all around.
To enter the lottery for next year's Puu Kukui hike, call 800-527-2582 for an application. Cost to the winners is approximately $500, including helicopter transport to and from the forest.
The Forbidden Island, Niihau

Niihau, the most remote of Hawaii's principal islands, sometimes seems as much marketing concept as getaway, its "forbiddenness" making it both difficult to visit and, simultaneously, desirable. For 200 hundred years, it didn't accept visitors unless they were shipwrecked. Today, owned by the famously paternalistic Robinson cattle ranching family, it remains extraordinarily isolated, home to only about 230 native Hawaiians, 8,000 wild boars, 12,000 wild sheep, and no alcohol (the island is dry). It's also a stubborn redoubt of Hawaiian culture. Most of the residents speak dialect. They work for the Robinsons. They live in houses without running water or indoor plumbing. And many of them leave Niihau rarely, if at all.
All of which makes a visit to the island memorable but troubling. This is Hawaii as fiercely private fiefdom. It's also Hawaii as collective tourism dream: beautiful, sun-drenched, undeveloped. Should you decide to visit, Niihau Helicopters will take you from Burns Field, on Kauai, to Niihau's Keanahaki Bay (approx. $250 per person; 808-335-3500). You can beachcomb and snorkel until the helicopter returns three hours later. By prior arrangement through the helicopter company, residents will wander over from Puuwai, the largest village, to sell exquisite Niihauan shell leis. Since money isn't used on the island, you'll need to pay for any purchase through the pilot, who'll redistribute the profits later in the form of goods.


If you're uncomfortable with the rules of Niihau, set as they are by the unseen Robinsons, you can still enjoy the island's unspoiled nature by remaining nearby—but offshore. Less than a mile north of Niihau, at the half-sunken crater island called Lehua, is one of the finest, least-known dive sites in Hawaii. It's also, appropriately, forbidding, though not forbidden. Manta rays and tiger sharks call these waters home, swimming with invading humans over shadowy drop-offs and huge underwater caverns.
Ahu O Laka, Oahu

Don't be afraid of Oahu. Yes, it's the busiest island in the archipelago. Yes, you'll pay $8 for a drink with a souvenir umbrella swizzle stick. But even on Oahu, you can find nature. You can find solitude. You may, however, lose it all again at high tide.
Because to find the best of Oahu, you need a kayak. One of the loveliest spots in all of the Hawaiis sits only intermittently at the edge of Kaneohe Bay, on Oahu's Windward Coast. The bay, as pretty as any in Tahiti, indents the coast for miles at the foot of the spiky Koolau range. Its cobalt and turquoise waters harbor unmatched snorkeling and swimming spots. Unfortunately, they sometimes also harbor crowds.


You can escape them—you can, in fact, have your own private Hawaiian island—by paddling to tiny Ahu O Laka, a four-acre islet on the fringe of the bay. At low tide Ahu O Laka provides a spectacular vista, a sweeping 360-degree view of Kaneohe Bay and the green mountains behind. Then, at high tide, Ahu O Laka disappears.
To reach this lovely but submersible bit of real estate, rent a kayak at Kailua Sailboards and Kayaks ($28 per day; 808-262-2555). Then head for funky Heeia Pier, about ten miles north of Kailua. The pier's version of overdevelopment is one bait shop/snack bar/gas pump. Try to reach Heeia early, when pinkish sunlight glints off the Koolau range's corrugated cliffs and white-tailed tropic birds float in the thermals above. "The Sandbar," as locals dub Ahu O Laka, is about two miles northwest of the pier. Check the tide chart at Kailua Sailboards before setting out. Underwater picnics have their allure, but only if they're planned.
Haleakala, Maui

Clouds of red dust puff up from beneath our horses' hoofs as we head higher into the upcountry of Maui. We're miles from the beach here. This is the badlands. Angry-looking gashes of dried, shiny, black lava have riven the mountainside, drying into wide stripes where no vegetation grows. Thorny kiawe trees line these lava paths, along with straggly ohia trees. Otherwise there's a parched, desert look to this landscape, beautiful, but in a gaunt, Wild West kind of way. This ain't honeymooning country.
But it is Hawaii. We're on the southern flanks of Haleakala, spiritual center of Maui. Most visitors make the standard pilgrimage to the peak's summit for sunrise. But equally impressive, while much less frequented, is the smoldering, ashy crater we're riding toward, midway up the mountain, site of the volcano's last great eruption.
We rein in. We've been riding for two hours since leaving the stables. Now, just ahead, a jagged, dirt-banked crater rises. A telltale swirl of 200-year-old lava laps its top like dried frosting. We dismount and soberly stare into its depths. Somewhere far below, lava bubbles. Haleakala remains the world's largest dormant volcano.
Remounting, we ride back down the dirt path to the shore. At trail's end, we enter the Ahihi-Kinau Natural Area Reserve. Fingers of lava reach all the way into the waters here. Neon-bright fish play in the volcanic tidepools. This is the Hawaii honeymooners seek. The crater we just left created it.
To arrange a horseback tour of Maui's volcanic backcountry, call Makena Stables in Makena (808-879-0244). A two-hour trail ride costs $99; a guided three-hour sunset tour is $130.
Milolii Beach, Kauai

No one should leave the islands without a taste of that old Hawaiian fantasy. The Robinson Crusoe moment. The beach of one's own. The only hitch: You'll have to swim for it.
Kauai's Na Pali coast—inevitably called the "rugged" Na Pali coast in guidebooks—has stood in for paradise in everything from King Kong to Gilligan's Island. A beachscape that adaptable can accommodate all variety of run-away-from-life dreams, especially since Na Pali's beaches are accessible only by boat, and semi-accessible even then. An inflatable Zodiac carries you to within sight of the sand. "This is the spot," the captain then hollers, before blithely tossing your waterproof packs overboard. You follow, feet first, into the deep blue sea. Ahead is Milolii beach, empty of company. The most remote of Na Pali's beaches, it's also the prettiest. Green valleys cut between inland mountain cliffs. Waterfalls stream down the rocks. Crayon-plumed birds flit through the trees. And sea turtles float serenely in the surf. Paradise. And you have it to yourself—for about four hours. Then the Zodiac returns and you swim, reluctantly, back to real life.
To arrange your own island drop-off, call Captain Zodiac Raft Expeditions (800-422-7824 or 808-826-9371). The boats leave from Kauai's Tunnel Beach at prearranged times for prices from $68-$120.