Sponsor Content: Florida Keys
Dive Deeper in Islamorada
The stresses of everyday life give way to island vibes when you venture to the Village of Islands in the Florida Keys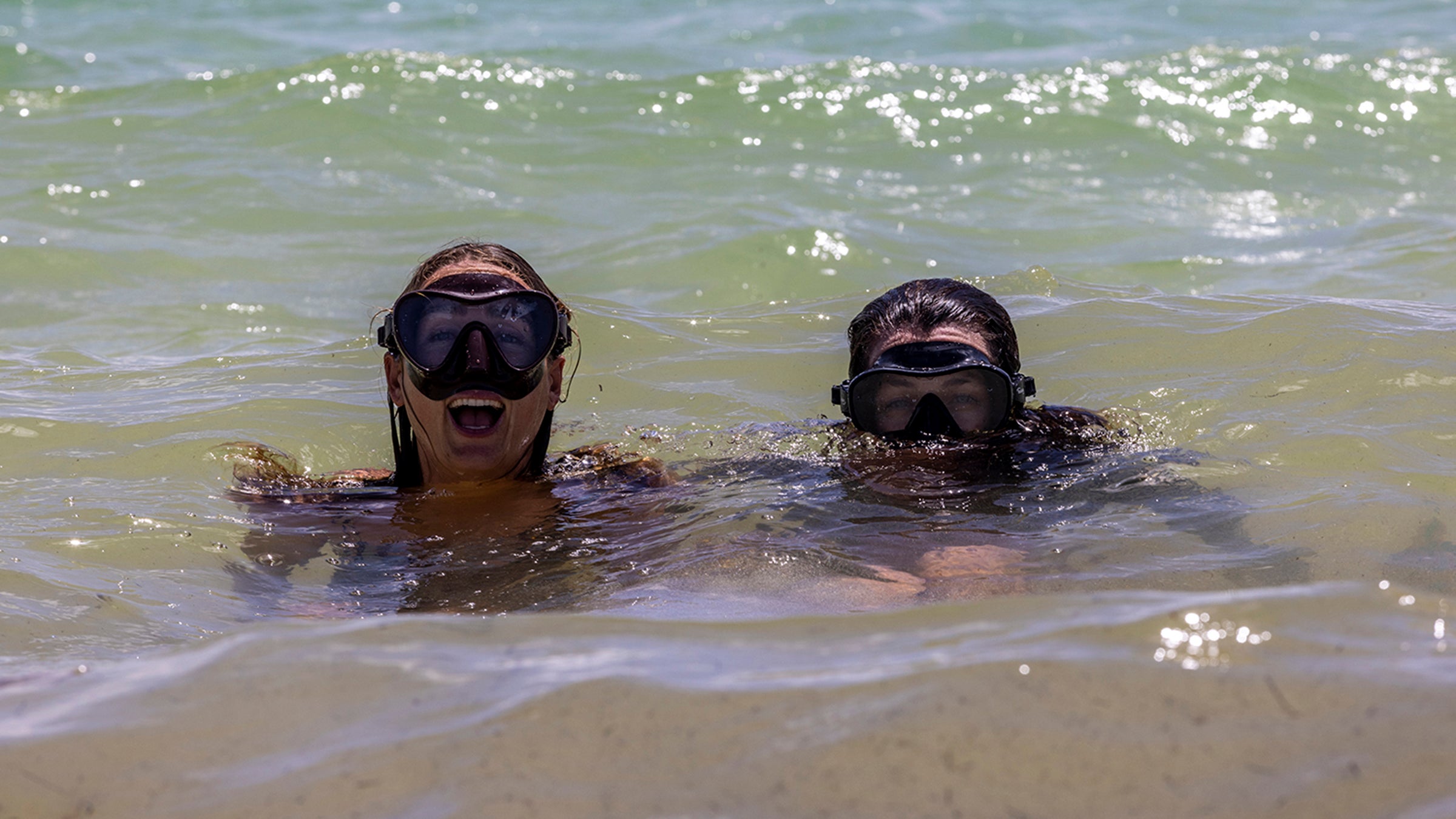 Islamorada is the collective name for a stretch of six islands in the Florida Keys—Plantation Key, Windley Key, Upper Matecumbe Key, Lower Matecumbe Key, Indian Key, and Lignumvitae Key. The farther southwest you drive (Islamorada spans mile markers 90 to 72 on the Overseas Highway), the more removed from mainland Florida you'll feel. Set your watch to island time, because your disconnection will be complete once you get here. Whether you're looking to get out on the water or immerse yourself deeper in the culture of the Florida Keys, here's how to experience the best of Islamorada.
Enter a Fishing Tournament
Islamorada is a place of sportfishing legends. Many aspects of saltwater fishing as we know it today were pioneered in this region of the Florida Keys, and fishing culture continues to run deep here. Islamorada is home to one of the densest populations of sportfishermen in the world—and a stomping ground for tournament-grade boat captains. 
Learn more escaping the everyday in the Florida Keys.
Fishing tournaments are held year-round, so there's always an opportunity to join in the fun. Amateur anglers can enter public tournaments to experience the thrill of competition without a hefty price tag (entry fees are small or nonexistent). Or watch the pros compete for massive cash prizes. The famous Islamorada Sailfish Tournament, held every December, paid out $80,000 in cash prizes last year. If you aren't able to line up your trip with a specific tournament, you can head out for a day of guided fishing with the same boat captains who compete.
Tip: You know the joy of sitting around the kitchen table for a good old-fashioned game night? No phones, no distractions, just conversation and friendly competition. Fishing tournaments offer the same opportunity to disconnect while upping the ante on prizes.
Go Spearfishing for an Invasive Species (and Catch Dinner)
But sportfishing in Islamorada isn't just about reeling in trophies. The local community is passionate about sustainable fishing and working with nature, not against it. One of the most unusual—and exciting—ways to put that philosophy into action is to go spearfishing for lionfish. This invasive species, which is native to the South Pacific, was discovered in South Florida in the eighties. Experts believe the fish was either released or escaped from an aquarium. Since then, the South Florida lionfish population has exploded because the species has no natural predators in this area. Unchecked, lionfish damage reef ecosystems and threaten native fish populations.
Local anglers and divers have rallied, using spearfishing to help protect the reefs from lionfish damage. Join the collective effort on a spearfishing charter. A local boat captain will teach you everything you need to know about spearfishing and safely handling lionfish to avoid touching their venomous spines. At the end of the day, bring your catch back to shore for dinner. 
Tip: Get the full experience at one of Islamorada's "you catch, we cook" restaurants, where chefs prepare your own catch of the day for you. Lionfish ceviche is a local favorite. The buttery white fish pairs well with the acidic flavors in this dish.
Take a Breather
It's easy to be tempted by the lure of constant activities, especially on vacation, when new experiences are at every turn. But disconnecting is also about slowing down, so hit the pause button at one of Islamorada's quiet beaches. From oceanside hammock naps to a yoga flow on the beach with Island Flow Yoga, there's no shortage of ways to relax. 
Want to try a unique meditative experience? Freediving—diving without scuba tanks—is the ultimate exercise in breath work. Skilled freedivers hone their breath-holding abilities to extend their time underwater, and for many, the breath control required to excel at the sport is a form of meditation. A number of local dive shops in Islamorada offer introductory freediving courses. You'll learn breathing and breath-holding techniques that will help you explore reefs that are typically accessible only to scuba divers.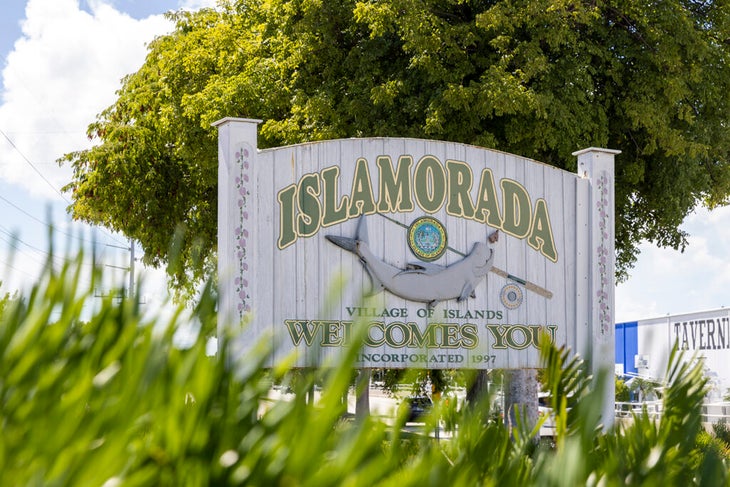 Tip: Learning a new skill is a great way to disconnect and be fully present in the moment.
Get a History Lesson
With three geological and historical state parks, Islamorada is a hub for learning about the rich past of Florida's barrier islands. Windley Key Fossil Reef Geological State Park was once a limestone quarry. Today, you can study cross sections of an ancient coral reef in the eight-foot-high quarry walls. Take a boat ride to Indian Key Historic State Park to see the remains of 1800s buildings and learn about the island's colorful past in the unregulated wrecking and salvage industry. For a look at the region's natural history, explore Lignumvitae Key Botanical State Park by kayak. There you'll see the tropical hardwood forests that were once common across most of the Upper Keys.
If you run into a stormy afternoon—not uncommon June through October—head to the History of Diving Museum on Upper Matecumbe Key. The collection includes artifacts, books, photos, and documents that chronicle the scuba diving's evolution since the first records of underwater breathing in the 16th and 17th centuries.
Tip: A guaranteed strategy for disconnecting? Remove all distractions. That's easy to do at Islamorada's two islands accessible only by boat. Both Indian Key and Lignumvitae Key feel like a world away from the shopping, dining, and activity-filled main islands, because they are.
---
Most people know the Florida Keys and Key West as a great getaway. One of the most unique places on earth. Calm. Serene. Laid back. Just the right setting to recharge your batteries and rejuvenate your spirits. But a getaway to the Florida Keys and Key West is much more than peace and quiet. And not just because of the legendary fishing and the world's most spectacular dive sites. The Keys mean history. Art. Theater. Museums. Shopping. Fine dining. Entertainment. And much more. All told, 120 miles of perfect balance between natural beauty and extra-ordinary excitement.
Lead Photo: Florida Keys