"Sustainable and Accessible": All-Terrain Wheelchairs Arrive in Parks
As park managers focus on accessibility, burly all-terrain chairs are allowing users to get off the grid in our most beautiful places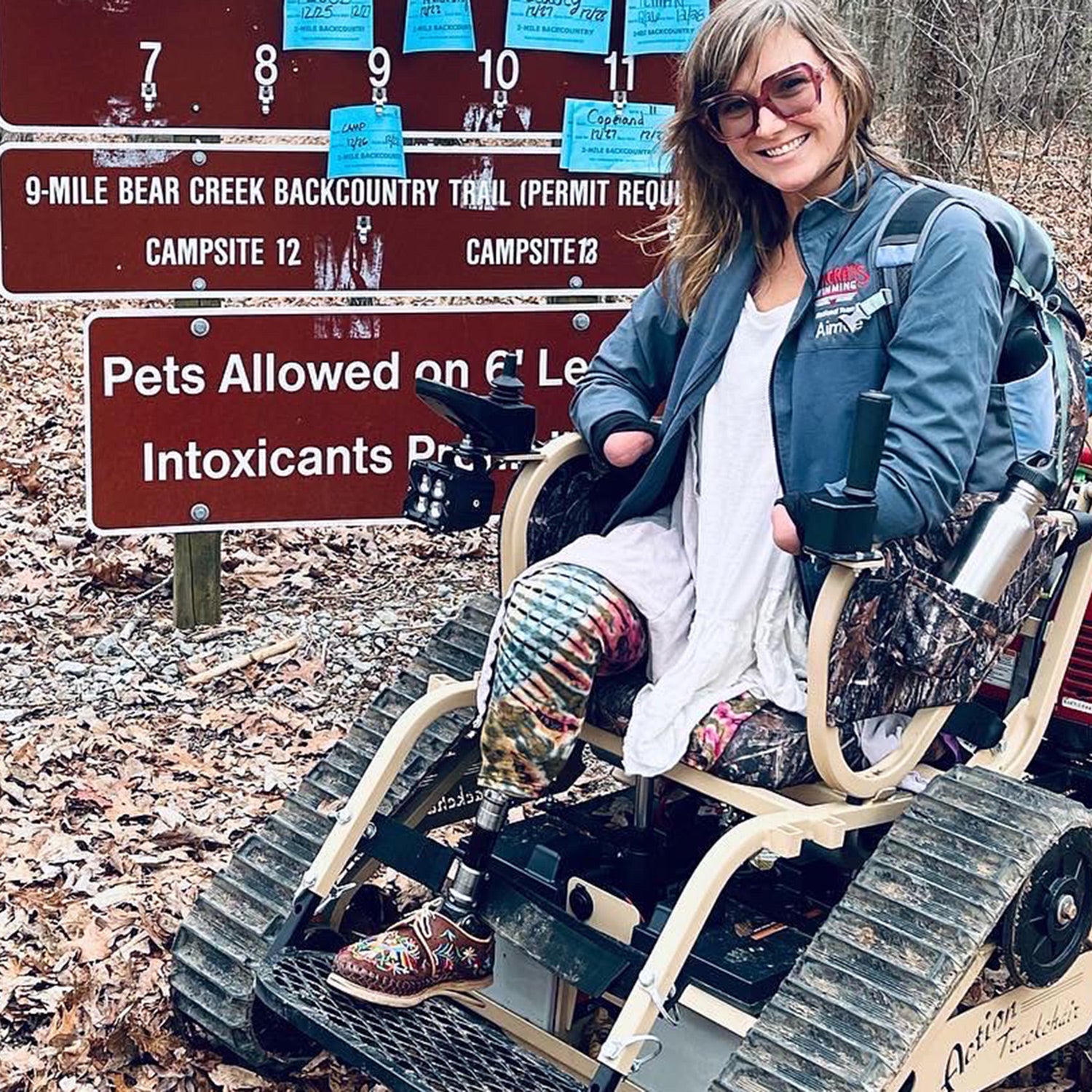 Courtesy Aimee Copeland Foundation
Heading out the door? Read this article on the new Outside+ app available now on iOS devices for members! Download the app.
Bill McKee was an avid outdoorsman: in 10 years of vacations to Colorado, he and his sons fished backcountry streams, hiked for miles, and summited several fourteeners, until a motorcycle accident in 2002 put him in a wheelchair. Afterward he felt unable to do many of the things he loves most. Trying the Action Trackchair, a beefy, battery-powered wheelchair with tank-like treads, last year changed that.
"Being on a trail in Colorado was a blast from the past," the 64-year-old McKee, of Garland, Texas, said. Developed in 2008, the Trackchair, which can handle rugged terrain that would stall a traditional chair, "brought me full circle to the adventurer and explorer that lives inside me," McKee said.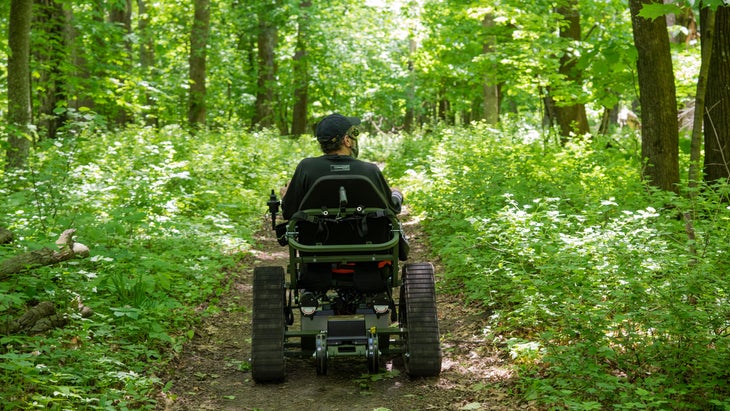 While a volunteer-led program launched in 2016 at Staunton State Park, near Denver, is considered the granddaddy of adventure-wheelchair loaner programs, others are now blooming. On November 4, a collaboration between the Georgia Department of Natural Resources and the Aimee Copeland Foundation debuted a fleet of 12 all-terrain wheelchairs for use, free of charge, at 11 state parks and historic sites across Georgia. This past spring, the Minnesota Department of Natural Resources launched a pilot program to provide track chairs at five state parks. The Michigan Department of Natural Resources, which received its first track chair, donated by Kali's Cure, in 2017, now has 15 loaners spread over each of 11 state parks and recreation areas. The Kansas Department of Wildlife and Parks offers track chairs at eight state parks, while South Dakota has one chair and Oklahoma has two at state parks; and Wisconsin has the chairs at stations in 12 counties through the nonprofit Access Ability Wisconsin. Two years ago Sleeping Bear Dunes National Lakeshore in Michigan was the first national park to offer a track chair. It now has three.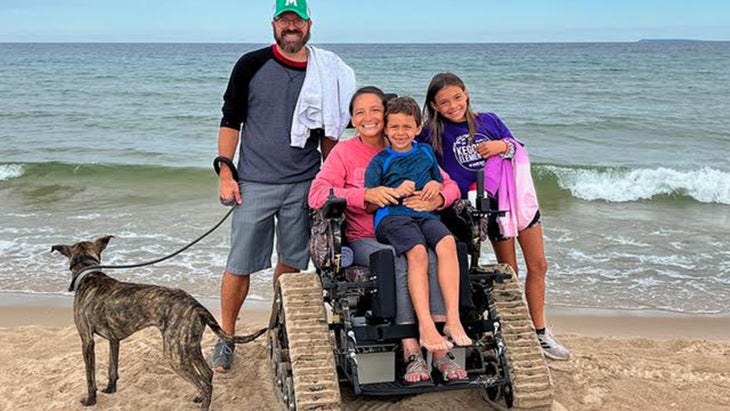 In a massive shift, public land managers across the U.S. are beginning to look at accessibility as an integral part of park improvements and additions, rather than a separate and possibly expendable line item in the budget. "We are really following the path of improving accessibility as we improve our overall infrastructure," said Jeremy Buzzell, manager of the Park Accessibility for Visitors and Employees (PAVE) program at the National Park Service, adding that accessibility "has to be baked into everything we do, so that it becomes a part of the culture."
The Staunton initiative, which started with one chair donated in memory of the avid outdoorsperson and quadriplegic Mark Madsen, now has five battery-powered Action Trackchairs and three specially designed trails and is leading similar efforts, according to Kristin Waltz, program manager. This year alone, park personnel have consulted with organizations from upstate New York, Florida, and Brazil on bringing track chairs and greater accessibility to their regions.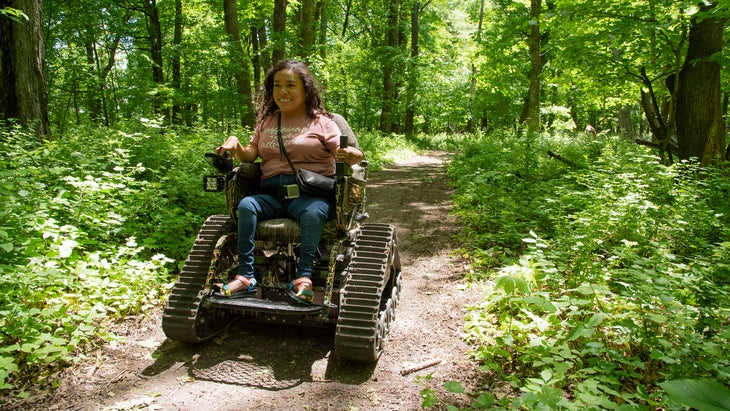 The Georgia initiative, known as All Terrain Georgia, provides people with mobility impairments with Action Trackchairs and easy access. A visitor to popular sites like Panola Mountain State Park and Cloudland Canyon State Park simply needs to complete an online certification program to learn how to operate the chair (which costs roughly $12,500 retail), then make a reservation for a hike via the organization's website–no doctor's note required.
"All Terrain Georgia bridges the gap between accessibility and wilderness," said Aimee Copeland, director of the Aimee Copeland Foundation, a nonprofit that aims to create outdoor experiences for people with physical disabilities. Copeland has used a wheelchair for ten years since losing her hands, a foot and one leg to amputation following a ziplining accident and bacterial infection at age 24, and tested the track chairs herself. The chairs can go up banks, across streams, and even over fallen trees. "I love that these chairs allow me to safely explore with my friends who love camping," she said, "without putting the chair I rely on every day at risk." She hopes to extend the program in the Southeast and South, she said, and into the national parks.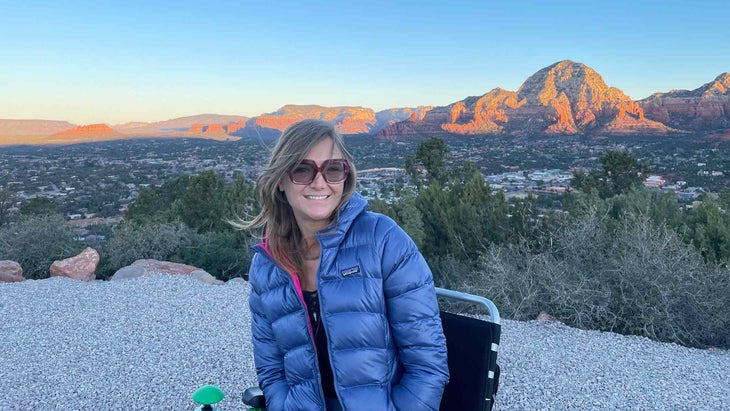 The Minnesota program has met with resounding success, taking off immediately. "The chairs were used often in the first six months of the program, especially on weekends," said Jamie McBride, state parks and recreation area program consultant at the department. "Feedback from users as well as park staff has been overwhelmingly positive."
According to the CDC, 13.7 percent of U.S. adults report living with a serious mobility disability. That's over 28 million people. Though the Park Service's PAVE program has been around in some form since the 1970s, it's largely focused on maintaining existing ADA-compliant campgrounds and paved pathways, like Grand Canyon's South Rim Trail and many of Yosemite Valley's trails. Yet the world of mobility devices is rapidly evolving.
"There's all kinds of stuff out there that even ten years ago didn't exist," said Buzzell.
At the moment, Sleeping Bear Dunes National Lakeshore is the only unit within the NPS that offers a track-chair loaner program, and it might take some time before larger national parks ramp up. "Our preference would be for organizations that represent the disability community to partner with us, so that the devices can be provided," said Buzzell. He added that the NPS wants to ensure visitors' safety by making sure that the people checking out the chairs have the necessary training and assistance. Some parks, like Redwood in California and Great Sand Dunes, Colorado, already provide special sand-specific devices, and many more have standard wheelchairs available at visitor centers.
"There has been a lot of interest from the public about us being able to provide better access to mobility devices," said Buzzell. "Obviously, there's a considerable expense involved in transporting them from home."
Syren Nagakyrie, founder and director of Disabled Hikers, cited "a combination of a lack of awareness and motivation, lack of funding, and complicated protocols" as the biggest hurdles facing improvement of access programs in parks today, while saying that well-designed trails can benefit everyone. For example, an accessible boardwalk leading to a remote campsite at Apostle Islands, in Wisconsin, also helps prevent erosion caused by visitor foot traffic.
When used properly, the burly Action Trackchairs should also leave no trace, even on dirt trails, said Copeland: the chairs are all-electric and quieter than they appear. "Stigma around all-terrain chairs due to misuse and misinformation is an issue," she said. "When operated properly, the chair's impact is no more than footprints." She called this generation of chairs "truly spectacular."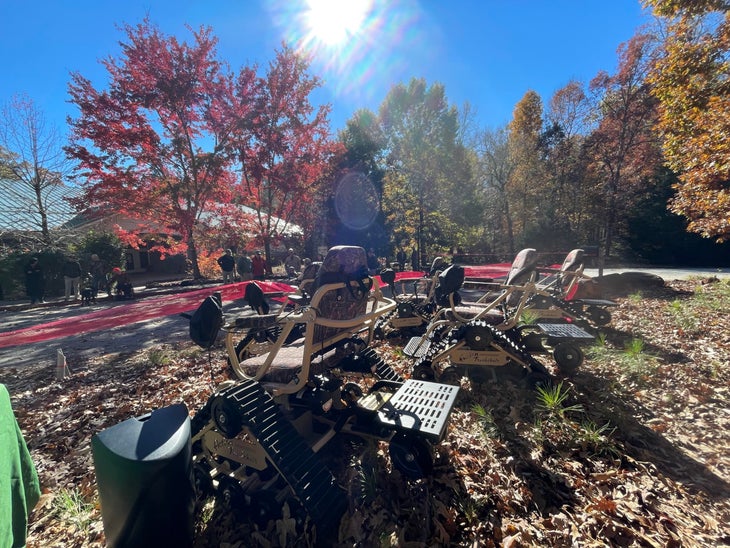 The age of all-terrain wheelchairs in our parks is instigating a strategy shift in how trails are labeled, too, because these modern devices have the power to travel deep into the backcountry. Rather than marking some paths as "accessible," because they meet a series of rigorous standards, land managers are instead compiling as much trail information as possible (like grade, surface pack, length, and stair count) and letting visitors decide what works best for them. "What we call an accessible trail might not be accessible to everyone, and what we say is not an accessible trail might be accessible to plenty of people," said Buzzell.
Buzzell believes all Americans, regardless of their ability level, deserve to experience what he called the magical national park "aha moment."
"We can design trails that are sustainable and accessible," he said. "And that's going to improve the experience for everyone."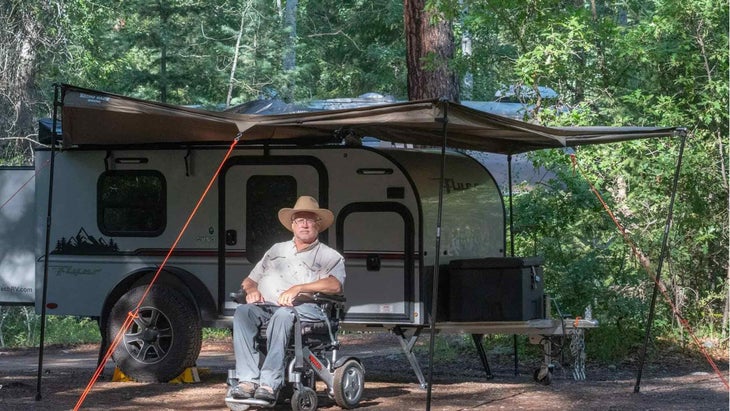 At Staunton, McKee, accompanied by a volunteer, takes gravel trails through dense forests, to airy vistas of high mountain peaks, and even small tarns stocked with trout.
"To be back in the wild and coming across wildlife and smelling the pine-scented air was emotional and satisfying," McKee said after riding the track chair at Staunton, which he called "a very pretty place."
"You are in the forest most of the time and there are several small streams and then open fields with wildflowers and some views of large cliffs. There is an accessible area to fish and some small ponds … so you can add fishing to your accomplishments for the day."
Lead Photo: Courtesy Aimee Copeland Foundation