The 10 Most Historical Trails in the U.S. That You Can Hike
From where the Donner Party was stranded in California's High Sierra to the remnants of the great Chacoan civilization in New Mexico, you can relive history on these incredible trails
Heading out the door? Read this article on the new Outside+ app available now on iOS devices for members! Download the app.
Some hikes seem to transport you to another world—and others to an entirely different time. A peaceful place where you pause today may be where another once stood in defense, defeat, or determination.
I love seeking out places that connect me to people who passed through long before. I've hiked the Reef Bay Trail in the U.S. Virgin Islands and the Towpath Trail in Ohio—both described below—as well as the Battle Road Trail at Minute Man National Historic Park in Massachusetts. While many national historic trails in the United States retain physical evidence of long-ago travelers, including old foundations, artifacts such as copper kettles used for colonial sugar production, or visible wagon-wheel ruts, sometimes simply feeling the same earth under our feet helps connect us to another person's journey years or centuries ago.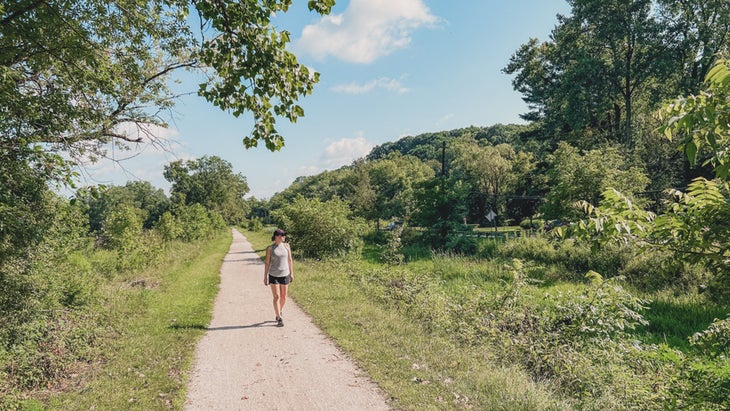 See if you feel the spirit or sadness of yore as you trace the footsteps of proud high chiefs or the victims of the Donner Party disaster, while walking these incredible historic trails. They're also in beautiful places.
1. Ala Kahakai National Historic Trail, Hawaii Island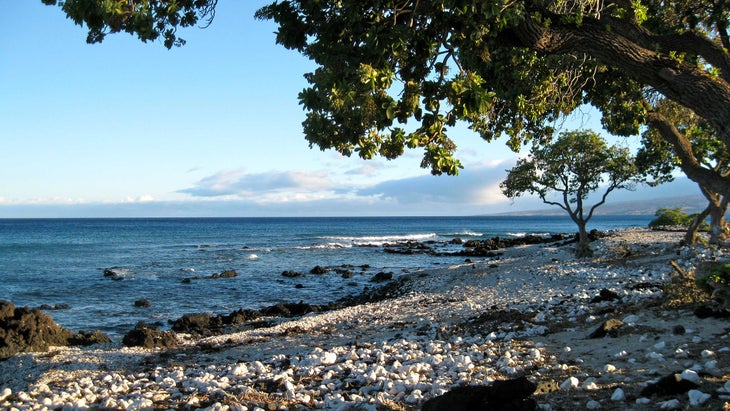 Traverse past lava fields, ancient petroglyphs, and the landscapes of Kailua-Kona, where ruling chiefs once presided over settlements that held rituals for rain and fertility on this 175-mile corridor. The "trail by the sea" passes through four of Hawaii Island's six regions, connecting prime west-coast beaches while preserving natural and cultural components like caves and anchialine pools (enclosed water bodies with subterranean links to the sea) within lava rocks, where red shrimp and fresh water supported early communities. According to legend, one such pool (in a cave now closed to visitors) sheltered the Hawaiian princess Popoalaea when she fled from her cruel husband.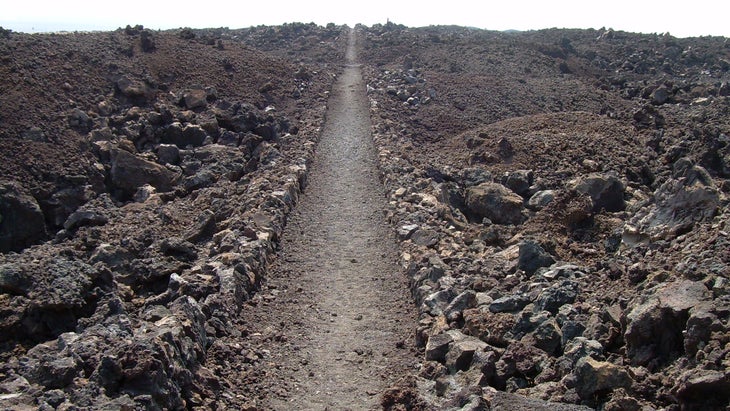 The Ala Kahakai National Historic Trail follows the stunning white-sand coastline in the 16,451-acre Kahuku-Pohue parcel, which in July of 2022 became part of  Volcanoes National Park ($30 per vehicle). Some parts of the trail cross through private lands, but you can always access it through any of Hawaii's four national parks (entrance fees vary).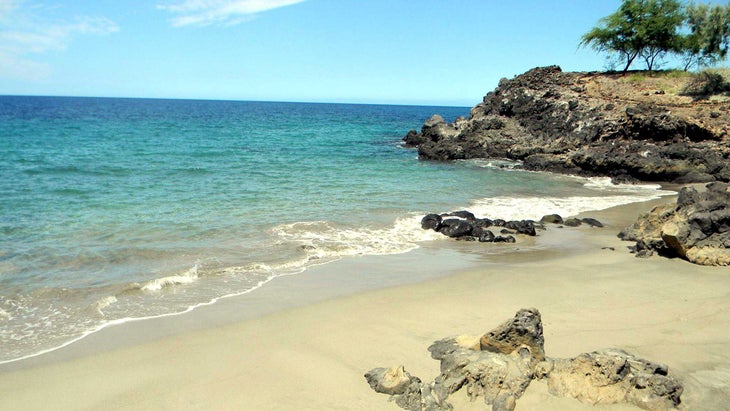 Three rewarding, fairly flat hikes include the 2.8-mile round-trip Kiholo Bay walk, which takes you near sea turtles, over a black sand beach, and by an anchialine pool; the bumpy 1.8-mile portion from Spencer Beach Park past the white sands of Mau'umae Beach to Waiulaula Beach; and a pleasant 2.7-mile out-and-back path through lava rock and soft sand at Kaloko-Honokohau National Historic Park.
2. Donner Party Trail, Truckee, California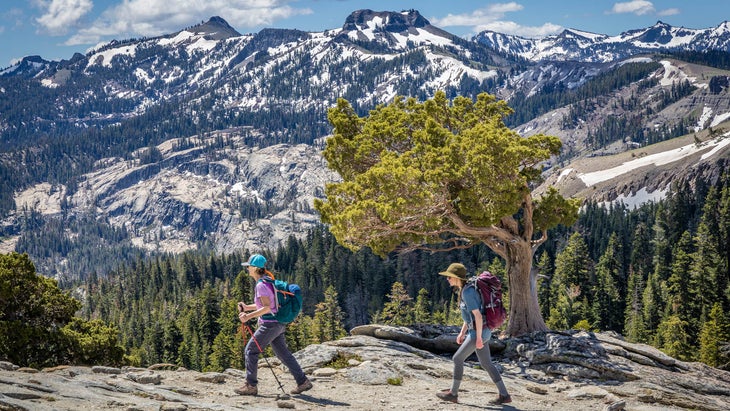 Revisit a harrowing moment in American history on the moderate 6.2-mile (round trip) Historic Donner Pass Trail, which wends through flat, damp railroad tunnels before ascending an exposed loop path to mountaintop views. During the winter of 1846–47, emigrants en route from Springfield, Illinois, to California were stranded for months here in the Sierra by heavy snowfall. Forty-four of the 91-person Donner Party died, and it is generally accepted that others were forced into cannibalism to survive.
The disaster occurred in part because the group followed the harsher, less traveled Hastings Cutoff route, rather than the more traditional South Pass.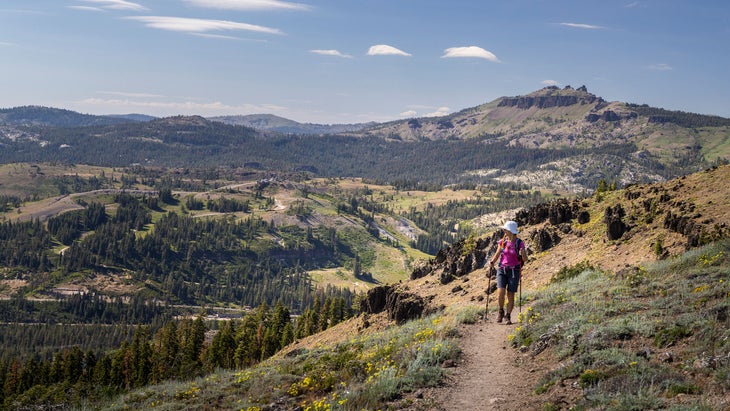 The train tunnels found on the trail today were built by Chinese immigrants in the 1860s, and within them are squeaky bats and gaps overlooking the valley below. Ambitious hikers can continue beyond the last tunnel onto a steep loop trail, which traverses loose, gravelly terrain to reach sweeping views over Donner Lake. This trail is best done in summer to avoid ice and snow, and a headlamp or flashlight will help you navigate the dark tunnels. Park across the road from the first tunnel entrance at Donner Ski Ranch on Donner Pass Road. You can also join the annual Donner Party Hike led by area guides. (Here are other hikes in the area as well.)
3. Nez Perce Trail, Oregon, Idaho, Wyoming, and Montana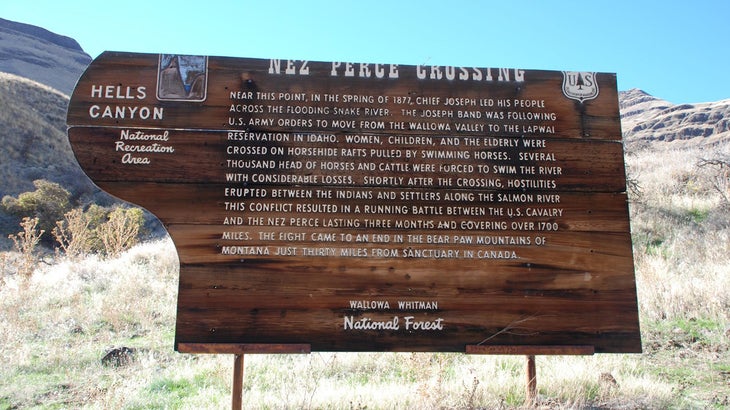 This 1,170-mile-long route memorializes the bravery of the Nez Perce, forced from their ancestral territory. In 1877, in a reversal of treaties, Chief Joseph was ordered to relocate his people from their homelands in Wallowa Valley, Oregon, to the Lapwai reservation in Idaho. The contingent, which included the elderly as well as children, was forced to cross the Snake River on May 31 during high spring runoff, and many of their livestock were lost.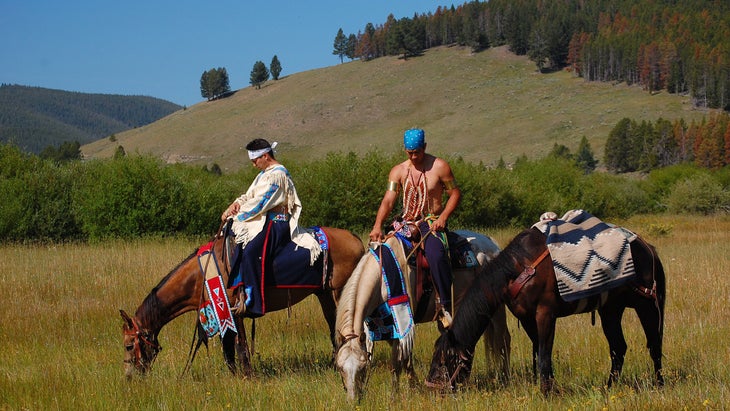 Hostilities broke out shortly after on the Salmon River, and Chief Joseph, initially seeking the protection of Crow allies to the east, fled with about 750 men, women, and children on a protracted route through Idaho, Wyoming, and Montana from late June to October, with the U.S. Army on their heels.
The Army caught up to the Nez Perce at Bear Paw, Montana, where the Natives surrendered just 40 miles shy of sanctuary in Canada. Here Chief Joseph is believed to have said the famous words, "From where the sun now stands, I will fight no more forever."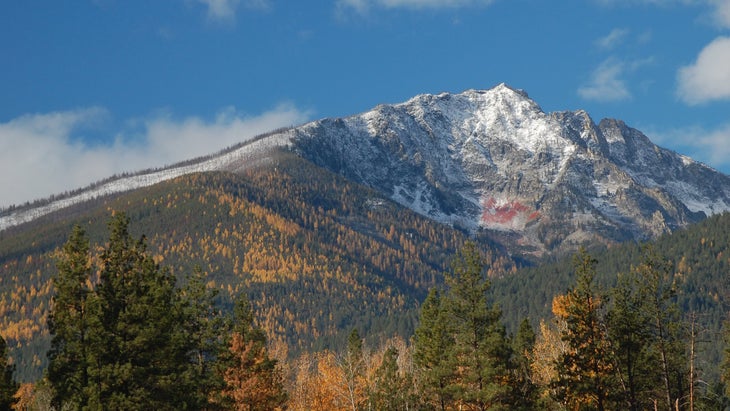 The trail passes through 38 sites in four states. Notable hikes include the moderate 1.25-mile loop trail around Bear Paw Battlefield; a paved 0.5-mile loop path past Idaho's Heart of the Monster, the Nez Perce people's sacred creation site; and the moderate five-mile (one-way) Trail 1727 in Oregon's Dug Bar, site of the Snake River crossing. The trailhead is two miles north of Cow Creek bridge on Forest Road 4260.
4. Reef Bay Trail, Virgin Islands National Park, U.S. Virgin Islands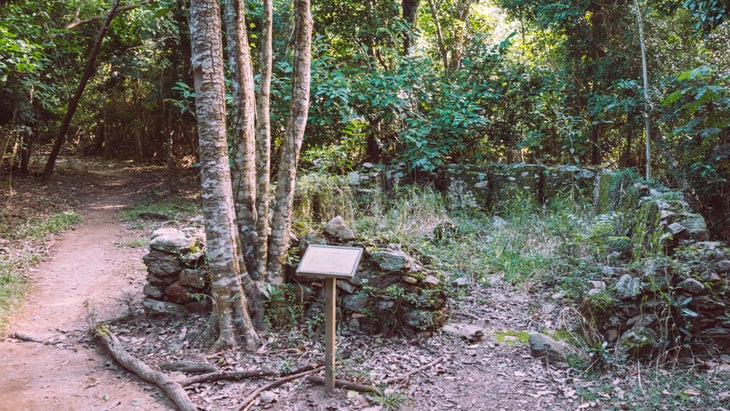 I never knew how much one valley could encapsulate the history of a place until I hiked the moderate two-mile (one way) Reef Bay Trail on the island of St. John, in Virgin Islands National Park. Beginning at the Centerline Road Trailhead, you'll descend 900 feet on a well-maintained, initially rocky trail through shady Reef Bay Valley, passing kapok trees, pinguin plants, and petroglyphs left behind by the pre-Columbian Taino (1,000-1,300 years ago to the mid 1400s). There are sugar-plantation ruins dating from the Danish occupation (1718 to 1917) and traces of post-emancipation life, such as the Par Force plantation ruins, where from 1848 to the early 1900s, 25 newly freed African Americans continued to grow sugarcane, raise livestock, and tend coconut and lime trees despite a mass population exodus from the island.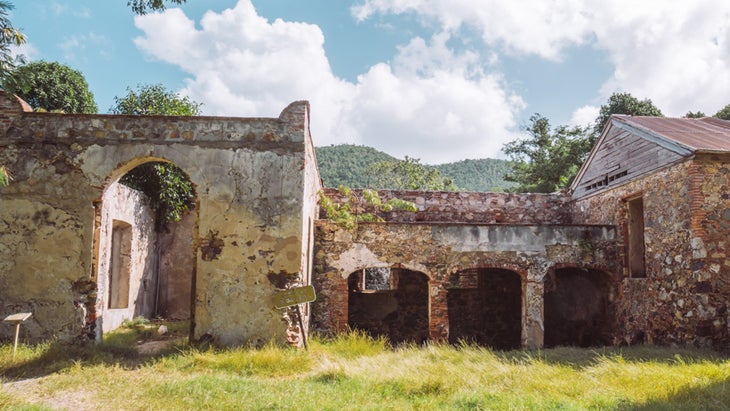 If you're hiking on your own, turn onto the quarter-mile petroglyph spur trail on the right, about a half-mile from Reef Bay Beach, to see an ancient site where the Taino communed with their ancestors.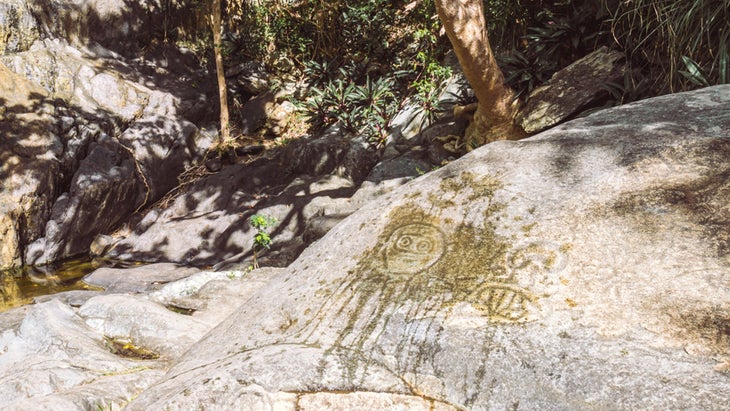 Although I'd made the four-mile round-trip to Reef Bay before, I recently skipped the uphill on the return by joining a seasonal ranger hike ($75 per person) just after a 2022 post-pandemic reboot. The tour bused our group to the trailhead and guided us down the path, at the shore boating us back to our cars on The Sadie Sea, a 37-foot Lindsey Trawler with a smooth ride and a cheerful crew.
5. The Oregon Trail, Missouri, Kansas, Nebraska, Wyoming, Idaho, Oregon, and Washington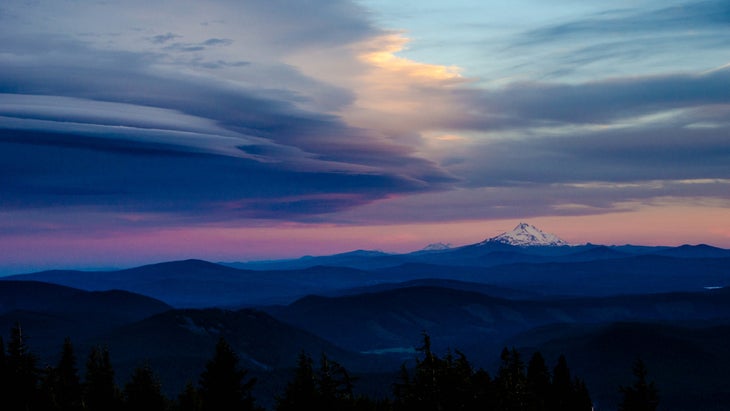 Nostalgic millennials who played The Oregon Trail computer game during the 1990s can experience the real deal by exploring a section of the over 2,000 well-trodden miles of this national historic trail, which spans six states heading west from Missouri. Witness astounding landscapes like Wyoming's Devil's Gate and Nebraska's Chimney Rock, once important landmarks for hopeful emigrants journeying west on covered wagons from the 1830s.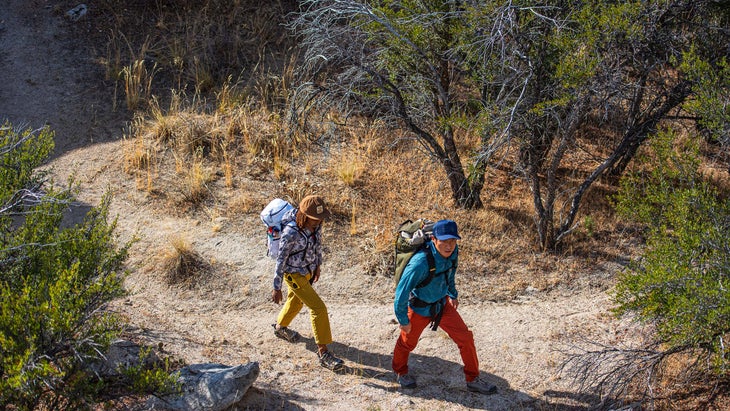 Nebraska's Ash Hollow State Historical Park ($6 for residents; $12 for non-residents) offers views of miles of rugged prairie from atop the paved Windlass Hill Trail's steep 0.5-mile (out-and-back) trek. Here too, you can see ruts created when pioneers' locked wagon wheels scraped the earth while the occupants carefully navigated downhill to Ash Hollow's freshwater spring, which hikers can reach by descending the easy 0.4-mile round-trip Ash Hollow Trail.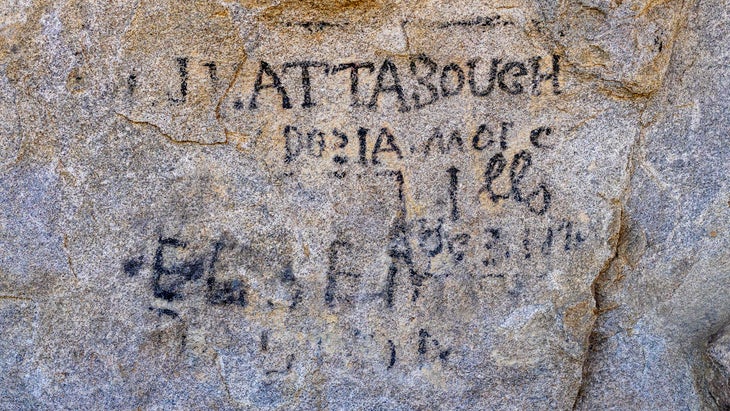 Additional simple hikes along the Oregon Trail include Wyoming's Register Cliff (0.4 miles round trip) and Independence Rock (a 1.3-mile loop), where you can still see name carvings left by travelers heading west.
6. Towpath Trail, Cuyahoga Valley National Park, Valley View, Ohio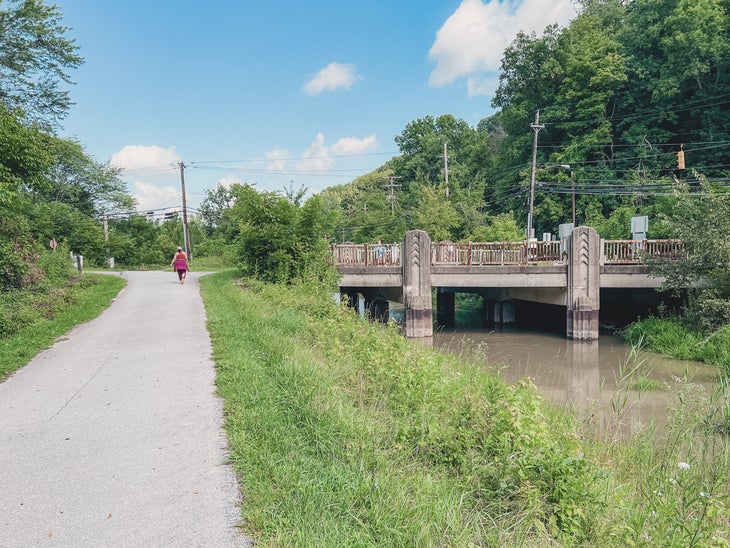 This 98-mile path transports you to the 19th century, when the Ohio & Erie Canal opened up trade between the East Coast and Midwest, bringing prosperity to northeast Ohio (my home for 29 years), as well as the nation, through accessibility to domestic goods. Having always wondered what became of this "watery highway," I recently wandered down the Towpath Trail, a canal-side path once traversed by mules hauling cargo and people.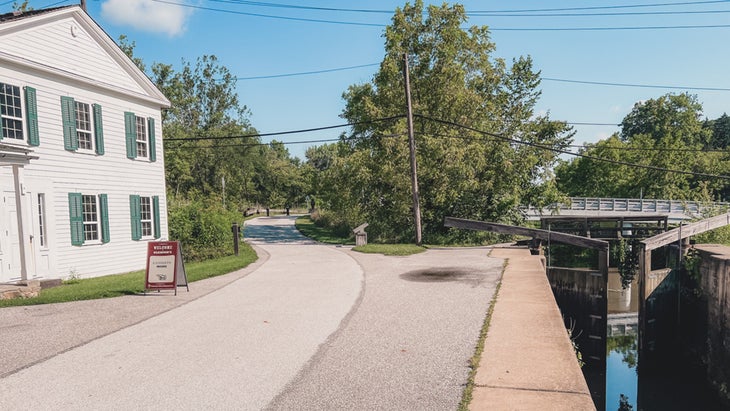 Starting at the Lock 38 Trailhead (a lock is a chamber that raises and lowers water levels for boats to pass), my husband and I walked the flat dirt path north along the marshy canal for 1.8 miles to reach the overgrown stone-wall remains of Lock 39. The Native American Heritage Walking Tour interpretive signs along the way described the Indigenous groups who once lived here—from the Paleoindians (13,000 to 10,000 years ago) to the Whittlesy People (1,000 to 400 years ago)—hunting big game, fishing, and growing maize and beans in Cuyahoga Valley. You can peruse exhibits at the wheelchair-friendly Canal Exploration Center, which once served as a tavern, store, and residence, and on summer weekends, the center holds lock demonstrations.
7. Chilkoot National Historic Trail, Alaska and British Columbia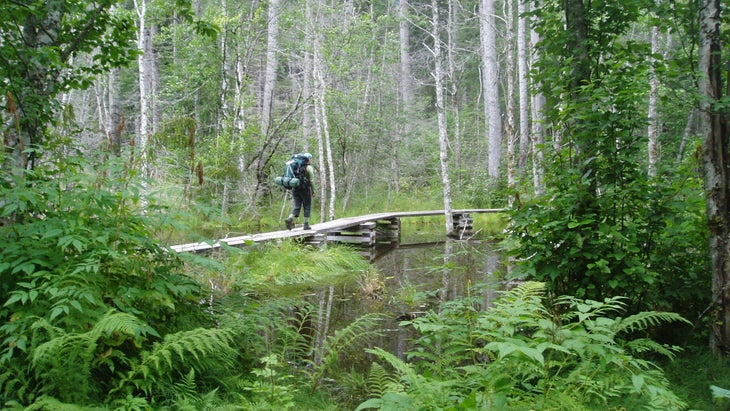 The 33-mile (one way) Chilkoot National Historic Trail, designated as such in 2022, chronicles a former Tlingit trading route that transformed into a busy passage during the 1897–98 Klondike gold rush. The 16.5-mile U.S. portion travels from Dyea, Alaska, to Chilkoot Pass, and continues over the Canadian border to Lake Bennett, British Columbia. En route you'll see belongings—including canvas boats, a steam boiler, and a gas-engine winch—of the former gold seekers.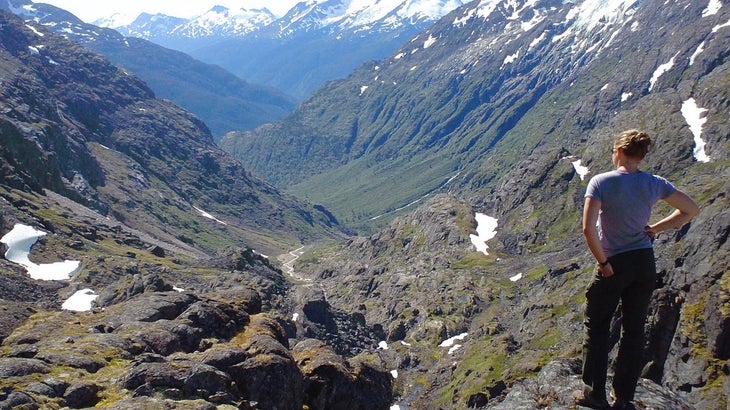 Flooding in 2022 closed all but the first mile and a half on the U.S. side, but the Canadian segment of the trail remains open. Bring a buddy, pack bear spray, and be prepared for no cell service. The full hike from Dyea to Bennett, which is connected by a hiker-service train to Skagway, Alaska, is expected to recommence in May 2024, so you can start planning now. Permits (see here and here) are required for summer hiking, and in shoulder season you must still register for all campsites.
8. Pueblo Alto Trail, Nageezi, New Mexico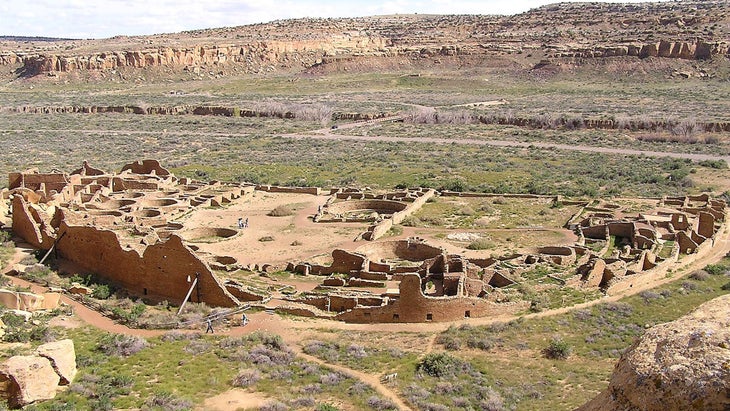 This moderate 5.1-mile backcountry loop in Chaco Culture National Historical Park ($25 per vehicle) transports hikers back a thousand years to a time when the thriving Chacoan civilization dominated Chaco Canyon. Between 850 and 1250 CE, roads emanated from this ceremonial, administrative, and cultural center, leading outward to 150 great houses (multistory buildings that were likely public spaces) in the region.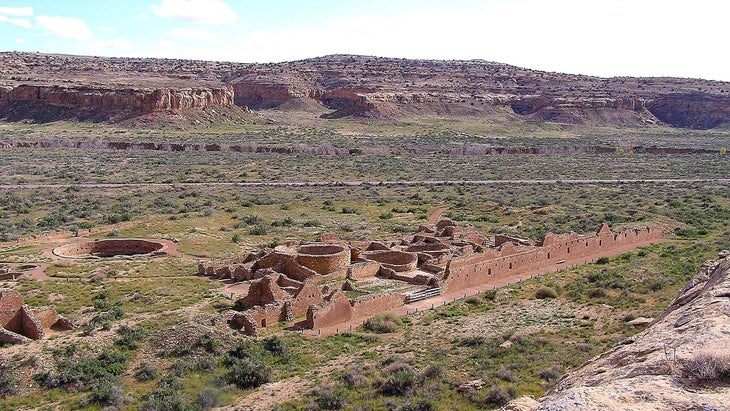 This trail, leaving from the Pueblo de Arroyo Parking Area, begins with a steep, exposed scramble before delivering sweeping mesa-top views over the San Juan Basin, and it links archeological sites such as Pueblo Alto, the impressive ninth-century, 600-room Pueblo Bonito great house, and the Chacoan steps. This Unesco World Heritage site remains a spiritual place for Chacoan descendants, including several Navajo clans. Because Chaco Culture National Historical Park is remote, with few amenities, bring plenty of water, dress for varying weather, and expect a bumpy ride in.
9. Unicoi Turnpike on the Trail of Tears, Coker Creek, Tennessee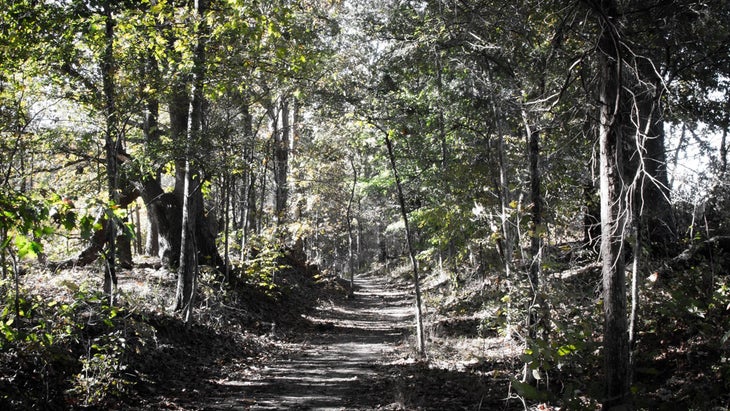 This 2.5-mile (one way) trail through Cherokee National Forest traces part of an ancient pass that connected the Cherokee capital of Chota, located in what is now Vonore, Tennessee, to coastal Cherokee settlements before becoming a toll road called the Unicoi Turnpike in the early 19th century. In the 1820s, the discovery of gold near Coker Creek brought an influx of white prospectors to the Cherokee Nation, prompting the U.S. government to establish Fort Armistead in a half-hearted attempt to keep the interlopers from overrunning Cherokee lands. Ironically, this fort, which is currently up for designation as a national historic landmark, became a holding area for the Cherokee in 1838 after the Indian Removal Act of 1830 compelled them to leave their fertile lands on a forced journey west.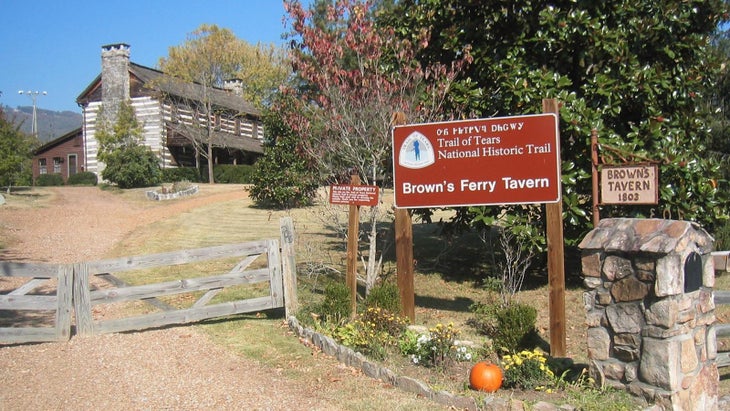 Thus the Unicoi Turnpike became part of the Trail of Tears, a network of trails covering 5,000 miles and parts of nine states as Natives from the Southeast were displaced to present-day Oklahoma. Numbers vary, but according to the Park Service, 10,000 died en route or shortly after the relocation; according to this site, a doctor who accompanied the Cherokees estimates that 4,000, or one-fifth of them, were lost.
The free parking area and trailhead for the hikeable portion of this National Millennium Flagship Trail sit 2.9 miles southeast on County Route 40 from the Coker Creek Welcome Center.
10. Wanderer Memory Trail, Jekyll Island, Georgia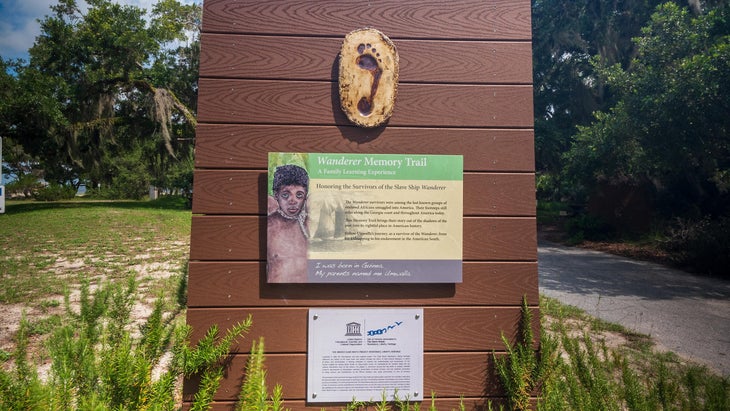 At Jekyll Island's St. Andrews Beach Park, take this 0.5-mile family-friendly loop trail down a flat, gravel path (which is wheelchair-accessible) to learn about the history of the Wanderer, one of the last ships to smuggle enslaved Africans into the United States. The Wanderer was carrying about 400 captured people when it ran aground here on November 28, 1858. The trail's eight exhibits take you on the ship's perilous journey through the eyes of Umwalla, a captive African boy. This trail has received a Unesco Slave Route Project "Site of Memory" designation as a Middle Passage arrival site.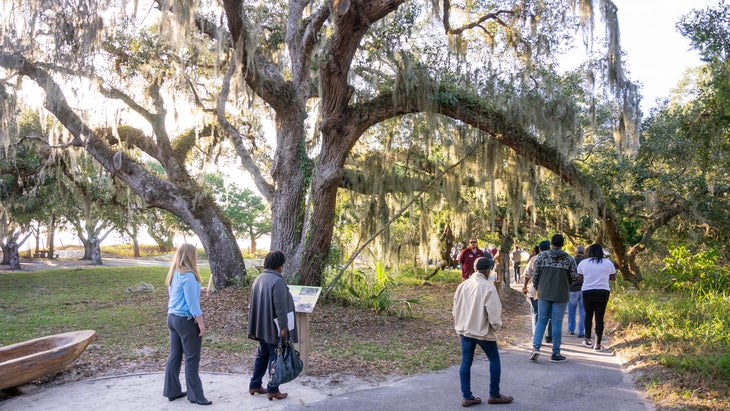 Linger at the park to enjoy sunset views and dolphin sightings. Jekyll Island provides free beachgoing wheelchair use on a first-come, first-served basis (call 912-635-2368 for reservations and delivery), and a ramp at St. Andrews offers access to hard-packed sand.
All vehicles entering the island must pay a $10 daily parking fee.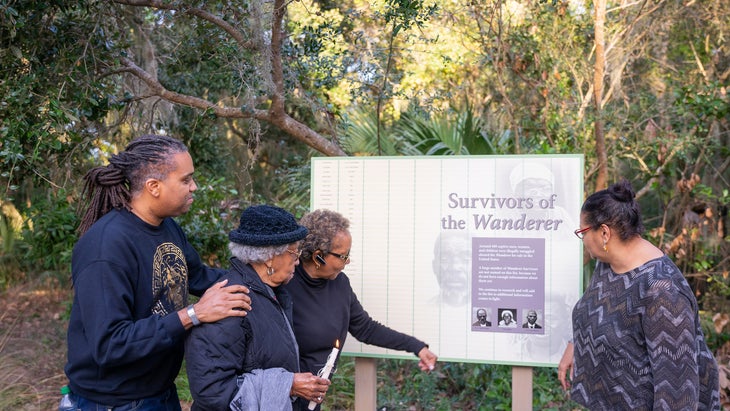 Theresa McKinney lets her keen interest in history guide her travels, whether it's navigating a new city like Copenhagen, Denmark, or exploring a new trail in Virgin Islands National Park.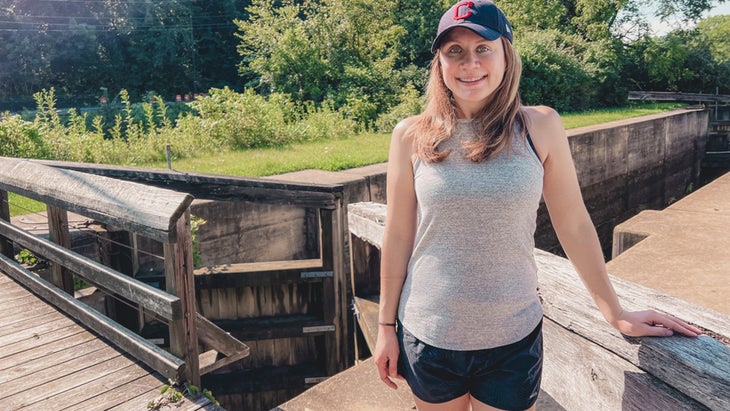 For more by this author:
For more info on Gaia mapping:
Lead Photo: Paul Hamill Photography