Honeymarooned
Just Married: One Couple's Well-Oiled Open-Road Odyssey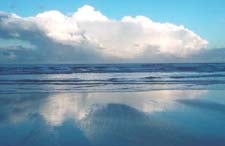 Heading out the door? Read this article on the new Outside+ app available now on iOS devices for members! Download the app.
Married less than a week, we already knew what hell looked like.

"Maui. We coulda been in Maui."

Route 1, where the going's easy

Beachside, where Lucille gave up the ghost

Inside the auto-shop waiting room, the stench of tire rubber was thick enough to steel-belt your brain. Dim overhead fluorescent lights reflected our mood. As a bad Sci Fi Channel rerun blared on the tube, one of Waldport, Oregon's finest mechanics looked up from his potato-chip-and-something-gray lunch, nodded toward the old sofa slowly consuming us, and offered what will live as one of the most memorable refrains of our "active" honeymoon:


"Probably the last place in the world you wanted to be today, isn't it?" You said it, Elmer, I thought. But, being a nearly broken man, I smiled, bit my tongue, and went back to repeating the day's melancholy mantra: Maui. We coulda been in Maui.


Instead, we were marooned less than halfway through what my bride, Jackie, and I had considered an inventive solution to the where-to-go honeymoon quandary: a 1,250-mile, two-week, scenic, restful RV trip up the Pacific Coast, from Monterey, California, back to our home in northwestern Washington.


That was the itinerary, anyway. Now our rig was fresh off an extended lip lock with a tow truck in Waldport, which was a nice place, actually—provided you had a means of escape. Ours was incapacitated, and the fast-growing pool of 10W-40 under her gut was, alas, our responsibility, because we'd decided to forgo the traditional RV-travel method of renting one of these potty-equipped boxcars and dumping it off once we got home. We had actually purchased the RV, a 1984 Fleetwood Jamboree, from a relative who decided to part with her rolling home at a critical time—smack-dab in the middle of our honeymoon bickering. Sorry—consultation.
For three months prior to abandoning IRS single-filing status, we'd embraced, investigated, and abandoned a full slate of "outdoorsy" honeymoon plans.


A backpack trek down the spine of the Cascades? Too hard.


A long cruise on the Mediterranean? Too soft.


An extended train/car/camping trip to Canada's Maritime Provinces? Too Shipping News.


Three sunny weeks on the beach in Cabo San Lucas/Tortola/Maui? Too long, too thong.



We were close to giving up when fate came knocking with propane appliances, a rooftop air conditioner, and sewage tanks bigger than my first apartment.


It all seemed downright serendipitous: An RV would be a perfect way to get away from it all, stopping when we wanted, where we wanted, like carefree, Gore-Tex-clad bohemians. Why not invest the $3,000 to $5,000 we'd plunk down on a traditional getaway into the old rig, gaining a rolling honeymoon that might go on forever?


I floated the idea by a trusted, outdoorsy friend. "You're not old enough for a motor home," he said.


"Yeah," I replied, flashing back to the lingering joint pain after my most recent tent debacle—riding out a winter storm, in the middle of August, on Mount Rainier. "But my knees are."


The only catch: selling the plan to Jackie. "It's an opportunity," I told her with a mostly straight face. "An investment in our outdoor future. It's a beach condo, mountain cabin, and backwoods hideaway all in one fiberglass-and-steel package."


She hesitated. I dragged out the heavy ammo: "If we had an RV," I told my canine-enthralled fiancée, "Henry and Mabel"—our dalmatian and golden retriever/Labrador recliner—"could go along with us more often."


For the second time in less than a year, she shocked the hell out of me by smiling and saying yes. The Great West Coast RV Honeymoon Adventure was on.


As I nudged the Jamboree out of space dock in Monterey, I noted that our new old rig, which we christened Lucille, exhibited typically nimble RV-handling characteristics: squishy as a six-ton Hostess Ho Ho with dualies and a luggage rack. Although I'd piloted rental RVs before (note to the constables in Banff: Sorry about those ornamental light posts), you forget the laws of motor-home physics until you're back on the flying bridge. The key is to think like an adult yak caught in a Mikasa outlet: You don't want to get into positions where you have to turn quickly or back up. Also, it's a good idea to swing waaaay wide around corners.


On our first day, we made great time bombing up California 1—relaxed by the notion that, with our rolling hut and its always-ready sleeping quarters, we didn't really need to be anywhere at a specific time. In the early afternoon, as the Pacific salt air filtered in through Lucille's portholes, we pulled off in a wide spot, surrounded by spring wildflowers, with a statuesque lighthouse winking nearby. On a car-camping trip, this would've been a 30-second photo stop. In the RV, it was waterfront dining, baby.
An hour later, we got off the comfy couch and stowed the almond-stuffed olives, lobster bisque, and crème brûlée leftovers in the fridge and pulled back on the road, feeling good about life, ourselves, and everything else.


Then we hit the first really big hill. Without warning, Lucille's trusty old 7.5-liter Ford engine lurched and bucked like a moose in a hot tub, emitting a rather ungodly noise. I glanced over at my lovely wife—head between knees in airliner crash position—and issued my first married-man executive decision: "Hmmm," I declared. "We'll need to avoid hills." Wisely, Jackie chose not to inquire about the approximately 700,000 more between us and home. The RV love/hate affair had begun.


Late that evening, we had docked Lucille in an RV camp near the town of Napa, where hawks circled overhead as the setting sun painted nearby hills in brilliant goldenrod. As we put the galley to use for another meal—notably devoid of freeze-dried components—it hit me: We were here. Done. Set up. No tent to pitch. Everything in its place. No pawing through seven Rubbermaid bins to find your toothbrush. Nothing to do but relax. This was camping.


A warm glow overtook us. So what if it was partially emanating from the pool of oil spreading beneath Lucille's belly?



The next week on the road was, to steal a word that Lewis no doubt uttered to Clark on more than one occasion in these same parts, interesting.


Lucille continued to harrumph like a lactating elephant seal every time we made the admittedly unreasonable demand of minor elevation gains. But we became enamored of the way we could get out, get wet, and return to our portable civilization capsule and straighten things out for the next outing. Lucille's true worth was revealed when the Oregon coastal weather did what it's known for, imitating a hydroblast car wash. When driving rain and a 35-mile- per-hour wind sandblasted everything on the beach outside, we sat warmly protected inside, sipping wine and slurping cheese fondue—all while gazing out the front windshield at a group of hapless, rain-battered tent campers.


Jackie: "Oh, gosh. Did you see those poor people? A year ago, that would have been us."


Me: "Ha! Did you see those poor suckers? A year ago, that would've been us! By the way, is there any more Grey Poupon?"


This, of course, only added to the major karma deficit I had already amassed, as evidenced by our continuing struggles: Lucille's oil leak grew to a steady spurt. I kept feeding her Pennzoil straight shots, which seemed to appease her. But on that fateful day near Waldport, Lucille staged the ultimate rebellion, flatly refusing to start when we tried to leave our digs at Oregon's Beachside State Recreation Site. As quick as you can say, "Hello, AAA?" we were being towed three miles into Waldport on a disconcertingly small wrecker, the driver of which confessed to some fear that if we had to do something drastic, such as stop, the motor home could run us over.
Jackie looked more concerned than usual. "It'll be OK, won't it?" she asked.


"At this point," I sighed, "it's all up to God and Visa."


Five hours later, sitting there on that waiting-room sofa, I imagined the two entities would conspire for a repair bill in the low four digits, minimally. Then came good news came from the shop floor: They'd found a simple loose bolt responsible for the oil leak, and a leaky vacuum line between engine and transmission—likely responsible for all that uphill chugging and bucking. By day's end, we were back on the road.


Final tab: one day lost; $146 tithed to Visa; bill still pending from God.



During our final week, the skies cleared, Lucille's engine purred, and we did all that we'd set out to do: hiked beaches, picnicked by nearby shipwrecks, photographed wildflowers, all within proximity of our hot-shower-equipped motor home. And throughout our journey, we found a surprising number of couples in their thirties and forties traveling the same way.


Most of them admitted that it takes time to cut loose from tent-camping logic: searching for a flat, dry tent pad everywhere from the mouth of the Columbia to the Wal-Mart parking lot; rushing to campsites well before dark; waking up and checking the corners of your sleeping bag for seepage and creepage. But RVing is a pleasant new way of thinking, even when the flaws of driving a galoot like Lucille present themselves.


No matter how troublesome she gets, she'll always keep us three feet higher off the ground than even the best tent. That's a good thing. Especially if you're 39, with knees and back going on 50.


Some days, tooling down the road in Lucille, bound for a rendezvous with a mountain or ocean view and full hookups (yeah, with cable TV—deal with it), we think back on that friend's comment and realize he was probably right: We're probably not old enough for an RV.


But our dogs are.