Sponsor Content: Vail Resorts
How to Plan the Ultimate Trip to Whistler Blackcomb
These tips from a local will loop you into everything you need to know for the perfect Whistler Blackcomb experience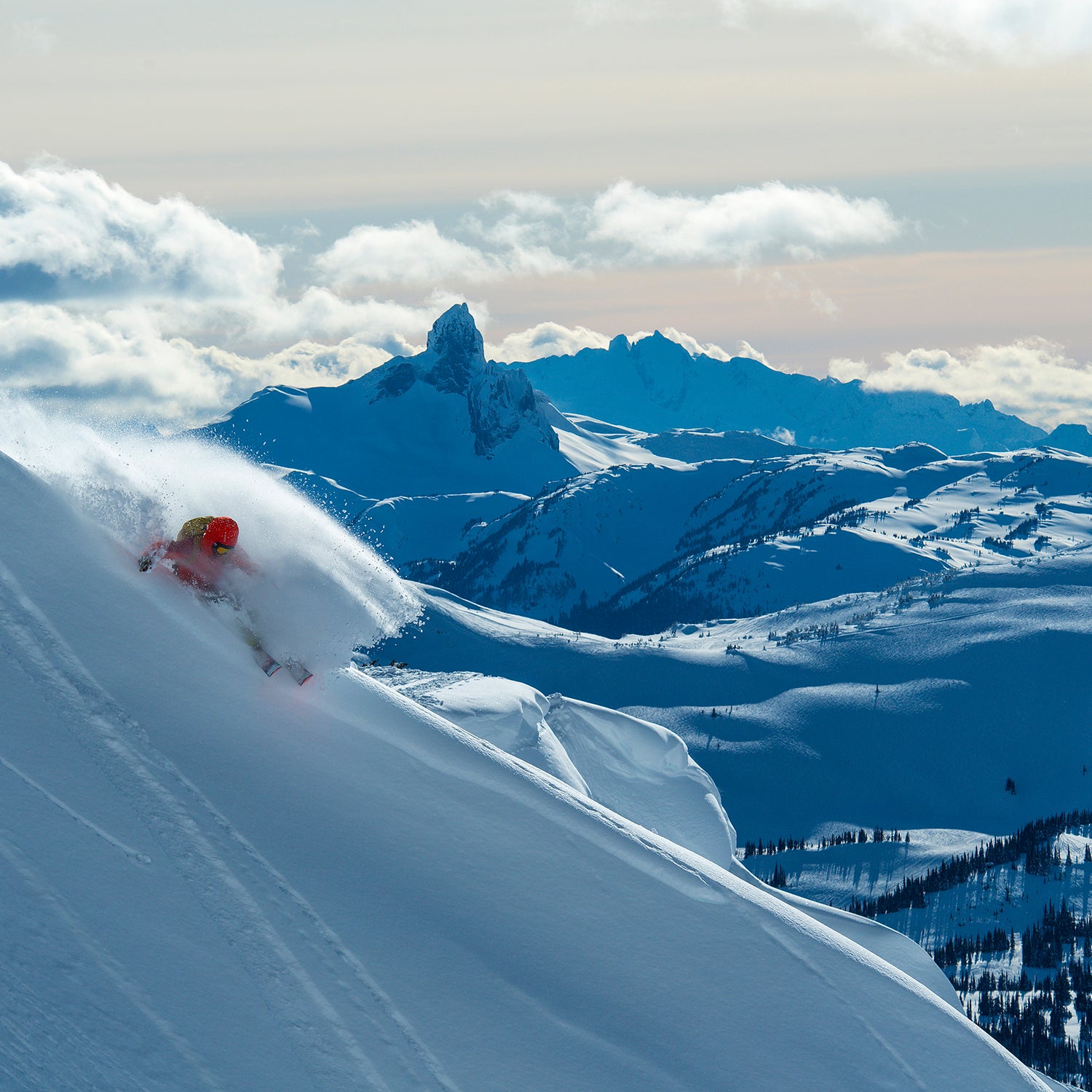 Vail Resorts
Whether you're planning a trip for the first time or visiting again, there's so much to do at Whistler Blackcomb it can be hard to know where to start. North America's largest ski resort, which operates on the unceded territories of the Lil'wat Nation and Squamish Nation, boasts some eye-popping numbers. With 8,171 acres of skiable terrain and an average snowfall of 460 inches per year, Whistler Blackcomb belongs on every skier's bucket list for scale alone. But it's not just the sheer size of the resort that makes these side-by-side peaks a coveted ski destination. From the incredible access to the Coast Mountains to the uniquely Canadian mountain-town vibe (seriously, you're going to love the locals), Whistler Blackcomb raises the bar on winter. We tapped local blogger Lauren Meeker, who calls Whistler and Blackcomb her home mountains, for tips on how to see and ski as much as possible while you're there.
Strategize Your Ski Days
With more than 200 marked runs, 16 alpine bowls, and access to three glaciers across the resort, Whistler Blackcomb will keep the hardest chargers busy. But there's also plenty of terrain for beginner and intermediate skiers to explore. High-speed lifts like the Big Red Express and Creekside Gondola​ will make it easy to cover a lot of ground in a day, but don't overdo it, says Meeker. "The amount of terrain here can be overwhelming," she advises. "Instead of trying to conquer both Whistler and Blackcomb in one day, it's more enjoyable to ski one section of the resort at a time."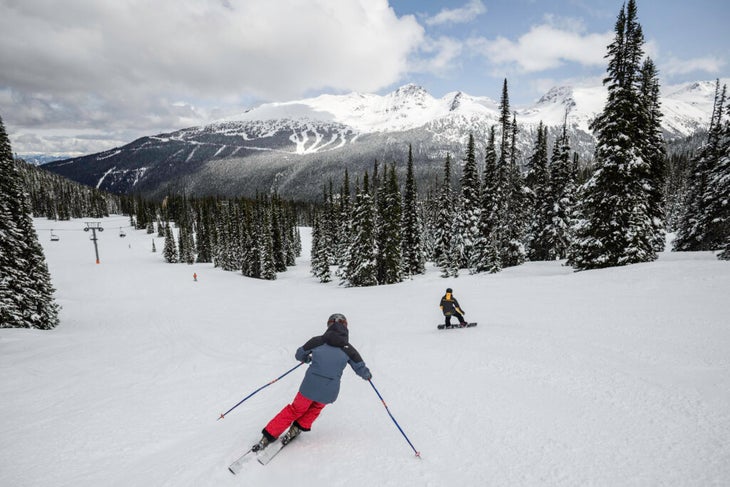 When you're at Whistler Blackcomb on a powder day, Meeker says to keep an eye on the live lift status updates on the Whistler Blackcomb website so you don't miss a chance to be on one of the first chairs to Crystal Zone when ski patrol gives the okay to open that area. It's one of the best places for powder skiing, with plenty of stashes to go around. Want to chase powder in the backcountry? Get out with a local guide on an Extremely Canadian backcountry tour. "For expert skiers who want to take their Whistler turns to the next level, Extremely Canadian also offers a steep skiing clinic," says Meeker. "The clinic is a great way to improve your skills and confidence on some of the biggest lines in the resort."
Tip: Meeker grabs a season pass for unlimited skiing at Whistler Blackcomb all season long. Season passes are well worth the investment for anyone planning to ski for multiple days, as lift tickets will be limited for the 2022/23 season. For shorter trips, day passes are also available at a fraction of the price. 
Explore the Beyond
If you're an experienced and avy-savvy backcountry skier, Meeker says you're in for a treat, thanks to tons of "slackcountry" options right out of the resort, throughout the Spearhead Range that connects Whistler and Blackcomb. The resort even offers an avalanche-controlled slackcountry area known as Flute Bowl, accessed from the top of Symphony Chair. Locals are all about ski setups that offer flexibility to explore where the snow takes you Meeker explains. "Look around at any lift line in Whistler and you'll see a surprising number of skiers sporting a hybrid touring/resort setup. It's increasingly common for people to mix in a slackcountry lap as part of their ski day on the mountain."
Of course, the backcountry options are nearly unlimited beyond the resort. Snag a spot on a heli-skiing tour to access 432,000 acres of British Columbia's best big mountain terrain. Local experts will take you to the best snow across 173 glaciers and 475 runs in the area. For anyone who likes to earn their turns but still wants the heli-skiing experience, consider a heli-assisted ski tour. It delivers all of the glam that comes with flying over the Coast Mountains to a secluded ski area but with the satisfaction of human-powered laps.
Tip: An overnight in the backcountry adds a special wilderness experience to any Whistler Blackcomb visit, says Meeker. Look at booking a night in the Kees and Claire Hut, the first completed hut in a new system of huts being developed along the Spearhead Traverse.
Need some time out of your ski boots? Head out on a guided snowmobile, snowshoe, or dog sledding tour to see more of this winter wonderland. Or unwind at the Scandinave Spa. The baths are open to walk-ins so you can enjoy a soak even if you aren't staying for a spa treatment (although those do come highly recommended). For a quieter experience at the baths, plan for a midweek visit.
Enjoy the Best Views in the House
With a resort as grand as Whistler Blackcomb, you'll find stunning views at every turn. But the best perspective by far is from the PEAK 2 PEAK Gondola, which connects Whistler and Blackcomb mountains and Whistler Village on a 2.7-mile route that reaches more than 1,400 feet above the valley floor. Not only does the Gondola provide some of the most breathtaking views of Canada's Coast Mountains, but it also gives you a better understanding of just how massive Whistler Blackcomb truly is. For the full experience, stop at Christine's for lunch and to soak in the views. This must-visit spot is well worth the splurge for peak on-mountain dining (pun intended). Reservations are highly recommended, so set a reminder to book your table in advance. For an on-mountain dinning experience and more epic mountain views, the Umbrella Bar (U-Bar to the locals) is the perfect spot to enjoy a beverage.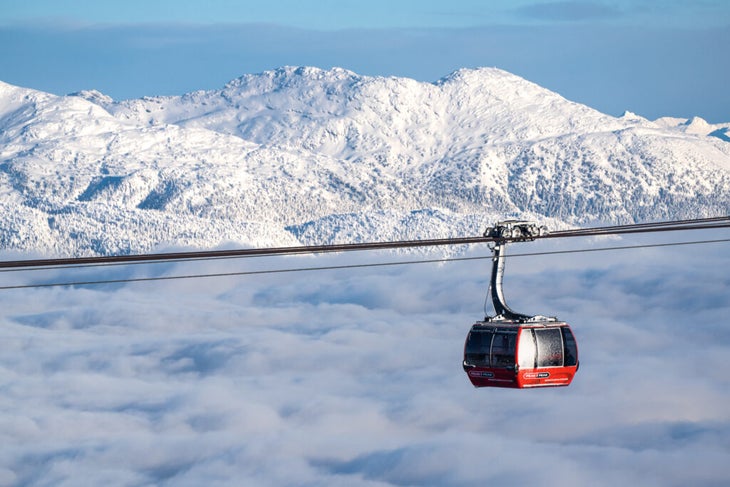 Tip: Meeker says the best way to enjoy a meal at Christine's is to go on a day you head to the mountain early. After kicking off your day with first chair, you'll be ready for a break by the time the restaurant opens at 11:00 am.
Join in Whistler Blackcomb Traditions
The breadth of terrain and access to all things winter are just part of what make Whistler Blackcomb unique. It's the energy in the Whistler Village during peak ski season, the people who love this place and call it home, and the annual events and traditions that make Whistler Blackcomb so special.
"Whistler Blackcomb is world famous for its après ski scene. It's definitely something you'll want to experience while you're here, and there are countless great options in Whistler Village," says Meeker. "With a budding craft beer scene and countless restaurants, there's something for everyone after a leg-burning day on the slopes!"
During peak ski season, enjoy one of the most beloved Whistler Blackcomb traditions—the Fire and Ice show. This free event gives local athletes a chance to perform their best tricks for a crowd all while jumping through a 16-foot ring of fire. With music, fireworks, and a true display of talent, the Fire and Ice show brings the stoke to the Ski Plaza every week.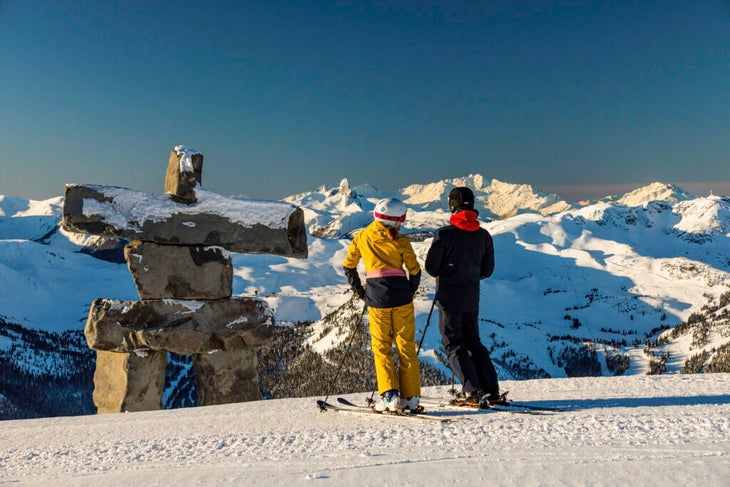 Gain a deeper understanding about the area you're exploring. Embark on a powerful opportunity, and respectfully learn about these lands, the Squamish Nation, and the Lil'wat Nation by touring the Squamish Lil'wat Cultural Centre. This experiential museum offers guided tours of the exhibits led by Cultural Ambassadors from Squamish Nation and Lil'wat Nation.
In the spring, Whistler's mountain culture is on full display at the Whistler World Ski & Snowboard festival. The week-long event combines on- and off-snow fun for a full lineup of ski and snowboard competitions, music, films, art, and of course, the ultimate après ski vibe.
Give a Nod to Olympic History
British Columbia hosted its first Olympic Games in 2010. While Vancouver served as the official host city, Whistler Blackcomb was the official mountain for the event. Locals remember watching on the big screen in the Whistler Village as Alexandre Bilodeau won Canada's first-ever gold medal on home soil in Men's Moguls. Whistler athletes brought home glory too—Ashleigh McIvor took the debut gold in Ski Cross, an event first introduced to the Winter Olympics in 2010, while Maëlle Ricker dominated Snowboard Cross with a gold-medal win. You can see a tribute to Whistler's games in the Roundhouse Lodge today.
But the mountain's Olympic legacy isn't just ancient history. It's alive and well in the many training opportunities and top-notch races Whistler Blackcomb hosts each year, including the annual Peak to Valley race—the longest Super G event of its kind in the world. Get a taste of the Whistler Olympic Legacy for yourself by taking a ski or snowboard lesson with an Olympian on the resort. More than 15 local Olympians are on the roster to give you the ultimate pro tips to up your game. Or head to the Whistler Sliding Centre—a world-class bobsled, luge, and skeleton facility on the backside of Blackcomb Mountain. The center serves as a training ground for athletes in all three sports but is also open to the public for bobsled and skeleton experiences.
For cross-country, biathlon, and even ski jumping, visit Whistler Olympic Park. Many Nordic skiing athletes train at the facility, so chances are you'll be skiing with past or future Olympians training for the next Winter Games.
Tip: Whistler Olympic Park isn't the only spot for great cross-country skiing. Meeker recommends exploring the Lost Lake area right next to Whistler Village. The cross-country ski center there offers lessons and rentals, groomed trails, and beautiful views of the resort above you.
---
Whistler Blackcomb is the sum of its natural assets, and when it all gets added up, it is naturally impressive. With over 8,171 acres of terrain and over 200 marked trails, it's North America's largest ski resort. Explore wide-open glaciers, pillage powder-filled bowls and go deep in a silent glade.
Lead Photo: Vail Resorts