Sponsor Content
How to Ski Mammoth Like a Local
Heading to Mammoth Lakes this winter? Follow our expert's sage advice.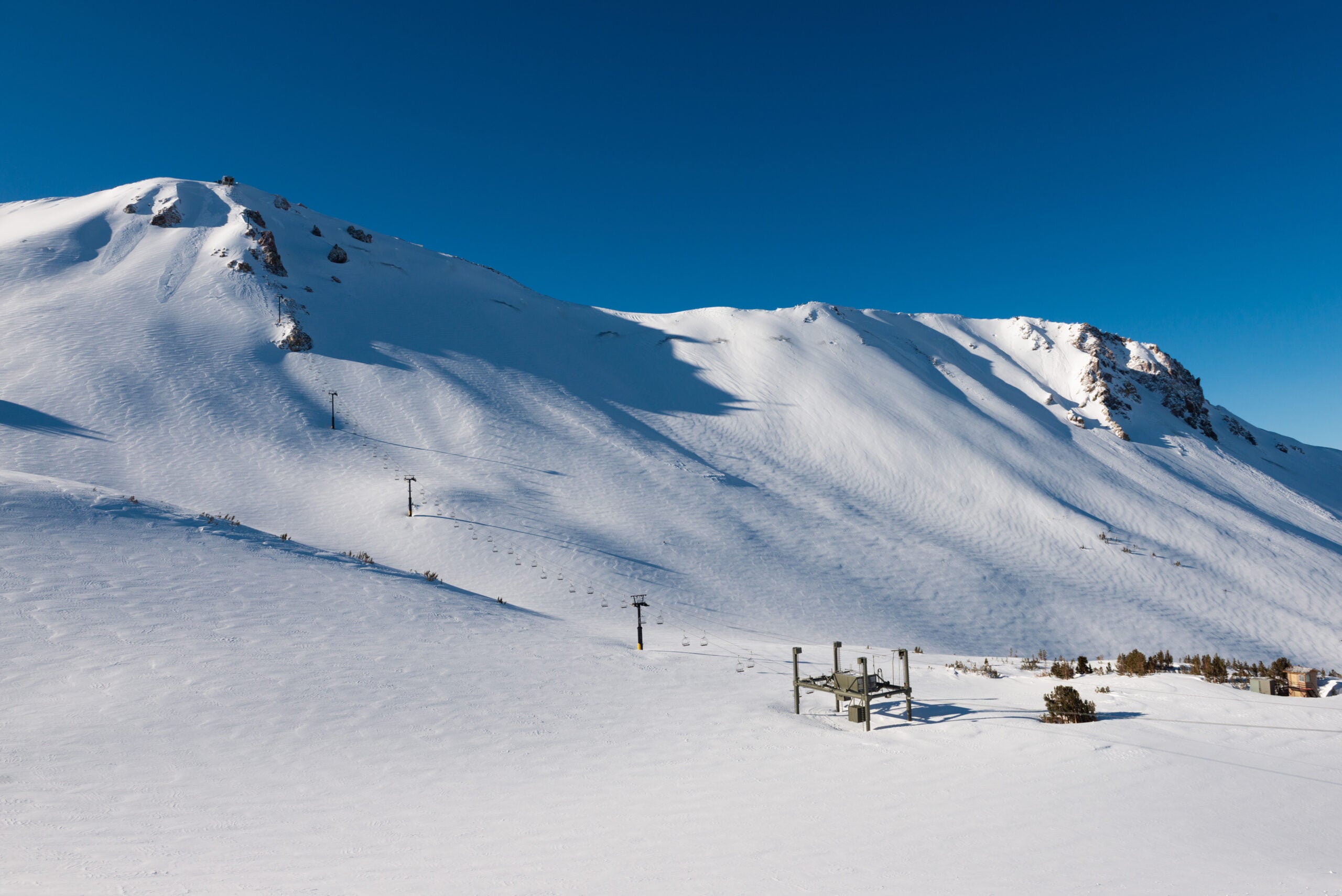 Courtesy Miles Weaver
California's Mammoth Mountain sees 300-plus sunny days a year, routinely claims more than 400 inches of light, fluffy snow (nothing like the Sierra cement you've seen at mountains farther north), and offers some of the most direct fall-line skiing in North America. To help you rip it like you live there, we asked pro skier, Mammoth Mountain patroller in training, and women's-skiing advocate Holly Moseley-Raymond for her best advice.
Maximize Your Powder Day
If there's enough new snow to warrant it, Moseley-Raymond, who has been skiing Mammoth Mountain since she was a kid, is in line at Chair 16 by 7:30 A.M. for an 8:30 bell. As soon as she unloads, it's a mad dash for the legendary Chair 22 and Lincoln Mountain. "Ski patrol gets that terrain open earlier than the alpine," says Moseley-Raymond. "Chair 22 is famous for its tree-skiing and chutes. Viva is one of my favorites: it's a glorious powder run right under the chair line with a few cliff drops and hits. On the other side you have the Avalanche Chutes. That's more like couloir skiing." If the storm is hanging on, just stay on 22. It's the best storm-day skiing on the mountain because of the visibility. Gone bluebird? If you're willing to wait for terrain to open—the FOMO is strong on powder days—Moseley-Raymond recommends you head over to Main Lodge and take your pick of the Gondola (the chutes, gullies, and bowl skiing of Climax) or Chair 23 (the slightly more technical zone known as the Dropout Chutes).
Savor Mammoth's Best-in-Class Wind Buff
Wind can be a skier's nemesis, scouring slopes of their snow or pounding it into a bulletproof crust. But at Mammoth, southwesterly winds at just the right speed act like nature's groomer, delivering glorious off-trail conditions known as wind buff. Imagine a fast, cold, edgeable sliding surface with some of the spring of powder but more bounce than groomed snow. "I would choose Mammoth wind buff over powder any day," says Moseley-Raymond. "It's the opposite of powder in that the more people that ski it, the better it gets." Want to ski the world's best wind buff on the line that delivers the ideal conditions? Head to Dave's Run—named after Mammoth founder Dave McCoy—says Moseley-Raymond. "From below it can look like a cyclone is hitting it, but that's just snow filling in."
Rip Groomers, Too
Don't get us wrong: perfect corduroy definitely still has its place, and Mammoth does it right. "I love challenging myself off-trail in difficult snow, but if the groomers are going off, how can you not take advantage?" Moseley-Raymond suggests heading to Critters, Lodgepole, and Secret Spot to get a feel for your edges again. "They're rolling, cut runs that have this roller-coaster effect. You get going fast and then they flatten out just enough for you to control your speed before you're on another steep dip. Those undulations make you feel like a kid. That entire area is shady and cold, so the corduroy stays really nice."    
Come Early, Stay Late—into Spring and Summer
"In my mind, Mammoth has the best spring skiing in the world," says Moseley-Raymond. "The historical closing day is July Fourth. And right through the spring we get huge storms followed by sustained corn-snow cycles. When those storms hit in April, only the passionate locals are still out skiing. Everyone else is on the water somewhere. It's a locals' day, a country-club day. You can ski untracked until the sun gets it." As for that corn, a strategy is again key. You want to time it so that the morning ice has just melted, but you also need to get off the hill before the corn—so called for the niblet-size pellets the surface is made of—turns to glop. "In the late season, the mountain goes from operating from 8:30 to 4:00 to 7:30 to 2:00," says Moseley-Raymond. "I like to be skiing by 9:00 at the latest to hit the corn when it's fast and edgeable, but not sticky." 
Après Is for Après
Skiing is a mountain sport with high speeds. When you're ready to relax with a pilsner, do as the women do in Glitter Storm, the skiing group Moseley-Raymond founded (open to all women; check them out on Instagram) and partake after the skiing is over. "The Tusks bar, at Main Lodge, is the nicest place to be on a sunny spring day," says Moseley-Raymond. "There's outdoor music and sunny outdoor seating. The happy hours are generous. You can sit around a giant plate of nachos."
---
Mammoth Lakes is a year-round, otherworldly adventureland, boasting majestic mountains, awe-inspiring viewpoints, miles of trails, and so many crystal clear lakes that we've lost count. Discover the adventures that speak to you. It's all just a fun road trip or flight away. 
Lead Photo: Courtesy Miles Weaver