"I Do" with a View
If your big-day fantasies include a crescent beach or a mountain vista, you're part of the hottest trend in nuptial bliss: destination weddings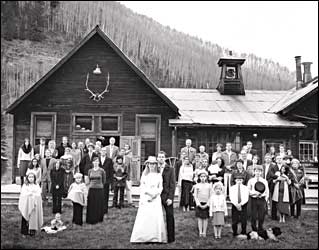 Heading out the door? Read this article on the new Outside+ app available now on iOS devices for members! Download the app.
I love the scene in Cinema Paradiso when Alfredo, the projectionist, tells his protégé, "Life isn't like in the movies. Life is much harder." While I can see how this was true in small-town Sicily during the 1940s, I think the more fitting line for my generation would be "Life isn't like in the movies. Life is much less interesting."
wedding
Where outlaws, nudists, and newlyweds roam: nephews, usher Henry, and groom
wedding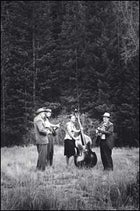 Bluegrass band Sweet Sunny South
wedding

Nieces, nephews, and henry with Lovey, the couple's Canine
wedding
The're Mr. and Mrs.
wedding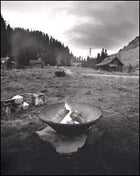 Where dirty jokes are told
Except, of course, for those seminal moments that take on blockbuster proportions. Like when I first saw my future husband, Stephen, on a Friday night at the information booth in Grand Central Station during rush hour. Our eyes met through a sea of people and, yes, just like on the silver screen, it was love at first sight. For the first time ever, my real life slipped into reel life.
Fast-forward three years—I was nursing Stephen's soccer-induced broken nose and dented spirit when (face cast and all) he asked me to be his wife. Can you say HBO special? As we began planning and fantasizing about our wedding, I couldn't help wondering which classic movie our big day would most resemble. While the cast was all set, the genre wasn't so clear. Film noir? Romantic comedy? Period piece? Horror flick? And what about a set?
Because we live more than 2,000 miles from where either of us grew up, we decided to have a destination wedding and invite our families and close friends. We liked this plan because it meant no one had to play host, and everyone got to be a guest. And we decided two things up front when we began planning our October 2004 wedding: The setting needed to be so spectacular that no one could complain about (or even remember) the inevitable flight delays, the cost of the plane tickets, or the days taken off work. And since our group ranged in age from one to 74, the place had to be fun for all.
We auditioned countless destinations: old inns in Northern California and Vermont, B&Bs on Block Island, a resort on Cumberland Island, ranches in Montana, lodges in Wyoming, even a sailboat to charter around the Caribbean. After four months of research, we found the spot—Dunton Hot Springs, a ghost-town-turned-luxury-wilderness-resort in the San Juan Mountains outside Telluride. We were thinking Butch Cassidy and the Sundance Kid meets Bonnie and Clyde, but without anybody dying in the end.
Its gorgeous natural setting is the main reason we fell so madly for Dunton. Way up at 9,000 feet on the West Fork of the Dolores River—nine miles along a one-lane dirt road—the resort looks onto two of Colorado's famous fourteeners. But it was Dunton's tarnished past that sealed the deal. If the bullet-perforated signs could talk, they'd reminisce about the overly optimistic gold miners who lived there in the 1890s, leaving behind a schoolhouse and a brothel when the mine shut down. They'd recall the motorcycle gangs and the nude-volleyball-playing hippies of the sixties and seventies. It seemed perfectly appropriate to marry in a place where both outlaws and nudists once hung their hats.
Thanks to a million-dollar-plus renovation, today's Dunton Hot Springs caters to a highbrow crowd without abandoning its frontier authenticity. The 11 restored guest cabins, with original 100-year-old wood planks, are outfitted with luxurious sheets and fancy soaps, and the owners' not-too-shabby art collection is scattered throughout. (The Eggleston prints making a cameo in the dance hall are my favorites.) Bearskin rugs, elk-hide bedspreads, Navajo and Ute artifacts, and even an Indian ceremonial bed create a romantic ambience. And every meal from the unfussy, Auntie Em kitchen tastes better than the last: simple, magical concoctions—like wild-mushroom tamales and caramelized butternut squash—made from organic ingredients.
Dunton's old-time charm dictated the rest of our wedding oeuvre. Our nieces would play bridesmaid fairies with the help of feathered tiaras and rose petals; our nephews, the ring bearers, would wear top hats. We'd need a photographer with American Gothic sensibilities, a menu of autumn's yummiest dishes, and an antique wedding gown (never worn). And as luck would have it, one of the best bluegrass bands in the West, Sweet Sunny South, was less than three hours away in Paonia and willing to provide the original soundtrack.
I still can't quite put my finger on what was so darn perfect about our weekend—was it the fact that I felt like Katharine Ross riding on the handlebars of Paul Newman's bike? The game of charades in the bar? The dirty jokes by the bonfire? The herd of elk that rushed through town at dusk? The lithium in the hot springs?
I think it was all these things, but mostly it was that for one long weekend, my new husband, our families and friends, and I got to erase the thousands of miles between us and pretend that we lived in this tiny town, eating all our meals together, hiking, dancing, soaking, and being together—just like the pioneers who got here a hundred years before us. And just like them, I imagine, we were filled with hope for a little luck in our futures.
Access & Resources
Dunton Hot Springs (970-882-4800, www.duntonhotsprings.com) can be reached by flying into Telluride, Cortez, or Durango. Doubles start at $250 per person per night (two-night minimum), including meals and unlimited use of the hot springs. Or rent the entire town, with lodging for 34 people, for $12,000 a day, including meals and the hot springs. Massages, horseback riding, fly-fishing trips, guided hikes, and mountain biking cost extra. Airport pickups are $100 one-way from Cortez and Telluride and $200 from Durango. The San Miguel County Clerk's Office (970-728-3954) dispenses marriage licenses on West Colorado Street in downtown Telluride, a 45-minute drive from Dunton.