Sponsor Content: Tourism Santa Fe
The Insider's Guide to Santa Fe
Open yourself to different worlds in this haven for the arts, culture, and the outdoors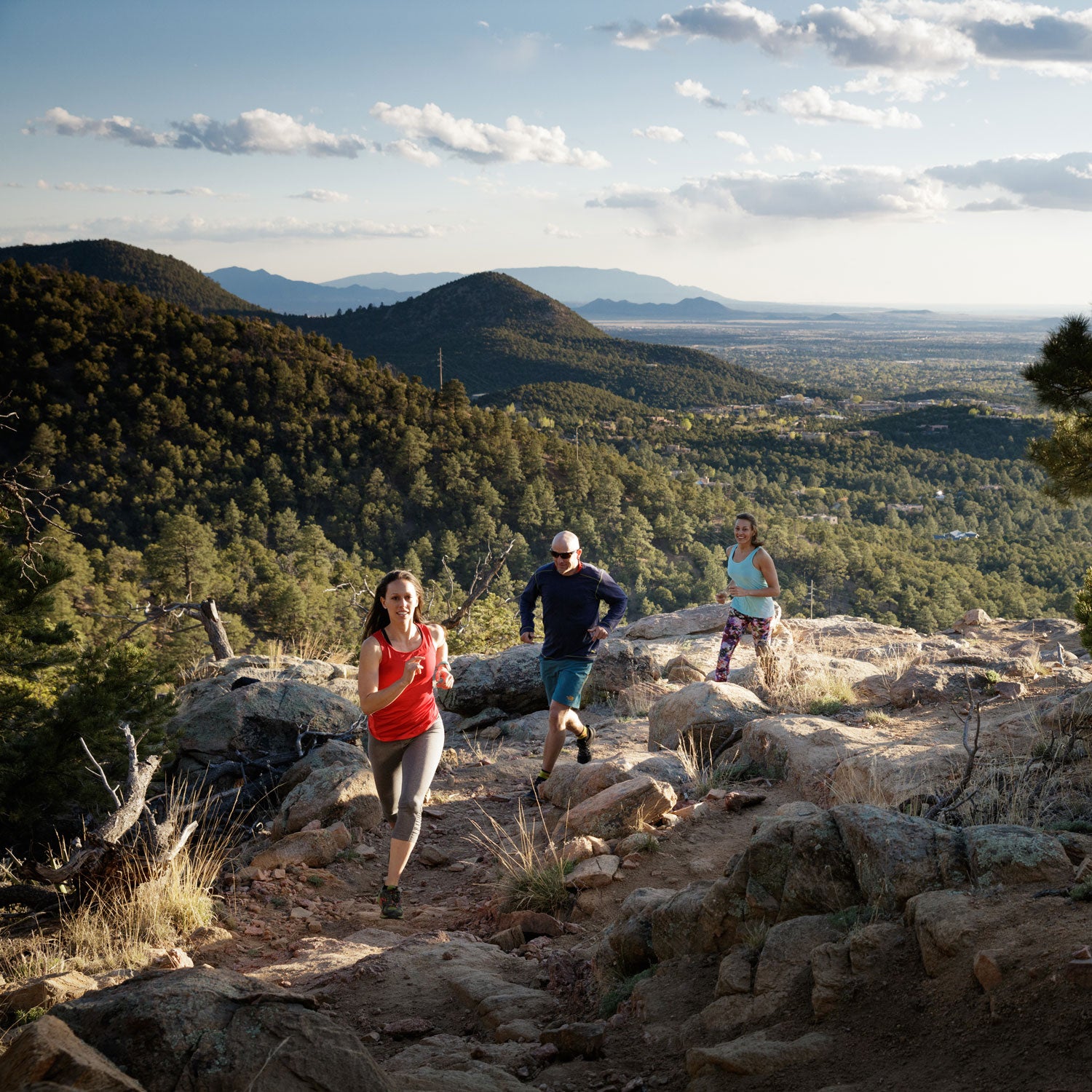 There are many reasons Outside moved to Santa Fe 25 years ago, not least of which is the town's easy access to incredible outdoor playgrounds. The towering Sangre de Cristo Mountains—laced with trails, dotted with high-alpine lakes and peaks, and home to a ski resort just 16 miles from downtown—rise directly to the east. To the south and west, a cholla-filled desert sprawls across the Rio Grande Valley, hemmed by the sunset-framing Jemez Mountains. But the outdoor recreation opportunities are just one part of its appeal. Santa Fe is infused with Native, Spanish, and Anglo influences, all of which manifest in world-class museums, restaurants, and architecture. And then there's everything else, from tranquil high-desert spas to Meow Wolf's mind-bending immersive art experience. It's a place that forces you to try new things, to think alternatively, to be open to this place that is unlike any other. Here's how to make the most of "the City Different."
Get Energized at These Hip Cafés
Santa Fe has experienced a coffee boom in recent years. Sky, located in a cozy standalone adobe space in the Railyard District, uses only single-origin beans from the best roasters in the country. If you want more snackables, Iconik has a small but tasty menu and brews with direct-trade beans at three locations in town. Looking for a full meal with your coffee? Head to Counter Culture—a local hang in the Baca District with lots of outdoor seating and a full, reasonably priced menu. Be warned: they're cash-only.
The Blue Bus Is Your Ticket to Alpine Glory
The 255 (locals call it the Blue Bus) is a skier's and mountain biker's best friend, running daily from downtown up to Ski Santa Fe for just $5 each way. In the winter, this means a relaxing ride to the powdery glades at 10,350 feet. Come summer, the Blue Bus ditches half its seats for bike racks—the perfect shuttle to the top of the Winsor Trail, 9.3 miles and 3,400 vertical feet of blissful singletrack descending through thick pine forests and aspen meadows. Pro tip: End your ride at Tesuque Village Market with margs and huevos rancheros. Don't have a bike? Mellow Velo has a rental fleet of full-suspension rigs from Santa Cruz, Juliana, Pivot, and Salsa.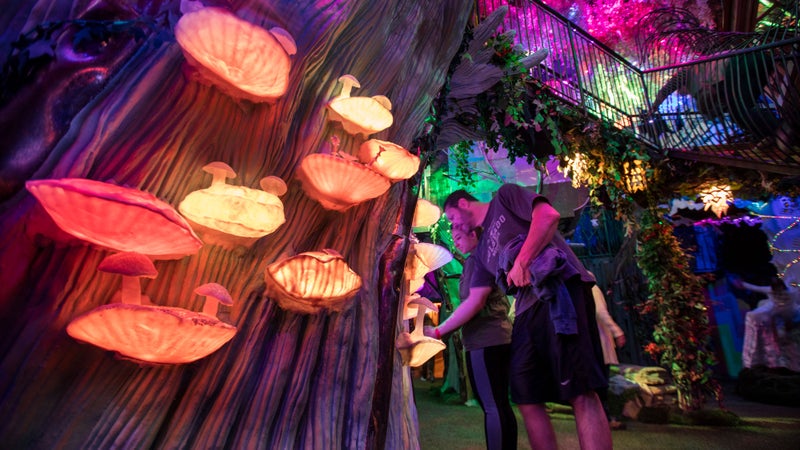 See What All the Rage Is About at Meow Wolf
Meow Wolf's House of Eternal Return—an insanely creative immersive art experience—lives up to the hype and is fully hands-on: you have to interact, touch, and look for clues to put together the narrative moving through the art. Enter through the refrigerator (trust us, it'll make sense when you see it), play the laser harp and the dinosaur rib cage, climb into the dryer, and open yourself up to new worlds. Pro tip: Reserve your ticket time online to skip the line, or check out one of their regular concerts, which allow you to show up early to check out the exhibit for the price of the show.
Relax at New Mexico's Slice of Japan
Inspired by Japanese mountain spas and set in the piñon-covered foothills just five miles from town, Ten Thousand Waves is the quintessential place to relax. It has beautifully manicured grounds, communal outdoor soaking pools, private tubs, massages, and various other treatments. Once you're thoroughly blissed out, head over to their fabulous restaurant, Izanami, an upscale izakaya with great views and delicious, inventive small plates. Try everything.
Discover Your New Favorite Artist
The Georgia O'Keeffe Museum and the gallery-lined Canyon Road are essential Santa Fe, and both worth a visit, but the town's art scene now includes many unconventional younger artists. At Keep Contemporary, just outside the Plaza, director Jared Antonio Justo Trujillo will tell you everything you need to know about the pieces he curates in his airy gallery. Across the street at Pop Gallery, keep an eye out for budding local artists like Marie Sena, Brandon Maldonado, and Vicente Telles. If you can find it, be sure to duck into Axle Contemporary, a gallery housed in a 1970s step van that pops up around town.
Cuddle with a Silkie. Seriously.
At Santa Fe's Sunrise Springs, the new "Repose Pools," built next to a lush pond among huge cottonwoods, are the latest highlight among the many activities on this 70-acre property. The whole experience is about recharging and reconnecting with yourself and nature. Book a spiritual guide, hypnotherapist, curandera (a kind of healer), or animal communicator, or time in the sweat lodge. Take an archery, ax-throwing, or juicing class. Or help train service puppies or snuggle with the resort's hilariously fluffy bantam silkie chickens.
Immerse Yourself in New Mexico's History on Museum Hill
History in New Mexico is vast and nuanced. The four world-class museums at Santa Fe's Museum Hill tell this complex story through art. The Museum of Spanish Colonial Art is home to 3,700 pieces dedicated to Hispanic New Mexico. The Museum of Indian Arts and Culture tells the story of Native peoples of the Southwest, from prehistory through contemporary art. The Museum of International Folk Art has 130,000 pieces of folk and traditional art from all over the world, and the Wheelwright Museum of the American Indian has contemporary and historical Native American art as well as the Case Trading Post, which has a great collection of fine art, vintage jewelry, ceramics, and textiles.
Wander into a Sea of Aspens, Then Unplug in a Yurt
The Sangre de Cristos are full of aspen groves and all their vibrant green-yellow-gold glory. Hike the Big Tesuque Trail, a mellow 2.8-mile out-and-back that sidehills through a pine forest before opening up into a big aspen meadow, for a close-to-town taste. Just down the road, Hyde Memorial State Park has several new yurts tucked away among ponderosas at 9,000 feet. With neither cell service nor electricity, it's ideal for stargazing and telling stories around the fire.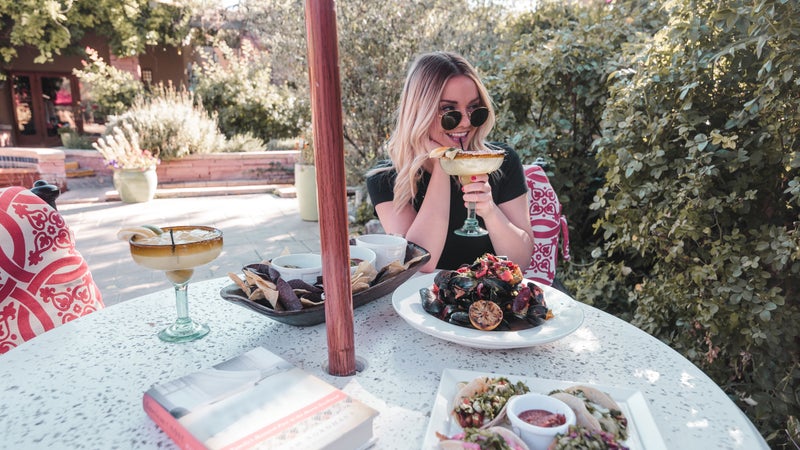 Eat the Best Meal of Your Life
New Mexico is famous for its green chile, the slightly sweet, subtly spicy treat that locals throw on everything, and nobody does it better than the Shed and its sister restaurant, La Choza. For a breakfast dose, try Tia Sophia's or The Pantry—and be sure to save room for sopaipillas (a fried pastry usually served with butter and honey). For lunch, grab a bison or chicken mole taco at Taco Fundacion or pretty much anything on the menu at the Tune-Up, a local favorite that serves up everything from burgers to Salvadoran pupusas. If you need a break from the green chile, Back Road is a locals' favorite pizza joint, Rowley Farmhouse Ales has big burgers and award-winning saisons, and the newish Tumbleroot Brewery and Distillery is a great place to catch live music. But if you have time for only one mixological adventure, download the Santa Fe Margarita Trail Passport app and visit one of the 45 restaurants and bars on the town's newly christened "Margarita Trail."
Be a Motor Court King or Queen
The original El Rey Court was a roadside adobe brick motor court built in 1937. Then the influencers showed up and remodeled the 86-room motel into an Instagrammer's dream, with its contemporary Southwest aesthetic and local art, along with classic kiva fireplaces, viga-lined ceilings, and ornate tinwork. It's classic and hip. Relax by the pool—called the Swim Club—then head to après at La Reina, their low-key bar, which specializes in agave cocktails.
---
Santa Fe offers an art scene that spans from traditional to contemporary, keepsakes that are also one-of-a-kind artifacts, and cuisine that's as inspired as it is sumptuous. And these are only some of the things that make The City Different, there's still so much more just waiting to be uncovered.