Sponsor Content: OZ Trails
Northwest Arkansas Is an Adventure Paradise
From world-class trails and pristine rivers to vibrant arts and food scenes, there's something for everyone in Arkansas's northwest corner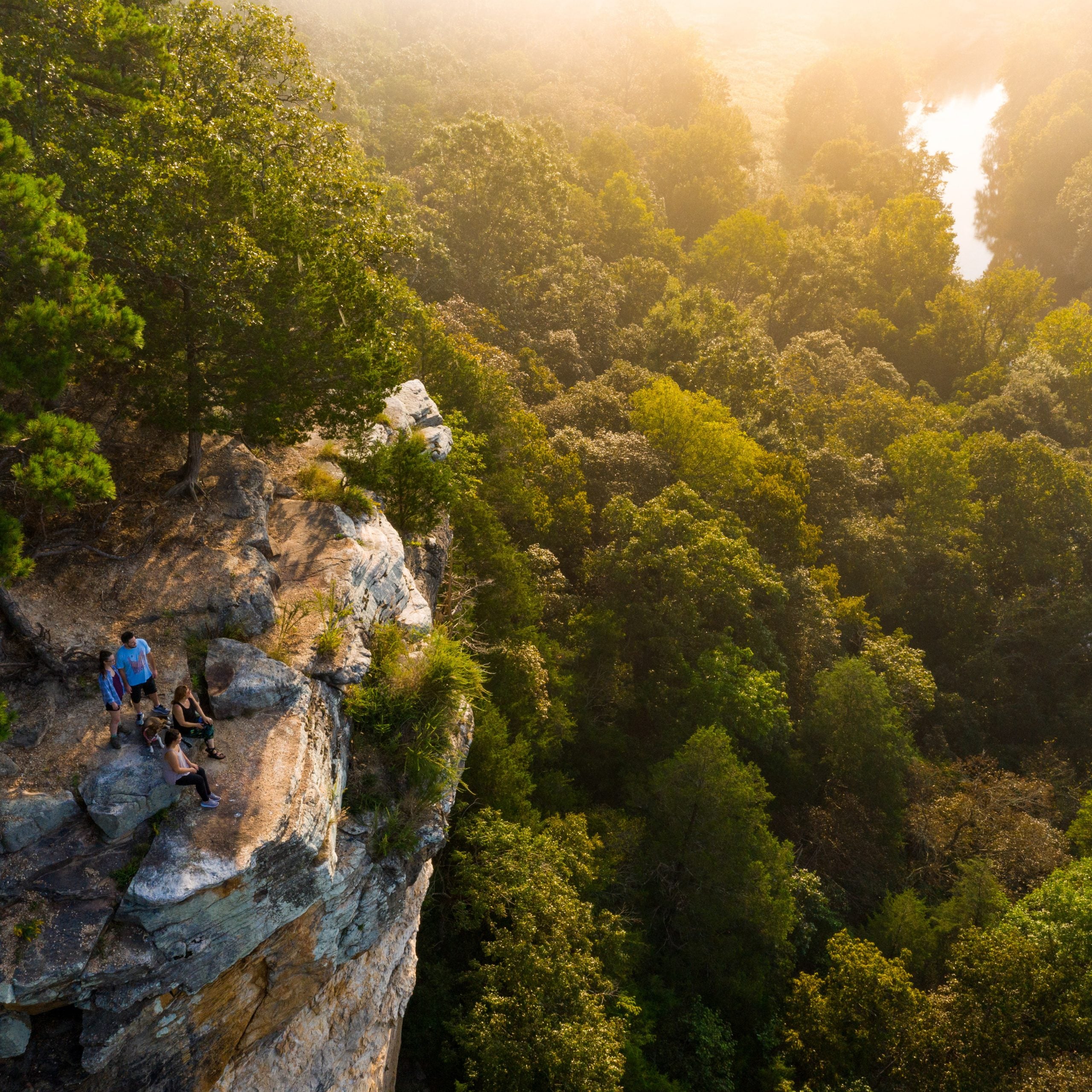 It wasn't long ago that Arkansas was a blank spot on the U.S. adventure map. But that's changing—and fast. Trail development is booming: statewide, an astonishing 2.3 miles of new trail has been built every week for years. But that's just the start. Adventure-focused breweries and hotels are popping up left and right and many of the state's natural playgrounds are still being discovered. Sound intriguing? Here's how to explore one of the country's top adventure hubs.
Bentonville: The New-Mountain Biking Mecca
Riding in Bentonville, one of the coolest new mountain-biking towns in the country, for the first time is a surreal experience. You'll instantly find yourself whipping down a trail with perfectly spaced rollers, optional jumps, and rock-armored berms—and that's just the connector, right off Main Street, designed to get you to the main event: Bentonville's connectivity to 100-plus miles of singletrack, most of which, unlike trails at other destinations, have been sculpted by professional trail builders. But while Bentonville might be best known for its mountain biking, it's the character, history, and community that make the place truly unique. 
Here, art spaces, hotels, and restaurants are all connected by paved and dirt biking, hiking, and walking trails. Riders can tap into the famed Slaughter Pen Trail Network from town, or put in a few road miles to duck into the nearby Coler Mountain Bike Preserve, complete with big new-school jump lines and challenging technical sections. After scratching your singletrack itch, cruise to the 8th Street Market for a post-bike pint at Bike Rack Brewing, right off the 36-mile paved Razorback Greenway (try the flagship Slaughter Pen IPA, named for the trails you just rode). For a refuel, check out Pedaler's Pub for some of the best pizza in town. Stay the night at the 21c Museum Hotel, which offers artsy digs and, of course, easy trail access. 
Bella Vista: Mountain Bike Masterpiece
Outside's 2020 Bike Test

Last fall,
Outside
's editors put 2020's top bikes through their paces on
Northwest Arkansas'
 world-class singletrack, gravel, and tarmac.
Just up the road from Bentonville is Bella Vista, a former upscale summer resort turned scenic retirement village turned mountain bike hotspot. The Back 40, Little Sugar, and Blowing Springs trail networks combine to offer nearly 100 miles of handcrafted singletrack sure to delight riders of every level. Beginning to intermediate riders who don't mind a climb or two should a suit up for the 22.2-mile Back 40 Loop. More advanced riders shouldn't miss the Ledges, a black diamond masterpiece of trail design carved expertly into a forested hillside.
"The trail crews are building all the time," says Bella Vista resident and Mojo Cycling owner Dave Neal. "You'll be out on a trail that you've ridden a hundred times and suddenly there'll be a new left-hand turn that goes for ten miles. It's hard not to get spoiled." And with over 300 stylish Airbnbs sprinkled throughout the trail system, many with lakeside decks and epic views, Bella Vista offers the rare opportunity to roll right out of bed and on to your saddle. So if you're looking to get lost in endless miles of trails without ever having to rack your bike, a weekend in Bella Vista is hard to beat.
Eureka Springs: Old-School Ozark Playground
By now, you're seeing the theme: northwest Arkansas has a lot of trails. But not all are singletrack—or on land. The Kings River, for example, is undammed, as clear as the Caribbean, and floatable for 80 miles, with the Victorian town of Eureka smack in the middle of that run. Sign on with Kings River Outfitters to float a classic eight-mile stretch, and be sure to pack your mask and snorkel. "I've spent a lot of time in rivers all over the country," says Ernie Kilman, owner of Kings River Outfitters, "and this is one of the clearest rivers I've ever known." 
For even more water-based fun, fly-fish the nearby Beaver Lake Tailwaters. Later, catch one of the Great Passion Play outdoor dramas, which run through October, before spending a comfy night at the (possibly haunted but deluxe) Crescent Hotel and Spa. "Eureka is like a living museum," says Kilman. "It's an enchanted town." For still more mellow adventure, head to beautiful Lake Leatherwood City Park, which offers more than 25 miles of hiking and biking trails as well as an 85-acre spring-fed lake for watersports and fishing.   
Springdale: Home of the Best Trail Ever
One of the coolest things about the Razorback Greenway, which bisects Springdale, is how it has become the major artery linking an ever-growing family of singletrack networks by bike or foot instead of car. And one of the most exciting new networks is Springdale's Fitzgerald Mountain, featuring seven miles of freshly cut singletrack. Whatever you do, be sure to ride Best Trail Ever (because why wouldn't you?) with its mix of double jumps, swooping berms, and technical rock. 
If you're hungry for more, pedal across town to ride Thunder Chicken's hot-lappable, mile-long loops or check out the Runway Bike Park, a roughly three-acre playground full of jump lines and skill-building obstacles that hosted the Red Bull Pump Track World Championships. Cap it all off with a trip downtown for a pint at The Odd Soul or Bike Rack Brewery.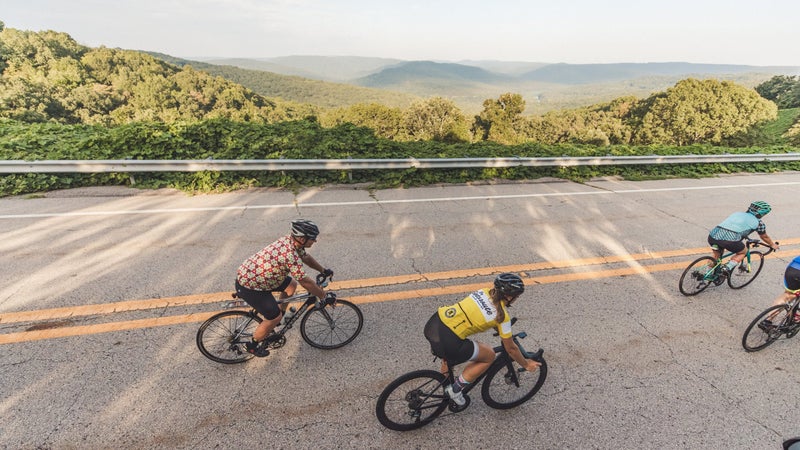 Fayetteville: Inspiring Outdoorsy Oasis
Thanks to a strong cycling infrastructure, ample camping, and convenient fishing, floating, hiking, SUPing, and trail running, Fayetteville is blowing up in the best way possible. "People are stoked to be outdoors here," says Jacob Frears, who runs climbing clinics at the Pack Rat Outdoor Center. "The area has a rich history but there's a lively and friendly scene." Frears raves about the climbing out at Lincoln Lake, 30 minutes from town, where boulderers will find problems from V0 to V8 along the lake's perimeter trail and sport climbers have easy access to dozens of routes ranging in difficulty from 5.5 to 5.13.
Back in town, more adventures abound. Fayetteville's winding streets and paths make it the perfect setting for an all-day road ride. (Pro tip: start your spin with a morning jolt at Arsaga's Coffee Roasters at The Depot.) A hike up nearby Mount Kessler, which rises more than 500 vertical feet just a couple miles southwest of town, buys you expansive views of the Ozarks. After, stop by local favorite Hugo's for a burger or cruise the bike path to Fossil Cove Brewery for a low-key pint and a woodfired pie. 
Rogers: Do-Anything Adventure Depot
The historic town of Rogers, whose downtown features brick-paved streets and old-fashioned storefronts, is home to one of the region's shiniest new bike-focused additions: The Railyard Bike Park. "The Railyard has some awesome features—you can jump over an old railroad car—and it's right there off of downtown," says Carlie Mock, a marketer with Gore Wear and a Rogers native. "It's become a focal point and gathering place for the community."
Fanning out directly from the Railyard parking lot are the souped up trails at Lake Atalanta (there are little hits and bermed turns everywhere). Throw a swimsuit in your pack and stop for a mid-ride dip in the lake. Slightly further afield, at Hobbs State Park-Conservation Area, you'll find miles of Ozark trails, perfect for leisurely hikes, longer trail runs, or, you guessed it, even more riding. (Hobbs is home to one of Arkansas's first "Monument Trails," a special category of mountain-bike trail recognized by the state parks system for its world-class design and natural beauty). Looking for some non-trail adventure? Head to nearby Beaver Lake where "you can do all the watersports: Waterskiing and wakeboarding, SUPing and fishing, swimming and cliff-jumping—you name it," says Mock. Start any of the above at Onyx Coffee Lab, a modern roastery and cafe in downtown Rogers, with the espresso drink and pastry of your choosing. For dinner, stop into The Rail for a well-earned pizza and local beer to soak in the community vibe.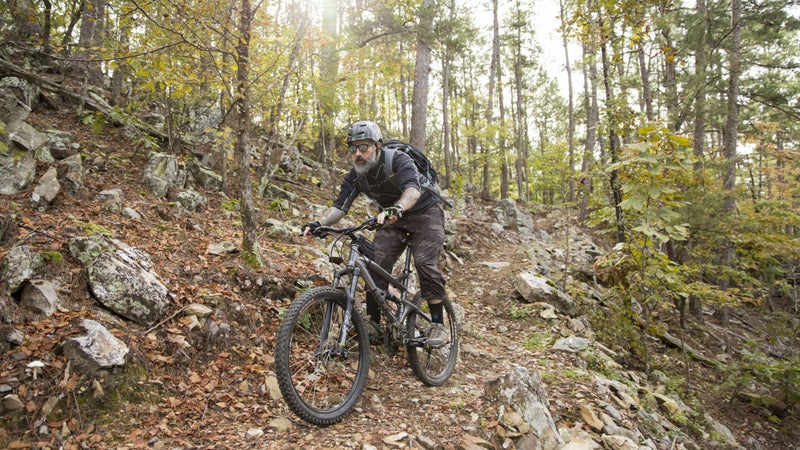 Hot Springs: Relaxation Meets Recreation
Clearly this west-central Arkansas hamlet is a must-hit finale after a few days of funhogging. The city's namesake hot springs are part of a national park that cuts right through town. A stroll down historic Bathhouse Row and a soak in a private or public tub go a long way to healing achy legs after you've been riding one of the International Mountain Bicycling Association Epic Rides in the area (Womble and LOViT are tops).
Stay at the Arlington Hotel and Spa—a frequent destination for the likes of both Al Capone and Babe Ruth. Once you've recovered, explore the Northwoods Mountain Bike trails less than a mile from downtown. "Hot Springs was always a trail town," says Gary Vernon, senior program officer and chief trail advocate for the Walton Personal Philanthropy Group, "but nothing connected directly to town. We worked with the town, the national park, and IMBA's Trail Solutions crew, and now there's roughly 29 miles of trail you can access through the National Park right from town." Close out the trip with a locally sourced meal and a craft beer brewed with thermal spring water at the Superior Bathhouse Brewery.