Hiking the Pacific Crest Trail: A Beginner's Guide
The PCT traces the west coast of the U.S. over almost 2,700 miles. Our expert trail columnist reveals everything you need to know about what to pack, eat, and read, plus where to sleep and how to have the most fun on this scenic long trail.
Heading out the door? Read this article on the new Outside+ app available now on iOS devices for members! Download the app.
If you are going to hike just one of the three iconic trails that comprise the Triple Crown of American Hiking, the choice is simple: you're headed to California to start the Pacific Crest Trail.
Consider, for a second, the competition. While the Appalachian Trail is dearest to my heart, it is a brutal hang, a 2,200-mile roller coaster of steep old mountains that rarely offer gobsmacking views and seem to generate their own rain constantly. It is a journey of glorious misery but not really the trail you forever want to associate with your lone thru-hike. And its Rocky Mountain counterpart, the Continental Divide Trail, is a choose-your-own-adventure epic through some of the wildest remains of the Lower 48. Starting there seems legitimately perilous, a zero-to-infinity endeavor with very little margin for error.
Famously graded for pack animals, the PCT often rolls across gentle slopes as it slowly winds its way up California, Oregon, and Washington. The AT's brutal repetition is supplanted by a West Coast cool, and, though you move among peaks as mighty as those of the CDT, your path through the Sierra Nevada traces the idyllic valleys between its summits and over entirely manageable mountain passes. It's arid and calm in the desert of Southern California, low-key and still at the base of Oregon's Cascades, misty and lush in the highlands of Washington. Almost every day on the PCT presents another image powerful and pretty enough for computer wallpaper. It is a surefire way to be stunned by this country's scenic largesse.
But the PCT is not a benevolent cakewalk. At nearly 2,700 miles, it drops almost to sea level and reaches just shy of the highest points in the continental United States—110 feet when you cross the mighty Columbia River, 13,153 feet when you mount the imposing Forester Pass. Its stunning variety presents a staggering variety of challenges and conditions; when I first hiked it in 2021, my favorite aspect was that I never got accustomed to or complacent with the trail, because it always shifted. If you're too cold today, just wait until you're too hot tomorrow. During the right year, you may need to work through some serious snowpack in the Sierra or northern Washington to reach your destination.
If indeed you decide that the PCT might be right for you, I've answered a litany of basic questions about it, from what you'll eat on trail to how sad you may feel when it's done. If you find yourself with a way to leave the rest of your life behind for five months, I hope you find something here to help you along the PCT's incredible route.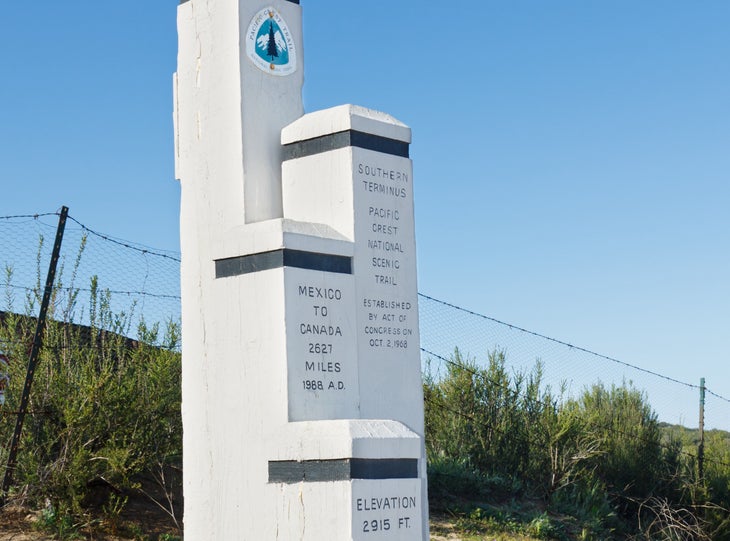 When and Where Should I Start the PCT?
If this is your first long trail, I won't argue with conventional wisdom. Start at Campo, California—a former railroad-and-military hub on the Mexican border—sometime between the middle of March and the middle of April and aim to make it exactly 20 miles north (tough, but entirely doable) to Lake Morena County Park your first day. Get a shower, maybe some trail magic, and meet your fellow north bound (to fit in, say NOBO) beginners. That said, the southbound (SOBO!) PCT option around early July is intriguing, putting you against some steep and remote terrain from the start and on a race against big California snowfall that likely begins in October. Pretend you're a California settler, trying to make it through those passes before they become, well, impassable. You might also consider flip-flopping, or jumping between assorted sections of the trail and often moving in different directions, due to weather, fire, or your own calendar. (More on that later.) Either way, budget at least five months for this grand adventure, knowing that a month more or less are both totally reasonable. That seems especially true for 2023, when so much of the PCT has been walloped by snow.
Do I Really Need a Permit for the PCT?
Sorry, but yes. Look, I get that, at least in part, you're disappearing into the Anza-Borrego Desert and Goat Rocks Wilderness to elide responsibility, bureaucracy, and all the other real-life exigencies that make us batty. Or that maybe you're a radical anarchist rulebreaker entitled to use public lands like they're private. Good for you. But just pick your prospective start date and apply for a permit through the Pacific Crest Trail Association (PCTA); if you don't get it the first time, try again. (For the 2023 season, for instance, there were 50 northbound permits per day for a three-month season and 15 per day southbound, with lottery dates in November and January. That's a total of 4,005, though you'll inevitably meet some illicit friends along the way.) Of course you'll be frustrated if you don't get a permit and when you hear of hikers who left one unused. But from litter-strewn woods to climate change, the PCT has enough challenges. Help the trail moderate traffic, and save yourself the shame of getting sent home by a ranger. Yes, it happens.
Do I Need to Be in Crazy Good Shape to Hike the PCT?
No, but: for reasons we'll get to in a bit, the ability to move many miles in a day, from trail's beginning to end, will enhance your chances of seeing all of it. By most math, though, the PCT loses or gains about 100 feet less per mile than the AT—a difference your joints will profoundly feel and that eats up less effort. You will move among the Sierra Nevada and the Cascades, but rarely over these peaks. As you head north from Mexico, the trail's modest agricultural grade will get you ready for what's ahead in 300 miles. Even if extreme endurance training isn't in your plans, focus on flexibility, especially around the ankles and knees. You are going to trip, wipe out, or even just sleep the wrong way; spend a few months working through a basic stretching routine, and you'll increase your ability to take the next step after a stumble.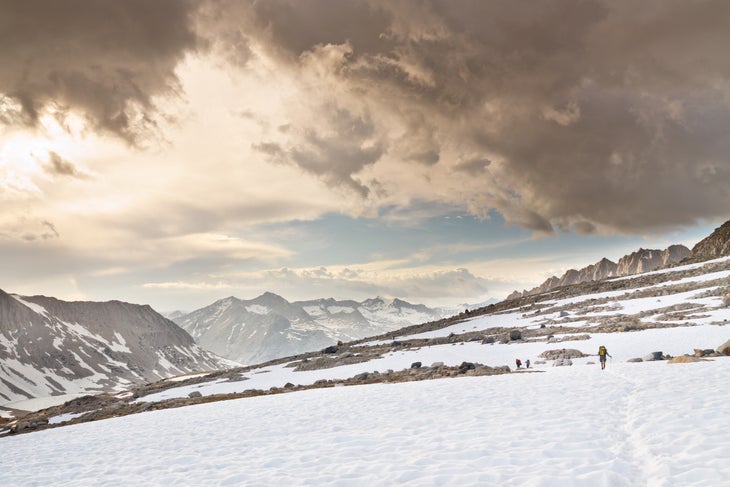 Do I Just Go Straight on the Trail?
Probably? The PCT is no longer what it was or what it will ever be again. Climate change and electrical failures are destroying forests—writer Stephen Pyne calls it the "The Pyrocene"—that in some cases never grow back. And climate change is disrupting patterns of snowfall and snowmelt in the mountain ranges you're not only hiking but depending upon for drinking water. Maybe you can start at the Mexico border in late March and reach Canada five months later in a single shot, but don't call your bookie just yet.
To wit, in 2021, as my trail family was leaving the wondrous town of Etna, California, we nearly skipped a chunk of trail because the mountains in front of us had just started to flood with smoke from a nearby fire. We made it through unscathed, but that section was crippled by fire in August and again in September. We worked around other closures up trail while fire seemed to nip at our heels until we were finished. You will walk across old fire retardant (its red color is on the nose, huh?) and pass through reopened burn zones that smell like the hearth of some centuries-old cabin. Talk to other hikers and bookmark the Pacific Crest Trail Association's fire-closures page. And most importantly, don't be a completist hero—hike the hike that's open on your year, not some arbitrary vision you have from Instagram.
And if you're worried about getting lost, it's rare. No, the PCT isn't meticulously white-blazed like the AT, and, yes, you will sometimes get turned around for a few hundred yards. But look for this little PCT emblem on trees and poles, read trail junction signs, and buy the PCT package on FarOut (the most common navigation app your fellow hikers will use). Also the Gaia GPS-National Geographic Interactive PCT map has tips from a thru hiker on things like points of interest and amenity stops. You'll be better than fine. (Gaia GPS is owned by Outside Inc.)
Should I Follow Other Hikers on Social Media?
Yes—in fact, this is a smart part of preparation. Follow some obvious hashtags, like #PCT, #PCTthruhike, and #PCTrail, plus #PCT2023 (if that's the year you're hiking) and the previous year. Scroll through some posts of people who have done this trek before for tips and intel and to get a sense of how this adventure will feel. As the season approaches, start following people who will be your peers. They'll post about their gear and excitement and apprehension, and, chances are, you'll not only learn something but feel like you're already building a community that will grow.
I do, however, recommend that you limit how much you read books, watch videos, or scroll posts about the trail before you begin. Know enough to know what you're getting yourself into but not so much that you corrode the sense of surprise that is the true joy of thru-hiking. Feel like watching someone else online hike the trail you'll soon be on? Go stretch instead—it's much more useful.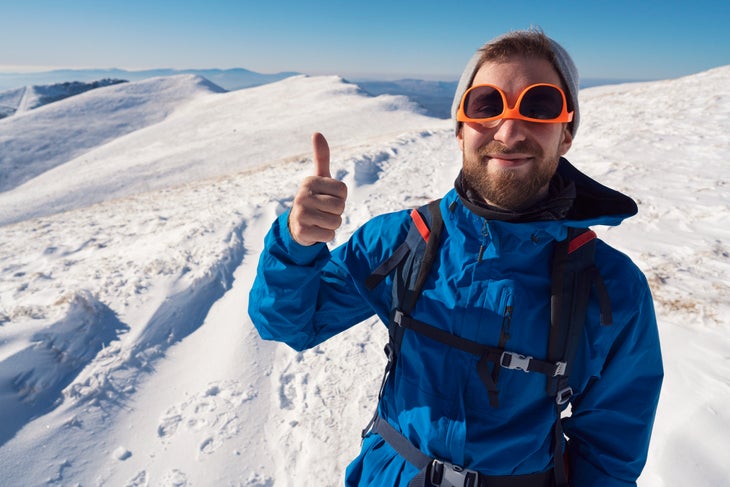 What Should I Wear on the PCT?
The key to gear on the PCT is versatility. Remember that you'll climb beyond 13,000 feet in the Sierra Nevada and dip below 150 when you cross the Columbia River to enter Washington. Start early enough, and the desert will be cold, but Northern California will cook you. Hot nights and cold days and, on occasion, the inverse—how do you handle it all?
Given the desert and the time you will spend on mountains above treeline, start with a sun hoody—a lightweight shirt with sleeves and fabric that offers UPF and SPF safeguards. There are lots of fine options (and Michael Lanza has a nice round-up), but I stan for Coalatree's new Suray. You'll need a rain jacket and some sort of puffer; they should both be lightweight but foolproof, capable of keeping you dry and warm when conditions collapse. I invariably hike in very short running shorts (Satisfy's stuff is perfect if expensive), though there's always a pair of wind pants or tights in my kit, should the cold get overwhelming. Speaking of cold, if I'm not wearing a blaze-orange hat on trail, I'll be in a knit beanie to stay warm. And don't forget your sunglasses and lightweight gloves.
There's no use in me telling you what shoes to wear, because our feet can be as idiosyncratic as our fingerprints. But forego clunky boots for trail runners, and do not make the mistake of waterproofing them. You're going to get wet, so give yourself a chance to get dry. And on the note of skin irritation, toe socks prevent blisters and support the spacing your feet need. XOSKIN's making the most durable and best toe socks right now, Creeper the most comfortable if possibly least durable. The widespread Injinis will do just fine when you're in a pinch.
What Else Should I Pack for the PCT?
Here's a quick list, mostly essentials: A modest first-aid kit of bandages, antibiotic ointment, alcohol pads, ibuprofen, and antacids. Any medicines you take regularly. A small Dopp kit of soap, maybe wipes, a toothbrush, and toothpaste. A cell phone charger and the necessary cables. A trowel for catholes. Sunscreen you actually enjoy wearing. And you should consider some kind of satellite-based communication, whether it's Garmin's standby inReach, the very good Somewear, or the iPhone's emerging satellite capability.
When you arrive at the Sierra Nevada, you'll need some extra goods you can mail to Kennedy Meadows South and from Kennedy Meadows North. (Confusing, I know. Basically, two places with the same name, five hours apart by car, essentially marking the beginning or ending of your time in the Sierra, depending on your direction.) You'll need a bear can capable of holding at least five days of food and, depending on annual snow conditions, microspikes and an ice axe. And for the love of your lovely face, please practice the latter before lashing it to your pack. You'll take an eye out, kid.
What Kind of Sleeping Bag Should I Take on the PCT?
Let's get back to that versatility bit. The temperatures will fluctuate on the PCT from frigid to feverish, and you need to be able to handle both. My sincere advice is to invest in a warm bag you love that you're able to unzip or otherwise spread out when it warms up. My Western Mountaineering Apache with a side zipper was so perfect on this front I named it 200 miles in. (That's Romy to you, thank you very much.) But so many small companies are making great bags now, so shop around.
One final consideration on this front: After reaching Lake Tahoe, I downsized from a relatively large Hyperlight backpack to a tiny Pa'lante until entering Washington at the Bridge of the Gods. I did that in part by switching temporarily to an Enlightened Equipment quilt for Oregon's warmer temperatures. Consider a move like that to keep your weight down and legs fresh—and to let your smelly stuff air out for a few weeks. For more guidance on your equipment, spend some time perusing Halfway Anywhere's PCT Gear Guide.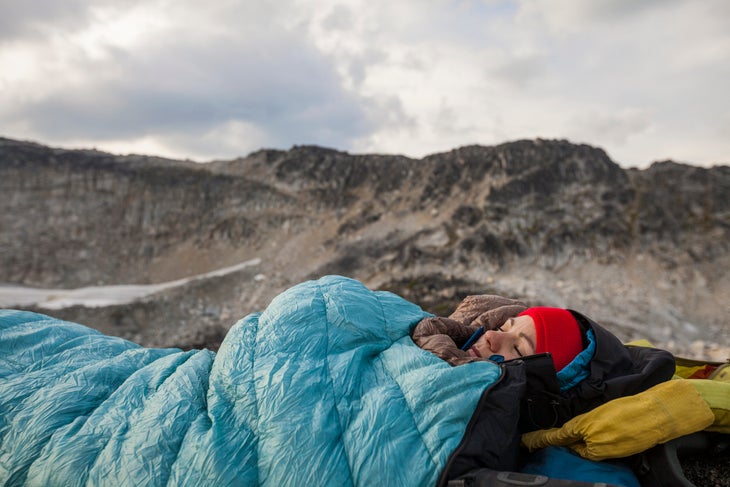 Where Do I Sleep on the PCT?
Allow me to be blunt here: carry a shelter for the entire hike, be it a tent or a tarp or a shower curtain liner. Those wonderful AT shelters? They're not here. I've chuckled in schadenfreude while watching hikers who sent their tents home to reduce weight and boost speed shivering under awnings and in bathrooms in storms because it "doesn't rain like that in California, bro." Don't be that guy (because it's almost always a guy). The glorious news, however, is that most nights, you can, should, and must sleep under the stars, with no nylon or Dyneema to block your sight lines of the sunset or sunrise, to muffle the wildlife, or to hinder late-night chats with new friends.
This is called cowboy camping, as it is indeed a throwback to days of working the frontiers that are far too complicated to romanticize. The premise is simple: Put a ground cloth on the ground, a sleeping pad atop that, and a sleeping bag atop that, and climb inside. The wildlife (probably) won't eat you, and the rain (probably) won't soak you. Keep your tent accessible, just in case. You will feel like you're actually sleeping outdoors, because, well, you are. For a more complete history of and guide to cowboy camping, I've raved about its merits before.
What Do I Drink on the PCT?
Water, of course! The hydration situation on the PCT can be precarious, with seemingly endless stretches of empty arroyos in Southern California and desiccated creek beds once you enter Cascadia. But trail angels—that is, anyone who takes care of us hikers by giving us rides or a place to say or even a banana—maintain dependable water caches in the desert, and by the time you hit those northern reaches, you'll know how to create scoops, spot small seeps, and be patient for a drip. And yes, you should filter your water, or at least treat it. Keep it simple with a Sawyer Squeeze and a CNOC Vecto or VectoX, two products that earned their ubiquity by being the best at what they do. For a second water bottle, which you'll need for long hauls, I recommend CNOC's miraculously collapsible Vesica. While we're at it, spend some time finding an electrolyte powder you love, whether it's cheap Propel or the collagen-laced fancy stuff.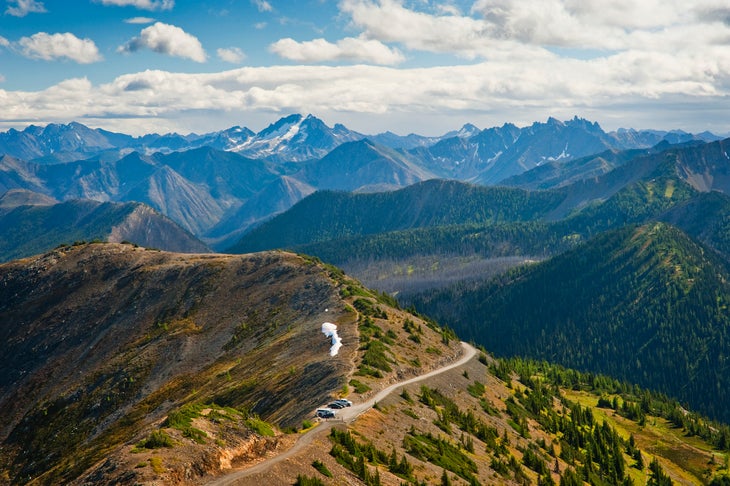 Will I Have to Hitchhike on the PCT?
Yes, and ain't that grand? Hitchhiking is one of the most underrated aspects of long-distance hiking, a microcosm of adventure and surprise that allows you to rest your legs rather than punish them and enables you to see life momentarily from an unexpected vantage. In California alone, I got rides from a biologist who named the invertebrate species he discovered for his friends, a single mother who demanded my trail family go to her trailer for showers and laundry and food, and an international banjo expert whose entire essence felt like a folk song. These are among the most fascinating interactions of my entire life, not just my hiking life. Unless you're going for a self-supported Fastest Known Time (an FKT, more on that soon) or just enjoy long road walks, you'll need to hitchhike to get to most of your resupply-and-rest points on the PCT. When you emerge from the Sierra Nevada to buy your next week of food, these hitches might last for nearly 100 miles. Lean into the strangeness of it all.
Some tips on how to hitch: First and foremost, trust your instinct. My enthusiasm for hitchhiking is couched in the privilege of being a white cis dude with beady eyes and a perma-scowl. So if the vibe of a prospective driver feels weird, wave 'em on. When you're trying to recruit a ride, take off your sunglasses. Wave with one hand and thumb with the other. Maybe dance? Make sure your pack is visible and try to look at the very least somewhat pleasant. Consider toting a small sign or bandana that says "Hiker to town" or "Hiker to trail," or, otherwise, keep a Sharpie in your pack at all times should you need to improvise. Be satisfied with a truck bed. If you're in the car, offer up your on-trail escapades as compensation; remember, you're living an adventure most people will at best imagine.
What's Up with Fast Thru-Hikers on the PCT?
For most of us, a thru-hike is a race against the weather, the fire, and our own fatigue. But each year, a self-selecting cadre of extreme endurance athletes set out for a Fastest Known Time, or FKT—the shortest span it's ever taken for someone to finish the thing, at least that we know of. A decade ago, in 2013, two people set astounding records. Josh Garrett shaved seven days off a long-standing benchmark set by ultra-running legend David Horton; Heather "Anish" Anderson, meanwhile, almost beat him on a hike with no help from anyone, walloping the standard set by another ace, Scott Williamson. Garrett's mark has been shaved many times since, with Timothy Olson's Adidas-sponsored run of just less than 52 days being the time to beat now. And in 2022, English newcomer Josh Perry almost did it without assistance of any kind, not only smashing Anderson's record in a major way but besting Olson until Oregon fire closures knocked him off his stride.
What does all this talk of speedy GOATS mean for you? Right now, the PCT record suddenly seems tantalizing and possible, and you're likely going to encounter some contenders—or at least the hubbub around them—on trail. If you run into their crews, they may feed you, as Olson's often did. If you're willing to go fast, you might even walk and talk with a prospective champion for a bit. Follow these folks on social media for an alternate window into the experience you're having. Think of it as the Bulls and the Blazers showing up in 1992 during the middle of your pickup game to finish the NBA Championship.
Do I Need to Mail Myself Resupply Boxes on the PCT?
Not really. Unless you've got incredibly strict dietary restrictions, you're going to find what you need (sure, if not always what you want) in the PCT's great trail towns. Much of the fun of a long trail, especially your first, is getting out of your comfort zones and habits, of learning to love instant mashed potatoes from a bag if you're more of a fancy French fries or pommes aligot person. That said, I remember the meticulous planning that went into the resupply boxes of my first long trail (and part of the second), dispatched on a strict schedule by a patient family member; you want to know you'll have dependable access to the things you want, given the uncertainty such an endeavor entails. So gather up your resupply boxes if you'd like, but don't fret if you find yourself running out of time, either.
What Is the "Gross Out" That Hikers Talk About?
Unless you're from the West Coast or a rather small pocket of the Middle Atlantic, you may be very confused when you hear fellow hikers rave about going to "Gross Out" when they get to town. Fear not, as they are only talking about the greatest-ever grocery store for hikers (or anyone?), Grocery Outlet Bargain Market. Grocery Outlet is a product of post-World War II excess, when a San Francisco entrepreneur bought up military surplus and sold it on the cheap. Now, 75 years later, Grocery Outlet works directly with food brands and manufacturers to buy whatever may be left over—seasonal or experimental flavors, items that underperformed, things they simply overproduced—in bulk and pass those savings on to the consumer. Because it buys so much from local makers and distributors, Grocery Outlet's selection changes from store to store, meaning your mind may be blown anew with every visit. It is a course corrective for capitalism's bloat and a gift to the curious eater.
I love it so much that, during the drive back to North Carolina after the PCT, I tried and failed to convince my wife, Tina, to open the first one along the southern half of the Appalachian Trail. Grocery Outlet is perfect for hikers, who are not only on a budget but also prone to eating the same thing every damn day—Pop-Tarts, ramen, mashed potatoes, and so on. I love all those things, until, after a few months, I hate them (except Pop-Tarts, always perfect). Brined cauliflower in lightweight packaging? The best chocolate bars in the world for a third of the price? Trail mix and corn chip varieties you've never seen? That's the stuff I start to crave and often find at Gross Out. And the best news? Grocery Outlets essentially trace the PCT from tail to tip, through all three states, so you'll never be far from this magical depot of discards.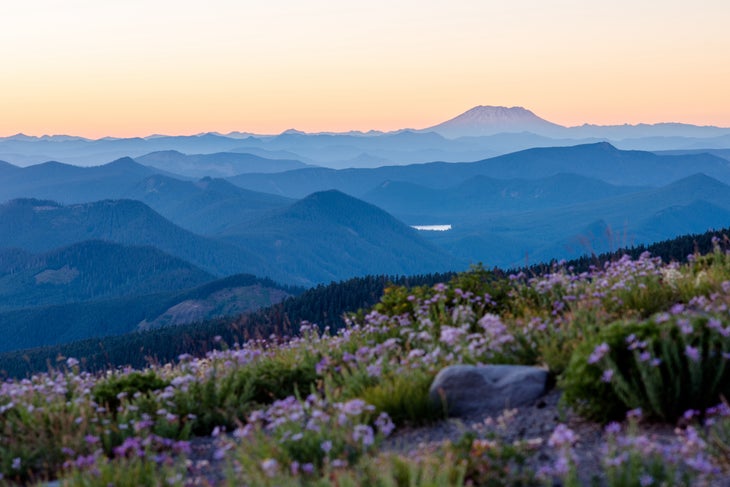 How Many Rest Days Should I Plan Along the PCT?
When your body or brain needs a break, take a zero (a day where you hike zero miles), even a double-zero if that feels right. Anyone who tells you that you're doing it wrong isn't you. For context, I took ten total days off on an 18-week hike during a relatively low snow year. But there were also multiple "nearoes"—days when you do fewer than ten miles to get to town, then stay overnight—and heroes, where you hike low mileage into town, rest a few hours, and get back in the woods before dark. These all happened when I felt that's what I needed. It's that simple.
What Are the Best Towns to Stop in on the PCT?
Hikers often rave about the quaint spots along the Appalachian Trail, curious little communities like Hot Springs in North Carolina, Damascus in Virginia, or Duncannon in Pennsylvania. Maybe it's just West Coast exotica for me, but I prefer the trail towns of the PCT, especially the way they can often feel remote and small but also offer up fantastic food and some culture, too. There are too many spots to name, so I'll start with five of my most common reminiscences.
Etna, California: In my mind, I am often in Etna, a Northern California town of less than 700 within spitting distance of the Oregon border. You'll hear a lot about the famous German bakeries in Tehachapi and Bishop, but there are few bakeries in America better than Farmhouse, a beautiful spot right on Main Street. The thrift store is enormous and wonderful. The library is friendly and quiet. And you can soak for hours in tubs at Mountain Healing Spa. I slept in a stranger's garage in Etna, and I felt right at home.
Ashland, Oregon: While we're on the subject of bread, Ashland boasts the incredible Mix, which will break your brain not just with loaves but also with morning buns and big sandwiches and indulgent ice cream. In fact, I cannot recommend the food scene of Ashland enough, from Noble Coffee Roasting and Taj Indian Cuisine to the burgers at Flip and the best co-op on the entire trail. Get a bunk at Ashland Commons and take a day off before your Oregon sprint really begins.
Wrightwood, California: Can a great hardware store make a good trail town? Mountain Hardware, about halfway through the PCT's desert introduction, thinks so. They treat hikers like, well, people, supplying a huge outdoor porch with chargers and a magnificent hiker box and clean bathrooms. They'll give you a PCT souvenir pen just for signing a logbook. The rest of the town is welcoming, too, from the massive meals at Mexico Lindo to the hilarious staff at the essential breakfast joint Evergreen. It's a great hitching town, too.
Stehekin, Washington: By the time you reach Stehekin, you will be pining for the finish, with less than 100 miles to go before reaching the Canadian border. You'll be tempted to pass this ultra-isolated spot on the majestic Lake Chelan, reachable only by shuttle or boat. Don't. The bakery-meets-market on the edge of town is one of the most memorable spots you'll stop on trail, a delicious scene seemingly transported from the town of Woodstock. I once hitched a ride with a guy on a speed boat, who offered an exhilarating gratis tour of the hidden coves and beaches.
Portland, Bend, Reno, Las Vegas, Seattle, or Los Angeles: "I love not hiking." It's one of the great mantras of thru-hiking, uttered sans irony or shame by long-haulers tucking into a cold beer on a hot day or leaning into a soft bed in a small town. Nothing's better. So at least one time on trail, go all the way and hitch a ride to one of the major cities within striking distance. Go to a museum or baseball game, a movie or massage. Splurge on a hotel or a magnificent meal that does not need to be rehydrated with a camp stove. It's totally OK to be something other than a hiker for a day or so, and, in my experience, it will help you stay sane long enough to finish.
What Should I Avoid on the PCT?
I cannot tell you how badly the rash rendered by the poodle dog bush—a shrub that grows in puffy clusters in southern California and smells like very good weed—hurts. That's because I kept watch for the hairy, sticky beast like I was looking for rattlesnakes, and I suggest you do the same. By most reports, it stings for days, even weeks, and you'll need no extra pain at the start of your northward journey. Speaking of rattlers, they're the animals you need to be most mindful of on trail, not black bears (give 'em space, and you'll be fine) or mountain lions (count yourself lucky to glimpse one). Keep your headphones out of the red, and the snakes will let you know when you've come too close. And one last word of advice: beware the of the temptation at Kennedy Meadows, the liminal community at the southern edge of the Sierra Nevada. Their cold beer, lukewarm shower, and hot food form a vortex for weary and hungry hikers, and some folks party away a sizable chunk of their weather window there every year. Give yourself one bender at most, and get on with your walk.
What Should I Embrace on the PCT?
Thumbing, cowboy camping, bargain hunting: I hope I've encouraged you to embrace a spirit of acceptance and adventure on the PCT, to take advantage of this opportunity to live entirely outside of routine. In the end, I think that attitude—"OK, sure"—should guide most of your decisions on trail. Yes, you should climb Mount Whitney (or Tumanguya, as it's long been known by the Paiute Tribe here), though it's not officially on trail. Yes, you should take the spur trail to the summit of Mount San Jacinto, and jump in as many very cold alpine lakes and rushing rivers as you can manage, as they are some of the most gorgeous swimming holes you'll see in your lifetime. Yes, you should eat at the on-trail McDonald's at Cajon Pass, even if McDonald's isn't your thing. (Meat not your thing, as it's not for me? Cram fries into a Big Mac, with extra sauce and no meat. Incredible play.)
Maybe you should get naked in the Deep Creek Hot Springs, and you should definitely yogi a beer or a joint from the Los Angeles revelers there. Yes, you should hitchhike to a casino, if only to sneak into the swimming pool. Yes, you should hitch into Yosemite Valley and waste a day soaking in a river or beneath a waterfall. And finally, yes, you should hike for a spell with someone whose ideals and politics don't align with yours, because you might learn something, even if it's only a little extra empathy.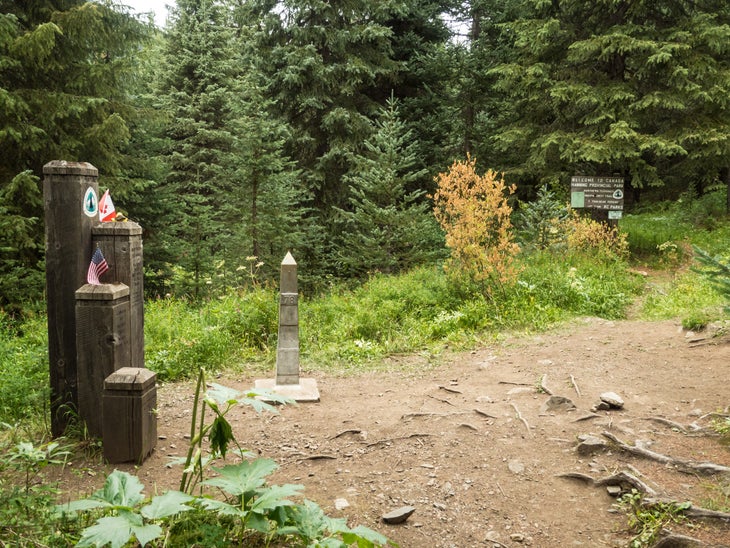 What Do I Do When My PCT Hike Is Over?
This, I'm afraid, is the most difficult question here, so thorny it may actually be impossible to answer. But let's acknowledge now, before you begin, that post-trail depression is real and terrifying, especially if this is your first time out. After the glow of completion has dimmed and the calorie deficit has been defeated, you're left to square off with all you've lost—the daily mission of walking until you're done, the immersive mental stimulation of ever-renewing newness, the blissful and all-consuming fatigue those two tasks combine to create. It sucks, and your body will likely be in no shape for immediate 20-mile runs or mountain climbs. Oh, and winter will be on its way, too.
My best advice: Stay in motion as much as you can. Stretch. Talk to your trail family, and tell them what they mean to you and what you're experiencing. Write down what you remember about your adventure. Start planning a new one, and that doesn't have to be a thru-hike. If that all fails, see a therapist; I did so after my first thru-hike, and it changed my life. If anything, hiking the Pacific Crest Trail should reiterate how big and grand this world and life can be. When nostalgia for the recent past starts to set in, try to turn toward your own future with that top of mind.
What Else Should I Read About the PCT?
As you've likely noticed by now, there's a lot to say about the PCT, and lots of people have done it well. If you want to know more as you prepare, here are six essentials, both informative and inspiring.
Halfway Anywhere, by Mac: An outgrowth of his rightful dissatisfaction with a popular PCT guide, Halfway Anywhere chronicles the experiences, insights, and analyses of a sharp thru-hiker named Mac. He also espouses a say-yes approach to adventure, to the belief that a real thru-hike should be more than walking. There's so much to explore here.
The Pursuit of Endurance, by Jennifer Pharr Davis: Jennifer Pharr Davis is an East Coast powerhouse, having set records on the AT (twice) and Vermont's Long Trail. So what does she have to do with the PCT, aside from once hiking it? The Pursuit of Endurance digs into the saga of the great Western FKT through intimate if sometimes purple snapshots of its aces.
"Take Your Time in Oregon," for Backpacker, by Laura Lancaster: The Oregon Challenge demands that you cross the state in two weeks or less. Here, a 2014 PCT alumna offers up a compelling alternative—slow down and enjoy the not challenging but often marvelous terrain, like the walk beneath Mount Hood or the state's terrific waterfalls. Hard to argue with the logic.
Journeys North, by Barney "Scout" Mann: Barney and Sandy Mann are iconic Southern California trail angels, responsible for helping thousands of hikers get off on the good foot. This quick and compelling read follows the two during a rather dramatic thru-hike and explores the intense and inviolable bonds we create with our chosen trail families.
Thist: 2600 Miles to Home, by Heather "Anish" Anderson: Of all the record-setting hikers who have written books, Heather Anderson has not only the most rewarding personal journey but also the best prose. Thirst is the raw and uncensored document of her 2013 FKT on the PCT, filled with grim physiological and psychological insights that will reset your baseline for suffering.
Wild, by Cheryl Strayed: C'mon, it's a totally good book about the PCT and why we hike at large. When hikers say they hate it, I generally presume they've never read it.
Lead Photo: Sébastien Goldberg/Unsplash