Rush Redux
Five adventure bonanzas in the Yukon's summertime wilds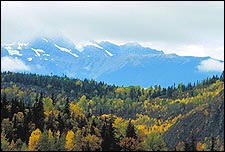 Corel
Heading out the door? Read this article on the new Outside+ app available now on iOS devices for members! Download the app.
WE'RE DOING 70 down the Canadian stretch of the Alaska Highway in a GMC Yukon XL. I think it's ironic, but my guide, Denny Kobayashi, a stocky, seasoned, and whip-smart Yukoner, informs me that more than 2,500 North American companies use the name Yukon or Klondike to sell their products. Looking out the window, the inspired ad copy begins to make sense. Mist shrouds the midriff of the soaring Ruby Range to the east, and it all feels inexplicably prehistoric. I've had this sensation often in the week I've pinballed around the Yukon—fly-fishing, whitewater rafting, and heli-hiking—but that's not surprising in a land where caribou outnumber people six to one and 80 percent of the 186,661-square-mile territory is wilderness. Just 105 years ago, however, all of this immensity was overrun with 100,000 crazed gold diggers. Then Jack London endured the abysmal, scurvy-plagued winter of 1897 in a ramshackle cabin outside Dawson City to pen his most famous dog book, The Call of the Wild, which irreversibly warped the imaginations of millions. But while the legacy of London and the gold rush lingers, it's not like that up here anymore. For one, this province of subarctic valleys and mountains—an area larger than California—now only has about 30,000 occupants, 22,100 of whom live in Whitehorse, the capital.

Going up: Alaska's green and white glory
But what the population lacks in quantity, it makes up for in quality. Take the "colorful 5 percent"—Yukoners' term for the edgiest of their kind—like the guy who lives in a cave in Dawson City or the fellow in Tagish who legally changed his name to Elvis Presley and frequently chops wood in his white sequined jumpsuit. Or any number of the friendly-to-a-fault folks I meet who have a Jack Nicholson-like glint in their eye. "Not to worry," local photographer Derek Crowe assures me. "Everyone's internal freak tends to run freely in the Yukon."
This collective free-spiritedness is what fuels events like the Yukon Quest, the 1,000-mile, dead-of-winter dogsled race from Whitehorse to Fairbanks, Alaska. (It's like the Iditarod, only colder and more insane.) And then there's Whitehorse's 24 Hours of Light mountain-bike race, where a naked lap under the midnight sun counts double.
The day before I leave the Yukon, Kobayashi mentions Dawson City's Sour Toe Cocktail Club. He can't believe I've never heard of the tens of thousands of deranged folks who have swilled a certain disgusting alcoholic drink. What started in 1973 as a drunken dare to down a gold miner's frostbitten (not to mention severed) toe has since become a grotesque tradition involving dozens of lost toes that have graced nervous lips and, in some cases, been swallowed.
Don't believe me? Go see for yourself. And if you find yourself slamming back a toe shot or screaming down singletrack in the buff, don't fret. People up here are used to it.
Adventure travel options are infinite in the Yukon, but some areas are more accessible than others. Here are five ways to heed the call of the wild.
Remote float: rafting the Alsek River

Ice capades in the Tatshenshini-Alsek Wilderness Park
REMOTE FLOAT RAFTING THE ALSEK RIVER
Not too long ago, the Alsek River didn't really exist. A "surging" glacier—capable of lurching several hundred feet in a few days—had plugged the course of the glacial runoff. Then about 150 years ago the glacial dam burst, loosing a 100-foot, landscape-scouring wave that wiped out entire villages. Start rafting what is now the Upper Alsek at its headwaters in Kluane National Park and Reserve and you'll see signs of the damage. Ancient driftwood lies strewn about, vegetation is sparse, and the valley remains eerily bare. While massive, the river is a mellow ride. You'll encounter only a handful of Class II-IV rapids, allowing you to safely focus on everything else: the calving icebergs in Lowell Lake, hiking in the toothy foothills of the St. Elias Mountains, and snapping hero shots of the grizzly bears, mountain goats, and moose that prowl the valley.
OUTFITTER Canadian River Expeditions (800-898-7238, www.canriver.com) runs six- and eight-day trips down the Upper Alsek River to Turnback Canyon for $2,155 and $2,480 per person, respectively. Its 12-day trip heli-portages Turnback, then continues down the Lower Alsek. The cost is $2,940, and the payoff is 57 more miles through the steep-walled canyons and towering peaks of British Columbia's Tatshenshini-Alsek Wilderness Park.
From mules to mountain bikes: pedaling the Sam McGee Trail

Riding high on the Sam McGee Trail
FROM MULES TO MOUNTAIN BIKES
PEDALING THE SAM MCGEE TRAIL
In its third annual report card, the International Mountain Bike Association gave the Yukon an A minus, the same grade Colorado and British Columbia received. The A is for potential: The Yukon is riddled with hundreds of miles of deserted mining roads and smooth singletrack. The minus is for lack of infrastructure: The entire territory has just one year-round bike shop, in Whitehorse, and the marquee ride, the 15-mile Sam McGee Trail, is one of the only officially named trails. Starting an hour southeast of Whitehorse, the trail follows an old mule path up 6,100-foot Montana Mountain. Sam McGee, who was made famous by poet Robert Service, was foreman of the 1905 trail-construction crew that made way for the world's longest-spanning tramway. The too-expensive tramway operated for just six months, but the mules and men left behind miles of howling-steep singletrack. The catch? You need a guide. The ride is unsigned and falls within Carcross/Tagish First Nation territory.
OUTFITTER Fireweed Hikes and Bikes Adventure Tours (867-668-7313, www.yukonhikes.com) is currently restoring the trail. They'll set you up with a bike and guide for $90 per person, including lunch and shuttle from Whitehorse. For information, bike repairs, and a brand-new trail map to the area, contact Riverdale Cycle in Whitehorse (867-668-7505, www.riverdalecycle.com).
Himalayas of the west: skiing Mount Logan
HIMILAYAS OF THE WEST
SKIING MOUNT LOGAN
By the numbers, Mount Logan can seem daunting. At 19,550 feet, it's Canada's highest peak. Sitting squarely in the St. Elias Mountains of Kluane National Park and Reserve, Logan dominates a 12-mile plateau of eight subpeaks over 18,000 feet. The mountain itself is more than 25 miles long and rises more than 13,500 feet above its glacial base, which has a circumference of 120 miles. In terms of sheer mass, it's the largest mountain in the world. But don't let its Himalayan stats dismay you. The most popular route, King's Trench, is a North American classic—comparable to tackling Mount McKinley's West Buttress. There is no technical rock or ice, and you can ski the majority of the Trench's gently sloped glaciers, including the five-mile trudge across the peak's deceivingly broad summit plateau. With a dependably toasty sleeping bag and two or three weeks, intermediate skiers (with previous mountaineering experience and a guide) have a good shot at the summit.
OUTFITTER International Mountain Guides (360-569-2609, www.mountainguides.com) runs three-week expeditions up Logan every May for $4,000 per person. With hot showers, a library, and Imax views of the massive mountain, Icefield Discovery Lodge (867-633-2018, www.icefields.ca), a seasonal collection of insulated tents on the St. Elias Icefield, is a great base camp for both guided and independent ski-touring in the St. Elias Mountains. Two-night packages start at $565 for two people, including meals and round-trip airfare from Kluane Lake.
Trophy life: fishing Tincup Wilderness Lodge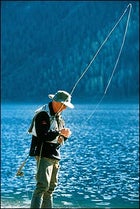 Fly-fishing on Tincup Lake
TROPHY LIFE
FISHING TINCUP WILDERNESS LODGE
The Yukon is riddled with lonesome rivers and alpine lakes that rarely, if ever, see lures. Spin casting for lake trout, whitefish, and northern pike is reason enough to pack the rods, but the big draw is fly-fishing for arctic grayling. Almost any body of water will produce a trophy, but Tincup Lake, situated in southern Yukon's remote Ruby Range, is one of the best, and, handily, the Tincup Wilderness Lodge, with room for ten guests, occupies its shoreline. A 90-minute floatplane flight in from Whitehorse, it's the only lodge on the eight-mile-long lake. Even novice fly-fishermen can catch (and release) a half-dozen of the acrobatic fish in an hour. The fully equipped, duplex cedar cabins, not to mention the gourmet food, lakeside hot tub, and fire-heated sauna, were good enough for Martha Stewart, who visited in 2000.
THE LODGE One-week all-inclusive stays at Tincup Wilderness Lodge (604-762-0382, www.tincup-lodge.com), including floatplane fare, a guide, and all meals, start at $2,895 per person.
On the fly: heli-hiking the St. Elias Mountians

Peak moments: heli-hiking in the St. Elias Mountains
ON THE FLY
HELI-HIKING THE ST. ELIAS MOUNTAINS
Flying over the St. Elias peaks in Kluane National Park and Reserve, you'd never guess the Ice Age ended some 10,000 years ago. Eighty-two percent of the park is glaciated, but at 8,500 square miles, there's plenty of lower-elevation terra firma to explore. From Haines Junction, on the eastern edge of the park, Paddle/Wheel Adventures can arrange guided heli-hiking on the 5,600-foot Kluane Plateau (just outside the park). It's a quick 20-minute flight but long enough to see the Dall sheep that dance Dean Potter-like up Kluane's sheer mountainsides. Once you've landed on the plateau's sprawling alpine tundra, the choice is yours: Hike the five- or six-hour "trail" back down to the road, or stick to the ridge and rendezvous with the chopper farther south at Outpost Mountain. Either way, the views of Kluane Lake, the Slims River, and Mount Vulcan's hanging glaciers are dizzying. But stay focused: Griz sightings are common in these parts.
OUTFITTER Paddle/Wheel Adventures (867-634-2683, www.paddlewheeladventures.com) runs heli-hiking trips on the Kluane Plateau starting at $350 per person for an afternoon, including lunch and guide.
Trending on Outside Online