Snowshoeing: Stepping out in the Sawtooths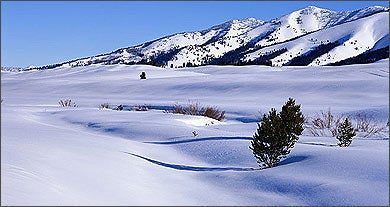 Heading out the door? Read this article on the new Outside+ app available now on iOS devices for members! Download the app.
We stopped at a boulder below the saddle of 10,229-foot Heyburn Mountain as early-May sunshine broke past the ridge and washed over us: three backcountry skiers on a mission to schuss the wild peaks of central Idaho's Sawtooth Mountains, and me, a snowshoe loafer in search of serenity. As my husband and our friends beelined toward a 50-degree couloir tucked between Heyburn's double towers, I climbed on top of the warm, flat rock and settled in for the show.
DETAILS
Contact Sun Valley Trekking (208-788-1966,
www.svtrek.com
) for information about its five backcountry shelters and guide service. Per-night prices range from per person to 0 for the entire bench hut, which sleeps 12. A guided trip, including meals and shuttle, is 0 per person per day (0 per person for three or more). Contact sawtooth national recreation area (208-727-5000,
www.fs.fed.us/r4/sawtooth/recreation.htm
) for information about hot springs and snow conditions. Backwoods Mountain Sports (208-726-8818), in Ketchum, has maps and gear.

In years past, I'd have been skinning to glory turns, too. This time, as a new mother with a recently broken fibula, I'd come to sample snowshoeing, a sport with a more forgiving edge. Lazing in the sun, I watched the snow change from crème brûlée to corn and began to realize what snowshoers have known all along: A good day in the mountains doesn't require death-defying descents.

Snowshoeing is the winter sport of the masses—if you can walk, you can use these webbed feet—and in 2002, 5.9 million people in the U.S. participated, according to the Outdoor Industry Association. Wilderness-savvy snow-stompers, enabled by beefier snowshoe designs, are taking their sport beyond suburbia, trading parks for the jagged peaks and sweet isolation of places like the Sawtooth National Recreation Area.

Wolves, bighorn sheep, and mountain goats live here among 33 mountains more than 10,000 feet high, towering spires, and granite hoodoos. And boiling across the valley floor is a geothermal hotbed of springs, including Boatman's Box, Basin Creek, and Sunbeam, all within 15 miles of the Bench Lakes trailhead, near Redfish Lake, where we started our trip. These hot springs, a steamy addition to a Sawtooths adventure, are tucked alongside the Salmon River just off Idaho 75. (But don't bother stopping during the spring runoff: When the river swells, the pools fill with icy water, making them too cold for soaking.)

We tromped six easy miles from the trailhead to claim our bunks at Bench Hut, a quirky shelter operated by Hailey-based Sun Valley Trekking, which was our home for four days. The longhouse-style wall tent—the Bench, as locals call it—is endowed with all the essentials, including a red-hot barrel stove, rough lodgepole-pine floors and furniture, and seventies-era board games, and eliminates the need to hump in the loads associated with winter camping. Free of tents and cookstoves, we instead brought Havarti, Belgian chocolate, and pinot noir.

Each morning, when my companions left to attack another chute, I could hang back to fire up the sauna or let wanderlust be my guide. I meandered among the five pristine lakes that lie within four miles of Bench's front door, with old-growth trees above, expansive silence in the air, and a solid crunch underfoot.