Squaw Valley Ski Resort Has a New Name
The movement for resorts, climbing routes, and other well-known destinations to get rid of offensive monikers is a step in the right direction, but there's still more work to be done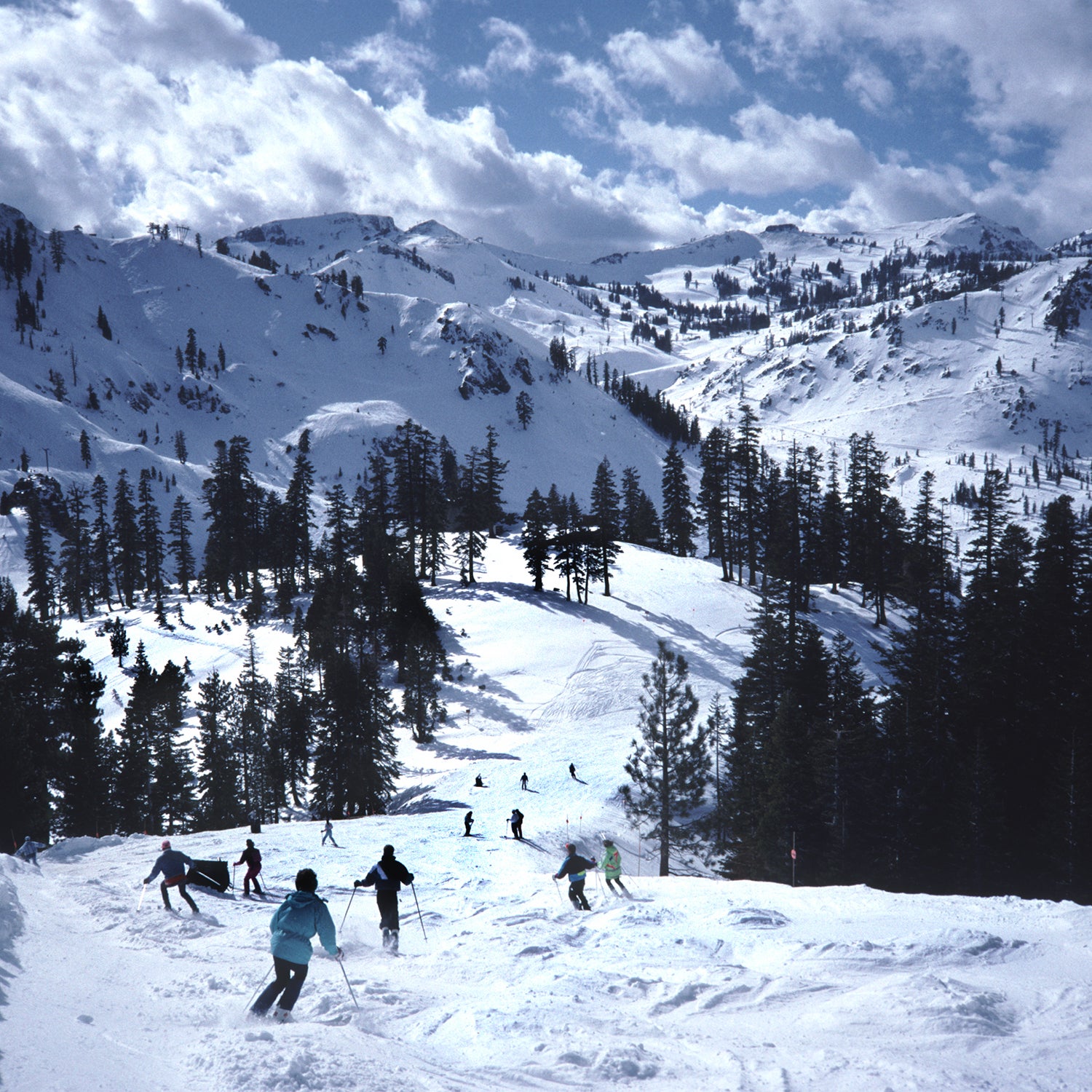 Coast-to-Coast/iStock
Heading out the door? Read this article on the new Outside+ app available now on iOS devices for members! Download the app.
The legendary California ski resort formerly known as Squaw Valley officially has a new name as of this week: Palisades Tahoe. The name comes from a storied zone on the mountain, a steep, chute-riddled area above its Siberia chairlift, that has been the focus of many classic ski movies, dating back to the era of pioneering freeskiers like Scot Schmidt and Shane McConkey. 
Neighboring resort Alpine Meadows, which is under the same ownership, will also fall under the Palisades Tahoe brand, although Alpine Meadows and Olympic Valley—the incorporated area at the base of what was Squaw Valley—will retain those names to help differentiate between the two adjacent base areas.
Changing the resort's name—due to the derogatory nature of the word squaw, a slur toward Native American women—has been decades in the making. In the 1990s, members of the American Indian Movement first pushed the resort to go by something different. This was prompted in part by a Minnesota law, passed in 1995, that resulted in the modification of 19 geographic titles in the state that contained squaw. 
Nancy and Alex Cushing, then owners of the resort, were quoted in newspaper coverage in the nineties as saying they were taking the inquiries seriously, but nothing ever came of it. It took the racial protests of 2020 to finally prompt the change, and last summer a newspaper reporter called up Ron Cohen, the resort's chief operating officer at the time (he's now COO of Mammoth Mountain, California, as of June), to ask why the company still used a name that contained an offensive slur. "There's been a low-level discussion internally about the name for years," Cohen recently told Outside. "We looked at these watershed events that were going on in 2020, and we knew we needed to be a company that does better. How can we be open and inclusive if our name is a slur to a group of people?"
Last August, the resort announced it was officially changing its name. Members of the local Washoe tribe, which has inhabited the land around nearby Lake Tahoe for thousands of years, welcomed the news. "It's never too late to do the right thing," says Darrel Cruz, director of the Tribal Historic Preservation Office for the Washoe tribe. "The ski resort understood that the name was disrespectful to the tribe, and they wanted to do what's right. The focus for us has always been getting that name removed. It was a slap in the face every time we saw it."
Cohen and his staff embarked on a yearlong process to rebrand. They hired an agency to survey thousands of individuals, held virtual town-hall meetings, and organized discovery sessions to gain input from a wide variety of people. They spoke with Washoe representatives, longtime local residents, and Olympic athletes from the Tahoe area about what the resort and valley mean to the community and potential words that might capture that essence. 
The Washoe used to hunt deer and harvest plants in the area, referring to its valley with a word that means "where the big deer ran." "We would have liked to see our original names for the valley," says Helen Fillmore, an off-reservation council member for the Washoe tribe. "But those words aren't necessarily easy to pronounce or advertise. Getting rid of the racial slur is a lot. But the question is also, how do you heal the harm that was done, that that name has caused? That's the part that the tribe is interested in." 
Palisades Tahoe, as it's now called, is currently hosting Washoe cultural tours and plans to open a Washoe history museum alongside an existing center that highlights its role as host of the 1960 Winter Games, atop its aerial tram. Resort management says these are the first steps in creating what will hopefully be a more collaborative relationship with the Washoe going forward.
A 2015 study found that 1,441 nationally recognized places use names that contain racial or other derogatory slurs, with some 799 sites that have the word squaw, according to the U.S. Board on Geographic Names. A bill called the Reconciliation in Place Names Act, first introduced in 2020 and reintroduced in Congress this year, aims to overhaul offensive names of more than a thousand U.S. locations, but it hasn't passed yet. 
Utah has over 50 sites that contain the word squaw, and a bill passed in February will make it less cumbersome for the Utah Committee on Geographic Names to rename some of them. In Colorado, Governor Jared Polis issued an executive order in 2020 to create an advisory board that would review and recommend name changes to natural landmarks and public places. Forty miles west of Denver, Squaw Mountain and Squaw Pass are in the process of being renamed.  
Many rock-climbing routes are also in the process of being revised. In 2020, climber and web developer Melissa Utomo, who is based in Boulder, Colorado, sent a proposal to the website Mountain Project, which was owned by REI at the time, that would enable users to flag and report harmful or offensive climbing-route names. Though Mountain Project didn't adopt Utomo's software, it did eventually introduce a similar flagging feature. In Wyoming's Ten Sleep Canyon, a set of climbing routes previously known as the Slavery Wall were renamed in area guidebooks in 2020, and routes in Squamish, British Columbia, also changed derogatory names last year. 
"People say, 'It's just a name. Get over it.' But a name is also about a place's history, the history of the land, the culture. It's about who is welcomed there and who is not welcomed," says Utomo. "Changing these offensive names is the first step. There's so much more to explore, as far as education and shifting the culture of recreation to community inclusion. For so long, Indigenous and historically marginalized voices have been excluded from these conservations. These name changes are just one tool to start coexisting with each other without oppression."
As for Palisades Tahoe, it'll take some time—and an estimated dollar amount in the seven figures, according to Cohen—to rebrand everything on the mountain, from signage to uniforms to merchandise, but the new name will be in effect starting this ski season, with lifts opening likely in November. 
The Washoe tribe's Fillmore hopes to see more changes. "It would be nice if the tribe could get some land back," she says. "There's talk about bringing back traditional events to the valley or creating programming about culturally important plants and animals in the area. What I think is most valuable about removing derogatory terms from our vocabulary is that it provides more opportunity for collaboration and to build toward the changes we need to see."
Lead Photo: Coast-to-Coast/iStock
Trending on Outside Online