The Best Scenic Drive in Every State 
We've found the most adventure-packed routes for your road-trip bucket list
Heading out the door? Read this article on the new Outside+ app available now on iOS devices for members! Download the app.
With increasing worries over the Delta variant, and the reinstatement of mask restrictions in many places, a lot of us are itching to travel but still want to stay safe. Well, buckle up, because now is an excellent time to go on a classic all-American road trip. From byways that connect multiple adventure capitals to remote stretches that take you to stunning vistas far from the crowds, we've chosen our favorite scenic roadway in every state to help you plan your next drool-worthy drive.
Alabama
Lookout Mountain Parkway
Beginning atop Lookout Mountain, in Noccalula Falls Park, home to a roaring 90-foot high cascade, Lookout Mountain Parkway winds 93 miles through the wooded hills and impressive waterfalls of Little River Canyon National Preserve. The full drive spans three states, starting in Gadsden, Alabama, crossing through northwest Alabama, and ending in Chattanooga, Tennessee, where visitors can get their "Chattanooga Choo Choo" fix at the railroad museum, or check out the area's national military park.
Alaska
Denali Park Road
OK, sure, you'll have to win a coveted lottery spot to spin your wheels across this storied road, but the nearly guaranteed wildlife sightings alone are enough to put this 92-mile drive atop your bucket list. Grizzly bears, caribou, wolves, moose, and Dall sheep all call Denali home. Add in the sweeping vistas of North America's tallest peak, and it's almost too good to be true. Bus services are available for those who would rather sit back and enjoy the ride.
Arizona
Kayenta to Monument Valley
Perhaps best known for its appearance in the film Forrest Gump, the stark, two-lane highway leading up to the towering red rock pinnacles of Monument Valley is truly a sight to behold. The 28-mile track stretches from the town of Kayenta, Arizona, deep into the heart of the Navajo Nation, in Utah, and passes colorful mesas and ridges before meeting the 100-foot craggy formations head-on.
Arkansas
Boston Mountains Scenic Loop
Following a former stagecoach route through the woodsy Ozark Mountains, this 42-mile loop combines two state-designated scenic byways (U.S. 71 and Interstate 49) to link the lakeside town of Alma to the historic buildings and craft breweries of Fayetteville. Along the way, don't miss kayaking at Lake Fort Smith and world-class mountain biking on the Monument Trail at Devil's Den State Park.
California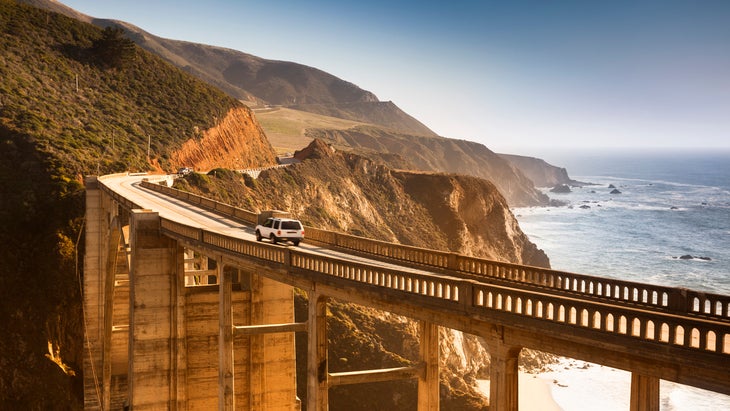 Pacific Coast Highway
We'd be remiss to leave out what is perhaps the best-known scenic drive in the country: California's Highway 1. From tussling elephant seals and panoramic views of Big Sur's cliffs and coastal redwoods to whale-watching from countless seaside restaurants, this drive is the epitome of California living, with plenty of sunshine, mountains, and ocean for miles.
Colorado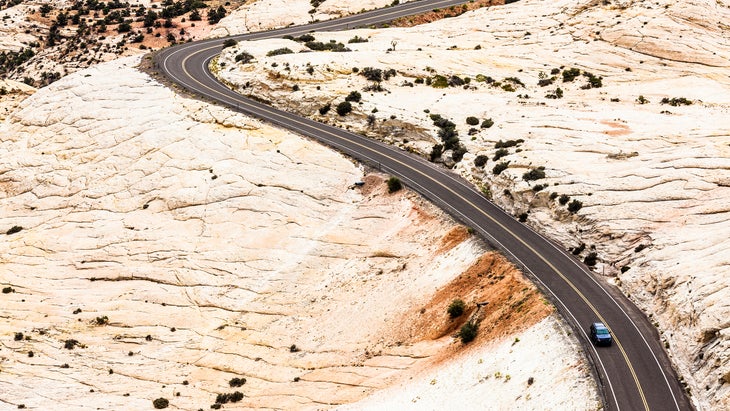 The Million Dollar Highway
Running the high-altitude gamut from Ouray to Silverton, Colorado's fabled Million Dollar Highway offers incredible views of the San Juans, in between hairpin turns and glimpses of black bears, elk, and mountain goats. History buffs won't want to miss the spooky ghost town of Animas Forks, while wilderness seekers will fall in love with countless hiking and backpacking options off the highway.
Connecticut
Shoreline Drive
To explore the Constitution State's 96 miles of pristine coastline, much of which is home to iconic New England towns, hit this idyllic route. Start in New Haven and traverse Route 1 northeast to Stonington. Soak up the views at Lighthouse Point before basking in the sunshine on Connecticut's largest shoreline park at Hammonasset Beach.
Delaware
Red Clay Valley Byway
As you pass under wooden-bridge tunnels and through the tremendous fall foliage at Auburn Valley State Park, this route will have you feeling like you just stepped out of a time machine. Spanning 27 miles of New Castle County roads, some of which date back to the early 1700s, this short drive is big on opportunities to stretch your legs with a side of learning, be it strolling through the botanical gardens of the Mount Cuba Center or riding a vintage steam car at the Marshall Steam Museum.
Florida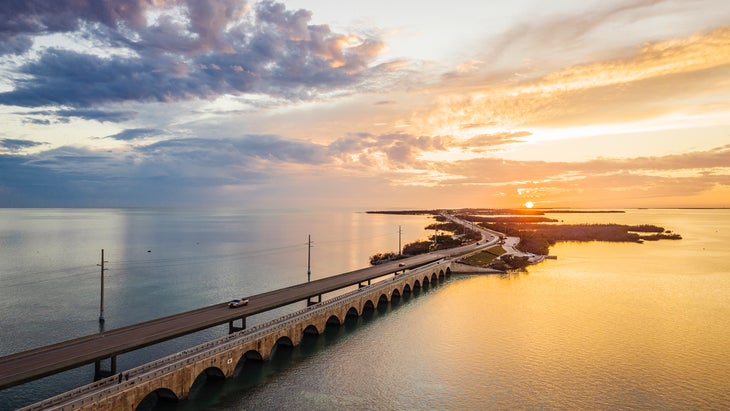 Florida Keys Scenic Highway
Take your time—and try not to hit the massive roadside iguanas—on this 110-mile feat of engineering that connects 43 of Florida's southern islands, or keys, ranging from Ley Largo down to Key West. Along the way, you'll cruise over brilliant aquamarine salt water, mangrove lagoons, and the warm, white-sand beaches of Bahia Honda State Park. Finish it all off with a slice of key lime pie at Kermit's.
Georgia
Russell-Brasstown Scenic Byway
Most people might not imagine big mountain views when they think of Georgia, but this 41-mile national byway cuts through the hills and valleys of the southern Appalachian Mountains, offering access to hikes both short and long (Appalachian Trail, anyone?) and a phenomenal vista from the top of the Peach State's highest mountain, 4,784-foot Brasstown Bald. Nestled in the verdant backwoods of the Chattahoochee National Forest, this drive really comes alive in October, when fall colors are at their peak.
Hawaii
Road to Hana
Full of ancient Hawaiian legends, tropical rainforests, and powerful waterfalls, this 64-mile drive that connects the towns of Kahului and Hana in east Maui is one of the most beautiful in the islands. In winter check out surfers riding some seriously massive waves at Hookipa Lookout, sink your toes into the black-sand beach at Waianapanapa State Park, and hike the four-mile trail to Waimoku Falls in Haleakala National Park.
Idaho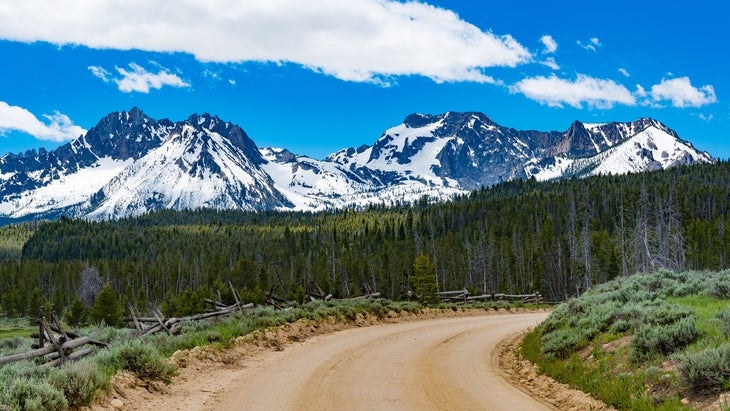 Sawtooth Scenic Byway
Stretching between rolling hills and the resort towns of Hailey, Ketchum, and Sun Valley, this two-lane road spans 116 miles along some of the most jaw-dropping views of Idaho's craggy Sawtooth Range. Follow in Ernest Hemingway's footsteps in Ketchum, scale a high peak in Sawtooth National Recreation Area, and simply enjoy the scenery and a cold one at the Pioneer Saloon, which dates back to the 1940s.
Illinois
Great River Road
Tracing the course of the Mississippi River for nearly 3,000 miles through ten different states, the Great River Road has been designated one of the country's best All-American Roads with good reason. Some of its prettiest sections lie along the western border of Illinois, giving travelers the opportunity to enjoy wine tasting in the hills of Galena, take a riverboat cruise aboard the Celebration Belle, and hike through the lush Shawnee National Forest.
Indiana
Ohio River Scenic Byway
As one of the nation's original 14 national scenic byways, this 943-mile drive is packed with activities for every member of the family. From Lincoln Pioneer Village and Devonian-era fossil beds to the spires of ancient stalactites at Marengo Cave, dinosaur lovers and water enthusiasts alike will find no shortage of attractions along this route.
Iowa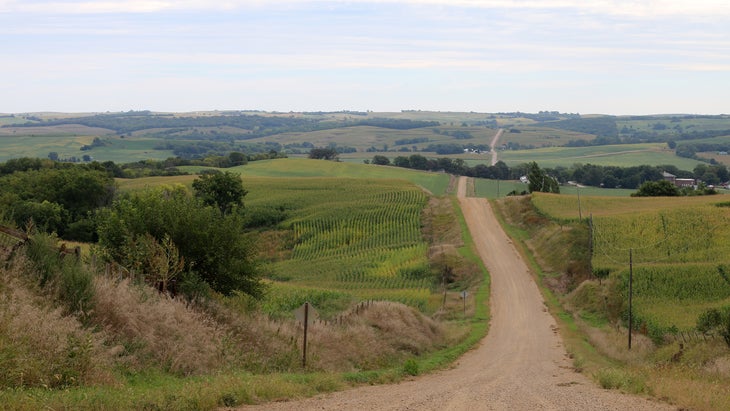 Loess Hills National Scenic Byway

Created in the last ice age, the Loess Hills are a geological wonder at the western edge of the otherwise flat state, constituting 640,000 acres of undulating, golden hillsides. Along this 220-mile route, learn about Iowa's connections to the Underground Railroad at the Todd House, prance through flower fields at the Loess Hills Lavender Farm, and go for a stroll in Waubonsie State Park.
Kansas
Gypsum Hills Scenic Byway
Explore an area rich with centuries-old Native American and cattle-ranching history while cruising through unexpected landscape formations in the middle of the Great Plains. Home to rust-tinted tablelands, sky-high buttes, and ancient floodplains, this 42-mile byway is a true escape for anyone looking to discover the Midwest.
Kentucky
Red River Gorge Scenic Byway
Tucked into the greenery of Daniel Boone National Forest, the Red River Gorge is one of the nation's premier climbing destinations. Over the 46 miles, stop to paddle the famous Red River or hike the one-mile Sky Bridge Trail to check out one of the area's largest stone arches.
Louisiana
Creole Nature Trail
What separates the 26-mile Creole Nature Trail from other All-American Roads isn't vast prairies, shorelines, and marshes, though it has those in spades, but rather the unique wildlife of the area. Slow down for street signs marking wild-alligator crossings as you explore small fishing communities and four wildlife refuges in an area often referred to as Louisiana's Outback.
Maine
Schoodic National Scenic Byway
The Schoodic Peninsula is often thought of as the quieter side of Acadia National Park, but this 29-mile scenic drive through the heart of Maine's rugged coastline is anything but boring. Pack a picnic and spread out on the grass at Tidal Falls Preserve, which overlooks Frenchman Bay, before catching the sunset from Schoodic Point at the northern end of the peninsula.
Maryland
Mountain Maryland Byway
Travel through western Maryland's wild side on this 193-mile route as it winds from the small community of Keysers Ridge to the city of Cumberland. The area is a haven for paddlers, anglers, and waterfall lovers, with dense forests, lazy blue rivers, and the state's largest freshwater lake.
Massachusetts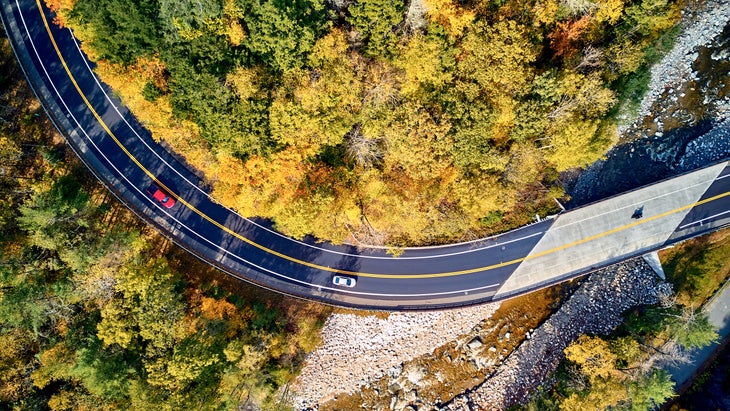 Mohawk Trail Scenic Byway
Take in the state's Native American history on this byway, which parallels the soon-to-be-completed, 100-mile Mahican-Mohawk Trail, a re-creation of a former Native American route that's set to be a long-distance hiking trail (34 miles of it is currently open, spanning woodland paths, rail trails, and paved roads). Along the 69-mile drive, you can hike or whitewater-raft down one of the byway's five major rivers: the Millers, Connecticut, Green, Deerfield, or Hoosic.
Michigan
Tahquamenon Scenic Byway
Michigan's Upper Peninsula is a vast wilderness area known for cascading waterfalls, the state park surrounding the Porcupine Mountains, and its proximity to three of the Great Lakes. Explore the best of the North Woods on this 63-mile route, which meanders past restored lighthouses, miles of view-filled Lake Superior shoreline, and thundering Tahquamenon Falls.
Minnesota
North Shore All-American Scenic Drive
As the largest of the Great Lakes, the sapphire blue waters and waves of Lake Superior can often feel like a vast, unending ocean to a passing motorist. So hit the brakes and take some time to explore artsy towns (like quaint Grand Marais) along this 154-mile coastal roadway and consider extending your road trip onto the connecting byway, 57-mile Gunflint Trail, which winds through Superior National Forest before ending at the Boundary Waters Canoe Area Wilderness, a mecca for avid paddlers.
Mississippi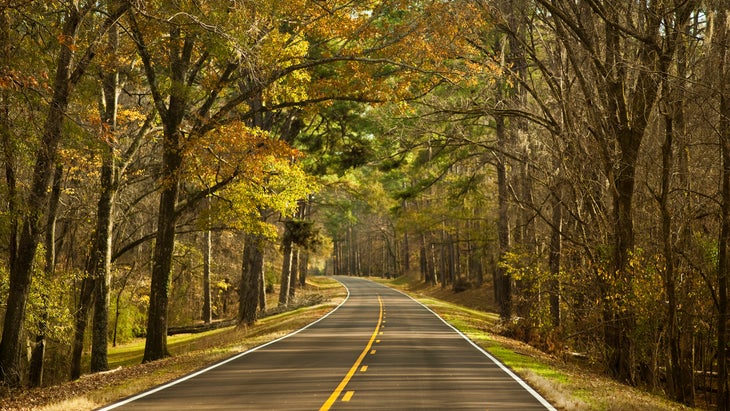 Natchez Trace Parkway
Take a trip through 10,000 years of history on the storied Natchez Trace Parkway. Once a travel corridor used by Native Americans, European settlers, slave traders, and soldiers, the modern parkway has a special focus on historical sites and outdoor recreation. Go for a walk in the woods or pitch a tent at Tishomingo State Park, then stop to admire the prairie flowers and learn about Chickasaw history at milepost 261.8.
Missouri
Glade Top Trail National Scenic Byway
Missouri's only scenic byway, the Glade Top Trail bursts into life when fall colors arrive, usually in early October. Situated along a series of narrow ridgetops within Mark Twain National Forest, the road skirts bright crimson and tangerine-hued leaves before winter arrives. Local residents host a Flaming Fall Review with a BBQ and a music festival each year to celebrate.
Montana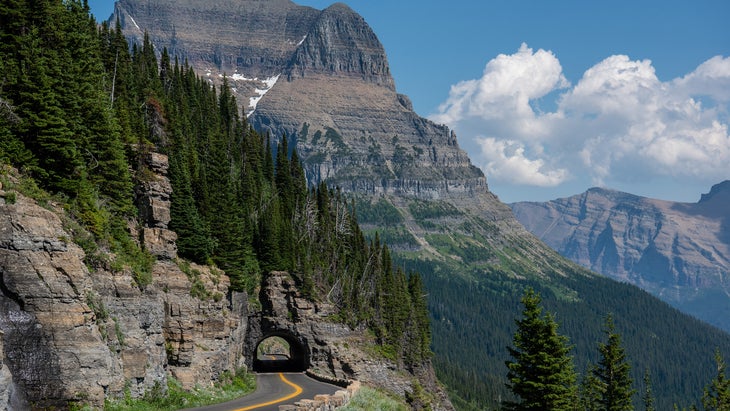 Going-to-the-Sun Road
Get an early start to beat the crowds and tour this engineering marvel from the 1930s. Typically open from early July through mid-October, the 50-mile Going-to-the-Sun Road bisects some of the most scenic sections of Glacier National Park, with access to five campgrounds and three visitor centers, plus epic views of Bird Woman Falls and Jackson Glacier. Shuttle services along the road are also available for those who'd rather sit back and relax.
Nebraska
Western Trails Scenic and Historic Byway
Take your motorized covered wagon on this 144-mile trek across western Nebraska, a route made popular by pioneers. Plan a trip for mid-July to catch the Oregon Trail Days Festival, and don't forget to make a stop at Scotts Bluff National Monument, an 800-foot-tall butte that towers over a grassy landscape.
Nevada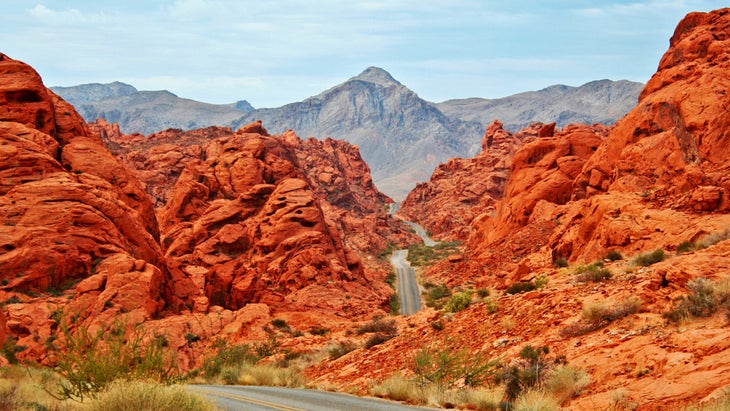 Valley of Fire Highway
It's a rare treat when a park's main highway is also its most scenic. Located less than an hour's drive from Las Vegas, Valley of Fire State Park will have travelers feeling like they're driving through Mars. Plus, there are ample opportunities to get out and stretch your legs on short hikes to arched rocks, ancient petroglyphs, and narrow sandstone canyons.
New Hampshire
White Mountain Trail
The White Mountains are a wonderland for outdoor enthusiasts of all types, and this 100-mile national scenic byway through the heart of it all offers travelers a little taste of everything. Check out the views on the Cannon Mountain Aerial Tramway at Franconia Notch State Park, saunter up the Appalachian Trail, and be sure to pull over at the viewpoints for waterfalls like Flume and Silver Cascades. Go in October for the fiercest fall foliage.
New Jersey
Delaware River Scenic Byway
This 34-mile stretch parallels one of the most famous rivers in the country and passes an array of Revolutionary War–era architecture. Those interested in American history will flip for Washington Crossing Historic Park and the Old Barracks Museum, while nature lovers should bring their bikes for a ride along the D&R Canal towpath, now a paved multi-use trail along the water's edge.
New Mexico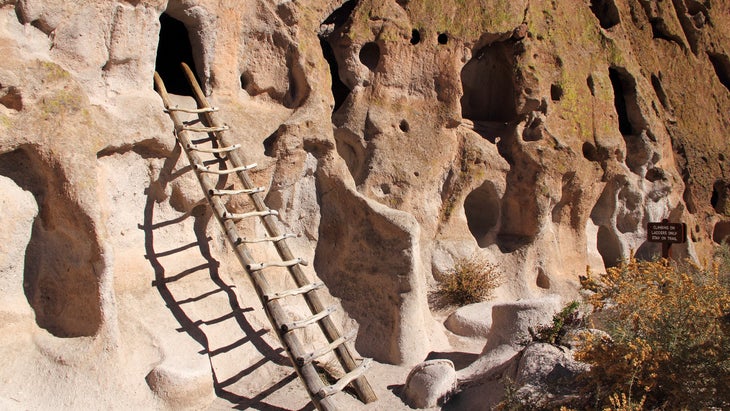 Jemez Mountain Trail National Scenic Byway
Bright orange mesas and volcanic cliffs line this 132-mile scenic byway, which is chock-full of Native history at must-see stopovers like Chaco Culture National Historical Park and Bandelier National Monument. Plan at least three days to fully experience this rugged loop, which travels from Santa Fe National Forest to the Valles Caldera National Preserve, home to the country's largest caldera.
New York
Catskill Mountains Scenic Byway
Perhaps the most quintessential escape for New Yorkers, the Catskill Mountains are a stunning series of rolling, forested hills ready to enchant you with big vistas and quirky mountain towns. Before you head out on this 52-mile ride, grab some trail snacks at the climate-neutral Bread Alone Bakery before hiking to the summit of 4,190-foot Slide Mountain or taking a lazy float around the Pepacton Reservoir.
North Carolina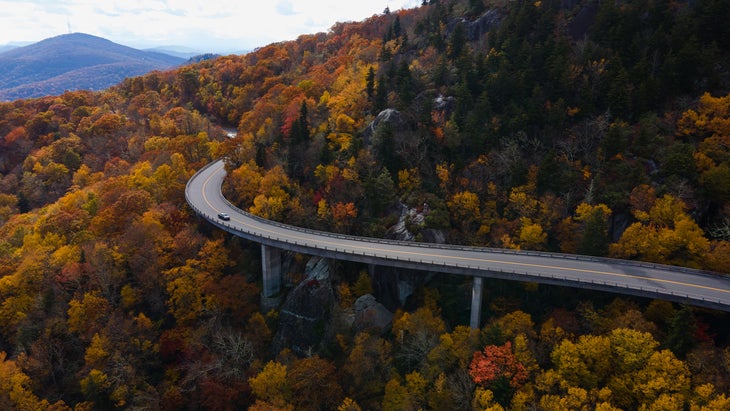 Blue Ridge Parkway
When autumn rears its flaming head, the leaves surrounding the Blue Ridge Parkway turn to breathtaking shades of marigold and orange. The Highlands Region of the famous parkway, which runs from the Virginia–North Carolina state line to milepost 217, blows across some of the region's most spectacular mountains, passing right through the town of Asheville (known for its arts scene and vintage bed-and-breakfasts) before hitting Great Smoky Mountains National Park.
North Dakota
Theodore Roosevelt National Park–South Unit Scenic Drive
Wildlife, wildlife, wildlife. That's the name of the game on this 36-mile drive through the colorful badlands and grassy river valleys that helped inspire Theodore Roosevelt's love of the outdoors. Don't miss the half-mile Wind Canyon Trail. As you make your way around the stunning loop, scan the horizon for bison herds, wild horses, and prairie dogs.
Ohio
Hocking Hills Scenic Byway
Hocking Hills State Park is a bastion for Ohio outdoor addicts. Home to waterfalls, pockmarked cliffs, and sandstone caves, this 26-mile drive connects all of the park's main sites and also allows visitors to explore the state's historic Hopewell Culture, an archaeological era of Native Americans that lived in the Midwest between 100 B.C. and 500 A.D., with the option to side-trip to a national historic park.
Oklahoma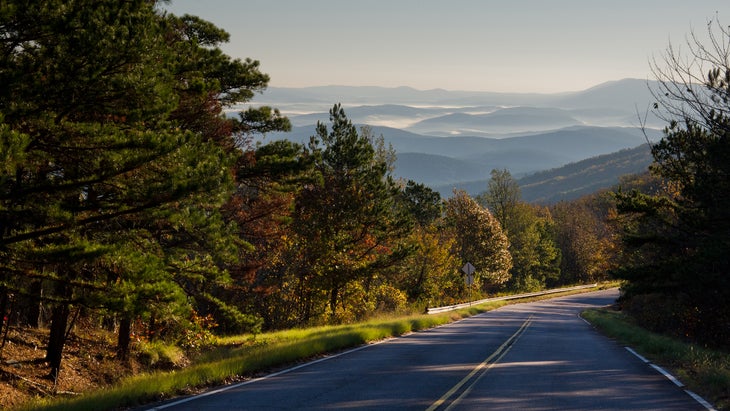 Talimena National Scenic Byway
Situated in the heart of Oklahoma's Choctaw Country, the 54-mile Talimena National Scenic Byway bursts into life when its vibrant fall colors appear, usually toward the middle of October. Relish all the rustling leaves at one of the drive's 22 designated vista points, and make a detour to camp and hike in Ouachita National Forest.
Oregon
Hells Canyon Scenic Byway
The deepest ravine in North America at 7,913 feet, Hells Canyon is an oft-overlooked recreational area that should be on every adventurer's bucket list. Start at the Oregon Trail town of La Grande, pick a rustic campsite at Minam State Recreation Area, and grab your camera for the Hells Canyon Overlook. The 208-mile drive ends in Baker City, where you could keep rolling onto the Journey Through Time Scenic Byway.
Pennsylvania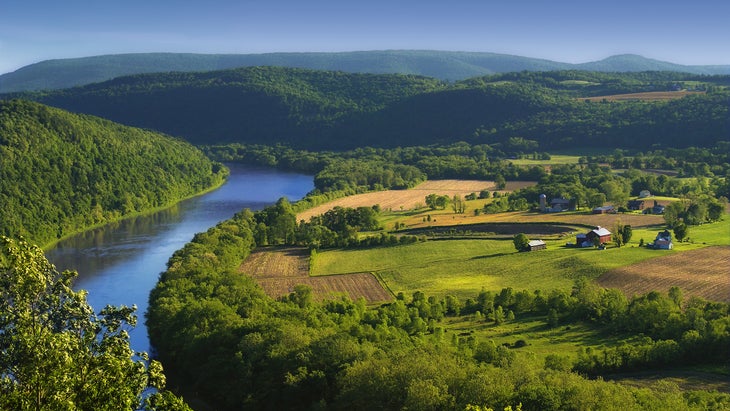 Pennsylvania Route 6
The 394-mile Route 6 is packed with small-town charm and adventure opportunities. From the metal trestles and panoramic vistas of the Kinzua Skywalk and the narrow slopes of the Pine Creek Gorge (referred to as Pennsylvania's Grand Canyon) to quaint Heritage Communities like Towanda, it's impossible to see it all in one trip.
Rhode Island
The Coastal Route
Rhode Island may be the country's smallest state, but its 1,214 square miles are home to a ton of enchanting colonial towns and scenic coastlines. Head 61 miles northeast along Block Island Sound to take in the views at Watch Hill Lighthouse, surf Narragansett Town Beach, and hike the rugged cape of Point Judith.
South Carolina
Cherokee Foothills National Scenic Byway
Traverse the southernmost stretch of the Blue Ridge Mountains and check out South Carolina's most action-packed state park, Table Rock, on this 118-mile route, which extends from Interstate 85 near the North Carolina border to the Georgia state line. At the park, you'll find lakes, rivers, and beaches for every kind of water sport. Plus, waterfall chasers won't want to miss Wildcat Branch Falls, a stunning 100-foot cascade.
South Dakota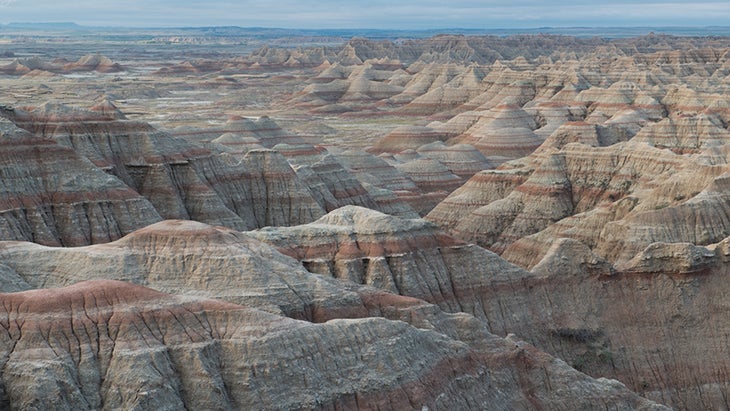 Badlands Loop State Scenic Byway
One of the best ways to see Badlands National Park—especially in the sweltering heat of summer—is via a scenic byway that's also the park's main loop. Stretch your legs at the Big Badlands Overlook and the Saddle Pass Trailhead before grabbing lunch at Wall Drug, a zany roadside attraction that's been a piece of South Dakota history for 90 years.
Tennessee
Foothills Parkway
Undulating through the foothills of the Smoky Mountains, Foothills Parkway has been around for 75 years and stretches from Chilhowee Lake to Highway 321, just south of Pigeon Forge, a family-centric tourist town and gateway to the national park. It's a fantastic way to see the wildlife and woodlands without the traffic and crowds often found in the area. If you've got more than a day, tack on the 143-mile Smoky Mountain Loop for even more fun along Tennessee's winding back roads.
Texas
Ross Maxwell Scenic Drive
Out of the way? Yes. Worth it? You bet. The 30-mile Ross Maxwell Scenic Drive is easily one of the prettiest stretches of national-park road you've never heard of. Slicing through Big Bend National Park, the narrow, two-lane road curves through cliffs of volcanic tuff and past Wild West ranches, ending at the spectacular 1,500-foot limestone walls of Santa Elena Canyon. Go at sunrise to watch the canyon erupt into the most spectacular colors.
Utah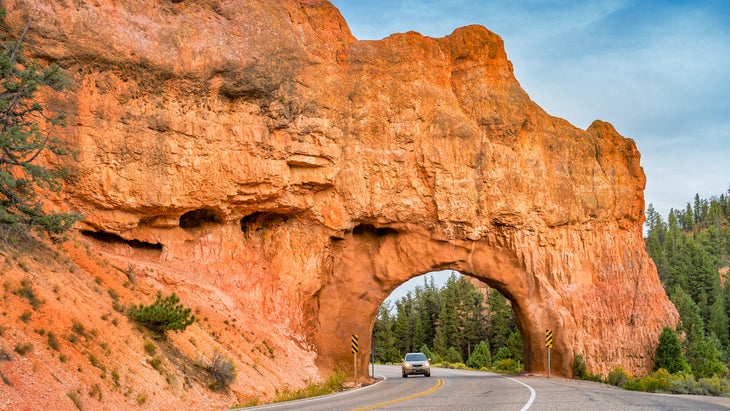 Highway 12
The 123-mile Highway 12 spans the distance between two of the state's most incredible national parks: Bryce Canyon and Capitol Reef. Learn about the area's bright red hoodoos and Native American legends at the parks before hopping into the car and cruising through the ruins of Anasazi State Park, the electric orange fins of Kodachrome Basin, and the magnificent slot canyons of Grand Staircase Escalante.
Vermont
Mad River Byway
From the Waterbury Historic District (home of Ben & Jerry's) to the tufted green hills of Granville, Vermont's Route 100 has as much scenery as it does history. The 36-mile drive is ideal for a leisurely day or weekend—you'll have plenty of time to check out the quaint hillside farm stands and hiking trails in Mad River Valley. If you're making this drive in the winter, hit the slopes at local skill hill Mad River Glen.
Virginia
Skyline Drive
Taking in both the peaks and valleys of the Blue Ridge Mountains, Skyline Drive is just what it sounds like: a winding, 105-mile journey with expansive viewpoints of Shenandoah National Park and its neighboring farmland. If you're looking to hike, visit the Riprap area, which has three trails with stunning views of Old Rag Mountain.
Washington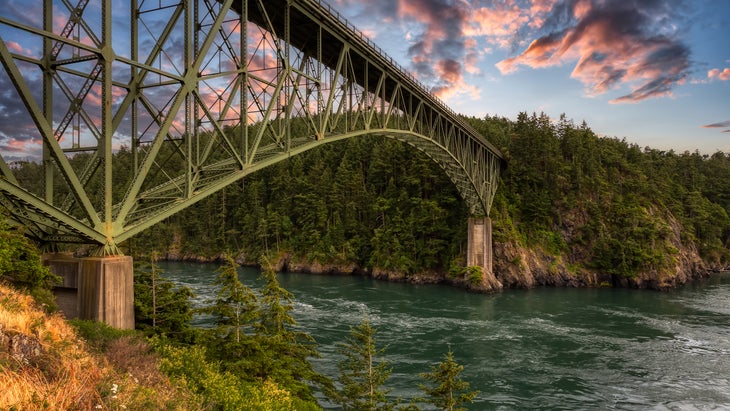 Cascade Loop
Skirting the coastal cliffs of Whidbey Isle, glaciated peaks of North Cascades National Park, turquoise waters of Lake Chelan, and ski slopes of Stevens Pass, the 400-mile Cascade Loop combines the best of the state's scenic byways into one massive road trip. It's a perfect weeklong route for mountain lovers looking to escape the hordes visiting nearby parks and take in a bit of locals-only Washington.
West Virginia
Midland Trail National Scenic Byway
Visit America's newest national park, New River Gorge, and cut through 199 miles of rolling pastures and past rushing waterfalls on West Virginia's stunning Route 60. Be sure to pull over for a photo-op at Cathedral Falls, and drive across the Western Hemisphere's longest bridge, the New River Gorge Bridge. Paddlers will want to plan their trip for October, when rafting season is in full swing.
Wisconsin
Wisconsin Lake Superior Scenic Byway
Skirting the second-largest lake in the world, Lake Superior, this 40-mile drive is a journey into wooded wilderness. Camp and kayak along the tree-topped cliffs of the Apostle Islands National Lakeshore, visit a sandy beach at Frog Bay, the first-ever tribal national park, or go birding in the Moquah Barrens, part of Chequamegon-Nicolet National Forest.
Wyoming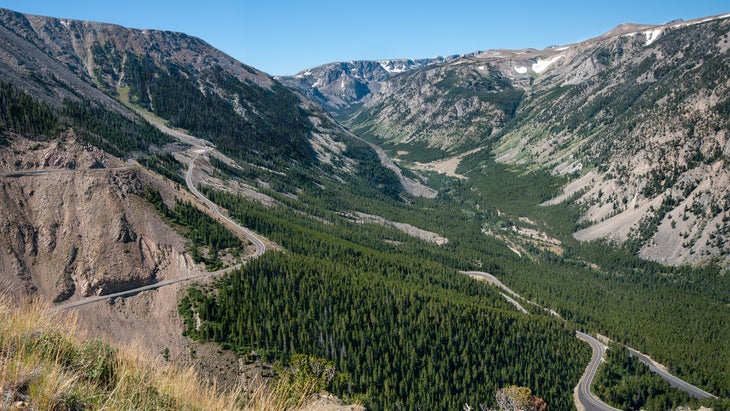 Beartooth Highway
Wyoming is no slouch when it comes to good looks, and the 68-mile Beartooth Highway showcases some of the most epic snapshots of the state's mountainous scenery, ending at the northeast entrance of Yellowstone National Park. Named after a Crow phrase, na piet say, which means "the bear's tooth," this high-altitude road travels across alpine tundra, past jagged Granite Peak, and around the edge of glacier-carved Clarks Fork Canyon.
Lead Photo: bluebeat76/iStock