Sponsor Content: Arkansas Tourism
The Water Lover's Guide to Arkansas
How to visit and responsibly recreate in the rivers, lakes, and hot springs that Arkansas is famous for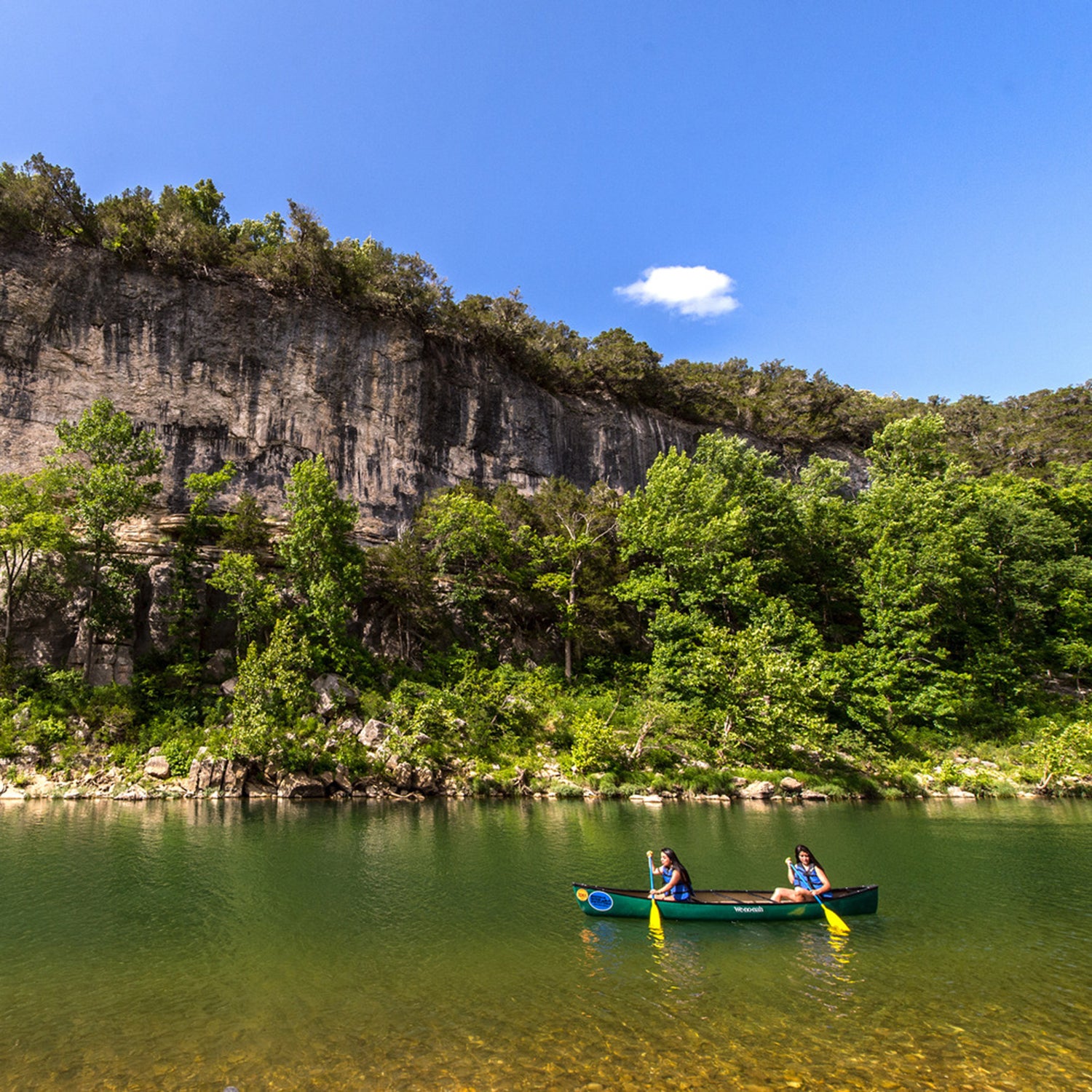 Arkansas Tourism
With thousands of miles of meandering rivers and streams, steamy thermal hot springs, and an impressive collection of lakes, Arkansas beckons to anyone seeking adventure on or in the water. In fact, there's so much variety, it can be hard to know where to start. We talked to Travis Napper, director of Arkansas Tourism, who gave us the scoop on all the aquatic experiences this inland treasure has to offer. Anglers, paddlers, sailors, and outdoor adventurers, listen up. 
Outside: Where should water lovers start their Arkansas trip planning?
Travis Napper: Whether you enjoy fishing, paddling, swimming, or relaxing on the lake, Arkansas has something for everyone who loves the water. Every Arkansas adventure should start with a visit to the official Arkansas Tourism website to learn about all the state's waterways, water activities, and more.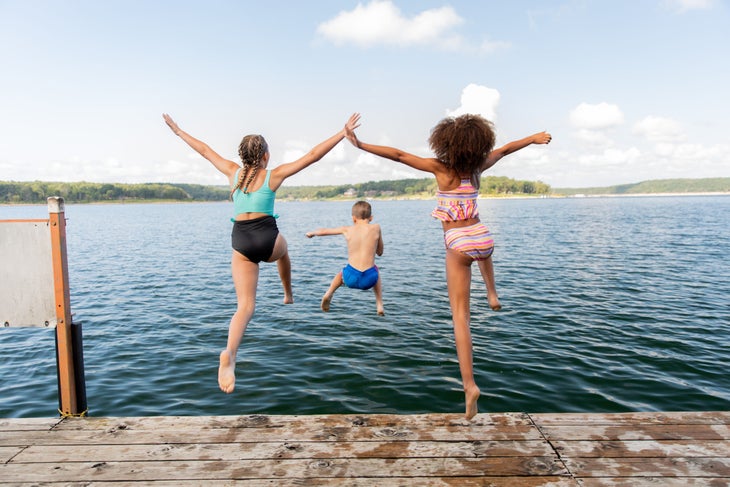 What are some of the best lakes to visit in Arkansas?
In the Ozark Mountains, Bull Shoals Lake is famous for its world-class fishing. Other lakes in this region include Greers Ferry, Norfork, Beaver, and Dardanelle. The Ouachita Mountains are home to lakes like DeGray, Greeson, Hamilton, Catherine, and Ouachita—collectively known as the Diamond Lakes. In southern Arkansas, Millwood and White Oak are also popular lakes to visit. 
Located in the flat delta lands of southeastern Arkansas, Lake Chicot is a natural wonder. A 20-mile-long former channel of the Mississippi River, the lake has claimed the titles of the biggest oxbow lake in North America and Arkansas's largest natural lake. If you want to take in Lake Chicot's beauty, the All-American Great River Road National Scenic Byway travels along some of its shoreline. 
Why is Arkansas a bucket-list destination for anglers?
Arkansas is home to a variety of trout species, including rainbow, brook, brown, cutthroat, golden, and tiger. Anglers from all over the country travel to Arkansas to fish the White River, where trout fishing is sublime year-round and the fish count per mile is representative of a healthy (and lively) fishery.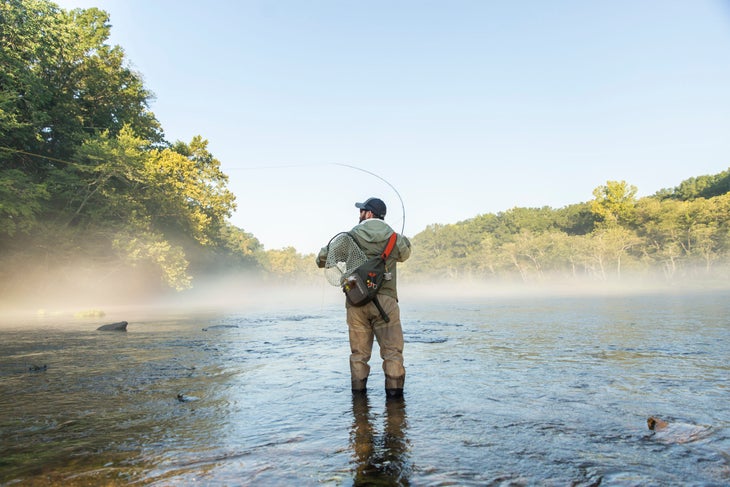 While Arkansas trout fisheries are the most talked about among anglers, the state is also home to other species and waterways. For example, small streams offer opportunities for exciting smallmouth bass action. Plus, with more than 600,000 acres of lakes and 90,000 miles of rivers and streams, anglers have plenty of room to land a trophy and catch freshwater species, such as crappie, walleye, catfish, and stripers.
Where should visitors go to see thermal hot springs? And are there hot springs that allow soaking?
Hot Springs National Park is a must-see attraction. Congress voted to protect the area in 1832, 40 years before Yellowstone became the nation's first national park. The park received federal recognition as an ecologically unique site because of its namesake features—47 hot springs, all with water at 143 degrees Fahrenheit. These hot springs are the only ones of their kind that are federally managed for public health and consumptive purposes. Visitors can even taste the water at the various jug fountains located around the park. Superior Bathhouse Brewery, located within the national park, makes refreshing craft beers on-site. The main ingredient? Thermal spring water.
Although the outside springs are for visual enjoyment only, there are still opportunities to soak in thermal waters. Bathhouse Row, a National Historic Landmark District, is home to picturesque bathhouses. The Buckstaff Bathhouse and the Quapaw Bathhouse still operate in their original capacities as bathhouses and have thermal spa treatments available. 
Because Hot Springs National Park is an urban park located in the city of Hot Springs, visitors will find nearby accommodations, shops, restaurants, and other attractions within walking distance downtown.

Where are some great places to paddle in Arkansas?
When it comes to paddling, Arkansas is famous for the Buffalo National River—the first river in the country to earn this designation. But there are many great places to get on the water in Arkansas. The Mulberry River and Kings River in the Ozark Mountains and the Ouachita River and the Caddo River in the Ouachita Mountains are all spectacular places to start.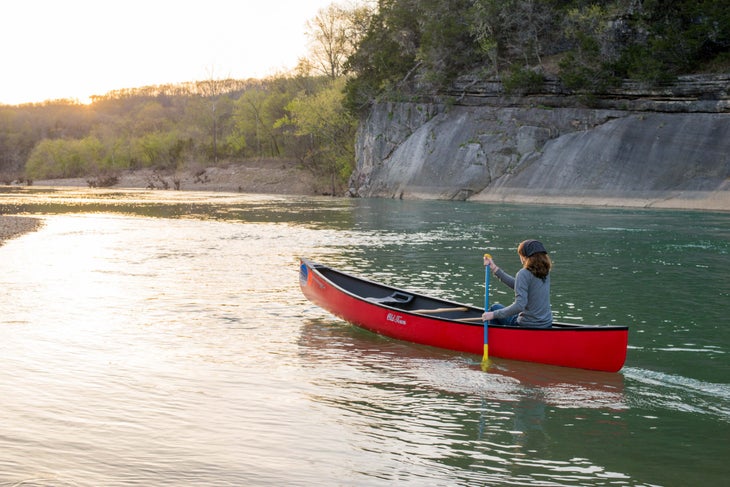 For an up-close look at one of the state's historic geological events, check out the St. Francis Sunken Lands Water Trail. The headwaters of the 430-mile river originate in southeast Missouri. From there, the St. Francis River meanders its way through Arkansas before its confluence with the Mississippi River. Be sure to visit the Sunken Lands, which earned its name after an earthquake caused the river to drop around eight feet, forming a large overflow swampy area.
Highly skilled paddlers will enjoy Cossatot River State Park–Natural Area, which includes one of the most rugged and spectacular river corridors in the central United States. Decorated with wooded slopes, hiking trails, unique geological features, and cascading Class III–V water, the Cossatot is a sought-after destination for experienced whitewater canoeists, rafters, and kayakers.
What activities do you recommend for visitors who are new to on-water adventure?
If you're new to on-water adventure, book an excursion with a professional guide or outfitter to build comfort and experience. Many Arkansas State Parks—including Pinnacle Mountain State Park, near Little Rock, and Lake Ouachita State Park, near Hot Springs—also offer guided opportunities. 
Prepared to head out on your own? The Illinois River and the Caddo River make for good beginner floats. Or check out the tame middle and lower stretches of the Buffalo National River. Most park marinas have rental services that can equip you with everything you need to have a safe and enjoyable adventure.
---
Arkansas Tourism, a division of the Arkansas Department of Parks, Heritage, and Tourism, strives to expand the economic impact of travel and tourism in the state and enhance the quality of life for all Arkansans. The division manages 14 Arkansas Welcome Centers and employs more than 60 staff members across the Natural State. For more information, visit arkansas.com. 
Lead Photo: Arkansas Tourism