The Big East
Whitewater on Maine's Kennebec River, single-track in Vermont—these are the Northeast's best-kept adventure secrets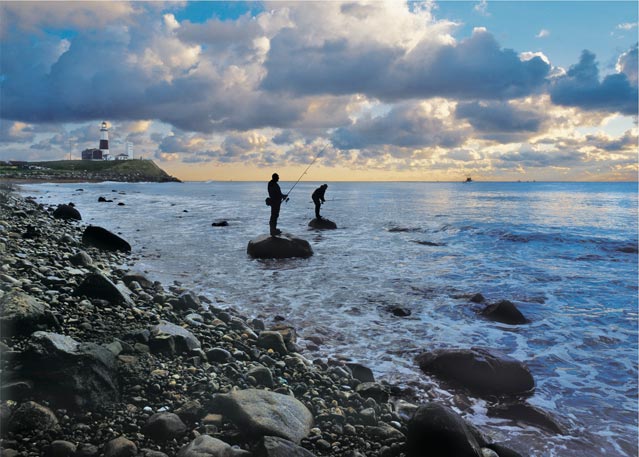 Bill Kinney
Heading out the door? Read this article on the new Outside+ app available now on iOS devices for members! Download the app.
The Top 9 New England Adventures
Most serious adventurers think of the Northeast as a good place to catch a connecting flight. Which means they're missing out. From Class IV rafting to some of the wildest sea kayaking in North America, here are the best trips on the right coast.
The Best East Coast Adventures: Mountain Biking
East Burke, Vermont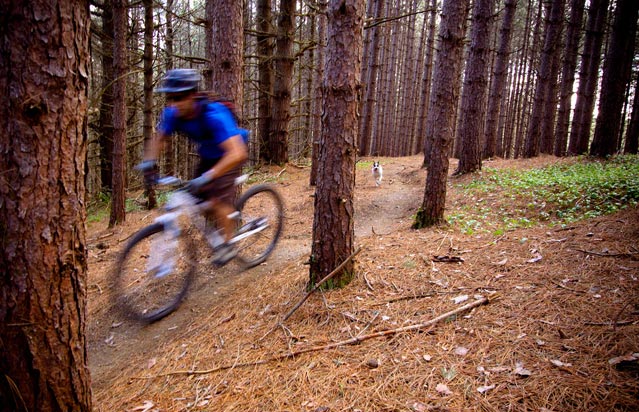 The most extensive network of mountain-bike trails in the Northeast sits in the backyard of East Burke, a tiny village in Vermont's wild Northeast Kingdom. Cross-country is king here: the well-maintained Kingdom Trails roll across green pastures and ascend ridgetop pine forests; easy doubletrack passes by farmhouses to link up with steep singletrack barely wider than your handlebars. Each piste in the 100-mile maze is named, mapped, and rated by the non-profit Kingdom Trails Association. Set out from one of multiple entry points ($15 fee), and ride flowing singletrack like the iconic Sidewinder—a beautifully sculpted trail that twists between 100-foot-high walls. Experts: try the combo of Upper J Bar to Burn 'em Down (accessible via the toll road on Burke Mountain) for a 2,300-foot descent. If that's not enough, head to the local ski hill: Burke Mountain added lift-accessed riding in 2010 ($30), with a high-speed quad that drops riders into flowing intermediate runs like Jester and double-black affairs like Knightslayer. Which, by the way, is also the name of a killer stout at Trout River Brewing Company in nearby Lyndonville. Pick up a rental at East Burke Sports (hardtails, $30; full-suspension, $60) and crash at the Inn at Mountain View Farm, which has out-the-door trail access (doubles, $155).
The Best East Coast Adventures: Canoe Touring
Adirondack north country, New York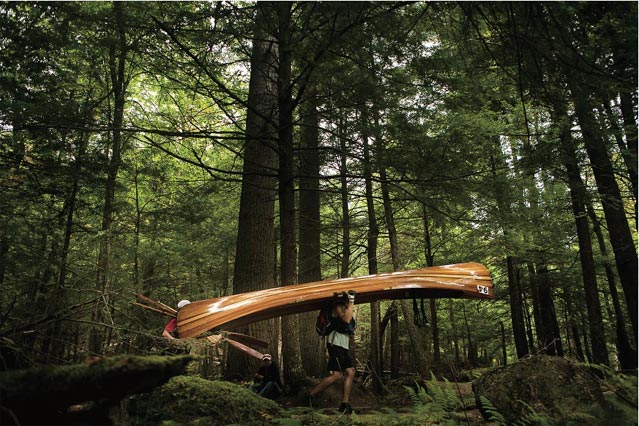 We wouldn't recommend tackling the entire Northern Forest Canoe Trail, a 740-mile inland water route crossing New York, Vermont, Quebec, New Hampshire, and Maine. A through-paddle of the whole beast—originally a network of Native American trading routes that was mapped in 2006 by a non-profit group of paddlers—requires 55 miles of portages. But for a three-day canoe trip in the lower 48, you'd be hard-pressed to find anything better than the 42-mile segment from the town of Long Lake, New York, to the village of Saranac Lake in the Adirondacks. This chunk, on the route of the annual Adirondack Canoe Classic, is accessible and user-friendly, with two portages and a set of locks as it traces Long Lake, the Raquette River, and the three Saranac Lakes. And the sense of wilderness is profound: once you put in, there's just the densely forested beauty of the 'Dacks, with the High Peaks rising to the east. Lean-tos are scattered along the route. Get maps from northernforestcanoetrail.org, and rent your boat—and arrange a shuttle back to Long Lake—from Lake Clear-based Mac's Canoe Livery (rentals from $35 per day; shuttle, from $125). Before putting in, treat yourself to a night at the Adirondack Hotel on Long Lake (doubles, $120).
The Best East Coast Adventures: Sea Kayaking
Cape Chignecto Provincial Park, Nova Scotia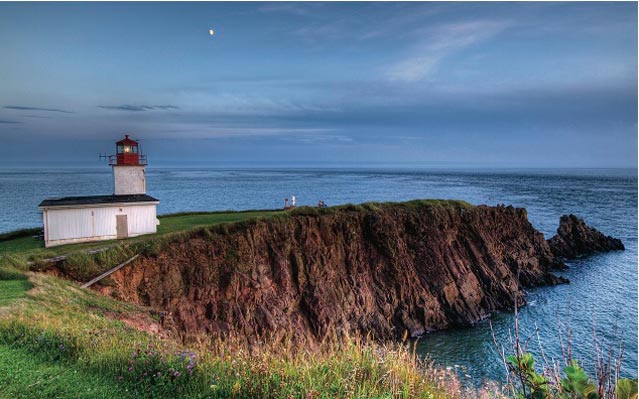 Paddlers on this side of the Mississippi usually make for the rugged coast of Maine. Which is fine if you haven't been spoiled by Nova Scotia. Cape Chignecto, about four hours north of the Maine-New Brunswick border, offers the kind of stuff you can't even find in British Columbia: 600-foot sea cliffs, wild rock formations, and, of course, the mercurial Bay of Fundy. The bay can get extreme, with 40-foot tides, but Chignecto is actually fairly benign. "It's not inherently difficult to paddle here," says guide Scott Cunningha, author of Sea Kayaking in Nova Scotia. "It's just that conditions can change so quickly." Which is why you want a guide on your first outing. Cunningham takes novices and experts alike on four-day trips from Red Rocks, near the town of West Advocate, to Spicers Cove. On the way, you'll paddle down winding channels where harbor seals line the rocky ledges, over basalt reefs, under towering spires, and through sculpted caves near the remnants of 18th-century boatbuilding operations (four-day trips, including gear, $895). At trip's end, recover at the Lighthouse on Cape d'Or (doubles, US$97), a converted lightkeeper's residence near the put-in.
The Best East Coast Adventures: Road Biking
Northampton, Massachusetts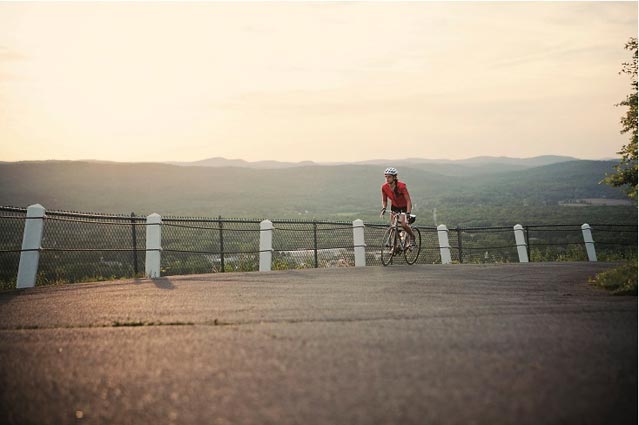 Most cycling outfitters steer you toward Vermont's country lanes, but western Massachusetts has a much denser network of roads, meaning more choices and less traffic. Base yourself at the Hotel Northampton downtown (doubles, $196), and get rentals from Northampton Bicycle (Cannondales available for $35 per day). Then pick from flat routes along the Connecticut River, a rolling century around Quabbin Reservoir, or farm-road rides that climb into the Berkshires—all of which will leave you wondering: Where are the cars? If you've got time for only one big ride, make it a 66-miler recommended by Patrick Brady, a cycling journalist and part-time guide. Head west out of Northampton on Route 143, turn south on Route 112, and head back to town on Route 66. Grab a fresh peach at Outlook Farm before a gentle descent into Northampton. Tip: don't freak out if your paved road turns to dirt. The unpaved routes are super smooth around here; in fact, an annual 65-mile group ride called the Grand Fundo, Massachusetts' answer to Italy's famed Gran Fondo rides, includes 20 miles of dirt.
The Best East Coast Adventures: Stand-Up Paddleboarding
Acadia National Park, Maine
Acadia has crowds, sure—but it also provides access and options that can't be beat anywhere on the East Coast. Base yourself in Bar Harbor, entry point for the 35,000-acre park, where there's always someplace that's downwind, sheltered, or at least out of the fog to paddle. Get a room at the Harborside Hotel on the water in Bar Harbor (doubles, $279) and rent a board and—if you need it—a guide from Thorfinn Expeditions (daylong rentals, $60; guided trips from $65). Warm up with a mellow cruise down Long Pond, located on the west side of the park (seven-day pass, $20). Day two: Take on dramatic, fjordlike Somes Sound. Launch in the village of Somesville, paddle 3.5 miles south to Valley Cove, then hang out and watch the falcons until the wind starts to funnel through the sound. Then rip a downwind return back to town. Day three: Opt for a sailboat-supported exploration of the rugged Porcupine Islands. For $55 per person, Thorfinn will send a 30-foot boat to accompany you on the two-mile paddle across Frenchman Bay. After gliding around the Porcupines beneath 100-foot cliffs, hop a ride back on the boat.
The Best East Coast Adventures: Fly-Fishing
Montauk, New York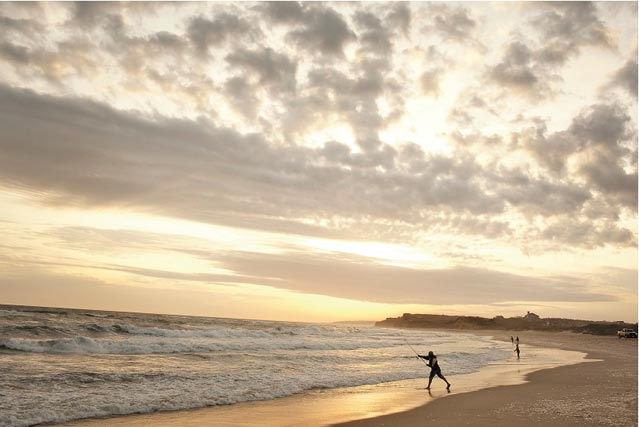 For sheer density of fish, no place rivals Montauk during blitz season, from late August to November. That's when huge schools of striped bass flood Montauk Point in search of the tiny bay anchovies that turn the water a swirling chocolate brown. During the blitz, just about every striper in the Northeast shows up to feast on the baitfish. Large schools of fishermen follow—locals surfcasting from shore and visitors working the action from guide boats. The only etiquette you need to know: boaters don't encroach upon the range of the surfcasters. Whether you set up on shore or in a boat, bring a ten-weight rod, a reel with strong drag, and a bunch of anchovy-imitating flies. Then let 'er rip. "If you can get your fly out of the boat, you can catch fish," says Captain Paul Dixon, a Montauk guide who started fishing the blitz 20 years ago (daylong trips, $650). You're allowed one keeper (28-plus inches) a day, which the chef at Gurney's Inn, a waterfront hotel and spa (doubles, $420; gurneysinn.com), will cook up for you. To go on your own, pick up flies and leaders from Tight Lines Tackle. Boat rentals are available at Uihlein's Marina ($170 per day for a 16-foot dinghy).
The Best East Coast Adventures: Peak Bagging
Presidential Range, New Hampshire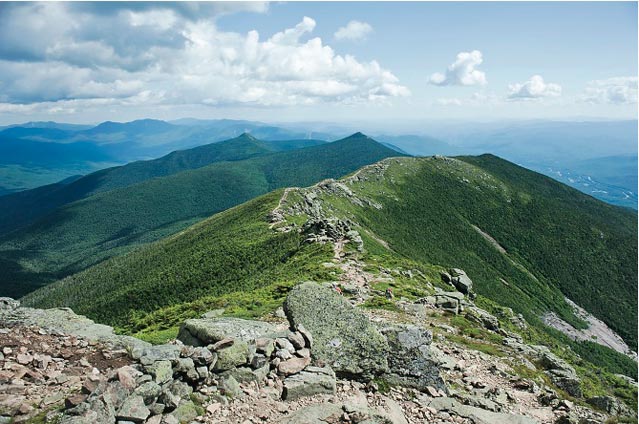 Your buddy from Boulder might scoff at the elevations, but the Presidential Traverse in New Hampshire's White Mountains is a serious project. The whole enchilada consists of 24 miles, 10 peaks, and 9,000 feet of elevation gain. Plus there's the unpredictable weather above the tree line, where you'll be for 11 of those 24 miles. The wind can get nasty (gusts up to 90 miles per hour), clouds can gather, and a warm day in the lower woods can turn bone-chilling up high. Purists maintain that the traverse should be done in a single day. But it's a lot more pleasant if you take two or three, staying at the Appalachian Mountain Club's cozy backcountry huts, which supply bunk beds and hearty meals prepared by bandanna-sporting seasonal workers (reserve a hut in advance; from $120). The best route is north-south—that way you get the most brutal peaks, like 6,288-foot Mount Washington, out of the way first. Start at the Appalachia trailhead on U.S. Route 2 and end with a hot meal and a shower at AMC's Highland Center Lodge at Crawford Notch (bunks, $103), then catch the daily shuttle back to your car. In between, you'll have 130-mile vistas.
The Best East Coast Adventures: Rafting
Kennebec River, Maine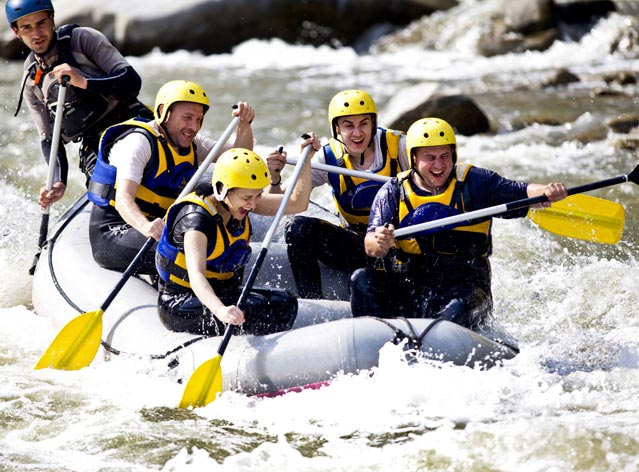 In the fall, when many rivers are reduced to a trickle, the Kennebec is still churning Class IV whitewater through a steep-walled granite gorge in remote western Maine. This makes for what's arguably the wildest and most consistent river trip in the Northeast, with no signs of civilization anywhere on the 12-mile run. True, the Kennebec owes its late-season flow to releases from the Harris Station dam, but there's a big upside. Several times a year—including this September 8 and 22—the dam's operators double the flow to 8,000 cubic feet per second. "We suddenly get big, curling-back standing waves 10 to 12 feet high," says Northern Outdoors president Russell Walters. "You just don't see that kind of thing in inland rivers in the middle of September." The one-day trip is a roller-coaster anytime you run it—look out for the Three Sisters and Maytag rapids—though it mellows out after the upper gorge, where you can swim or paddle inflatable duckies down the Class II sections. In addition to day trips ($79), Northern Outdoors runs a lodge, cabins, and a brewery below the takeout on the Lower Kennebec (doubles at the Forks Resort Center, $105).
The Best East Coast Adventures: Hot Links
Moosehead Lake, Maine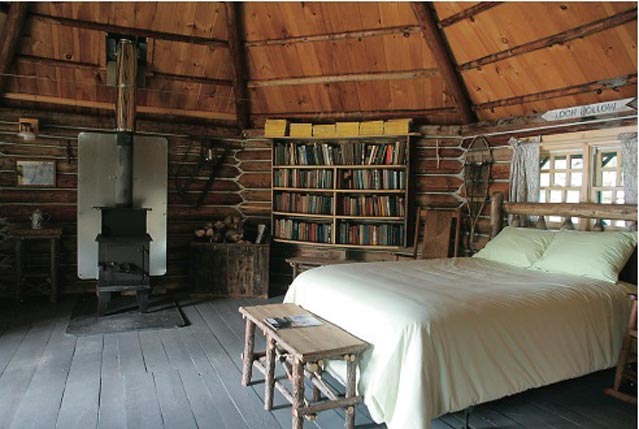 This summer the venerable Appalachian Mountain Club is trotting out an 8.9-mile lodge-to-lodge hiking route near Moosehead Lake, Maine. Thanks to a brand-new connector trail, hikers can leave Gorman Chairback Lodge (opened in 2011) and hike north to Little Lyford Lodge. Both offer bunkhouse rooms, cabins, showers, and full meal plans. But the draw is what lies between. That's Gulf Hagas, the narrow, 400-feet-deep slate canyon of the West Branch of the Pleasant River, and it's full of waterfalls, rapids, chutes, and swimming holes. Other recommended detours from the lodges: the great north-woods views atop Chairback Mountain, Indian Mountain, and Laurie's Ledge; the wild brook trout fishing near Little Lyford; and the pond paddling right out the back door of Gorman Chairback. Gratis canoes are available on-site. Lodges from $80.