Sponsor Content: Travel Nevada
My Nevada: Steve MacMillan
Nobody knows the state's 600-plus streams and rivers as well as backcountry fishing and Lahontan cutthroat trout expert Steve MacMillan
"There's a little creek right outside Las Vegas that holds Lahontan cutthroat," says backcountry fishing fanatic Steve MacMillan. "DOW [Nevada Department of Wildlife] put them in there 40 or 50 years ago, but they didn't know if any were still around, so they asked me to go see if I could find any. I spent three days up there chasing them down, but I finally caught a few. And I thought it was pretty neat that these little five-to-ten-inch cutthroat could survive in these tiny pools—in Las Vegas. I mean, they're up on the mountain, not in town, but no one knows they're there because nobody wants to work that hard to catch a fish."
When most people go fishing, they're looking for a relaxing experience—maybe a stroll to their local bass pond or a couple hours out on the lake in their boat. Not MacMillan.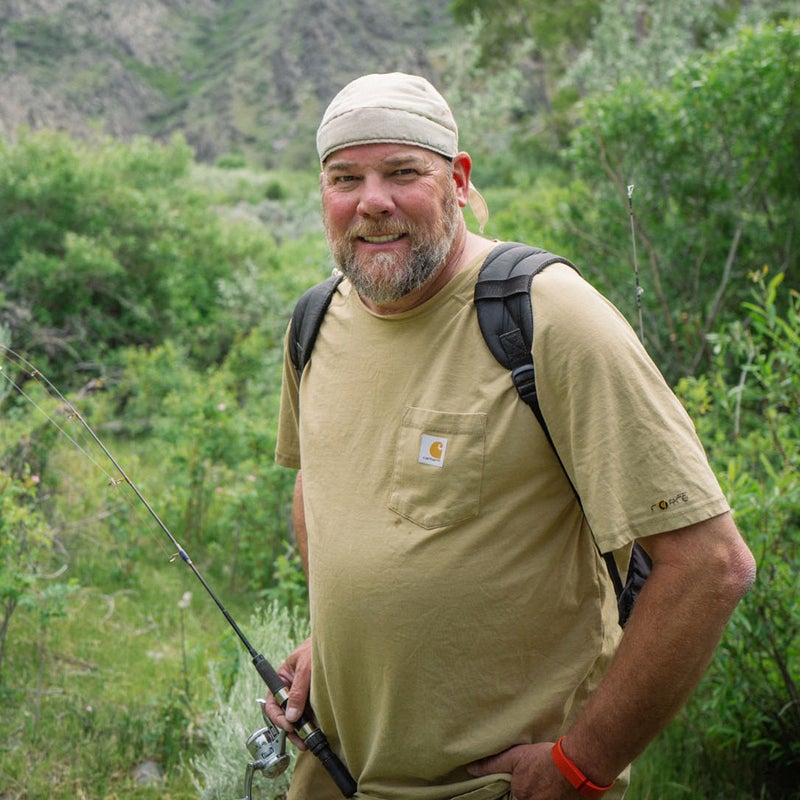 "The guy is just an animal when it comes to stream fishing," says Chris Crookshanks, native fish coordinator for the Nevada Department of Wildlife. "It's his entire life. He's helped us out on a bunch of native fish projects, and the miles he'll put on his boots just to get to a fish is amazing."
It was native fish that first brought Crookshanks and MacMillan together. A former ranger at Nevada's Cave Lake State Park, near Ely, MacMillan had always enjoyed fishing small streams for trout, especially the populations of Bonneville cutthroat found in what is now Great Basin National Park. But in 2012, DOW added a new twist—the Native Fish Slam—to its popular Trophy Fish Program, which since 1968 has recognized anglers who catch a record fish in any of Nevada's 600-plus rivers, streams, lakes, ponds, or reservoirs. To earn a slam, an angler has to catch and photograph all six salmonid species that are native to Nevada: the Lahontan, Bonneville, and Yellowstone cutthroat trout, plus the inland redband trout, bull trout, and mountain whitefish.
"Steve was the first one to complete it, and he did it in about a month and a half," says Crookshanks. "We've had 11 other people complete it in the four years since."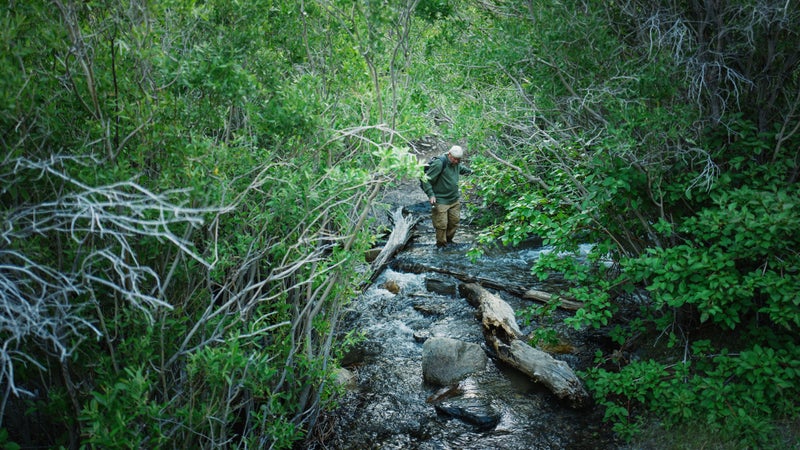 Getting a slam isn't just a matter of fishing one of the many available streams where these species are found. The Yellowstone cutthroat lives in only one stream in the state: Goose Creek, in the extreme northeast corner. Much of the land surrounding it is private, so fishermen need to ask the landowner for permission.
"The other tough one is bull trout," says Crookshanks, "because it requires some pretty significant hiking into the wilderness."
MacMillan doesn't just fish these streams. He studies them. He analyzes them. And after each trip, he presents his findings to state fisheries biologists.
Also, MacMillan doesn't just fish these streams. He studies them. He analyzes them. And after each trip, he presents his findings to state fisheries biologists. "He'll write a full report after every outing," says Crookshanks, "with pictures, lengths and weights of fish, in-stream temperatures, ambient temperatures, what he used to catch them, weather conditions—everything."  
MacMillan says he enjoys the scientific aspect of his trips as much as the fishing itself. "I like establishing data to show where certain populations are surviving," says the 57-year-old. "In my younger years, DOW would send me out to places, and I would hike 20 miles just to find out that nothing was there."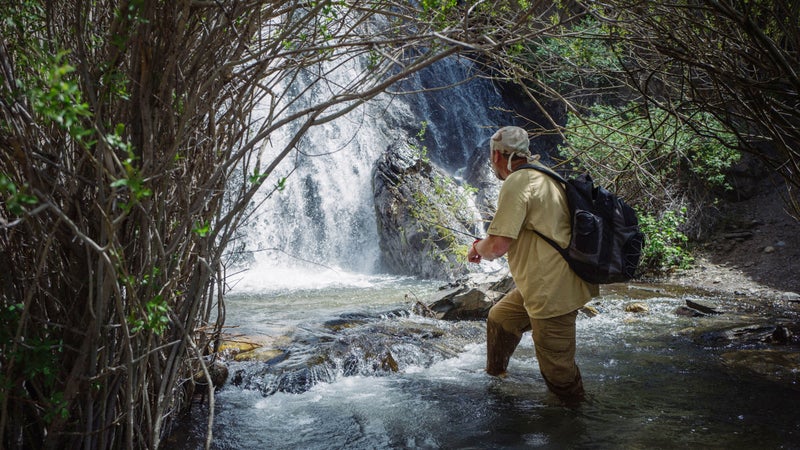 After the torrid pace of his 2012 Native Fish Slam, MacMillan decided he was ready for another challenge—catching a wild trout from every stream in White Pine County. "It's a huge county," Crookshanks says. "Like 9,000 square miles." (It's 8,897, to be exact. The state of New Jersey is 8,722 square miles.)
There are more than 60 streams in the county, and MacMillan caught a fish out of every one of them. When the 2013 Trophy Fish Report came out, he had set 30 new state records.
Though MacMillan enjoys fishing for all kinds of trout, he prefers wild, native cutthroat most of all. "They are the true natives of the West," he says. "They know how to make the best use of their environment. They don't get stunted, like brook trout, where you go to a creek and catch 100—none of them more than four inches long. If there were cutthroat in that creek, one might be 18 or 19 inches long. Brook trout just overpopulate. I'll hear about these guys back East crying because their brook trout are being lost, and I'm like, 'Come get 'em out of my state. They don't belong here.'"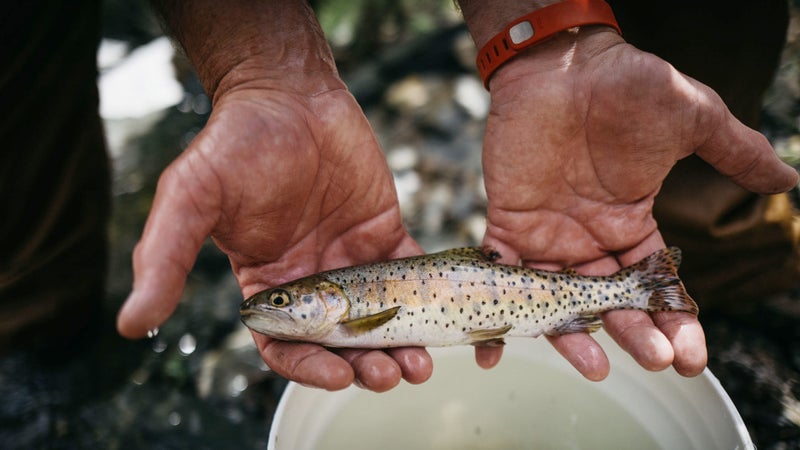 It's just what MacMillan does. "My goal is to catch and document every species of trout in America," he says. "Most people don't want to go roughing with me, so I do a lot of fishing by myself. But that's OK. I prefer the little wild streams that no one else even messes with."
Fishing in Nevada
From marshes to casting from ladders, the state is home to some surprisingly diverse fishing. 
Pyramid Lake: Fed by the Truckee River, western Nevada's Pyramid Lake, one of the state's most popular fisheries, is known primarily for its monster Lahontan cutthroat (with some pushing 25 pounds), as well as the peculiar way in which people fish for them—from ladders. While many still use boats, long rows of stepladders can be seen in the shallows of Pyramid each spring, as fly-fishermen use them to help scout for passing lunker Lahontans.
Truckee River: For fly-fishers, the Truckee is easily one of the most famous rivers in Nevada. Flowing more than 100 miles from beautiful Lake Tahoe through the towns of Truckee and Reno, the river holds good numbers of brown, rainbow, and cutthroat trout and has strong mayfly hatches, with blue wing olives and pale morning duns being the most prevalent. Most of the best fishing is west of Reno, with the stretch from Verdi to Stateline often being the most productive.
Ruby Lake National Wildlife Refuge: Though not easy to reach, the marshes of Ruby Lake hold some of the fattest, healthiest rainbows in the state. This is a 40,000-acre playground of ditches and clear, spring-fed waterways that will challenge your patience and your ability to quietly land a fly in front of some very spooky fish. Bring plenty of small midges and head for the northern part of the refuge to an area called the Fingers.
Lead Photo: Ryan Heffernan