Why Duluth is the Best Town in America
The finalists in our Best Town Ever competition have a lot in common: Thriving food scenes, walkable neighborhoods, and, of course, incredible access to trails, rivers, mountains, and lakes. But no place brings it all together like our winner.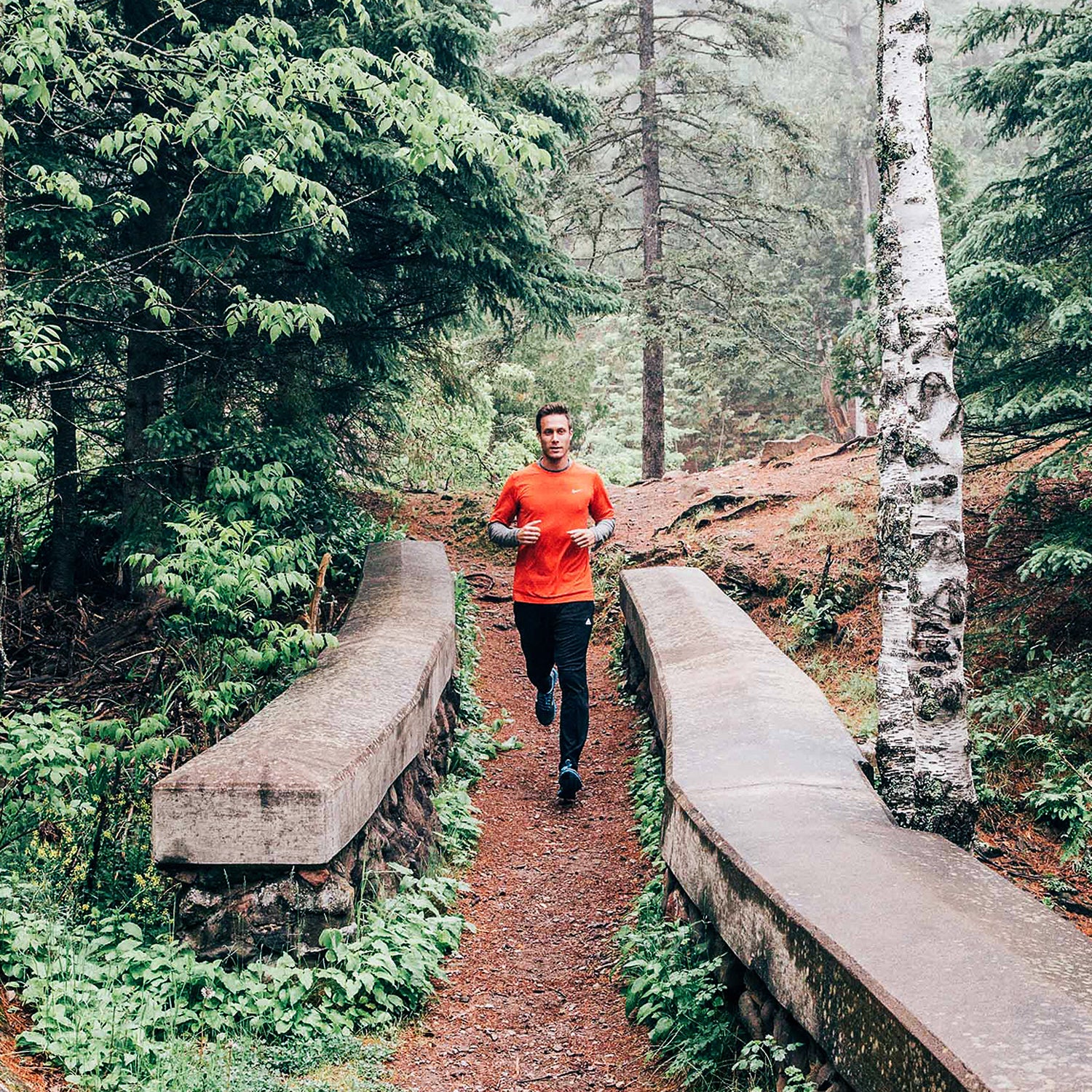 Heading out the door? Read this article on the new Outside+ app available now on iOS devices for members! Download the app.
On a recent summer morning at the Duluth Rowing Club on Park Point, a seven-mile sandbar that separates the town's harbor from Lake Superior, roughly 40 high school athletes gather to launch their sculls into the bay. Despite the 50-degree temperature and 25-mile-per-hour winds whipping up whitecaps on the big lake, which a few surfers are exploiting, the kids on the harbor are wearing shorts and T-shirts. This morning's wild weather is nothing after having skied through a winter that set a new town record for the most consecutive days—23—with temperatures below zero.
Duluthians seem to thrive on extremes. The city of 86,000 stretches for 26 miles along the westernmost tip of Lake Superior and has 6,834 acres of city parkland, 178 miles of wooded trails, and 16 designated trout streams. Which explains why Duluth has produced more than 150 Olympians—like long-distance runner Kara Goucher, nordic skier John Bauer, and the entire 2010 curling team.
"In Duluth, you know you're alive," says Don Ness, the 40-year-old, six-foot-three mayor. Ness's Twitter bio reads, "Husband, dad, mayor—in that order," but he's also a runner and a serious music fan. He recently tweeted a photo of his buddy Chris Coleman, the mayor of St. Paul, playing Bob Dylan covers at a local bar, a subtle reminder that the master balladeer was born here. In 2011, Ness had such a high approval rating, 86 percent, that he ran for his second term uncontested. "Despite the weather, or maybe because of it," he says, "Duluthians are super passionate about this city."
It shows in their willingness to invest in outdoor infrastructure, such as cross-country ski trails and downhill ski areas like Spirit Mountain. This summer, the city council expected to pass a 0.5 percent tax on lodging, restaurants, and bars that would generate $18 million over 15 years to enhance recreational opportunities along the St. Louis River corridor on the city's gentrifying West End. The Duluth Traverse, 100 miles of purpose-built trails, scheduled to be 80 percent complete by 2017, will be one of the largest urban mountain-bike trail systems in the world.
That's just the first of what Duluth hopes will be a string of adventure infrastructure improvements. The Minnesota Land Trust, a nonprofit organization working with the city on the Traverse and other projects, recently hired Hansi Johnson, former regional director for the International Mountain Biking Association, as the outdoor czar. His job will be to optimize every recreational venue the city has to offer. "I'm finding opportunities in ice climbing and kayak put-ins and cross-country skiing," says Johnson.
Of course, a trail is useless unless people get out on it, and a new group of young, active entrepreneurs are doing just that. "We were in Boston and looking at towns all over the country to start a family," says 31-year-old Emily Vikre, who recently opened Vikre Distillery along the waterfront in Canal Park with her husband, Joel. "I'm floored by the amount of support we've been getting. It helps that we're making artisanal booze, but people have done everything from connect us to other businesses to help us bottle gin."
Laura Mullen is another transplanted entrepreneur. She grew up in Duluth and moved back from Minneapolis in 2012 to open Bent Paddle Brewing Company with her husband and couple Bryon and Karen Tonnis. The brewery, which uses soft Lake Superior water in its beer, operates out of a renovated warehouse attached to a sleek taproom. It went from producing 1,500 barrels in the first seven months to 6,000 barrels in the first full year. Just down the street, Goodsheet, a design company with 100 employees, uses recycled materials to create outdoor furniture and kitchen cutting boards. The company's 2013 revenue was 
$20 million, and its headquarters are right off the Superior Hiking Trail, a 296-mile foot-path that starts in Duluth and ends at the Canadian border. "Duluth had the access to nature we wanted," says Greg Benson, CEO of Loll Designs, a Goodsheet subsidiary.
The city's entrepreneurial spirit and love of wilderness go way back. At the turn of the 20th century, Duluth had the most millionaires per capita of any city in the country, thanks to the timber, shipping, and mining industries. And those millionaires got outside: between 1911 and 1923, the Duluth Rowing Club won more than 20 national championships, and the 115-foot Big Chester ski jump—which towered above the pines at Chester Bowl ski hill, in the middle of the city—was once the largest in the world.
My dad, the grandson of Swedish immigrants, was born and raised in Duluth, and he had his first experience on the ski jump when his neighbor pushed him down it. He and my mom used a similar philosophy to raise their five kids in Duluth. To speed up our skiing progress on a busy Saturday, Dad paid the one-dollar fee, dropped us at Chester Bowl, and drove away. We also had free rein to wander our wild neighborhood. Tischer Creek was out the back door and spawned trout big enough to eat. At the top of our dead-end street was glorious Hartley Field, a 660-acre city park I used as my own personal wilderness. Which is why the recognition from Outside doesn't come as too much of a surprise to those of us who grew up here—we've known it's the Best Town Ever for a long time.
Make the Move: You can find homes in the Riverside neighborhood for $140,000 (citywide median: $148,600). The largest employers are St. Mary's/Duluth Clinic Health System and the local branch of the University of Minnesota (median household income: $41,311).