Play Hard, Pack Light
Go farther faster, stay out all day, and don't carry a thing (except your credit card) on these five perfect, three-day hiking and biking adventures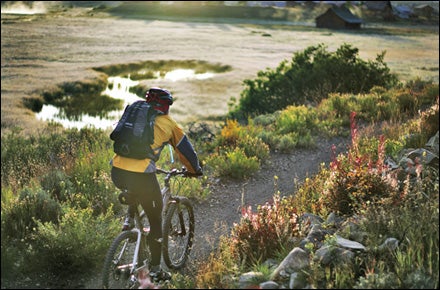 Heading out the door? Read this article on the new Outside+ app available now on iOS devices for members! Download the app.
THE GREAT DIVIDE
Vermont Farmland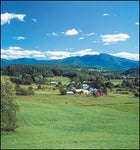 Vermont Farmland
Colorado's backcountry shrinks for crows and mountain bikers. Between Buena Vista and Crested Butte, it's 78 dirty miles up and over the Continental Divide—and only 40 more from CB to Aspen. That's a long couple of days, but unlike 24-hour races and other masochistic lap-riding affairs, this circuit's scenery changes from eerie ghost towns to whole panoramas of eye-level 14,000-foot peaks. After about 12 hours and three 11,000-plus-foot passes—Tincup, Taylor, and Star—head straight for Crested Butte's Grand Lodge (doubles from $80; grandlodgecrestedbutte.com) and its Wildflower Spa. Later, gorge on sushi at the underground Lobar (thelobar.com), downtown. The next morning, it's worth waiting for Camp 4 Coffee (camp4coffee.com) to open at 7 a.m. before heading over 12,713-foot Pearl Pass, where you can almost see both the Butte and Aspen in the same glance. The four-star St. Regis (doubles from $495;stregisaspen.com) will cleanse you of more than just trail dust and, with a little help from FedEx, have a fresh set of clothes waiting, too. At the recently remodeled Remède Spa, a Danish woman with the authentically strong hands of a climber will leave you limping but no less of a man. The best weekend to pull this off? Labor Day, when Ben Harper will be headlining Jazz Aspen Snowmass.

Route: Begin at the Mount Princeton Hot Springs Resort, on County Road 162, and ride to the top of Tincup Pass, down through the enclave of Tincup, around the northeast side of Taylor Reservoir to Taylor Pass, across to Star Pass, and down to Crested Butte. From CB, head back toward Star Pass but turn left onto Pearl Pass Road. Thirty miles later you'll pop out in Aspen.

—GRAYSON SCHAFFER
ABOVE THE RIM

Avoid the casinos along Lake Tahoe's eastern edge, lace up your hiking boots, and tackle California's Pacific Crest and Tahoe Rim trails, along the lake's western half. This three-day alpine tour is 52 miles and will burn thousands of calories—but not your bank account. After a difficult 17-mile first day along the fringe of the Granite Chief Wilderness, with sweeping panoramas of the Sierra Nevada and Picayune Valley, kick back with a Lillet Cooler at the West Shore Café's lakefront patio, then crash at the Rockwood Lodge (doubles from $125; home.inreach.comrockwood), a five-room bed-and-breakfast with classic lodge decor. But don't sleep in: You'll want to take an invigorating dip in Middle Velma Lake before working your muscles to the bone on the steep descent from Eagle Falls to Emerald Bay. Just south of the bay, get cozy at the Fireside Lodge (doubles from $145; tahoefiresidelodge.com) after polishing off a frozen white chocolate mousse at Evan's American Gourmet Café (evanstahoe.com). You'll wrap things up with a traverse through the magnificent Desolation Wilderness area, renowned for more than 100 glacier-carved-granite-basin lakes. By day's end, the warm and hospitable Strawberry Lodge (about two miles downhill from the Ralston Peak trailhead) is the perfect place to recoup and chow down on traditional baby back ribs (doubles from $89; strawberry-lodge.com).

Route: From Alpine Meadows ski area, trek past Five Lakes, Ward, and Barker peaks and Ellis Lake to Highway 89 just north of Homewood. Then take McKinneyRubicon Road to Richardson Lake and Velma Lakes, descending the Eagle Falls Trail to Emerald Bay. From the Bayview trailhead, go south through the Desolation Wilderness, passing Granite Lake, Susie Lake, Heather Lake, Lake Aloha, and Tamarack Lake, to the Ralston Peak Trail and Highway 50.

—GABBY ANSTEY McDONALD
MOUNTAIN-TOWN MADNESS
Telluride summers attract hordes of festivalgoers. So as soon as you pull into town, avoid the insanity by hitting Colorado's San Juan Triangle, a 50-mile trek into some of the lower 48's most pristine high country. The demanding alpine hike begins by winding around 425-foot Bridal Veil Falls, Colorado's highest waterfall, then climbs past old mining relics on the way to Columbine Pass and the cool waters of Columbine Lake. It's a lung-bursting grunt to the top but an easier descent through rolling green meadows down to Silverton. While there, carbo-load on lasagna at Pasta la Vista (970-387-5352) and catch a great night's sleep at the Victorian-style Teller House Hotel (doubles from $79; tellerhousehotel.com). Get jazzed the next morning on the Americanos at Mobius Cycles & Café, then use that high to scramble up Brown Mountain. Take the Brown's ridgeline to the summit of 12,812-foot Abrams Mountain—with views of the vast Grand Mesa in a distant haze, it's like standing on top of the world—before dropping into Ouray. At this point in the trip, your legs will feel like Jell-O, but a soak at the Wiesbaden Hot Springs Spa (wiesbadenhotsprings.com), buffalo prime rib at Bulow's Bistro (325-7050), and a solid rest at the quaint St. Elmo Hotel (doubles from $130; stelmohotel.com) should restore your energy. The next day's 5,200-foot scramble up the Virginius pass gives way to the wildflower-ridden Liberty Bell Basin—then pomegranate cosmos at Honga's Lotus Petal (728-5134), back in Telluride.

Route: Starting in downtown Telluride, hike to the top of Bridal Veil Falls, go left toward Lewis Mine, follow the Columbine Trail over the ridge to Columbine Lake, descend to Ophir Pass, then to Highway 550 in Silverton. Head north on County Road 110 to Gladstone, go left at Cement Creek Trail and ascend Brown Mountain, follow the ridgeline to Abrams Mountain, then descend to Engineer Pass and Highway 550 in Ouray. Head south on Highway 550 to Camp Bird Road, then to Governor Basin over the Virginius pass, before dropping into Marshall Basin, then Liberty Bell Basin. Take the Liberty Bell Trail into Telluride. 

—G.A.M.
SEEING GREEN
The sights, food, and lodging on this 39-mile hike along Vermont's Long Trail will get you as excited as former governor Howard Dean on a soapbox. Seven miles in, you'll see exquisite views of Canada's Sutton Mountains and Lake Champlain from Whiteface Mountain. Once you hit Madonna Peak, follow the Long Trail to the base of Smuggler's Notch ski area and turn in at the Donomar Inn Bed& Breakfast (doubles from $85; donomarinn.com), complete with down-comforter-covered beds and whirlpool tubs. The next day, hop back on the Long Trail and push hard to make it to Topnotch Resort & Spa (doubles from $325; topnotchresort.com) by midafternoon for some pool time before bed—or hightail it to Sterling Pond to hang out with the resident moose. At dawn, fuel up on wild blueberry pancakes, then head up 4,393-foot Mount Mansfield, Vermont's tallest peak. (On a clear day, you'll see the Montreal skyline.) When you arrive wearily in Bolton, get cleaned up at the Bolton Valley Resort (doubles from $89; boltonvalley.com) before devouring maple crème brûlée at nearby Bailey's Restaurant (boltonvalley.combaileys).

Route: South from Route 15 in Johnson, follow the Long Trail to Smuggler's Notch, then down to Route 108. Head south on Route 108 to the Sterling Pond Trail and back to the Long Trail, descending to Route 108. Go north on Route 108 to the Long Trail to summit both Mount Mansfield and Bolton Mountain, accessing Bolton via the resort's cross-country ski trails.

—G.A.M.
KENTUCKY SPIRITS
Grab your road bike and head for the heartland, where the two things that make Kentucky great—bourbon and horses—are within weekend spinning distance of Lexington. After an inspirational stop at the Kentucky Horse Park (kyhorsepark.com), where more than 50 breeds graze near Man o' War's gravesite, it's 17 miles west to the historic Woodford Reserve Distillery (woodfordreserve.com), along Glen Creek. Sample a snort of small-batch bourbon and keep rolling past white-fenced thoroughbred farms to the Wild Turkey Distillery (wildturkeybourbon.com), in continuous operation since the late 1860s except for a blip during Prohibition. The oyster po'boys and Bridge Street Bourbon Balls at Rick's White Light Diner & Barbecue (502-330-4262), a vintage hideaway in downtown Frankfort, are worth pulling in for. After a night at the Meeting House (doubles from $100; themeetinghousebandb.com), an 1840s bed-and-breakfast, point your wheels north toward Franklin County and the Buffalo Trace Distillery (buffalotrace.com), whose 15-year-old George T. Stagg bourbon took home the gold in the 2006 San Francisco World Spirits Competition. From there, it's a straight shot back to Lexington, where you can recover (from the riding!) among mahogany furnish-ings and regional artwork at the Gratz Park Inn (doubles from $169; gratzpark-inn.com).

Route: Start the 88-mile loop at Lexington and ride north on Highway 922, west on 1973, then right on Iron Works Parkway. Head back to Lexington and go west on Highway 6062 to Lawrenceburg. Take McCracken Pike, then Steele Road, then Highway 127 north to Frankfort. To return to Lexington, take Highway 421 via Midway.

—JULIAN SMITH