The Secrets Life of Deserts
In these grand landscapes, there's hidden vitality and subtle beauty. Find adventure and renewal—not to mention some tasty tequila—at five fine oases in the Southwest and Mexico.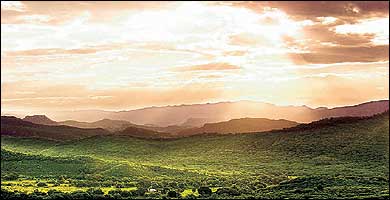 Heading out the door? Read this article on the new Outside+ app available now on iOS devices for members! Download the app.
TWELVE YEARS ago, I set out to write a book. Because I'm as easily distracted as a cat on a tuna boat, I needed a remote location, one so uninteresting and empty that I would be glued to my project. Fortuitously, I was offered a winter house-sit in Palm Springs. Perfect. What could be less distracting than the brown, lifeless monotony of this stretch of the northern Sonoran?
Hacienta de los Santos

Welcome refuge at Hacienta de los Santos, in Alamos, Mexico.
Hacienda de los Santos

Hacienda de los Santos

After two weeks of extreme productivity, I felt a bit itchy, so I hiked a canyon at the south end of town. That hourlong leg stretch turned into a five-hour exploration. Then I returned for a full day's hike, and within a week I was doing overnights in 600,000-acre Anza-Borrego Desert State Park, some 44 miles south of Palm Springs. At first my interest was ecological: How did the giant Washingtonia palms survive the disappearance of the lakes and streams? Were the springs, creeks, and wildflowers anomalies? How did the deer and bighorn sheep thrive? How did anything thrive?

My interest turned into fascination as I explored the badlands, oases, and riparian canyons of Anza-Borrego, the largest desert state park in the United States. I learned to see beyond the monochrome. If you stop to look closely, the desert reveals a surprising diversity of animal life: Owls nest in hollow cactuses, coyotes and large lizards called chuckwallas roam, and all sorts of birds—from ravens and hawks to roadrunners and quail—emerge.

In the early morning and early evening, I stood on small promontories and watched as the light painted distant flatlands and mountains shades of red and gold. I discovered the desert night in a natural stone amphitheater several miles up Palm Springs' Tahquitz Canyon, where I had the sensation that I was pressed against a sky crowded with stars. Everything about the desert was a revelation, even the way it smelled. When a brief shower sprinkled the land, each plant jumped to life. The sage and mesquite—and even the earth itself—released intense perfumes. I realized that survival in such extreme conditions gave everything a special quality, an intense beauty.

Not surprisingly, I fell in love, and a couple of years later I moved to the high desert of northern New Mexico. I've explored the great deserts of Mexico, California, Arizona, Nevada, Texas, and my own state, and I've uncovered a truth I would have scoffed at before: One desert ecosystem feels as different from another as, say, Maine does from Florida.

My latest sojourn bridged the Chihuahuan and Sonoran deserts in Mexico. I hiked in Copper Canyon—a 23,000-square-mile network of chasms so huge you could drop two Grand Canyons inside it. The three-day foray broke my big rule about desert hiking: Stick to winter and spring. Ignoring recommendations, I trekked in summer from the town of Guachochi, amid ponderosa pines at 7,000 feet, plunged through subtropics (ferns, palms, and military macaws) to the Chihuahuan Desert (blue-green agave, prickly pear, sotol cactuses, scrub oak, and manzanita) 3,000 feet below. After enduring 100-plus-degree heat at the bottom and a grueling, shadeless 4,000-foot ascent to the top of Sinforosa Canyon, I was more than ready for an oasis.
I FOUND ONE a day's train ride away: the remote colonial town of Álamos, located on the southern edge of the Sonoran Desert and the northern edge of tropical deciduous forest. During the dry season, the region around the 320-year-old settlement looks like the desert; during the rainy season, it looks like the tropics. Álamos enjoyed immense mining wealth during the first two centuries of its existence, and its rich inhabitants built a cathedral and haciendas modeled after those in their native Andalusia. After drying up into a near ghost town during the Mexican Revolution, 90 years ago, Álamos has grown back to nearly 10,000 people, though it retains a small-town feel.

The past and present of Álamos blend seamlessly at seven-acre Hacienda de los Santos. The hotel is actually three Spanish colonial mansions—plus the town's old sugar mill—which Americans Jim and Nancy Swickard connected with footbridges, tunnels, and brick passageways during a 15-year renovation.

The four pools, countless lounging areas, restaurant, and 75-seat theater, along with Zapata's Cantina (508 varieties of tequila), all feel secluded. Credit that to some well-placed garden walls and shrubbery. The couple's extensive Mexican folk-art collection—santos and retablos, Spanish colonial art, sombreros, and 150 pairs of antique spurs—adds to the magical ambience.

Quite wisely, the Swickards didn't attempt to hack any standard-size hotel rooms out of the haciendas. Instead, they kept the room dimensions more or less intact. The Andalusians knew what to do in this intensely hot climate: The rooms have high ceilings, thick adobe walls, and huge windows that can be shuttered to pitch-black darkness. The idea is to open up the chambers to receive the cool air of the morning, then shutter them against the heat till evening.

There are elegant touches everywhere—from the brick domes that reflect the Andalusian builders' Moorish influences to the small libraries in some guest rooms. On my first night, I pulled down a novel by mystery writer James Lee Burke. It was a signed first edition.

A telltale sign that you've arrived at a true oasis is when the employees gently but firmly take charge of you. The first day—as I hobbled about on hike-blistered feet and aching thighs, falling into one cool pool after another—a young, straight-backed hotel worker with a thin mustache approached me.

"You missed breakfast. Why?" he asked a bit imperiously.

"Well, uh, I'm still a bit sore."

"Aha!" He steered me toward an ivy-covered wall behind a fountain, then turned into an almost hidden passage to a courtyard with a triangular pool, surrounded by a patio and several rooms. It was the spa. A young woman came out and, without much preamble, announced that she would begin preparing the hot stones for my Sonoran stone massage. Until she was ready, I should climb into the pool and relax.

I didn't need to be told twice.

As I floated beneath the scorching Sonoran sun, blissful in my oasis within an oasis within an oasis, I wondered if I would ever get around to writing that damn book.
Access & Resources

SLEEP:: The 25 rooms at Hacienda de los Santos Resort & Spa (011-52-647-428-0222, www.haciendadelossantos.com) range from simple doubles to suites with private patios ($225–$850 per night, with breakfast). The spa offers facials and massages, including Sonoran stone massage ($35–$65).

PLAY:: Conexion a la Aventura (011-52-614-413-7800, www.conexionalaaventura.galeon.com) guides treks, rock climbing, and river rafting in Copper Canyon, as well as sandboarding (like snowboarding) on the huge dunes south of Juárez. Solipaso Excursions (011-52-647-42-80-466, www.solipaso.com), in Álamos, runs birdwatching and hiking trips.

EAT:: Hacienda de los Santos and Casa de los Tesoros—housed in an old convent—are excellent upscale dining options in Álamos.