A Separate Peace in Puerto Rico
Pristine beaches, bioluminescent bays, angelfish-mobbed coral, and incoming artillery fire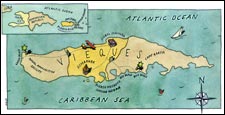 Ingo Fast
Heading out the door? Read this article on the new Outside+ app available now on iOS devices for members! Download the app.
When the right front tire of our school bus lurched into an epic mud hole, Captain Mark fell down the bus steps and halfway out the open door. Seconds later, a deeper rut on the left pitched our guide back to his perch next to Angel, the driver. Mark brushed himself off, unfazed.

No signs of hostilities at Red Beach


"We've offered to improve the road, but the Navy won't let us," he shouted above the chirping of tiny frogs and the thwack of thick tropic brush against the windows. "They don't want too many people coming back here," he explained of the sugarcane- and palm-cloaked two-thirds of Vieques, a Puerto Rican isle located eight miles east of the main island that was confiscated by the U.S. Navy during World War II. In 1948, naval officials evicted farmers; fenced off a 15-square-mile chunk of land along the west coast for the Naval Ammunition Facility; and transformed the eastern end of the island into Camp Garcia, a ten-mile-long live-fire range. The middle of the island, a five-mile-wide swath of scrubby hills, was designated the civilian zone.
On this night Mark and Angel, both natives of Vieques, and the 30 tourists wedged in kiddie seats constituted the entire human population of the 160-acre Department of Natural Resources and Government-administered Puerto Mosquito Nature Reserve, on the island's south shore. As we rattled to a stop by a clump of mangroves, streamed out of the old white bus, and donned our life jackets, the distant lights of Isabel Segunda, biggest of the civilian zone's speed-bump-size towns, flickered feebly under the new moon. East of us—toward the half of the island inhabited only by wild horses, brown pelicans, and leatherback turtles—the sky was cloud-covered and moonless.


We needed the darkness for the same reason we'd been forbidden to wear Off! while visiting an inlet named for blood-slurping insects. Mosquito Bay is one of the last and best of the world's bioluminescent coves, blessed with billions of tiny, delicate dinoflagellates that sparkle like gems at the slightest motion. Nearly a million of these microscopic Pyrodinium bahamense inhabit each gallon of water. As we headed out toward the middle of the shallow bay in an electric pontoon boat, the engine's wake began to shine with a blue-white light. Within minutes we'd slipped into the baby-pool warmth of the 12-foot-deep water to swim in glowing circles, making dinoflagellate angels, and pouring streams of light over our heads.


Bioluminescence can only happen under the right conditions, and remote Mosquito Bay has them all—a small, nutrient-rich, mangrove-lined bay, no deeper than 14 feet, with a narrow entrance and an absence of human pollutants like motor oil and bug spray. Vieques, with only 9,000 people inhabiting its 21-mile length, is one of the last redoubts of the old, rural Caribbean. It still has one telephone prefix, transportation is limited to ferries and prop planes, and the populace depends on a single finicky underwater pipe to bring drinking water over from the main island. A mere 5,000 visitors come yearly for the vacant beaches, unspoiled reefs, and bioluminescence. Ironically, however, the factors that keep the plankton glowing, the Mosquito road bumpy, and the beaches all but empty are the same forces that make Vieques a literal and political battlefield: the armed forces.
Trouble began last April, when a U.S. Marine Corps Hornet fighter jet missed its target and dropped two 500-pound bombs on an observation post, killing one civilian and injuring four others. Navy maneuvers were suspended, and those locals who had long lamented the military's presence began to protest in earnest. Led by Senator Ruben Berrios, the president of the Puerto Rican Independence Party, they plastered light poles with stickers demanding ¡uera Marina!—Navy Out!—and have kept a tent-camp vigil on the bombing range ever since the incident.


On days when the military is shelling the hills from ships, dropping laser-guided bombs from fighter jets, and landing Marines on the southwestern coast's Yellow Beach (training exercises that may not be carried out again until the dispute is resolved), signs restrict visitors to beaches in the civilian zone. (One stood in for a South Pacific paradise in the 1963 film adaptation of Lord of the Flies.) On days when the guns are quiet, travel is allowed everywhere save two inland restricted areas, and all you need to enjoy the island's idyllic shores are a valid driver's license and reliable transportation: a rented four-wheel-drive, a mountain bike, or a horse. You'll go to the security huts at either fenced-off base entrance and sign in. Sometimes the guard will ask you which beach you plan to visit, and you'll answer with its colorful, D-Dayish code name—Red Beach, Blue Beach, Green Beach, or Black.
The ruling obsession of any trip to Vieques becomes how many of these 50-odd slivers of sand you can find. Once through the checkpoint, you'll bump along a maze of rocky, unmaintained roads into the dry Caribbean mesquite forest, past herds of grazing paso fino horses, descended from Spanish shipwreck survivors of centuries ago, and occasional Navy structures. Wooden military-issue signs guide you toward the widest, most accessible beaches and away from restricted areas. When you come to a fork that points left toward a "Small Arms Range" and right toward Blue Beach, turn right. Blue Beach, which along with Green offers the best snorkeling—an abundance of blue tangs, queen angelfish, sergeant majors, and spotted eagle rays in the water—is a mile long, and the dirt road keeps going for three miles past it. Private inlets bookended by rough limestone headlands and edged by round-leafed cashew trees or palms are hidden behind unmarked turnoffs. Take water and a spare tire, and make sure that someone back at the hotel knows if you're going to try to trek all the way to the Marine landing site at remote Yellow Beach, 12 miles southwest of Isabel Segunda.


Nearby, locals continue to protest the Navy's presence. Puerto Rico Governor Pedro Rosselló, who is pro-U.S. statehood, publicly demanded in July that the United States end naval operations in Vieques. In early December, President Clinton's four-person advisory panel—three former Navy officers and a retired congressman who first assembled in June in response to the April incident—seemed to hand the Vieques protesters a victory when it recommended that the military vacate in 2004 (after granting it permission to resume operations beginning in March). Yet judging from the fact that Rosselló reneged on his endorsement of the panel's plan, and at press time refused to discuss it with anyone other than Clinton or his aides, the tug-of-war will likely continue.


In the meantime, the reef beyond Blue Beach's Isla Chiva is teeming with groupers and angelfish, the bioluminescence in Mosquito Bay continues to glow an electric blue, and the miles of rutted roads are still the wildest and emptiest in all the Caribbean.
Getting There: Non-stop flights to Puerto Rico on most major airlines leaving from New York and Miami start at $250 round trip. Vieques Air Link and Isla Nena offer four flights daily from the Isla Grand Airport in San Juan for $60 each way. Or take a one-hour ferry ride from Puerto Rico's eastern port of Fajardo for $4 round trip.


Where to Stay: The Inn on the Blue Horizon offers casitas with private balconies and ocean views ($190 doubles; 787-741-3318). South of Isabel Segunda (left) is La Casa Frances, a converted plantation estate (doubles, $177 with breakfast and dinner; 741-3751). La Finca is Spanish for rustic estate, exactly what you'll find at the La Finca Caribe Guest House (doubles, $65; 741-0495).
Outfitters: Vieques's beaches are best explored via mountain bike, rentable from Bike Vieques (617-2453) for $20 per day, or sea kayak, $55 for a half-day trip with Blue Lagoon Kayaks (741-0025). Blue Caribe offers Professional Diving Instructors' Corporation (PDIC) instruction and dives ($70 for a two-tank dive; 741-2522). For two-hour tours of Mosquito Bay, try La Casa Frances ($20; 787-741-0717).