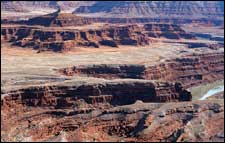 Heading out the door? Read this article on the new Outside+ app available now on iOS devices for members! Download the app.

Got shocks?: a bird's eye view over Canyonlands, and the Colorado River
Q: We are planning a mountain biking trip to Moab and would like some advice on great places to camp. The private campgrounds I've looked into have all the amenities, but look like parking lots with a few trees dispersed amongst the tent sites. We would love trees, a view, shower facilities, and the ability to have a campfire at night.

— Valerie Lykkemark, Vancouver British Columbia



Adventure Advisor:

A: Though the pictures on its Web site don't do it justice ("parking lot with a few trees" is pretty accurate), the private Slickrock Campground has all the amenities you're looking for, plus views. The shaded tent sites sit on soft sand and look out onto the surrounding red rock, wetlands, and the very edge of town. A swimming pool, hot tubs, showers, and proximity to trailheads make it a great choice for a mountain biking home base. Reserve as early as you can (www.slickrockcampground.com, 800-448-8873).

It's an easy ride to the famous Slickrock Trail from the campground. Head through town and turn up Sand Flats road to reach the trailhead. The steep climbs and drops that would be impossible to ride on any other surface are no problem on the sticky sandstone that draws knobby-tire enthusiasts to Moab in droves, but it takes a while to get used to the idea that you can almost defy gravity. Take the loop clockwise for a slightly easier course. It would be a tragedy to get so hung up on the physical challenge that you don't take time to notice your surroundings: the Moab Valley and Colorado River down below, Canyonlands and Arches in the distance.

A longer commute from your tent, but still a feasible day ride, is the Porcupine Rim. Continue up Sand Flats road several miles past Slickrock to the Porcupine trailhead. At 31 miles, this loop is no beginner endeavor, but the last stretch—a speedy singletrack descent to the Colorado River—makes up for all the thigh burn that comes before it. After this ride, you'll gain a new affection for those campground hot tubs.