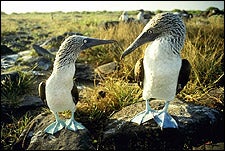 Corel
Heading out the door? Read this article on the new Outside+ app available now on iOS devices for members! Download the app.
The Season:

Sitting on the equator, the Galápagos Islands have two seasons, the wet (January to June, when it's humid and temperatures are in the mid- to high eighties), and the dry (July to December, when temps are a few degrees cooler). Year-round, you're bound to see phenomenal wildlife, except during an El Nino year, when normally arid regions at sea level grow lush and green and the animal life—from iguanas to penguins—is decimated by warming sea temperatures.
Getting Around:
Virtually the only way to see the Galápagos is by tour boat; the larger boats offer the most experienced guides and cut down on island-to-island travel time. Seven nights on Lindblad Expeditions's 80-passenger MS Polaris(including meals, taxes, entry fees, and two nights in a hotel in Guayaquil; 800-425-2724) start at $2,980, double occupancy; Lindblad also offers a combined air package (Miami to Guayaquil round-trip on American, Guayaquil to Baltra round-trip on TAME for $850). Metropolitan Touring, based in Quito, offers seven nights on its 90-passenger Santa Cruz starting at $2,099 per person (800-527-2500). Diving trips can be booked on Angermeyer's Enchanted Excursions's motor- and sail-powered Sulidae and Cachalote; call 593-2-569-960 in Quito, or visit www.angermeyer.com
What to Pack:
The sun is fierce, so pack sunglasses, sunblock, hats, quick-drying shorts, and long-sleeved shirts along with your bathing suit and rugged sandals. A light jacket is handy for nights aboard ship and for hikes at higher elevations. Trails can be rocky, so take hiking shoes. A wetsuit makes snorkeling more bearable (water temps vary from 78 to 68 degrees depending on the season); many boats carry snorkeling equipment. Also, bring binoculars to spot the little vermillion flycatchers.
What to Read:
Darwin's chapter on the Galápagos in Voyage of The Beagle is a must. Jonathan Weiner's The Beak of the Finch gives you a bird's-eye view of Peter and Rosemary Grant's 20-year study of Darwin's finches on Daphne Major, a tiny island you'll see as you depart from Baltra. Pierre Constant's The Galápagos Islands: A Natural History Guide is packed with maps and tips for divers; Galápagos: A Natural History, by Michael H. Jackson, is particularly good on animal and plant life. The Ecuador Handbook, by Julian Smith, from Moon Travel Handbooks, has an excellent nuts-and-bolts section on everything from weather conditions to a list of outfitted trips in the Galápagos.