A Field Guide to the Common Wildflowers of the Mojave Desert
Ignore the countless images of the super bloom in your Instagram feed—the real miracle of the desert is just how much life it contains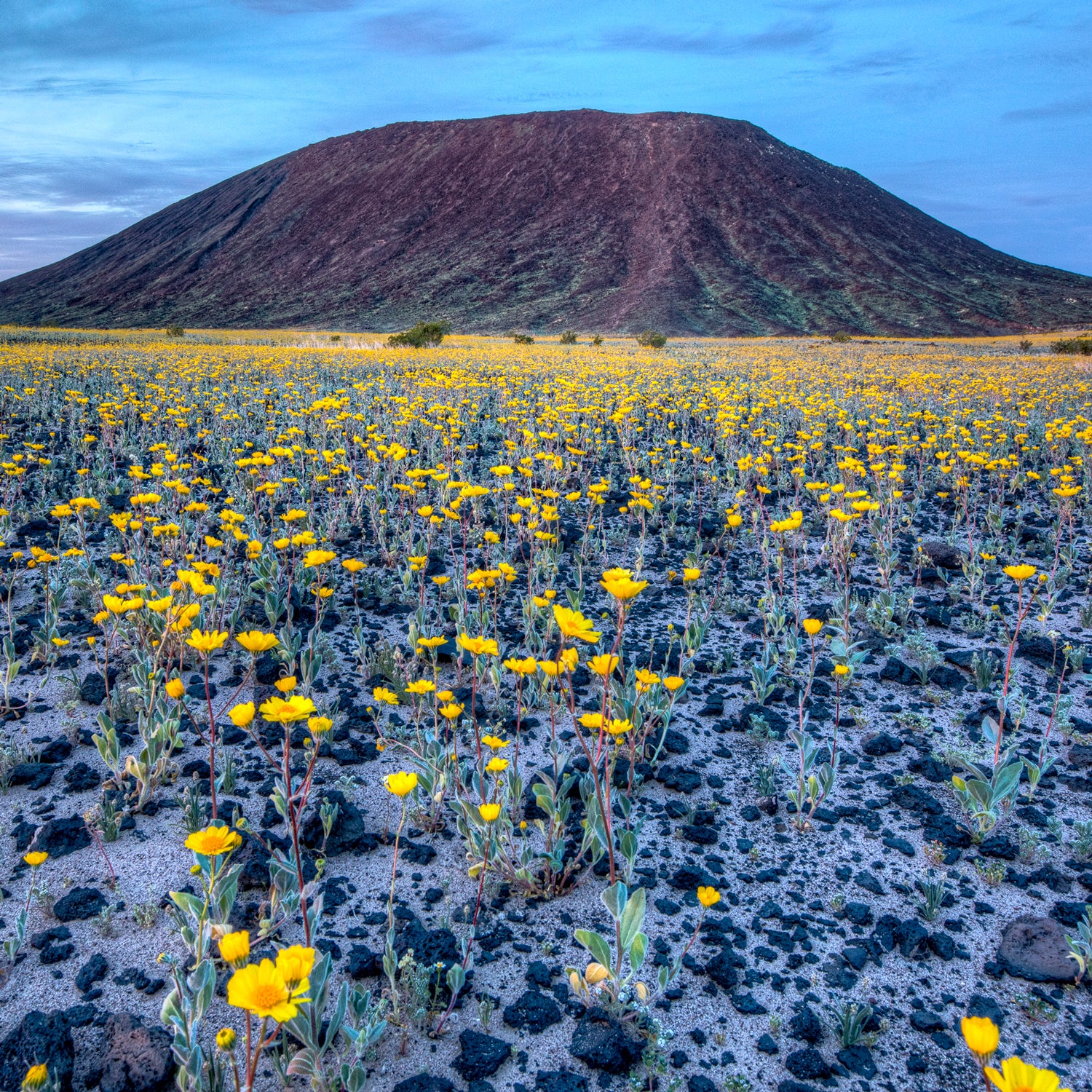 Bob Wick/BLM(Photo)
Heading out the door? Read this article on the new Outside+ app available now on iOS devices for members! Download the app.
I'm in the Mojave Preserve, 150 miles south of Las Vegas, when I realize I haven't packed food or water in the car. I don't sweat it. Yesterday, the tortoise-in-residence at Red Rock Canyon emerged from brumation, the reptilian form of hibernation. I had worried him dead, as was often the case with the various pet tortoises that lived in our garden when I was a girl. But today, Mojave Max emerged blinking into the Southwest sun, and Governor Jerry Brown declared the California drought over. Today, there is snow on the Sierra Nevada and Mount Charleston and Mount Baldy. Today, a super bloom is visible from space, the second massive bloom in as many years.
The Bureau of Land Management has asked citizen botanists to #TracktheBloom on Twitter, and the Theodore Payne Foundation for Wild Flowers and Native Plants has set up a wildflower hotline, updated weekly and narrated by a cast member of Hill Street Blues. Southern Californians in particular are freaking out, overdue for good news. They flock to the desert to walk or motor among the blossoms, at least one capturing miles and miles of goldenrod and lavender with her drone.
My ostensible assignment is to witness this. Purple sand verbena is bursting across Anzo-Borrego, so are primrose, the reliable yellow brittlebrush, the shy desert lily, the uncommon notch-leaved phacelia. But I won't make it to Anzo-Borrego. I'll miss the phacelia and the lily. I am in the Mojave, a range or two away from the super bloom, practicing behaving as if not everything were mine for the taking. I am trying to be better than my programming, to do no harm among the common desert dandelions and the Joshua trees, which convince me to stay.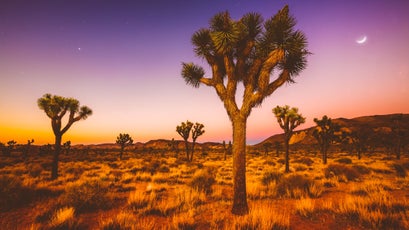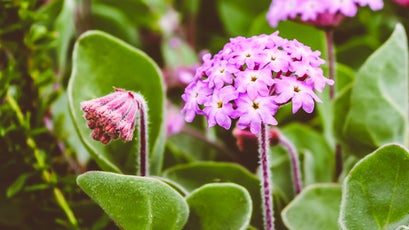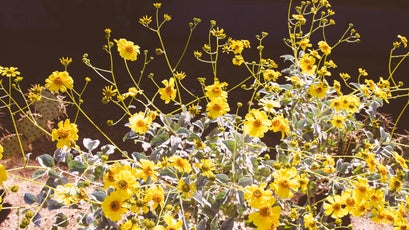 Is there a more offbeat omen of a tree than the Joshua? Karen Russell told the New Yorker that it looks "like the world's first draft of a tree." And it is not even a tree but a giant strain of yucca! Yucca brevifolia, a member of the agave family. That explains it. My guidebook says the flowers "have an amazing sex life," which I guess makes me a voyeur of the miniature erotic sublime, peeping up at creamy pyramids of glistening plum-colored pods, some already peeled back and releasing buttercups as invitations to the pronuba yucca moth, which will lay her eggs inside and pollenate the Joshua on the way out. The moth's larvae will hatch hungry in the tree's small green ovaries, where they will eat some but not all of the Joshua's fertilized seeds. The tines of the Joshua tree are even sharper than they look. John C. Frémont, the 19th-century explorer of the American West, called them "repulsive." He would know. For my part, I am white in the American West, trying to resist my pioneer entitlement, trying not to cash in my bloody inheritance, trying to appreciate things without devouring them, trying to tread lightly in a land I want to call mine.
John C. Frémont is dust and so am I, here among the Joshuas and the Mojave mound cactuses aflame with garish, velvety red flowers across their spiny hemispheres, the beavertail cactus with mauve polyps dotted along their crests, unfurling in fuchsia, the apricot desert mallow peachy with green-gray leaves that seem coated in bentonite clay, the red-orange phalanges of desert paintbrush like sparklers alight. Prickly poppy begs picking and then punishes with hairy needles, a kind of fiberglass. Jimsonweed, a Mexican nightshade, blooms wide along the sandy shoulder of the highway. For us, we might be forgiven for thinking, until its stink corrects.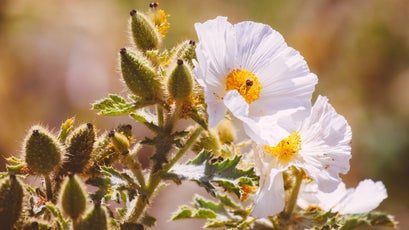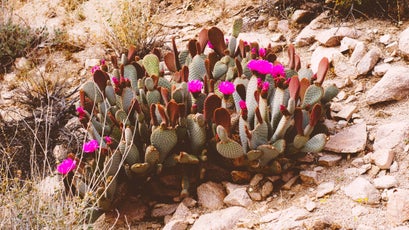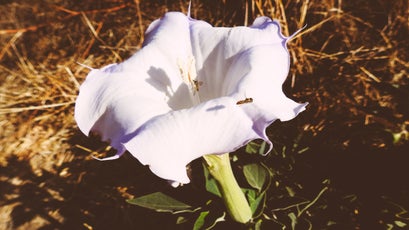 Hands to yourself, the Mojave seems to say.
Yet we now know that even when we don't touch, we touch. Even if you have never seen a Joshua tree, a Mojave mound cactus, a tortoise blinking out of a shortened brumation, you have touched these creatures. You and I have touched them via the facts of air and water. We have touched them via the fictions of nations, property, manifest destiny, and a warped sense of stewardship.
Yucca brevifolia used to be regularly cunnilinged by the uncommonly long tongues of giant ground sloths. Then we killed all the giant ground sloths. Now the Joshua tree's supposedly amazing sex life might also be described as a loveless marriage to a common dirt-colored moth.
I worry for the loner Joshuas as I drive my carbon-burner north from the national park, through the high desert valleys of eastern California, past date trees bent in thirst, through dust storms and alongside crispy fields and drained lakes. Beyond these, solitary Joshuas beckon, perhaps forgotten and celibate, no mate or any other kin as far as the eye can see. The last of its kind, as far as it knows.
Yet in a parking lot in front of the bar where my parents met in Shoshone, California, there is a nine-foot stalk rising from a massive dusky violet agave. Agave deserti, commonly called the century plant, though my private name for it is suicide bloom, since the whole plant will die after this display, after its bushy yellow panicles spread as high as 30 feet into the sky. And down the road is China Ranch, a secret oasis of date palms and mining ruins astride a sliver of riparian succor along the Amargosa River, which flows today. And even in downtown Las Vegas—on a street named for John C. Frémont, across from a fancy trailer park filled with tiny houses seemingly owned by rich burners and at least one tech mogul—an abandoned motel is slowly reclaimed by hot-pink bougainvillea.
From time to time, I have received messages from the natural world. What are the wildflowers trying to tell me today, the day after the drought? Something having to do less with the flower and more with the wild. Something having to do with their tenacity and intensity—that they'll die soon and seem to know it. Something having to do with their resistance to domestication. Most of us do not put desert marigold or hairy sand verbena in vases or bouquets. Most of us do not invite the thistle or broom or leafless milkweed into our gardens. Wildflower feelings are not hurt by this.
These bright lures, seemingly delicate, these soft fragile sex organs open and beckoning in the stunning sun of the Mojave, have waited out this drought and all others, curled in seed, guarded by spine, waiting. We do not yet know if they'll survive us. But in the desert, there is no such thing as a weed.
In the desert, every bloom is super.
Lead Photo: Bob Wick/BLM
Trending on Outside Online