Heading out the door? Read this article on the new Outside+ app available now on iOS devices for members! Download the app.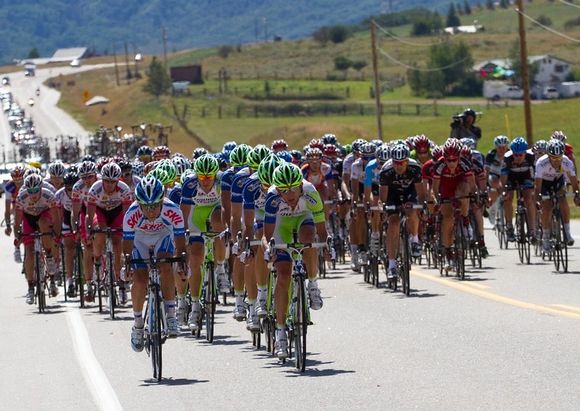 Steamboat was the only town awarded both a USA Pro Cycling Challenge start and finish.
Photo courtesy of David Dietrich Photography. 
I was skeptical when I heard that Steamboat Springs, the low-key ski town in the rolling hills of northwest Colorado, is christening itself Bike Town USA. Colorado is chock full of both great riding (from the laugh-out-loud desert tracks in Fruita to miles of trail strung over Crested Butte's high alpine) and devoted bike towns (Colorado Springs has the Olympic Training Center, and Boulder just finished its state-of-the-art bike park). No matter how good the riding, it was hard to imagine that Steamboat could out-bike the rest of the state. But I'd never ridden there, so late this summer I headed north.
The Monday morning I rolled into town, Andy Schleck, who was spending the week in Steamboat as preparation for the USA Pro Cycling Challenge, had planned a community ride. Though the 10 a.m. event was only announced in the daily paper that morning, some 500 local cycling fanatics mobbed the streets, and a police escort had to be called in to manage the massive peloton. Only a truly bike-crazy place could turn out nearly five percent of the population in short order on a work day for a ride. The event proved another point: While many mountain towns in Colorado have excellent trail riding but lack options for roadies, Steamboat's rolling hill country and confluence of quiet country lanes make the skinny-tire riding as good as the fat.
Over the next week, I pedaled all over Steamboat's roads and trails. At Howelsen Hill, the local ski knoll fronting town, I met a couple of groups from the Steamboat Springs Winter Sports Club summer riding program, which gets around 150 kids age 8 to 18 out on the Emerald Mountain singletrack each week. It was refreshing to see schoolkids encouraged in something other than the standard American football-basketball-baseball trifecta, especially when the "coaches" are professional and retired pro cyclists (think Rishi Grewal, Tammy Jacques, and Kelly Boniface). Next up was Steamboat ski resort, a few miles southeast of town, where I saw the in-progress plans for a state-of-the-art bike park being constructed by Gravity Logic, the company that built Whistler's legendary riding infrastructure. Cory Pregor, from local business Honey Stinger, showed me around some of the mountain's existing 28.4 miles and even got permission for us to ride a few of the lift-served downhill flow trails, scheduled to open with phase one of the bike park next summer. Finally, Rob Mitchell, president of Steamboat-based Moots cycles, took me on a half-day tour of the new 13-mile singletrack loop on the back side of Emerald Mountain, trail that had debuted just a few weeks earlier at the sold-out inaugural 50-mile Steamboat Stinger Mountain Bike Race. Even at dinner that night, a classy little small plates eatery called Bistro CV, when the sommelier found out I was a cyclist he plied me with trail beta.
Steamboat's local peloton. Photo courtesy of the Steamboat Chamber of Commerce.
Bike Town USA is definitely a marketing initiative, but it's refreshing to find a place with the soul and the cred to back up the claims. There are over 500 miles of trail in the vicinity of Steamboat, two boutique bike manufacturers in town (Moots and Eriksen), well-subscribed weekly road and mountain bike race series in summer, and even a small cadre of schoolboys who ride unicycles to school every day. To showcase it all, the city is hosting the Steamboat 2011 Bike Summit this weekend (9/29-10/1), with community rides, trail building and bike maintenance clinics, a screening of the movie Pedal Driven, and lots of other two-wheeled fun.
Though I'd never presume to say that Steamboat has the best riding of anywhere in the US, I do know that I'll be heading back next summer to sample a few more of the 500 miles of trail. And if you think you know of somewhere more deserving of the Bike Town USA moniker, I'd love to hear about it.
–Aaron Gulley
aarongulley.com
Trending on Outside Online