You Haven't Done Greece Till You've Been to These 7 Islands
Relaxing on the Greek islands is easy. Finding a unique outdoor adventure? Much trickier. So take it from someone who has lived there and stop the guessing.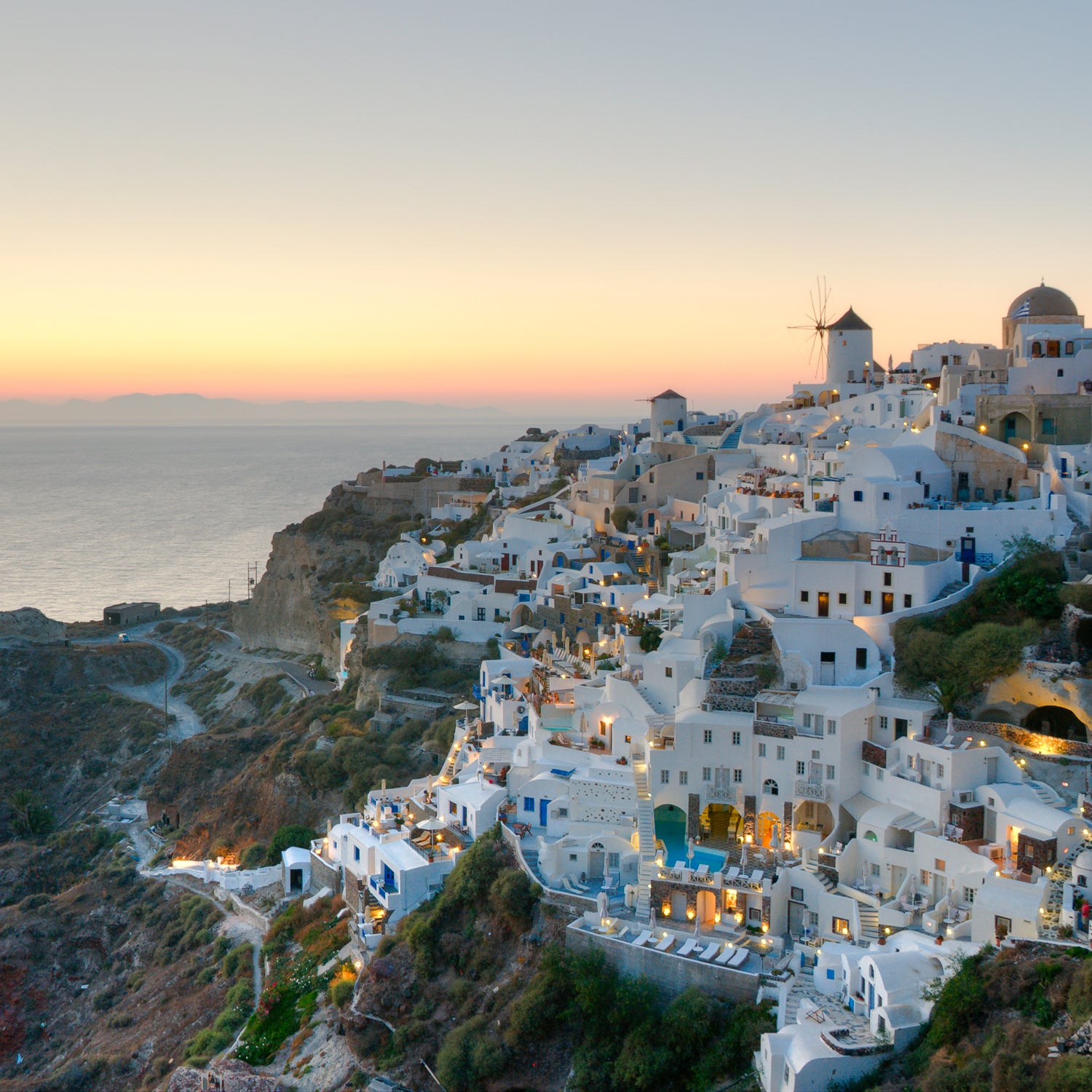 Tiago/Flickr(Photo)
Heading out the door? Read this article on the new Outside+ app available now on iOS devices for members! Download the app.
The Greek islands I hear so many people speak of—laconic beaches, party towns and small villages populated by idyllic whitewashed buildings—are not exactly the islands I know. When I was a kid, I rafted down Peloponnesian rivers, snorkeled in the Ionian Sea, and once camped with my family for 39 consecutive nights. As an adult, after moving to Greece on my own, I found these experiences continued: On weekends, I hiked in Hydra, cycled the entirety of Spetses, and navigated Rhodes by boat.
When I think Greek islands, the phrase conjures dreamy images of things like canyoning and windsurfing, mountain biking and kayaking. There are 6,000 or so islands scattered around the Aegean and Ionian Seas—and, yes, they are all drop-dead gorgeous—but if you want to keep your heart rate up, these are the seven you should put on your to-do list.
---
Fall in Love with the Waterfalls on Samothraki, Then Slide Down or Rappel Them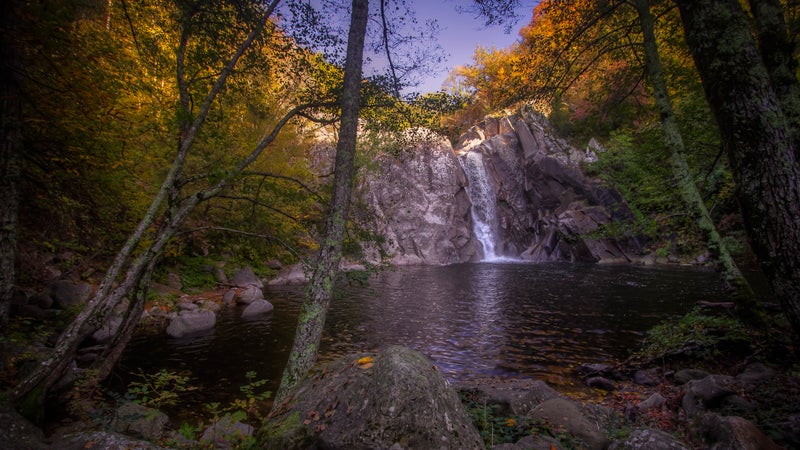 Small Samothraki proves that size doesn't always matter. Although it's just 68 square miles, the island is packed with steep waterfalls flowing from granite cliffs into clear pools of water. While waterfalls are often just an aesthetic touch, here the adventure incorporates them: You'll climb to the top and slide down—or rappel—through them.
Popular sites include the island's longest slide down a canyon face into Gria Vathra, one of Samothraki's many natural rock-carved pools, and the lush, forested Fonias River, which ends with a rappel through a cascading waterfall that crashes into a small lake below. Skilled canyoners will want to set their sights on Kremastos Waterfall, which takes more than two hours of hiking on the wild (and steep) side of the island. Once there, you're met with rushing water that falls from a height of more than 700 feet.
Organize an on-island excursion with Hellenic Canyoning, and seek out local guide George Andreou, who has been leading canyoning groups on Samothraki since 2002 and offers a choice—or combination—of 12 canyons. Levels vary from novice to experienced, but be prepared for the minimum prerequisites: You must be able to swim, jump from heights of (at least) 6.5 feet, and carry a pack up a variety of ascents.
Get there: Samothraki has no airport. Instead, catch a ferry from mainland ports Kavala or Alexandroupouli.
---
Discover Diving on Crete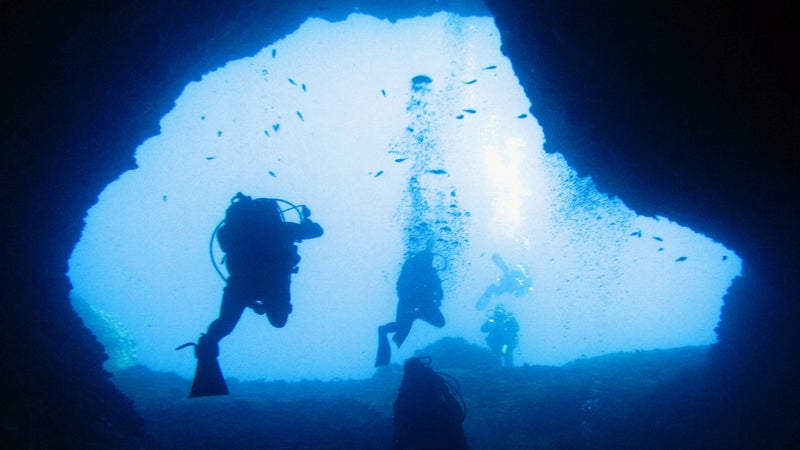 In a country with nearly 9,000 miles of shoreline, Crete is where the water really shines.
Giannis Kamarianakis, co-owner of DiveShop, one of Greece's top retailers for scuba diving, snorkeling, and spearfishing, says Crete's variety of water depths, coves, and fish means that divers will continue to stumble upon new sights. Add up to 130 feet of visibility underwater and temperatures that, in summer, hit 80 degrees Fahrenheit, and you'll be smiling.
Highlights? Head to the 98-foot-long El Greco Cave, which has stalagmites, stalactites, colorful sponges, creeping shadow-dwellers, and even an air-filled chamber. Or explore an upside-down World War II German fighter plane, the Messerschmitt Wreck. The cockpit, wings, and fuselage are all still intact—and are frequented by eels and groupers. Beginners will enjoy the marine valleys of Daedalos, which is full of octopus, cuttlefish, crabs, trevally, groupers, and eels.
Contact the European Diving Institute, Omega Divers, or Kalypso Rock's Palace Dive Center for refresher courses, certifications, or excursions to a bevy of dive locations off the island's coast. If you aren't interested in diving, try snorkeling and spearfishing near any one of the island's immense drop-offs, where you'll see large grouper, dentex, and parrotfish. Also, Crete is considered by some to be the lost city of Atlantis, which makes scuba diving there even more alluring—who knows what you may find?
Get there: Fly to Heraklion International Airport or Chania International Airport; both offer several daily flights from mainland Greece and seasonal flights on budget airlines from a variety of other European countries. For strictly regional flights, try Sitia Airport, which serves eastern Crete. Ferry travel to and from the island is possible from Athens, Kythira, Thessaloniki, Naxos, Santorini, Sifnos, and Mykonos, among others.
---
Hang 10 in Tinos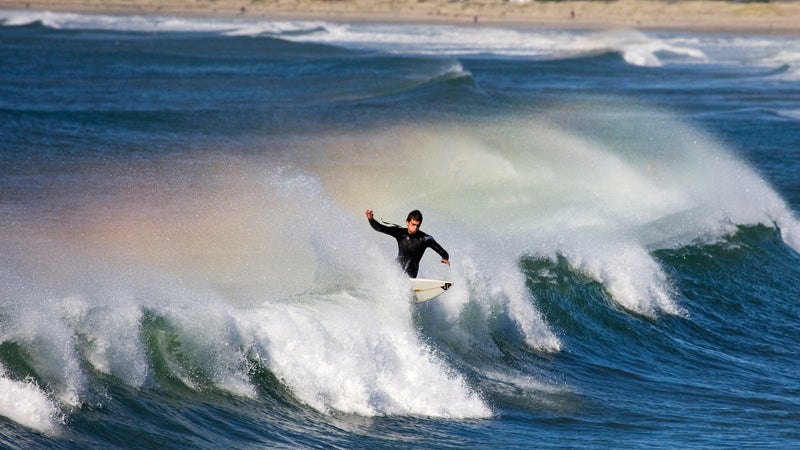 Located 86 nautical miles from Piraeus, Athens' biggest port, Tinos is one of the world's foremost sites for pilgrims of the Virgin Mary. In recent years, it has also become a hot spot for another type of pilgrim: the surfer.
The Greek Orthodox Church owns much of Tinos' land. As a result, the island is still mostly wild and undeveloped. Tinos is no stranger to the meltemi, but offshore rock formations break the wind and result in crashing, curling waves. For many, this unique combination has made it the country's surfing mecca.
Head straight to the bay of Kolimbithra, on the northeast side of the island, for the best waves. You'll have your choice of two sandy beaches within the seawater basin, but the larger of the two—directly facing the north Aegean Sea—is where you'll get the best rides. With a sandy bottom and a natural current that takes you to the lineup in about a minute, you'll get great left waves with the meltemi blowing at least a Beaufort 5—and probably even higher.
On-site, you'll find Tinos Surf Lessons, the first surf school in the Cyclades. Run by local surfers John Vidalis and Dimitris Karaiskos, the school offers lessons, rentals, and liquid courage served from an orange Volkswagen van that's been converted into a bar. If you're lucky, you might even get a photo with Roxanne the donkey, the beach's unofficial mascot.
Get there: There is no airport on Tinos, but there are several daily ferries from Mykonos, surrounding islands, and mainland Greece (from the ports of Rafina and Piraeus).
---
Climb High for Killer Views on Kalymnos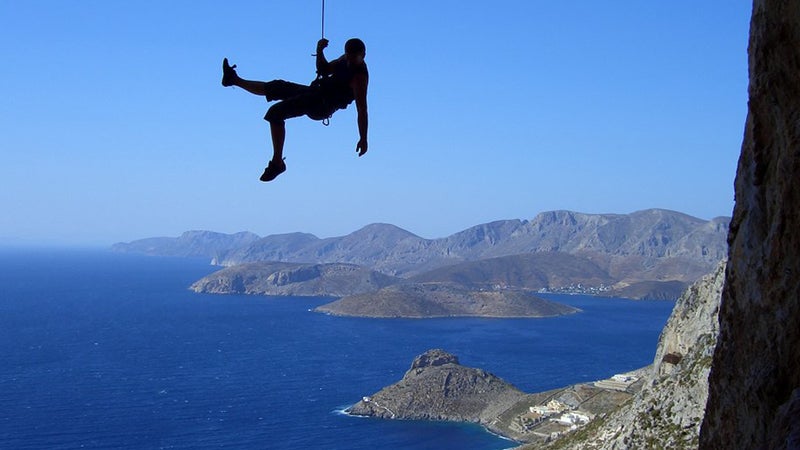 When world-renowned rock climber and photographer Boone Speed suggests a place to climb, it's advice you take. Such is the case on Kalymnos, where Speed first traveled in 2009 with friends and returned to in October of 2014 for The North Face's "Legends in Lycra" series.
"There's so much rock there, you can't believe it, and it's all very accessible," says Speed. "There are literally hundreds of different walls to choose from. It's really unique. It's beautiful. And as far as a pure climbing vacation, it's in a class by itself."
Drive the only road that runs the length of island's west coast, and you'll see white markers for (most) crags with signs offering information about footpaths and length of approach. Almost all of the island's 2,300 routes—ranging from F4a to F9a in difficulty—have their name written at the base of the rock. While October is the island's busiest season, there's rarely a time when it isn't good to climb.
Need a partner? Intersect with Kalymnos climbing aficionados—or other solo climbers—at Climb Kalymnos, grab a quick refresher with Kalymnos Climbing School, or look for a private training session with Simon Montmory, a professional Kalymnos climbing guide.
Get there: You can travel to Kalymnos on daily flights from Athens, but it's recommend that you fly to the nearby island of Kos, which has an international airport and is a lot closer. Once on Kos, you can travel to the port in Mastichari, where you'll find 30-minute ferries to the port of Kalymnos.
---
Soak up the Scenery in a Sea Kayak on Kefalonia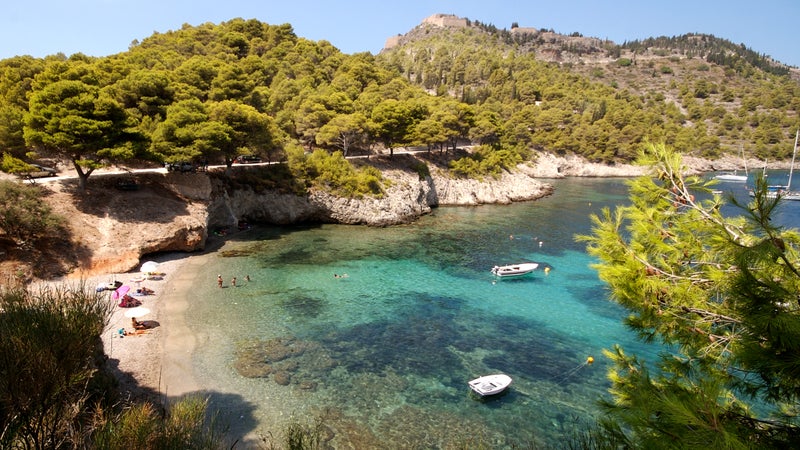 Giorgio Potamianos, a former member of the Greek Special Forces (concentration: mountain assault units) owns and helps operate Outdoor Kefalonia, a company running a variety of adventure tours and excursions around the island of Kefalonia. But he recommends one activity above all: sea kayaking.
"Sea kayaking gives you the opportunity to reduce the speed of life and really observe," says Potamianos, "With the amazing scenery of the island, it's the best combination."
Potamianos is right: In a country nearly synonymous with beautiful scenery, Kefalonia is a testament to the diversity of landscapes just one island can hold: think dense forests of black fir; broad, sandy beaches; steep cliffs; and a network of caves—all surrounded by turquoise seas. Take a day trip with Sea Kayaking Kefalonia, run by Pavlos Georgilas and Yvonne Walser—and paddle in and out of caves, over wrecked ships, and along some of the most remote parts of Kefalonian coastline, which is largely forested with lush Cypress trees. You'll have the option to stop and snorkel along the way—or even just rest on a secluded beach at the base of towering limestone cliffs. If one day of padding isn't enough for you, then ramp it up with a nine-day Outdoor Kefalonia circumnavigation of the island that incorporates beach camping and stopping for traditional Greek coffee.
Get there: Fly to Kefalonia Airport on a daily flight from Athens, which takes about an hour. Flights increase in frequency throughout summer months. Or take a ferry from the mainland Peleponnese port of Killini to the ports of Poros or Argostoli. There are no ferries from Athens.
---
Bomb the Trails on Thassos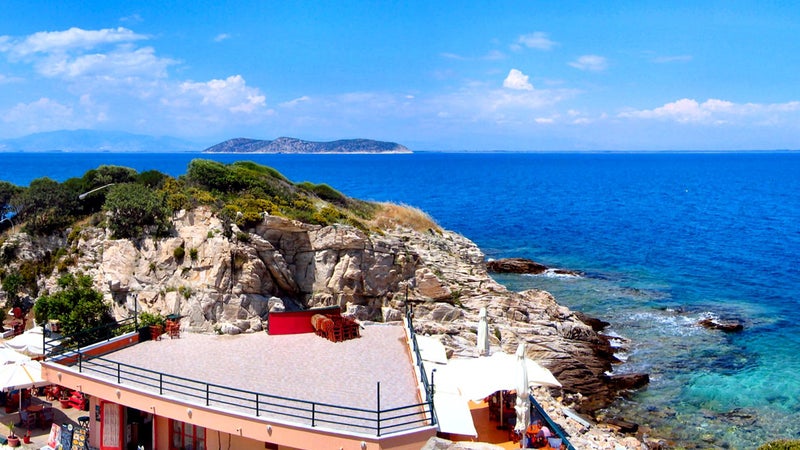 Thassos, Greece's northernmost island, has dense forests of pine, oak, and fir. Snaking through this heavily forested, mountainous landscape on a bike, you'll find both paved roads and unpaved trails.
Rent a bike from Velo Studios in Potos, and set off around the coast on the island's ring road. You can cross at several points to access country and stone roads, passing waterfalls, ancient churches, and hillside tavernas. Another, more challenging route takes riders on mostly unpaved trails up to the summit of Mount Ipsarion, which registers at 3,947 feet.
Mike Leahy, who has lived and worked in some 50 countries as a host for National Geographic, the BBC, and the Travel Channel, says steep terrain and heavy rains can make the latter ride a struggle—but it's well worth it in the end.
"Half the fun is the journey, and leaving the coast, most trails wind through olive groves and pine forests and run alongside, across, or actually in streambeds before emerging above the tree line," Leahy says. "The views can be truly spectacular."
Feeling competitive? Aim to be on the island during Thassos Cycling Weekend, May 2–3, and participate in the vertical Thassos Cup, a grueling 36-mile race—think uphill climbs on rocky terrain.
Get there: Just six nautical miles from mainland Greece, Thassos has plenty of ferries but no airport. Instead, fly to Kavala Airport and take a ferry from Keramoti/Kavala Port to Thassos.
---
The Windsurfing Haven of Naxos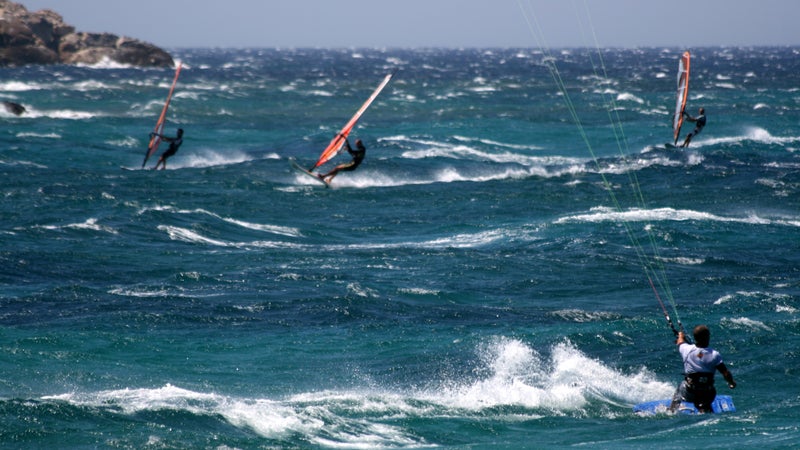 From about mid-May to mid-September, Naxos gathers something known as the meltemi—the strong, dry north winds of the Aegean Sea. It's a mere 13 miles from the island of Paros, creating a narrow channel between islands that's perfect for windsurfing.
Riccardo Marca, an 18-year-old professional freestyle windsurfer, first visited Naxos last summer after hearing about it from fellow windsurfers. He wasn't disappointed. "It's perfect for free-ride, slalom, and freestyle because the wind blows strong and steady quite often, but the water is flat," says Marca, a native of Italy. "And you can meet people from every corner of the world."
Marca decamped at Laguna Beach Park, which was opened in 2013 by Greek windsurfing talent Stam Promponas and sits at the base of the island's famed lagoon (just called the Lagoon). Water here is about five feet deep and great for beginners but gets more challenging as you head upwind and out of the lagoon.
Other notable windsurfing clubs on Naxos include Flisvos Sportclub (Locations at the Lagoon and Mikri Vigla) or Plaka Watersports (Plaka Beach), both of which offer lessons and rent new equipment from purveyors like JP Australia, Roberto Ricci Designs, and NeilPryde.
Get there: Fly from Athens International Airport to Naxos Island National Airport on Aegean Airlines orOlympic Air, or take a ferry from any number of connected ports.
Lead Photo: Tiago/Flickr
Trending on Outside Online