Phantoms of the Flats
Casting for bonefish in the mangrove-choked lagoons of Mexico's Yucatan Peninsula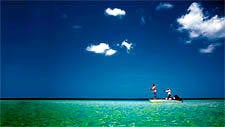 Brian Bailey
Heading out the door? Read this article on the new Outside+ app available now on iOS devices for members! Download the app.
AT THE CANCUN International Airport, in the Mexican state of Quintana Roo, you have to hang around until your fly-rod case comes in from the plane on an oversize baggage cart, because the long, skinny tube won't ride properly on the conveyor. This can make for a harrowing wait. There I sat, my backpack full of camping gear, with $200 in cash (which about wiped out my bank account) and a month to kill, and the one thing I really needed in order to do the one thing I really wanted to do—catch some bonefish—was likely lost and sitting on some other plane in some other country. When I finally spotted my rod case, my mind moved on to another anxiety: whether I'd have any luck hitching rides and finding fish.

On the hunt: bonefishing off Andros Island, Bahamas
Much of this anxiety was thanks to the naysayers at a fly-fishing shop back home, who assured me that my plan to hitchhike around the southern Yucatan Peninsula would yield me no bonefish and probably find me dead in the jungle by its conclusion. They told me that catching bonefish usually requires a small fortune, and they suggested an island resort where, judging by the brochure, a handful of bathing-suit models and I would loll on a private beach, sipping daiquiris while casting at millions of fish.
I was committed to my plan out of sheer stubbornness if not near-poverty, and once I changed into some cutoffs and got on a southbound bus to Tulum, I was feeling much better. Tulum is a small Caribbean beach town with a nice blend of local culture and European beach bums selling pot and handmade jewelry, and the place really sets you at ease. The main street is dotted with curbside chicken joints; after sampling around, I can definitively say that Jorge, the grillman at Pollos Asados Marisol, serves the best bird in town.
Tulum is also a good jumping-off point for fishing, because stretching south of there along the coast almost to Belize is the Sian Ka'an, a United Nations-sponsored, 1.3-million-acre biosphere reserve that has lagoons and beaches, Mayan ruins, monkeys, manatees, two kinds of peccary, jaguars, two species of crocodile, 350 species of birds, and plenty of fish. I bought rice and beans, a $12 hammock, and four gallons of purified water and thumbed a ride to the reserve's north entrance, where I started walking down a long, bumpy road that led to Punta Allen, a lobster-fishing village some 40 miles distant.
The road runs the length of a thin peninsula separating the Caribbean Sea from a large saltwater lagoon. Every hour or so a truck would come by and not pick me up. After I'd gone quite a ways, I found a dead bonefish as big as a loaf of French bread lying in the dust on the side of the road. A guy hauling bananas and limes finally stopped. When we got to a good-looking area I banged on the back window of the truck. He wouldn't let me out until he counted the bundles of fruit to see if any were missing. Just to the east of the road, waves pounded a long, sandy beach; to the west was the saltwater lagoon—primo bonefish habitat—barely visible through a 50-yard-wide, seemingly impenetrable thicket of mangroves.
I strung my matrimonial-size hammock between two coconut palms on the ocean side, found a piece of driftwood for a table, and picked a few coconuts that were ripe enough to have firm meat. (I would later learn that eating too many of these gives one a horrendous case of the shits.) Little crabs were tossing sand out of their holes all around my camp as I stashed my backpack, grabbed my rod and some flies I'd tied, and then crossed the road to face the mangrove obstacle.


Mangroves have green, waxy leaves, and the branches grow together like the many wires that make a window screen. I twisted and wrestled and crawled through these tangles, turning my clothes almost completely orange from a staining liquid that rubs off when you touch the limbs. About halfway through, I was stung on the arm by a worm, something that had never happened to me in all my 27 years. Before I could retaliate, he dropped from his perch and disappeared underwater. The bite swelled to the size of a 35mm film canister, and I got the terrible feeling that this trip was not going to work out and I would not be finding any bonefish after all. I named the worm the Mexican evasive fighting worm and made a mental note of its appearance in case I had to describe it at the emergency room.
The swelling receded by the time I finally reached the lagoon. The water stretched for miles, white or gray or blue depending on the depth, which ranged from ankle- to thigh-deep. Twenty feet in front of me, a three-inch razor blade stuck out of the water, waving back and forth. I was hallucinating from the worm. No, I realized, it isn't a razor at all; it's the tail fin of a bonefish. I'll be damned, I thought. He was tipped forward in the water, making the same noise with his tail that you can make wagging your finger in the sink. There were several more fish with him.


I fumbled with my rod before casting a sparsely tied brown fly with ball-chain eyes about five feet in front of the fish, which raced over and picked it up so fast that he was into the backing on my reel before I had time to yell yeehaw. The line whipping through the water sounded like ripping newsprint and it shot a rainbow-colored mist into the air.


When I got that fish in my hand, I searched him from nose to tail and am pleased to report that there was not a huge price tag stapled to him. I thought of those guys in the fly-fishing shop back home and one syllable came to mind: Ha!



SOMETHING I quickly realized about on-the-cheap fishing in Mexico is that you wind up with a lot of time to kill. To spot fish on the flats, you need a high sun with no clouds, so you can only sight-fish for bones about five hours a day. The rest of the time I'd snorkel the reefs that parallel almost the entire Yucatan, or talk to the teenage soldiers who occasionally come strolling along the beach with grenade launchers and M-16s, searching for drug traffickers. In the evenings I'd try to catch something to eat. Killing bonefish is frowned upon in angling circles, which is no big deal, because they're too bony to eat and they don't taste very good. But I caught mangrove snapper, barracuda, mullet, and reef fish, and now and then I'd find a conch. You can wire the fish to a stick and cook it over dried coconut husks and you've got a treat. Sprinkle with lime, salt, and pepper, then lie around, swatting at sand fleas while you wait for the earth to orbit around the sun and get into a good position for more bonefishing.


SOMETIMES A POD of bonefish will be coming at you so thick you'd swear it's a green queen-size mattress getting pulled through the water, and the fish will fight over who gets to eat the fly. Other times you can't find any fish but a snobbish loner, and he'll look at your fly like it's the stupidest thing he's ever seen.


One day I was having troubles with the latter situation, and I decided to try swimming across a deep channel that stood between a mangrove thicket and a large, knee-deep flat that stretched for hundreds of yards. The night before, I had watched a crocodile swim down this channel, gliding along with only his eyes and the thin ridge of his back above water. Just as I got out in the middle of the water, nervously doing a one-armed dog paddle with my rod held high in the other hand and my fanny pack between my teeth, a small white boat hauling two guys came zooming around a point, almost whacking into me. I had been so focused on a potential crocodile attack from below that I hadn't even heard the motor. The boat veered sharply to miss me, and then disappeared as quickly as it had come. Shaken, I climbed onto the flat and wrung out my shirt as best I could. The sun had risen to its optimal position, straight up and burning bright. I drew a deep breath and took a paranoid glance around for crocodiles, which had become a habit of mine. The coast was clear, but off to my left, over a patch of turtle grass, several razor blades flicked just at the surface of the water, as bright as silver coins flipping in the sun.



Access and Resources
With more than 2,000 square miles of tropical forest, marshlands, mangroves, and coral reefs, Sian Ka'an Biosphere Reserve is among the largest protected areas in Mexico. The Cancún-based nonprofit conservation group Amigos de Sian Ka'an (011-52-9-880-60240) can provide information and leads one-day boat tours of the area for $55 per person. Admission to the reserve is free.

Getting There: Round-trip flights from New York to Cancún start around $550 per person on American Airlines (800-433-7300, www.aa.com); from Los Angeles, $670 per person. Tulum, on Sian Ka'an's northern border, is 80 miles south of Cancún; from there, follow the rutted dirt road 40 miles to Punta Allen. Alamo Rent-a-Car at the Cancún airport (800-462-5266; www.goalamo.com) can set you up with a four-wheel-drive vehicle starting at about $420 per week.
Where to Stay: The Cuzan Guest House in Punta Allen (011-52-9-834-0358; members.aol.com/fishcuzan) caters to fishermen and offers guide services for $350 per day. Their nine thatch-roofed cabanas with ocean views go for $40 to $80 per night, double occupancy. Camping in Sian Ka'an is allowed only in designated areas; for details, contact the reserve office at 011-52-9-849-7554.
The Ultimate Boneyards
Six more bonefishing hot spots across the globe

Cuba's Jardines de la Reina
Shaped like fork-tailed torpedoes and damn near as speedy, bonefish (Albula vulpes) are some of the most challenging fish you can catch on a fly. Hook one and it'll rocket away at up to 30 miles per hour—so fast the line will seem to melt from your reel and the backing will zip off in seconds. Then, just when you think it's hurdled the horizon, it'll come back for another round (a typical bonefish is good for at least two exhilarating runs before it tires). Up to 37 inches long and weighing from three to (if you're lucky) 20 pounds, bonefish cruise shallow saltwater flats gobbling shrimps, crabs, and worms. Because they're difficult to spot and easily spooked, casting for bonefish takes some practice, and stealth is a requirement: If you can see them, they can see you. But snag just one and you'll see why anglers travel the world in pursuit of these elusive silver phantoms. Here, a half-dozen of the planet's best bonefishing destinations.

Andros Island, Bahamas
The largest and wildest Bahamian island is the birthplace of one of the world's first bonefishing lodges—the Bang Bang Club, popular in the 1940s and now under renovation—and the ubiquitous Crazy Charlie fly. Landing an eight- or ten-pounder is not uncommon on the flats off the North, Middle, and South Bights, deep bays that slice the island's southern half. Local guides Charlie Neymour and Andy Smith can show you how it's done for $350­$400 per day; book them through Westbank Anglers (800-922-3474; www.westbank.com). Westbank also offers six-day packages at Tranquility Hill Fishing Lodge, a basic hotel overlooking the North Bight, for $2,400 per person, double occupancy, from October through July.

Los Roques National Park, Venezuela
A sun-soaked collection of more than 340 islets and reefs about 80 miles northwest of Caracas, Venezuela, Los Roques National Park offers superb bonefishing from January to September. You can wade for miles, across everything from mangrove lagoons to pancake flats carpeted with turtle grass. Frontiers International Travel (800-245-1950; www.frontierstrvl.com) offers six-day packages, with accommodations at the three-room Pez Raton Lodge on car-free Gran Roque, Los Roques' largest isle, for $2,995 per person, double occupancy.

Christmas Island
Sooner or later, every die-hard bonefisherman heads for Christmas Island. The world's largest atoll, located 1,300 miles southwest of Hawaii in the South Pacific Republic of Kiribati, boasts miles of hard white flats, large fish populations, and consistently warm, dry weather. Local fisherman Moana T. Kofe was named Guide of the Year in 1995 by Fly Rod and Reel magazine; book him (from $110 per day) through Kaufmann's Streamborn Inc., 800-442-4359. Seven-day packages from Castaway Fly Fishing (800-410-3133; www.castawayflyfishing.com) feature beachside accommodations at Big Eddie and Joe's Bonefishing Lodge and round-trip airfare between Honolulu and Christmas Island for $2,895 per person, double occupancy.

Jardines de la Reina, Cuba
This 150-mile-long archipelago about 50 miles off Cuba's southeastern coast is home to hundreds of mangrove- and palm-dotted cays and miles of sandy flats that teem with macabi (that's Spanish for bonefish). Sign on for a fishing trip with the Cuba-based, Italian-owned company Avalon Fishing and Diving Center Ltd. (it's legal, technically, as you won't be spending American money on Cuban soil) and you'll eat and sleep aboard the Tortuga, a houseboat with seven double berths, a small fleet of skiffs, and a team of expert Cuban guides. The bonefishing's best from March through June. Avalon's six-day packages range upward from $2,500 per person, double occupancy (011-39-335-814-9111; www.avalons.net).

New Caledonia
New Caledonia, a 6,500-square-mile French island about 1,200 miles east of Australia in the South Pacific, is the sport's fresh frontier. The draw? Nine- to 12-pound bonefish that are less skittish than most, and calm, clear waters where few bonefisherman have tried their luck. French guide Philippe Leroux has negotiated exclusive bonefishing rights with the local Nenema tribe and brings groups of up to three anglers at a time to their protected flats. His six-day packages, which include lodging at the six-bungalow Relais de Poingam, on the island's northern tip, run $2,200 per person, double occupancy (011-687-42-54-11; www.fishing.ifrance.com/fishing).

St. Francois Lagoon, Seychelles
In recent years, aficionados have declared the Seychelles, dozens of islands sprinkled across the Indian Ocean about 1,000 miles north of Madagascar, the best bonefishing destination in the world. The sparkling flats of the St. François lagoon near Alphonse Island (a tiny atoll about 240 miles south of Mahé) are the main attraction. This is bonefishing at its most exclusive—only 12 rods per week are allowed on the lagoon. Westbank Anglers (800-922-3474; www.westbank.com) offers six-day trips, with accommodations at the luxurious Alphonse Island Resort, the only hotel on the island, for $4,995 to $5,800 per person, double occupancy, September through May.


Walk On (and On, and On…)
Why lace up your boots for anything less than a thousand miles?

Every couple of years I ditch the real world. I quit my job, load up my backpack with mac and cheese, and light out for a long-distance trail. I've through-hiked the 2,160-mile Appalachian Trail and the 2,650-mile Pacific Crest Trail, no problem. Now I'm ready to savor the unique pain of shinsplints, oozing blisters, and long-term caloric deficit on a mega-path less traveled. Since new North American trails are being cut almost as fast as folks can hike them, it's time to get packing. Here, six that are calling my name.
AMERICAN DISCOVERY TEAM
THE TRAIL
6,357 miles, from Delaware's Cape Henlopen State Park to California's Point Reyes National Seashore. Hiking time: at least 12 months. Through-hikers to date: four.
USERS
Hikers; bikers; on some sections, horseback riders
THE BIG PICTURE
Completed in 2000, the ADT is a coast-to-coast backbone for the national trail system, connecting five national scenic trails (among them the AT and the PCT), ten national historic trails, and 23 national recreational trails, and traversing rural and urban landscapes, including downtown Washington, D.C.
THE ECSTASY
The rolling hills of southern Illinois were a pleasant surprise, says Laurie Foot, who with husband Bill (together they were "The Happy Feet") finished the ADT in 1997, before it was completely routed.
THE AGONY
The searing deserts of western Utah and Nevada. Start by dawn and knock off by noon here—and hydrate or bonk.
STRATEGIES
Begin in Delaware and follow the sun; you'll be in great shape by the time you reach the Rockies and the Sierra.
RESOURCES
American Discovery Trail Society, 800-663-2387; www.discoverytrail.org
CONTINENTAL DIVIDE NATIONAL SCENIC TRAIL
THE TRAIL
3,100 miles when complete, following the Continental Divide from the U.S.-Mexico border near Antelope Wells, New Mexico, to the U.S.-Canada border in Glacier National Park, Montana. Hiking time: four to seven months. Through-hikers to date: a few dozen.
USERS
Hikers, horseback riders
THE BIG PICTURE
This rugged, remote trail is now 70 percent finished, with completion scheduled for 2008. Expect spectacular mountain scenery and abundant wildlife—mountain goats, elk, antelope, grizzlies. Good navigation skills are a must: Much of the trail is unmarked or poorly mapped.
THE ECSTASY
Crossing the western side of Wyoming's Wind River Range: 13,000-foot peaks, alpine lakes, wildflower-splattered meadows, and several routes from which to choose.
THE AGONY
The ranch land of New Mexico, where the only water source for miles may be a dung-filled cattle pond garnished with a bloated cow carcass.
STRATEGIES
Whether to hike northbound or southbound depends largely on the previous winter's snowpack. To be safe, do a flip-flop: Start in March in New Mexico and head north to the Colorado border, then bus up to Glacier and hike south to complete the trail.
RESOURCES
Continental Divide Trail Alliance, 888-909-2382; www.cdtrail.org The Continental Divide Trail Society, 410-235-9610; www.gorp.com/cdts
FLORIDA NATIONAL SCENIC TRAIL
THE TRAIL
1,300 miles, from Big Cypress National Preserve, about 50 miles west of Miami, to Gulf Island National Seashore, just south of Pensacola. Hiking time: two to four months. Through-hikers to date: at least 30.
USERS
Hikers; on some sections, bikers and horseback riders
THE BIG PICTURE
Topping out at a lowly 200 feet above sea level, this is not your typical trail. But year-round warm weather makes it a favorite among long-distance veterans looking to extend the hiking season. The route, now 85 percent finished and expected to be complete in 2011, rambles along seashores and through swamps, prairies, and pine forests.
THE ECSTASY
Picking oranges along the Kissimmee River—manna from heaven for the sweat-soaked pilgrim. Dipping in the cool, clear waters of Alexander Springs in the Ocala National Forest ain't bad, either.
THE AGONY
The 43-mile slog through Big Cypress Swamp, in Big Cypress National Preserve, where waist-deep water can slow hikers to one mile per hour.
STRATEGIES
Start from the southern terminus in January and you'll cover the warmest part of the state in the coolest part of the year (when highs in South Florida reach the mid-seventies, rather than the mid-nineties).
RESOURCES
Florida Trail Association, 800-343-1882; www.florida-trail.org
NORTH COUNTRY NATIONAL SCENIC TRAIL
THE TRAIL
4,500 miles when complete, from Adirondack State Park in New York to Lake Sakakawea, North Dakota. Hiking time: seven to ten months. Through-hikers to date: one.
USERS
Hikers; skiers; on some sections, bikers and horseback riders
THE BIG PICTURE
Though now just 37 percent complete, when finished—at least 20 years from now—this will be the longest national scenic trail in the country, wending through the Adirondacks; the Ohio River Valley; the boreal forests of Michigan, Wisconsin, and Minnesota; and the plains of North Dakota.
THE ECSTASY
Hiking atop sandstone cliffs and along sandy beaches in Pictured Rocks National Lakeshore, a 43-plus-mile section along Lake Superior in Michigan's Upper Peninsula.
THE AGONY
Winter in the North Woods (on a trail this long, you're going to slog through at least one winter).
STRATEGIES
To best maximize the short, May-to-September hiking season, start at the trail's southernmost point, Cincinnati, hike to one terminus, hop a bus to the other end of the trail, and then walk back to Cincinnati.
RESOURCES
North Country Trail Association, 888-454-6282; www.northcountrytrail.org
PACIFIC NORTHWEST TRAIL
THE TRAIL
1,200 miles, from Glacier National Park in Montana to the Pacific Ocean on the Olympic Peninsula, just south of the Canadian border. Hiking time: three months. Through-hikers to date: 24.
USERS
Hikers; on some sections, bikers and horseback riders
THE BIG PICTURE
Hugging the northern borders of Montana, Idaho, and Washington, the PNT (completed in 2000) passes through impressively diverse terrain: mountains in all three states (the Rockies, Purcells, Cascades, and Olympics), high desert in eastern Washington, rainforest and rocky seashore on the Olympic Peninsula.
THE ECSTASY
The final stretch from Goodman Creek to Cape Alava, Washington: flat trail, crashing surf, and Pacific sunsets that'll make you forget every blister you ever had.
THE AGONY
You're gonna get wet. Expect snow in Glacier, thunderstorms in the Cascades, and seemingly endless rain west of the mountains.
STRATEGIES
Start the trek from Glacier in June—it's too snowy to begin any sooner—and stroll along with the summer.
RESOURCES
Pacific Northwest Trail Association, 877-854-9415; www.pnt.org
TRANS CANADA TRAIL
THE TRAIL
10,718 miles when finished, from Newfoundland on the Atlantic to Vancouver on the Pacific, and then north to the Arctic Ocean, crossing every province and territory in Canada. Hiking time: at least a couple of years. Through-hikers to date: none.
USERS
Hikers; bikers; skiers; on some sections, horseback riders and snowmobilers
THE BIG PICTURE
Canadian visionaries have created a longer version of the American Discovery Trail. Way longer. Now about 50 percent official, it's due for completion in 2005. Through-hiking would require a superhuman constitution, independent means, and supreme knowledge of Arctic and subarctic environs. A skewed perception of reality probably wouldn't hurt, either.
THE ECSTASY
Trekking for days on end without seeing another soul (or even a sign of civilization) above the Arctic Circle in the Yukon Territory. Just you, the caribou, and the stars.
THE AGONY
You're 500 miles into the hike—somewhere on Newfoundland's southwest coast—and realize that you have 10,218 miles to go.
STRATEGIES
Rather than tackling the trail all at once, try hiking a section each summer for, oh, the next decade or so—not a true through-hike, but you'll have bragging rights all the same.
RESOURCES
The Trans Canada Trail Foundation, 800-465-3636; www.tctrail.ca
Trending on Outside Online