Sponsor Content: Chevrolet Silverado
These Anglers Are Inspiring the New Spirit of Fly Fishing
Meet three anglers who are redefining the sport for the better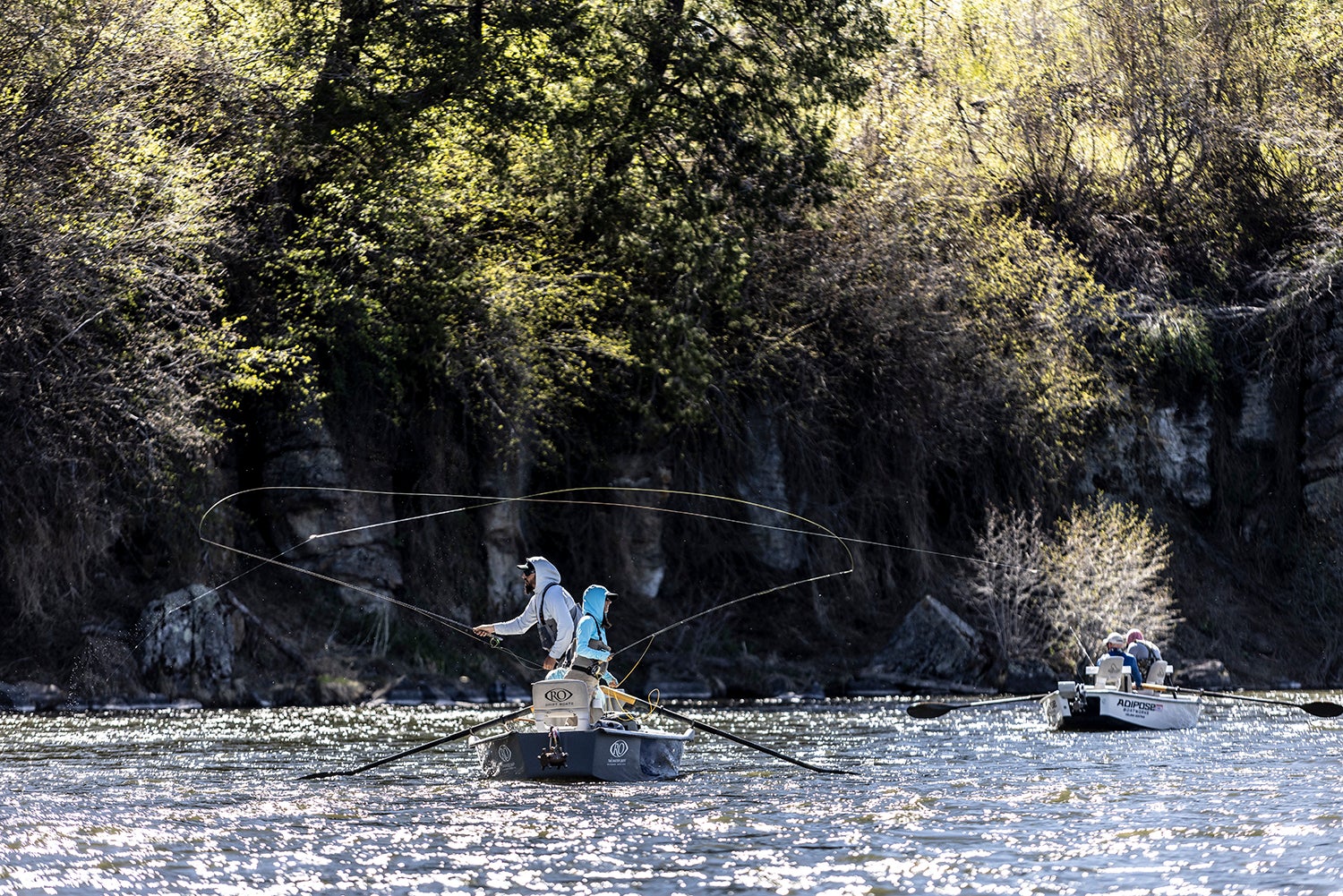 Fly fishing is experiencing a renaissance. A new generation of anglers is helping to recast the activity as the accessible, life-changing sport it has always been. In collaboration with Chevrolet Silverado, we brought together three such anglers for a trip along Idaho's storied Trout Highway. Read on to learn for their stories, or head over to The New Spirit of Fly Fishing, an interactive hub loaded with more videos and content from the trip.
Austin Campbell: Casting a Wider Net
Fishing didn't necessarily change Austin Campbell's life so much as it has defined it, at least since he got his driver's license when he was a teenager living in Denver. "When I got a car in high school, it changed the game for me," Campbell says. "I just started fishing too much."
And he hasn't stopped fishing "too much." Campbell was a high school track star with his choice of college programs. Watching videos of anglers fishing the spring creeks around campus was what made his choice to attend Penn State an easy one. He managed to fish three times a week between classes, practice, and meets, then spent his summers as a fly fishing instructor with Lincoln Hills Cares, a nonprofit that introduces inner city kids to the sport.
"I'm completely self-taught, learning how to fish by watching YouTube videos and using Walmart rods," Campbell says of his own trajectory within the sport. "I didn't have a mentor on the river growing up. Other anglers looked at me and wondered what I was doing out there, because the river wasn't 'our space.' Being able to step into that mentor role for those kids was fun, but it was also important for me to show them that they do belong out there on the river, that there is someone like them who enjoys this sport. A light needs to be shed on that."
Campbell is still actively shedding that light. He's now a full-time guide and advocate for getting youth outdoors, continuing his relationship with Lincoln Hills Cares and establishing his own free clinics that introduce fly fishing to residents of Denver neighborhoods that would otherwise have no contact with the sport.
"The outdoors is for everyone," Campbell says. "Being out there and connected with nature, it just does something. All my other problems, I'm not thinking about them. I'm just in the moment. Everyone should have that opportunity. If we can keep pushing the ball in the right direction in this industry, I hope that in five to 10 years from now, you'll see everyone on the river."
Watch the full story and see the new Chevy Silverado ZR2 in action on The New Spirit of Fly Fishing hub.
Katie Cahn: Fishing for Mental Health
Katie Cahn is brutally honest, especially when it comes to her personal struggles. Not just the fact that she survived cancer or that she grew up without a strong male role model or that her family battles addiction. She's honest about the fact that being a mom is hard; that being a wife is hard. That it takes effort and therapy and a little bit of fishing for her to succeed at these roles that demand so much. Not that she gets to fish as much as she'd like—she's honest about that, too.
"I probably haven't fished in three months," Cahn says from her home along the edge of the Chattooga River in the Southern Appalachians. "I used to be able to take my daughter to the river and fish because she would sleep, but now she's three and a half so she wants me to play Elsa and Anna with her in the sand."
Cahn grew up paddling the Chattooga, where she did stints as a rafting guide. She has also led fishing trips with the non-profit Casting for Recovery, which teaches cancer patients and survivors how to fly fish. But fishing is not Cahn's job. It's her release.
"I think fly fishing is the most meditative thing I've ever done," Cahn says. "I can wash the rest of my life out for a period of time when I'm on the river and get back to being who I am. If I strive to find that time for me, even if it's just a few hours, or a day, I get to be Katie again. Not a wife or mother. Just Katie."
Cahn believes this sort of transparency will help other women cope with their own struggles and hopefully normalize the notion that a woman should take time for herself. She believes fly fishing could help more women rediscover themselves after years of putting others first.
Learn more about Cahn's story and the new Chevy Silverado ZR2 on The New Spirit of Fly Fishing hub.
Matt Mendes: Inspiring the Next Generation of Conservationists
Matt Mendes understands how fortunate he is. The 32-year-old owns Spin the Handle, a fly fishing guide business on Oregon's Warm Springs Reservation that enables him to have his boots in the water 180 days out of the year. Mostly, he's fishing for steelhead, a legendary species that's been known to drive anglers to either depression or ecstasy. Sometimes both in the same day. Mendes has one of the few commercial permits to work on the same ancestral fishing grounds of the Deschutes River where he learned the art from his grandfather.
"There aren't too many places in the U.S. where you can go and feel like you're the only one out there," Mendes says of his ancestral fishing waters. "That solitude is rare, and you're back in the mountain range where about 700 wild horses are running around, and there are deer, antelope…you name it. It's like a mini Yellowstone."
Mendes has been working the Deschutes since he was 12, when he first started driving shuttles for his grandfather's fly fishing business. A few years later, he was guiding and would eventually purchase that business and run it as his own. Now, Mendes sees his guiding as a pathway to help save the fishery he grew up loving.
"I'm aware that this river is a sanctuary, and I work to make it a better place for everyone, not just the anglers, but the fish," Mendes says. "Educating my clients plays a big role in that stewardship. I want people to go home and have a better gauge of the fishery from a conservation standpoint. Spreading the awareness through the several hundred clients I deal with every year is a way I can put a tiny dent in the major problem we're having."
River stewardship hits close to home for Mendes. Not only has he been making his living on the ancestral waters of the Deschutes since he was 12, he now has a 12-year-old son of his own who's learning to fish on the same river. Mendes cherishes that role as educator, whether it's with a client, his own son, or one of the tribal youth to which he provides free instruction and gear.
"I like watching other people catch fish," Mendes says. "If I can be out all day with a buddy, or a client or a kid and watch him swing a line, I'm happy. I get more stoked when that person gets a fish than if I get a fish."
See the new Chevy Silverado ZR2 in action and watch the full video on The New Spirit of Fly Fishing hub.
---
Silverado drivers don't just have a truck – they have a symbol of authenticity. Of fun. Of adventure. Dependability. Freedom. It can take you places you've never dreamed of, or just down the street. From jobsite to campsite. Friday night lights to Northern Lights. And in between each destination are the chapter of the story you decide to tell the world. Make sure it's a strong one.