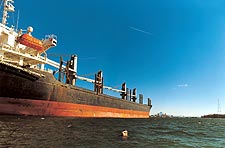 Heading out the door? Read this article on the new Outside+ app available now on iOS devices for members! Download the app.
There are hundreds of national and local conservation groups working to preserve the oceans, lakes, rivers, creeks, and swimming holes you love. Below, a comprehensive list of great organizations that need your help.

Activist Chris Swain swims the polluted Columbia River.


Amigos Bravos is the only nonprofit river advocacy group in New Mexico dedicated to preserving both the ecological and cultural richness of the Río Grande watershed.

Campaign to Safeguard America's Waters (C-SAW) is part of Earth Island Institute. C-SAW's mission is to protect and maintain the beneficial uses of public waters; all U.S. waters should be "swimmable and fishable." (907-766-3005)

The Chesapeake Bay Foundation is committed to reducing pollution, improving fisheries, and protecting and restoring natural resources such as wetlands, forests, and underwater grasses in the Chesapeake Bay watershed. CBF has headquarters in Annapolis, MD, and state offices in Maryland, Virginia, and Pennsylvania. CBF also operates 16 environmental education programs.

Clean Water Action is a national citizens' organization working for clean, safe, and affordable water; prevention of health-threatening pollution; creation of environmentally-safe jobs and businesses; and empowerment of people to make democracy work.

The Clean Water Network is an alliance of over 1,100 organizations representing environmentalists, commercial fishermen, recreational anglers, surfers, boaters, farmers, faith communities, environmental justice advocates, labor unions, urban communities, consumers, recreationalists, and others who endorse the National Agenda for Clean Water. The Agenda outlines the need for strong clean water safeguards in order to protect public health and the environment.

Coastal Conservation Association is a nonprofit organization comprised of 15 coastal state chapters spanning the Gulf of Mexico and Atlantic seaboard. CCA's strength is drawn from the tens of thousands of recreational saltwater anglers who make up its membership. From South Texas to the upper reaches of Maine, CCA's grassroots influence is felt through state capitals, U.S. Congress, and, most importantly, in the conservation and restoration of our coastal marine resources.

International Rivers Network supports local communities working to protect their rivers and watersheds. They work to halt destructive river development projects, and to encourage equitable and sustainable methods of meeting needs for water, energy, and flood management.

Oceana is a broad-based advocacy organization dedicated exclusively to protecting the world's oceans.

Potomac Conservancy is a nonprofit restoration group focused on land trust creation and education.

The Potomac Watershed Partnership is a coalition of various public and private groups focusing on river restoration.

Riverkeeper's mission is to safeguard the ecological integrity of the Hudson River, its tributaries, and the watershed of New York City (protecting the city's drinking water supply) by tracking down and stopping polluters. Since 1983, Riverkeeper has investigated and brought to justice more than 300 environmental lawbreakers. Riverkeeper believes in the rights of every citizen to enjoy and defend our nation's water resources.

The River Network supports grassroots river and watershed conservation groups, and links activists with river information, resources, and services.

The Sierra Club is America's oldest, largest, and most influential grassroots environmental organization.

Trout Unlimited's mission is to conserve, protect, and restore North America's trout and salmon fisheries and their watersheds.
Trending on Outside Online