Hello, Bali
It's so nice to have you back where you belong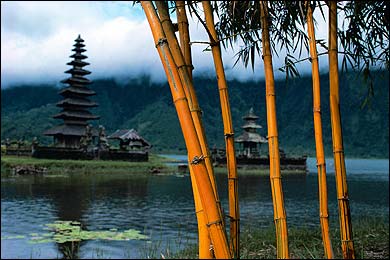 Corbis
Heading out the door? Read this article on the new Outside+ app available now on iOS devices for members! Download the app.
Traveling to Bali felt entirely safe to me. Aboard a new Singapore Airlines jet 40,000 feet above the Pacific, I felt safe. I felt safe in the airport in Denpasar, the capital, even though security was practically invisible. I felt safe wandering the beach at Jimbaran Bay, alone, after 10 p.m. I felt safe cruising around the tacky tourist town of Kuta, past the nightclubs that terrorists bombed on October 12, 2002, killing 202 people. I felt safe on September 20, the day of Indonesia's presidential runoff election. I felt safe rafting the Class II–IV Ayung River. I felt safe when offered a ride to my hotel by a Balinese guy at the Putra Bar, in Ubud.
Travel Bali

Seeing Green in Bali: rice paddies cover most of Bali's interior
Map of Bali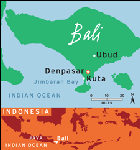 Map of Bali by Evan Hecox
Here's where I didn't feel safe: in my Volvo, driving to the airport in Albuquerque, New Mexico, before my journey even started. The source of my anxiety was intellectual, not instinctual. I suddenly remembered that driving an interstate is far more dangerous than flying, which unnerved me. And at the last minute I was questioning why, with a world of other options, I'd chosen to visit a place where terrorists had struck—and could strike again. The State Department persists in recommending that Americans defer nonessential travel to predominantly Muslim Indonesia. Though these warnings are mostly in response to the recurring threat of violence in the rest of the archipelago, and not in Bali—a mainly Hindu enclave that, at least before 2002, was considered out of harm's way—the fact remains that this island was dragged unwillingly onto the world stage by the nightclub bombings. (Bali was, however, spared from the tsunami that devastated the western end of Indonesia.)
So this is what it means to travel to paradise—when paradise has an asterisk. Bali, that most graceful, gentle, stylish, and spiritual of islands, has climbed back up the lists of top global destinations, yet it can provoke unwelcome fear. The taint lingers even as tourists return—particularly Australians, who favor Bali as an easy getaway, though their country suffered the greatest number of casualties at Kuta Beach.
Among the 1.22 million visitors to the island in the first ten months of 2004—a rebound from the 815,000 who visited in the same period in 2003—was an Aussie family I met on their way to raft the Ayung River. Mom, Dad, and two preteens were back for the first time since 2002, when their annual vacation to Bali nearly coincided with the tragedy. (They departed the island on the day of the attack.) They had hesitated before returning, considering other places—but it's Bali that they love.
I required about nine seconds to fall under the island's spell. Its appeal flows not so much from the gorgeous backdrop of cloud-shrouded volcanoes and black and white beaches but from the divinity that infuses every action of the Balinese. These are peace-loving people who have been squashed, throughout history, by the Javanese, the Dutch, and the Japanese—and are now shoehorned into Indonesia, which took control of the archipelago from the Dutch in 1950—while still managing to develop their unique culture.
Gods are everywhere, the Balinese believe, so offerings—small green coconut-leaf trays cradling flower petals, brightly dyed cooked rice, even a cigarette or some coffee—are arrayed everywhere. Many Balinese think rituals like this have helped them heal from the attacks. (On an island where tourism drives as much as two-thirds of the economy, getting on with life is imperative to both business and mental health.) Somehow these charming tableaus contributed to my sense of security, too, and the saturated-with-spirituality culture held out the tantalizing promise of a vacation that would rejuvenate the soul.
I divided my time between two Four Seasons resorts: Jimbaran Bay, on the southeast coast, and Sayan, west of Ubud, the cultural capital. Jimbaran Bay is bigger, beachy, and especially popular among Mexican honeymooners. Sayan, favored by the Japanese, is a postmodern architectural wonder clinging to a hillside above the Ayung River. The resorts were 83 percent occupied in September, compared with 56 percent in September 2003—an especially impressive figure given the entry of luxury competitors like Uma Ubud, a new boutique hotel. At both resorts, days quickly fill up with Indonesian cooking classes, Balinese massage at the spa, and rafting or surfing excursions.
Beyond these pleasures, my trip's transcendent experience was a karma-cleansing ceremony performed at sunset on the beach at Tanah Lot, one of Bali's holiest temples, on my last night on the island. I sat cross-legged in my sarong on the dark sand, meditating with Indian Ocean waves in the background. Then a soft-spoken priest dressed in white and gold performed a prayerful ceremony that began with my sipping and spitting out holy water, continued with the application of rice and flower petals to my forehead, and ended with the tying of a white string around my right wrist, signaling my karmic restoration. It was touching and mysterious and strangely empowering.
I didn't want to leave—a far cry, of course, from not wanting to go in the first place. How did I get so comfortable? Altered perception brought on by instinct, not intellect, perhaps. Since the bombings, the larger hotels have established checkpoints with security guards. It's an odd sensation to pull up in a Land Cruiser at the Four Seasons and be greeted by exceedingly polite, uniformed men who use mirrors to check the undersides of the vehicle for bombs. I can't say how foolproof this routine is, but it's very visible and, if nothing else, fosters a sense of security. And sometimes it's just about the feeling.
GETTING THERE: Singapore Airlines (800-742-3333, www.singaporeair.com) flies from Los Angeles to Denpasar, via Singapore, for about $1,400 round-trip; upgrading to business class gets you flat-reclining SpaceBeds on the 18-hour first leg. April through October, the dry season, is the best time to visit. See www.balitourismauthority.net for general info. WHERE TO STAY: One-bedroom villas start at $575 per night at the Four Seasons Resort Bali at Jimbaran Bay and at Sayan (800-819-5053, www.fourseasons.com/jimbaranbay, www.fourseasons.com/sayan). Each of Jimbaran's 147 traditional villas and Sayan's 42 contemporary villas has its own plunge pool. At both resorts, garden showers and open-air living rooms merge the interiors with the outdoors. WHAT TO DO: Learn to surf, or find the best breaks, with the easygoing guides from Bali Learn to Surf (011-62-361-761869, www.balilearntosurf.com), in Kuta. A two-and-a-half-hour class costs $39. Bali Adventure Tours (011-62-361-721480, www.baliadventuretours.com) leads half-day Ayung River raft trips for $66, including lunch. Four Seasons Jimbaran Bay's cooking school offers a spice tutorial at a lively market, then teaches you to craft a convincing chicken satay ($90, including breakfast and lunch).