Home on the Waves
Witness the evolution of the houseboat, from floating shack to marine Cadillac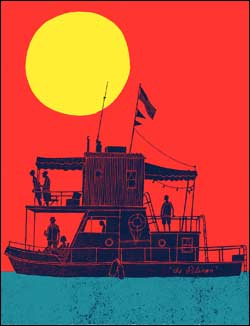 Heading out the door? Read this article on the new Outside+ app available now on iOS devices for members! Download the app.
I remember the moment when I was about to be handed the keys to my first houseboat rental. It was the eighties, we were out of college, and I had brought 20 of my best friends to Herman and Helen's Marina, on the Sacramento–San Joaquin Delta, in Northern California. The boat in question was 40 feet long, ten feet wide, and, aesthetically speaking, little more than a floating tin shack. Even though I had confirmed the reservation twice, I imagined some last-minute snag. I was sure the deckhand would notice that all we had brought for the weekend was beer or that we had twice as many people as the boat was designed to sleep. But my worry went deeper than that. With all the tort lawyers and insurance adjusters out there, it just didn't seem realistic that someone would allow a 25-year-old with no demonstrable seamanship skills to motor off into the distance with a boat this large.
houseboating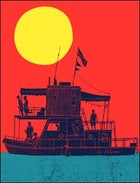 The grizzled deckhand, who had a nose the size and color of a rutabaga thanks to the twin ravages of sun and drink, did give me the keys. Once under way, I instantly got us lost in the 1,000-plus-mile canal maze of the delta. But I was also deliriously happy at the helm of such a vessel. Even now, I have no trouble reconciling how the boat looked—with its corrugated-tin exterior, Plexiglas windows, and fake-brick linoleum floor—with how it made me feel. I was in love with that boat—the Pelican—because it made me feel like a ship's captain in the same charitable way that the first woman to yield to my fumblings made me feel like a man.
Of course, my understanding of what a captain might act like was drawn entirely from the movie Jaws and some other pop-cultural tidbits. While at the helm, I chomped on a cigar, squinted like Popeye, and, most unnervingly to my friends, loudly hummed Gordon Lightfoot's "The Wreck of the Edmund Fitzgerald."
Not surprisingly, I was dangerously unskilled. That first weekend, I managed to get the boat stuck on shore at a 15-degree angle. (Who knew the delta was tidal?) Like Captain Queeg in The Caine Mutiny, I plowed over my own anchor line, wrapping it around the prop so tightly that I had to order one of my friends down into the dark water with a steak knife in his teeth to cut us free. I had minor collisions with a sailboat, an island, and a dock. I also got a fishhook sunk so far into the flesh between my thumb and forefinger that it had to be pushed through and de-barbed before it could be removed.
Looking back, I believe it was because of these minor disasters, not despite them, that my group of friends and I were so taken with the experience. For the next five years, a summer houseboating trip—usually a late June or early July weekend—became a tradition. Then we all got busy during the dot-com boom in the mid-nineties and took a break.
Some of us got rich and some of us didn't, but I don't think it's a coincidence that the tech bust brought us back to our annual houseboating trips. As a generation, we were all swerving back toward our first principles—like community and friendship—in the same way that the tech writers were dusting off their half-finished novels.
So it was that in the summer of 2000 we met on Lake Don Pedro, a rambling reservoir in the foothills west of Yosemite Valley. We were pleased to find that, during our absence, the houseboats had gotten plush. What had once looked like a crappy RV bolted to pontoons now looked like a supernice RV with an actual hull. These boats had stereo systems, televisions with VCRs, wet bars, and trash compactors. They were also bigger: The one we rented that year was 59 feet long; the next year it was a 65-footer.
Last summer, I celebrated my 40th birthday on board the Millennium, the nicest boat in the rental fleet at Lake Don Pedro's Moccasin Point Marina. The Millennium is 70 feet long and 16 feet wide. Its two floors, with four private rooms, beds to sleep a dozen people, and two bathrooms, give it nearly 2,000 square feet of living space—more than my house. It comes with a satellite dish, two televisions, an eight-person hot tub, a gas grill, a dishwasher, and a water slide.
Sadly, my captaining skills, which had slowly improved in the late eighties and early nineties, have been dramatically outpaced by the increasing size and complexity of the boats. I counted more than five dozen switches on the control panel of the Millennium, operating everything from the generator to the running lights. Maneuvering this grand vessel—lumbering under the weight of beer, gasoline, salty snack foods, and whole sides of beef ready to barbecue—between generously spaced bridge pilings felt practically death-defying.
Because we've gotten used to upgrading each year, a few of us have our eye on Lake Powell. There's a houseboat available there called the Odyssey that is 75 feet long, with two gas barbecues, a 17-bottle wine cooler, and a fireplace. I visit the Web site once a day to marvel at its picture. I guess as long as the houseboat-rental industry continues to be willing to give me the keys to bigger, nicer boats, I will continue to drive them off into the sunset.
Acccess & Resources
Herman and Helen's Marina, Sacramento–San Joaquin Delta, California: Rent a houseboat ranging from a 35-footer that sleeps six ($518–$895 per weekend) to a 56-footer with a hot tub, fireplace, dishwasher, TV, and stereo ($2,125–$3,495). 800-676-4841, www.houseboats.com
Moccasin Point Marina, Lake Don Pedro, California: This 13,000-acre lake has several branches, which makes finding a private spot possible most weekends. Rent the top-of-the-line 70-foot Millennium ($3,395–$4,995 per weekend), or a boat ranging from 56 feet to 65 feet for $1,195–$2,695. 800-255-5561, www.moccasinpointmarina.com
Lake Powell Resorts & Marinas, Arizona: At 75 feet, the Odyssey is one of the nicest boats in the country ($8,897 per week). And Lake Powell has some 2,000 miles of shoreline, so you can usually snag your own sandy beach or hidden cove. 888-486-4665, www.lakepowell.com