Indefinitely Wild
How to Camp at a Music Festival (and Actually Like It)
Staying safe, clean, and healthy while having the time of your life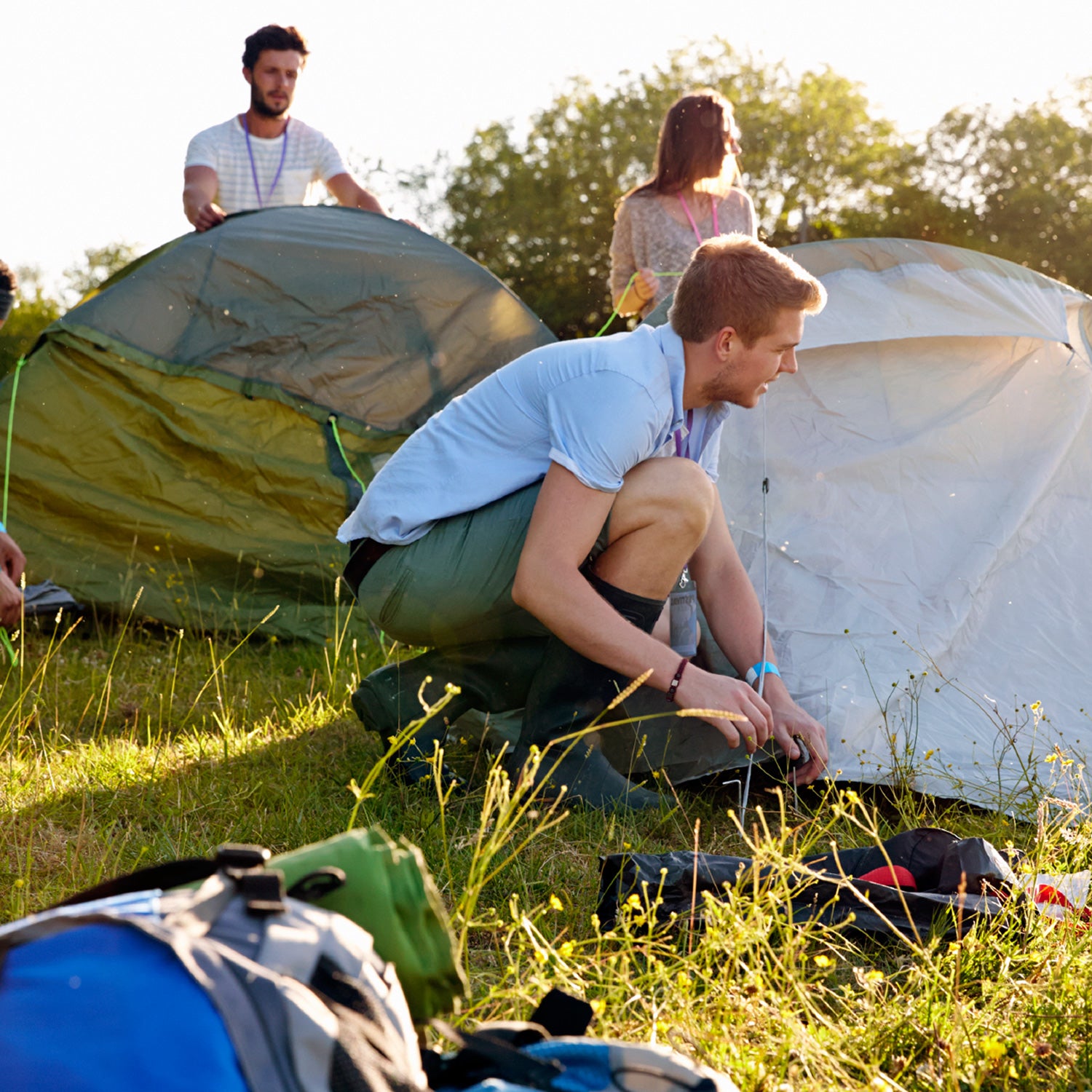 Monkey Business Images/iStock(Photo)
Heading out the door? Read this article on the new Outside+ app available now on iOS devices for members! Download the app.
It's summer. It's warm. You're camping in a field with thousands of other people. Easy, right? Then why do so many people get it wrong? With some basic preparation, camping at a music festival can be the best weekend of the season. Here's how to get it right. 
Camping 101
The Necessities
A lot of people camp out at music festivals who don't otherwise sleep outdoors. So bear with us as we go a little remedial.
Tent: You'll want a quality tent with a body composed mostly of mesh and a separate rain fly. This allows excellent ventilation while keeping you dry. Tents get wet inside for two reasons: leaks and condensation. A separate rain fly over an all-mesh body is the best way to avoid condensation while staying cool. 
Tent sizes are listed by the number of average-size adults they'll sleep. So a 2P tent is designed to fit two people. But watch out! Those two people will be extremely tight; six people sleeping in a 6P tent will look like a drawer packed tight with spoons. Size up for comfort. A 3P or 4P tent is way more comfortable for two, and a 6P to 8P tent is better for three to four. 
Sleeping Bag: Nights can get surprisingly chilly even in summer. Pack a sleeping bag rated to at least 42 degrees. For good measure, throw in a couple blankets and a pillow. 
Sleeping Pad: Or mattress. These keep you off the ground, provide insulation, and obviously cushion you for a good night's sleep. Basic air beds that you buy at Walmart suck. Buy a real sleeping pad if you can afford it. We tested them all in 2014; this year, we did a deep dive into camping options for couples. 
Finding a Good Campsite
Arrive as early as the campground will let you for the best choice of places to pitch your tent. Look for a spot that's away (and uphill!) from the toilets and trash dumpsters and isn't located in any sort of natural depression. At the same time, try to assess the wind direction and camp below the peak of any hills to shelter your tent from gusts. Look for level ground or a slightly raised mound to pitch your tent on. That will keep the mud out if it rains. If you can, camp in the shade!
To Cook or Not to Cook?
Festival food can be pretty gross, and the lines for the toilets are already long enough. Instead of filling up on funnel cakes, why not enjoy a cookout? You'll want camp chairs, a folding table, cooler, two-burner propane camp stove, and some basic cooking equipment like a pot, pan, tongs, and some plates and silverware. Hamburgers, fajitas, pancakes, and pasta are all easy, quick, and fun to prepare. 
Complement your kitchen setup with a shade/rain canopy of some kind, and you'll have a nice place to hang out while you eat, drink, and enjoy not paying festival prices for either. We really like Coleman's new range of lighted easy-ups. They come packed in a wheeled bag, making it easy to drag from your car to campsite. 
Rules at every festival differ, so check them before trying this, but it can be fun to haul along a portable charcoal grill for cooking. Some double as fire pits—bring a few bundles of wood, and you can relax around a fire at night. 
Footwear
You'll want a pair of flip-flops for showering and lounging around camp, but that's about it. Take a comfortable pair of broken-in shoes for actual festival-going. They'll protect your toes from being stomped while dancing, keep all the gross stuff on the ground off your feet, and provide good traction should it rain or get muddy. 
Ideally, your tent will have a rainproof vestibule, or porch, where you can store your shoes at night. Never wear them in your tent—they'll track in all manner of dirt, which can eventually abrade through the tent's floor, puncture a sleeping pad, and cause other problems. 
Security
The real trick with keeping anything secure, be it a bike, a house, or your tent at a festival, is to make it less appealing or less accessible to criminals than others nearby. Yeah, someone could quickly and easily cut through the body of any tent with a knife, but a little luggage lock may be enough to make someone move along to burgle your neighbors.
For that same reason, we suggest affixing a key storage locker (the kind Realtors use) to your car. It should fit through a tow hook eyelet, door handle, hole in your frame, wheel spoke, or other spot on your car and will give you a secure place to store your car keys where you won't lose them. This trick works equally well for surfers, beachgoers, hikers, and anyone else. Simply hiding your key isn't good enough; you never know who's watching. 
The Camping Accessories You'll Need
Water: One gallon per person per day. And make sure you're drinking it. Cases of water bottles are the most convenient and cost-effective solution. 
Alka-Seltzer: For the morning after. 
Baby Wipes: They clean your hands, they wipe your butt, and you can even use them to take a bird bath. Never go camping without them. 
Flashlight: A keychain-size flashlight will help you find your tent after dark. It'll also help you avoid tripping over power cords and guylines or stepping on a passed-out person. Install a fresh battery before the weekend. 
Hand Sanitizer: Because you'll be touching gross stuff and touching your face. Try to use the hand sanitizer in between those two actions. 
Warm Layers: It gets cold at night. Even in summer. Even in the desert. You'll never regret packing a pair of long pants and a lightly insulated jacket. 
Contractor Bags: For hauling your trash to the dumpster without tears or spills. 
The Camping Accessories You'll Want
If you aren't camping at the festival simply to save money, you might want to make your experience as enjoyable as possible. None of this stuff is necessary, but it can really add to the experience. 
Tent Lights: Big Agnes recently launched a range of tents targeted at festivalgoers that incorporate LED lights into the tent body. They're really neat, but the effect can be replicated with a cheap set of tent lights from Eno. Bonus: They help you find your tent in a crowded field and make your camp look like the kind of place where attractive people might want to come hang out.
Rugs: Throwing rugs down under your canopy, outside your tent, or on its floor can help make your campsite feel like home. Again, just operate a no-shoes-allowed policy on top of them. 
Camp Showers: Sweaty, gross, and covered in dust? Nemo makes a killer pressure shower that can double as a dishwasher. Fill it up and leave it out in the sun all day for a warm rinse. 
Chairs: Never underestimate the power of comfort. Cheap $10 folding chairs from Walmart do just fine and should last an entire weekend, but we appreciate the additional comfort and quality of REI's Hang Time chair. It even has a drink holder. 
Coolers: The latest generation of rotomolded coolers can keep ice cold for several days but often cost a fortune. Igloo's new line provides most of the same effect for much less money. A soft cooler may be easier to transport—if the festival will let you bring it into the concert grounds. And nothing beats the Yeti Hopper in the portability-to-effectiveness ratio. 
Bluetooth Speakers: There are a ton of options out there. Make sure you read Outside's test of durable options. 
Portable Power: Do not waste your money on solar chargers. They work so slowly as to be massively more inconvenient than simple, compact, and affordable battery packs. The Dark Energy Poseidon is our favorite. With a 10,000 mAh capacity, it holds enough juice to charge an iPhone 6 three times in a package that's about the same size and weight. 
Mosquito Repellant: In addition to DEET-containing spray, the only thing in the world that actually repels mosquitoes is Thermacell's catchily titled Mosquito Repellent Device. Set one down, fire it up, and enjoy a 15-foot bubble with no bugs in it at all. 
Have you been camping at a music festival? Tell us your best strategies in comments.
Lead Photo: Monkey Business Images/iStock
Trending on Outside Online