The Italian Job
We sent our wayward columnist to row a boat in Cinque Terre and all we got was this lousy letter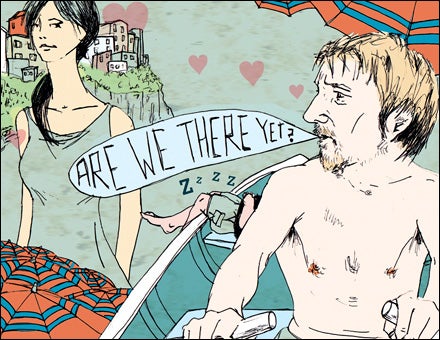 Heading out the door? Read this article on the new Outside+ app available now on iOS devices for members! Download the app.
Cinque Terre, Italy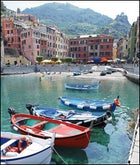 PHOTOS DON'T LIE: A few unrentable rowboats in Cinque Terre's Vernazza
Dear Editors,
How are you? I'm fine, thanks. I'm sitting outside a busy little gelato shop a couple hundred paces from the hilly shores of Lake Como trying to, well, piece together a sort of journalistic accident report of the past ten days. Trying to understand exactly how I overspent the budget by about a grand but still somehow managed to bungle the assignment.
I know what you're thinking: "We sent you to Cinque Terre. What the hell are you doing near the Alps?"
I can explain.
As you no doubt remember, my seductively simple plan began with Jock, the surprisingly eloquent male model. I met him three years ago in Levanto, at the edge of Cinque Terre, the string of five seaside hamlets west of Florence: Monterosso, Vernazza, Corniglia, Manarola, and Riomaggiore. While Jock's girlfriend revarnished the gunwales of their dinghy, the lanky dude waxed rhapsodic about the joys of visiting those incredibly quaint fishing villages draped over the cliffs, saying that though you could reach them by train, ferry, taxi, or ancient walking paths, the only way to really appreciate them was from a traditional skiff. Whammo! A mission born of passion and romance (and maybe a twinge of jealousy).
Of course, between then and now, I didn't really do a ton of research.
I did study some maps online, but how was I to know Cinque Terre was just six miles long, rowable in an afternoon? The thumbnails had no distance scales! Who knew Google Maps covered other countries?
As for getting the boat—OK, I'm not sure I checked to see if anyone rented rowboats. (They don't.) But even if I didn't, c'mon, the towns are lousy with 'em. (See photo, page 53.) Besides, planning is not my strong suit. You know that. "Wing it" is more my méthode de guerre, whether paddling an inflatable pool toy across Walden Pond or ripping down Kilimanjaro on mini-skis.
This was no different. The fundamentals were solid. The Chianti was cheap!
WELL, ACTUALLY, this assignment was a bit different. For starters, rather than travel solo as I normally do, I brought along J.D., my perfect complement. I'm tall, slender, blond, schizo, single, athletic (Boulder, Colorado); he's short, heavy, brunet, bookish, married, and burdened, as he admits, with "the metabolism of used potting soil" (Madison, Wisconsin). In our decade-long friendship, this synergy has been the basis of a dynamic Tango & Cash–like duo that hasn't yet worked with the ladies but kills the moms. I figured it'd play in Italy, too, because he'd be awake.
Nope.
After sleeping 17 of the first 20 hours of the trip, he woke for dinner, then conked out afterwards, from ten that evening until—I kid you not—4:23 p.m. the next day. That's not jet lag; that's a coma.
But I didn't let that get to me. While the Thing hibernated, I spent most of the day interviewing a dozen locals at Levanto's marina. Jock was gone (his waifish charm not forgotten), but I found an equally affable fellow shipwrecked at the clapboard boatyard bar. Marco Scaramuccia was wearing nothing but soggy boxer briefs when he greeted me with a slap on the back. Of course we could rent his boat. "No problem," he said. "I'll set you up tomorrow."
The next morning, though, Marco changed his mind. I would have pressed the issue, but he stunk. Plus everyone claimed we'd have better luck in the next town over, Monterosso, because supposedly it was the Mediterranean capital of anchovy fishing. This was an auspicious sign; J.D. loves anchovies.
So we followed a clotted gang of Germans with heavy leather boots and trekking poles on the three-mile hike over a pine-covered hill. With J.D.'s frequent "chubby breaks" (his words, not mine), it took twice as long as it should have. But when Monterosso finally came into view, we saw rowboats galore. They were beside the striped umbrellas, changing rooms, and paddleboats lining the beach. A few even rested up on the fashionable boardwalk, below a row of pastel apartments.
We dug right in. Or, rather, J.D. shuffled mutely behind while I dug right in, chatting up the lifeguards, the Gucci set, the beguiling old women playing dominoes in the shade of a sport club. The answer was always the same as Marco's—"È impossibile." But why it was impossible varied. Either it was just plain old palms-to-the-sky impossible or we needed special licenses or running lights or national-park permits. Baffling. Only Italians would create a national park that can be visited in stilettos.
J.D. claims that if he'd been on his own, he simply would've stolen a boat, because "that's how I roll." My solution was my solution to many problems: find a coed. One who could translate. But when I finally saw her, I could only drool. Maybe 22 years old, local, alabaster skin, floppy black ponytail, swan's neck, she bounced down the street, then stopped to pet a shaggy little terrier and joke with its aging owner leaning on a cane. She had that "I love the world and of course it loves me" glow about her. My Juliet! And then she vanished.
We ended up spending the rest of our third day of the Hunt writing notes with my cell-phone number and a phrase a partially deaf ferry-ticket vendor had taught us, setting them under stones on any boat that looked like it had been used in the past decade. Moi vogliomo noleggiore uno barce x5 giorni. Grazie. As far as we could tell, this meant "Me five times a groundhog fondle today. Thank you." But you have to understand, this was our best effort. The lifeguard had already said none of the dozens of owners would rent them; we were merely double-checking.
THE NEXT DAY, soliciting a few other woulda-been fishermen, we learned that, besides the general impossibility of things, Levanto, Monterosso, and Riomaggiore were the only towns in the area with a reputation for boats. Just four days in and we were already two-thirds of the way toward failure. I was beginning to picture our glorious row, and my professional reputation, drifting off toward Tunisia.
We desperately needed to change tactics, and I resolved that we would simply buy and captain a rubber raft, inflatable lounge chairs, a Spider-Man float tube, or any other oceangoing pool toy, mistrals be damned.
We hopped a train for the nearest big city, La Spezia, an oversunned, heavily militarized coastal city of 90,000. But the sporting-goods stores had closed for a local holiday.
"The Feast of the Immaculately Work-Averse Italians," J.D. joked.
Unamused, I suggested J.D. use his wit to find us a bus back to the train station.
We rode the train in silence to Riomaggiore, our last hope. It, of course, was also shut. We called it a day.
At 9:15 the next morning, a neighbor began refurbishing a stack of wooden shutters with a vibrating sander right outside our window. J.D. didn't so much as scratch himself.
"I can't do this alone!" I wanted to yell but of course didn't, because obstinacy and the belief you can do pretty much everything without assistance are the cornerstones of manliness. Enraged, I left J.D. to suffer another scolding for late checkout. It was bad, guys. B-A-D. The more manic I grew, the more he slept, so the more manic I grew. We had transformed from good friends to a silently feuding couple.
LATER THAT DAY, after dozens more fruitless attempts (including several failed introductions by an old-country version of Paulie Walnuts from The Sopranos), we collapsed on a bench, and the grumps and disillusionment set in.
Even if we'd had a boat, the place would have sucked. Jock's description of the land of milk and biscotti couldn't have been further off. There were no fishermen relaxing on the docks, no locals ready to invite us up to their villas for a bel riposo. Cinque Terre was a Knott's Berry Farm of quaintness. Every hour or so, a ferry would arrive at the towns and vomit throngs of bliss-blind honeymooners, drunk study-abroad students, and bumbling tour-ons. It may have been more tranquil when you guys sang its praises years ago, but now the place is a goddamn pileup.
But what were my options? Either loiter with the refrigerator-magnet shoppers or hang out with J.D.
I chose the magnet shoppers.
While J.D. returned to La Spezia to mime the mildly dirty act of blowing up a rubber raft to sporting-goods clerks—or so he claimed, at least—I decided I needed to see my Juliet.
Go ahead, say it: "What the hell?!" [Editors' note: What the hell?!] Truth is, I can't explain why. Trusting your gut is just something I've learned to do in the field.
I quickly found a bartender in Monterosso who knew Juliet's real name— Maies—but, dammit, the bartender also knew she had the next few days off. I wouldn't be able to see her.
Trip: over. Life force: drained.
Juliet was gone. J.D. was away. A boat was nowhere to be found. La dolce vita wasn't so much as a gelato flavor. I wandered down to the beach to be more alone.
On the way, I passed a middle-aged coiffure walking up the cement stairs to her beachside apartment and, impelled by nothing more than habit, threw out "Mi scusi! My buddy and I are here from Colorado and Wisconsin and we were hoping to row down the coast. You don't have a rowboat we could rent, do you?"
"Sure," she said in perfect English. "My husband Angelo's." His family, the Benvenutos, had been fishermen in Cinque Terre for more than a thousand years. He happened to be one of the last commercial anchovy fishermen remaining in Monterosso, and she could surely offer us their extra dinghy, Strefugio (roughly, "something you know you should get rid of but don't want to"). We agreed on a fee of 40 euros per day.
Five minutes later, I was staring at the elegant lines of a periwinkle-blue beauty.
AROUND SUNRISE the next morning (sunrise!), we shoved off from Monterosso in the 13-foot skiff with our backpacks in the bow, a bailing bucket resting between the hull's wooden ribs, and a long coil of line attached to a plow anchor stashed neatly in a crate.
All went well for the first few hours. J.D., at the oars, and I, reclining in the stern, resumed something like our chummy old ways. We docked at Vernazza for breakfast. Gelatoed at Manarola. We were doing it!
As the sun climbed higher, we began to wither in the doldrums. J.D.'s inability to row a straight line or sing songs other than Christmas carols started to irk, as did his dreamy, baby-gets-a-bath oar strokes. For my part, I fouled the anchor in boulders covered with spiny sea urchins, meaning I had to dive down and wrench it free from what might as well have been a Malay cockfight. Bloody scrapes covered my chest, arms, and knees.
At three o'clock, we reached Riomaggiore, the last of the five towns. We'd completed the mission. You might think I felt proud, and I did—in a very "Thank God that assignment is over" kind of way.
For lack of a better plan, we turned around. Which is when things really started to fall apart: The wind picked up to about ten knots, tossing little Strefugio from trough to whitecap. Halfway home, we could barely keep both oars in the water. Headway turned to drift. The boat-hungry cliffs smiled.
Eventually, we clawed our way back to Vernazza. But because the Giro d'Italia had passed by earlier in the day (when we were in Vernazza… wondering why it was so damn busy while we tried to figure out which town the Giro was passing through), all rooms were booked. We ended up unrolling our sleeping bags in a cramped, urine-scented cave a little ways off the beach.
At dawn, we both acknowledged that we were deeply, deeply sick of Cinque Terre. "I hate this place," I said, shivering from having had to retrieve yet another bungled anchor.
"If I ever meet Jock, he'll have to retire from male modeling," J.D. replied.
We had made up, you see. Throughout the preceding day, I'd offered a silent little apology to J.D., admitting that I had pretty much been a Wagnerian ass. He'd done likewise, I like to think. Regardless, instead of blubbering out that sissy stuff, we took our animosity and redirected it at Cinque Terre—a.k.a. Cinque Minutes Is Enough—and then decided to get the hell away. Which brings us back to Como.
Why Lake Como? Again, not sure. Call it primal instinct. Spanked by the sea, we retreated to the mountains.
SO THAT'S THE STORY/justification/alibi. I left out a lot about the gelato (I think it might be addictive, actually), but you get the idea. All that said, I think there are numerous ways to make this a really bang-up piece!
1. If we run an artsy map without a scale, I can really stretch the rowing, making it seem like a hell of a journey.
2. I frame it as one of those wistful ex-pat love letters to X-romantic-place-in-Europe. Forget the rowboat and tourist junk show. I'll focus on the food (exquisite!), scenery (dramatic!), hotels (nestled!), and history (long, I'm guessing).
3. Let's be honest and do a destination takedown. Tell it like it is. Whaddya think?! It could be great!
I'll call to discuss when I get back. In the meantime, can we keep this misadventure between us? [Editors' note: No.]
Best,
ERIC
P.S. Rowboats are frickin' everywhere in Lake Como. And for rent, of course.
P.P.S. If Accounting asks, could you say that Lake Como is part of Cinque Terre? And that "gelato" means "taxi"?