The 10 Most Deadly National Parks
We pulled records from January 2006 to September 2016 on where, how, and why park visitors are dying. Here's what we found.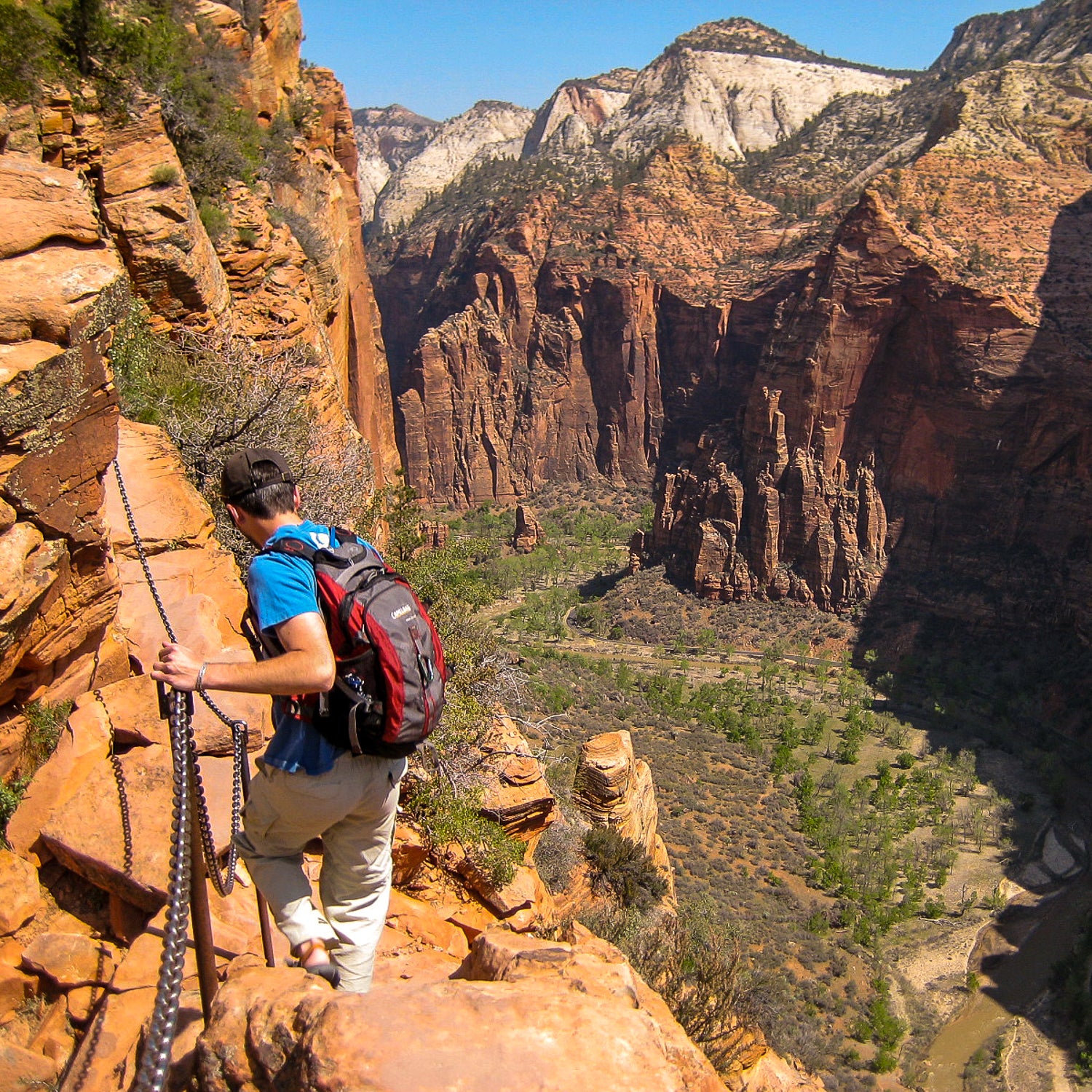 <a href="https://www.flickr.com/(Photo)
Heading out the door? Read this article on the new Outside+ app available now on iOS devices for members! Download the app.
In June, a 23-year-old Portland man walked away from a boardwalk and slipped and fell into the boiling, acidic spring in the Norris Geyser Basin in Yellowstone and never emerged. In July, a 35-year-old Florida woman fell to her death from a Grand Canyon trail when posting a photo from Ooh Aah Point. In August, a 64-year-old Atlanta woman died after she was hit by a car while looking at a snake on a Great Smoky road.
These are just a few of over 1,000 deaths excluding known suicides that occurred over the past decade in the most deadly national parks in the country. The number one overall cause of death is drowning, followed by motor vehicle crashes and slips or falls, according to Jeffrey Olson, public affairs officer at the National Park Service in Washington, D.C.
Since the Parks Service doesn't offer updated aggregated records on the official number of fatalities, we pulled records from January 2006 to September 2016 on where, how, and why park visitors are dying. Here's what we found.
Lake Mead National Recreation Area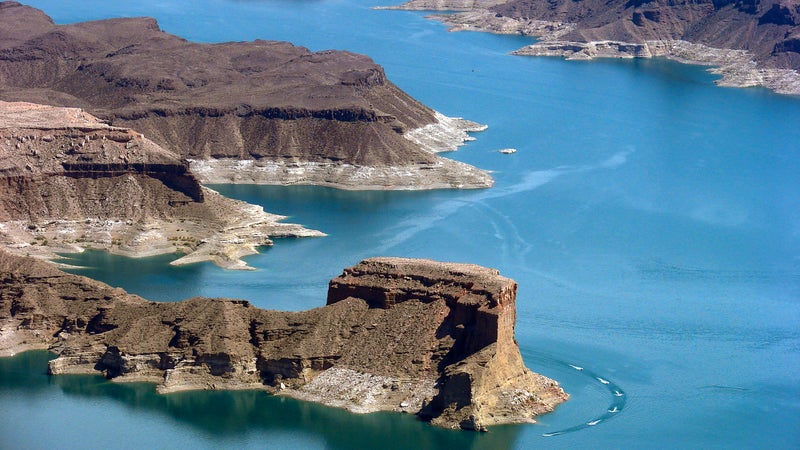 Established: 1964
Size: 1.5 million acres
Visitors: 7.2 million annually
Deaths: 254
Set in the Nevada desert, Lake Mead's high temperatures are brutal and the rugged terrain claims an average 25 casualties each year. But the real danger is the 290-square-mile lake itself. As of September, a total of 15 people died in the park this year; four of them drowned. The park also has the highest number of homicides of any Park Service unit over the past decade at six.
Yosemite National Park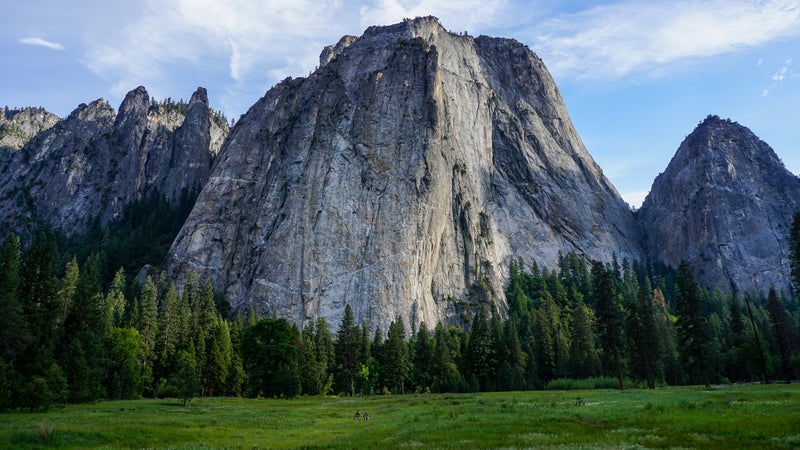 Established: 1890
Size: 747,956 acres
Visitors: 5 million annually
Deaths: 150
Yosemite's granite walls and alpine ridges have long attracted outdoor enthusiasts of every breed, and the common causes of death bear that out: people there most often die from falls or natural causes, such as cardiac arrest and heart attacks, while hiking or climbing.
A hiking website dedicated to the park shows more than 20 people have died on Half Dome alone due to falls, lightning strikes, and heart attacks, and that number rises to more than 60 when adding deaths on linked trail systems. This year, the park had 15 deaths from natural causes, drownings, and climbing-related accidents.
Grand Canyon National Park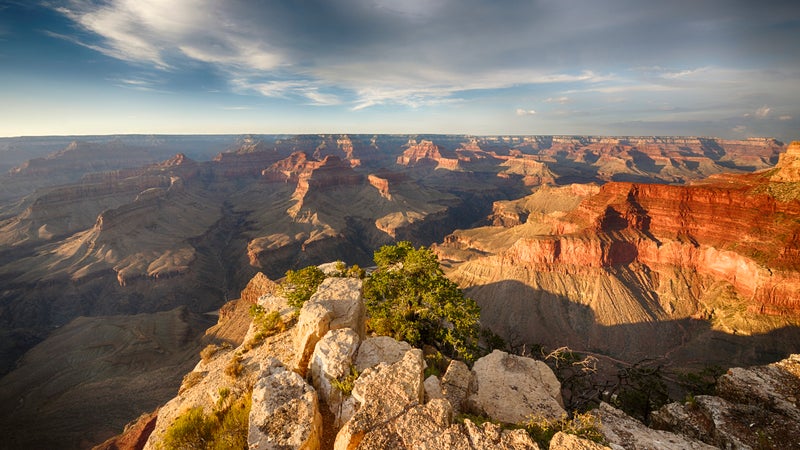 Established: 1919
Size: 1.2 million acres
Visitors: 5.5 million annually
Deaths: 130
The crown jewel of the Park Service, the Grand Canyon possesses an ancient geology difficult to traverse and the drastic swings in climate, from sub-zero to triple-digit temperatures, punish unprepared visitors. Eight people died in the park this year, most due to cardiac arrests and falls off hiking points. The park has the second highest number of suicides over the past decade, at 19.
Yellowstone National Park
Established: 1872
Size: 2.2 million acres
Visitors: 5.969 million annually
Deaths: 93
The 13 deaths in Yellowstone this year included the highly-publicized demise of a man who fell into a hot spring in Norris Geyser Basin. At least 22 people are known to have died in the park's scorching thermal springs. The latest death was that of a 13-year-old boy, who suffered terrible burns when he fell into a nearby hot pool in the Norris Geyser Basin.
Golden Gate National Recreation Area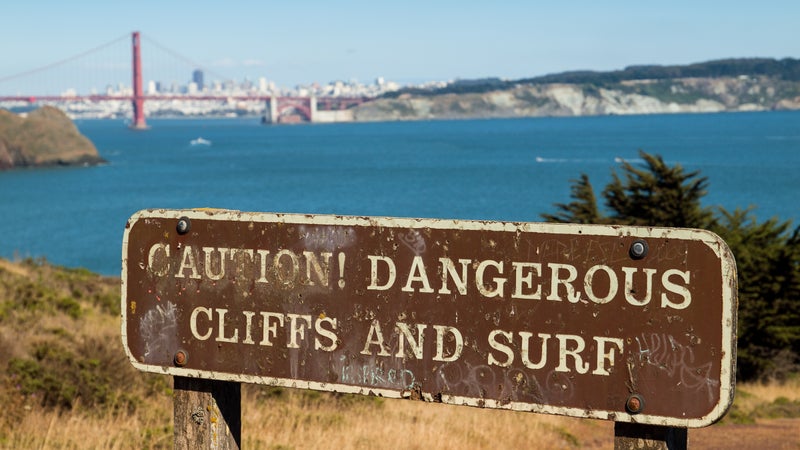 Established: 1972
Size: 82,000 acres
Visitors: 15.6 million annually
Deaths: 85
Rip currents and sneaker waves are some of the risks tourists face when swimming in the beaches within Golden Gate. The U.S. Park Police and law enforcement rangers, which serve the park alongside the San Francisco Fire Department, recommend against venturing into the surf here. Despite its name, the Gold Gate Bridge is not part of the park; it is managed by a bridge district and so the rising number of youth suicides here are not reflect in park data. But the land on either side of the bridge is within the park and law enforcement caution people visiting the urban metro area of 7 million from standing on edges of unstable cliffs and driving fast on the many narrow and windy roads.
Glen Canyon National Recreation Area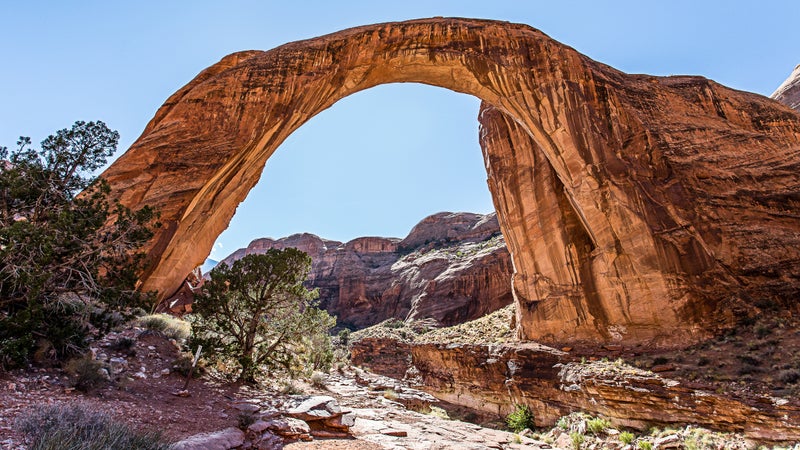 Established: 1972
Size: 1.25 million acres
Visitors: 3.2 million annually
Deaths: 82
Lake Powell, a reservoir on the Colorado River in Glen Canyon, is home to outdoor activities such as boating and water-skiing, but park officials are quick to point out that at least 150 people not wearing life jackets have drowned here in the past decades. Such was the case in August, when a heroic, 35-year-old Colorado woman drowned while rescuing her 2-year-old son who fell out of their houseboat and into the lake. The mother followed him into the water and held the boy above water until her brother reached them in a runabout boat. She was not wearing a life jacket and was unresponsive when pulled out from the water. At that time, her death was the sixth drowning in the lake.
Glen Canyon, which stretches the Utah and Arizona desert, endures temperatures ranging from highs of 110 degrees and lows of 0 degrees. In late August, a 72-year-old Utah hiker was rescued by helicopter after six days of wandering the barren land. He had become disoriented, while hiking toward Powell Lake and was found sunburn and dehydrated.
Denali National Park and Preserve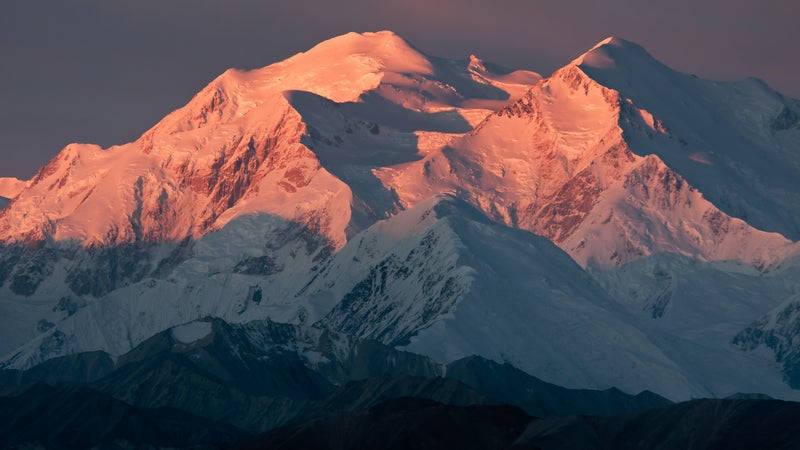 Established: 1917
Size: 6 million acres
Visitors: 587,412 annually
Deaths: 62
In 1967, a snow storm roared across Mount McKinley and killed seven of 12 students attempting to summit Denali, the highest peak in North America. Nearly five decades later, Alaska's most-visited park had four deaths this year, including that of a 45-year-old Czech mountaineer who fell 1,500 feet, while skiing the Messner Couloir and a 66-year-old Japanese climber who succumbed to a fatal cerebral edema, while climbing the summit and descending the 20,310-foot peak's West Buttress route.
Great Smoky Mountains National Park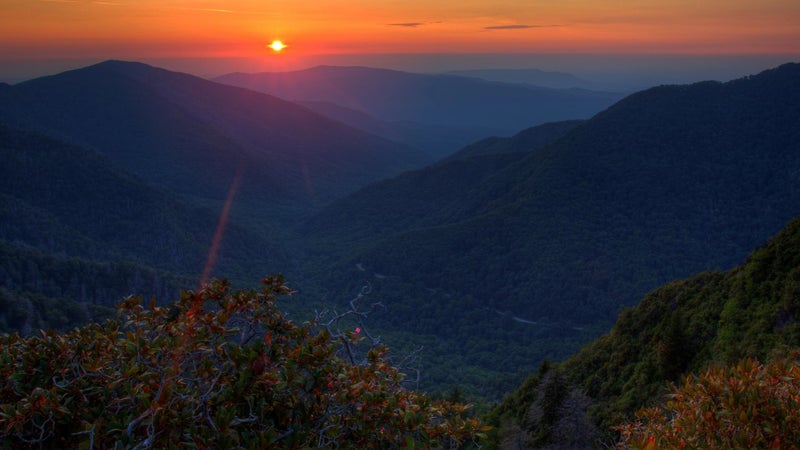 Established: 1934
Size: 521,621
Visitors: 11.3 million annually
Deaths: 60
Great Smoky draws more visitors than any other Park Service unit, boasting 800 miles of hiking trails and unmatched forests in its Appalachian setting. Of the tens of thousands of visitors this year, seven people died: four were killed in motor vehicle accidents, two drowned, and one woman perished after falling eight feet off a rock wall.
Grand Teton National Park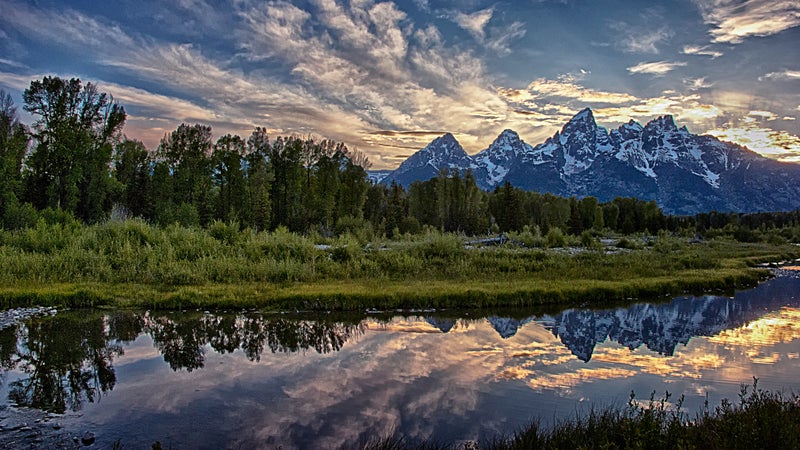 Established: 1929
Size: 309,993 acres
Visitors: 3.3 million annually
Deaths: 59
The striking Teton Range is one of the nation's deadliest due to its steep forests and foothills. The park had four deaths this year, including the loss of a 42-year-old mountain guide who died falling off the Grand Teton when he unclipped his tether from an anchor while reaching for a rappel device.
Natchez Trace Parkway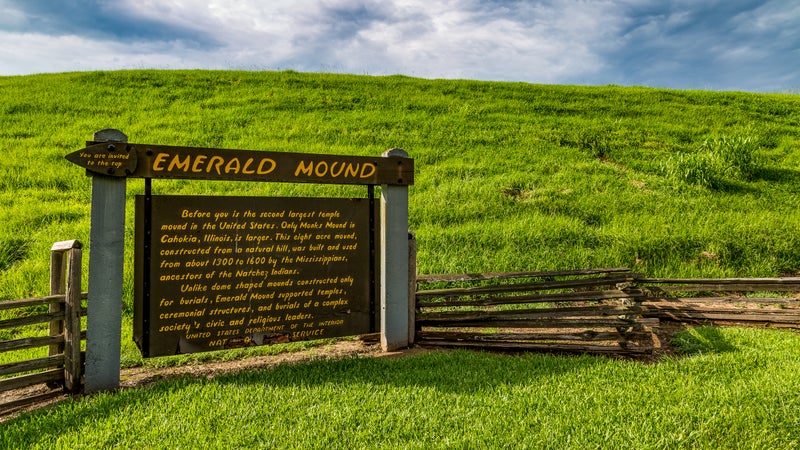 Established: 1988
Size: 444 miles
Visitors: 5.9 million annually
Deaths: 56
Once traveled by Native Americans and settlers, this parkway, which the Park Service maintains and considers a park, offers motorists and bicyclists the scenic views and monuments of the Appalachian foothills and bluffs on the lower Mississippi River. But the ride through Eden can be dangerous. Seven people died on the road this year from motor vehicle crashes. In fact, only two of the 56 deaths recorded over the past decade were not related to non-motor vehicle, motorcycle, or bicycle incidents. Natchez leads the park system with the highest number of suicides over the past decade, at 25.
Corrections:
(10/03/2023) An earlier version of this post incorrectly stated that a guide falling off Exum Mountain. The guide fell coming down from an ascent of the Grand Teton. Outside regrets the error.
Lead Photo: <a href="https://www.flickr.com/
Trending on Outside Online