63 Parks Traveler
I Saw an Epic Sunset at Badlands National Park
Our 63 Parks Traveler meets bison and sees surreal geography at this South Dakota stop, the 23rd visit on her journey to see every U.S. national park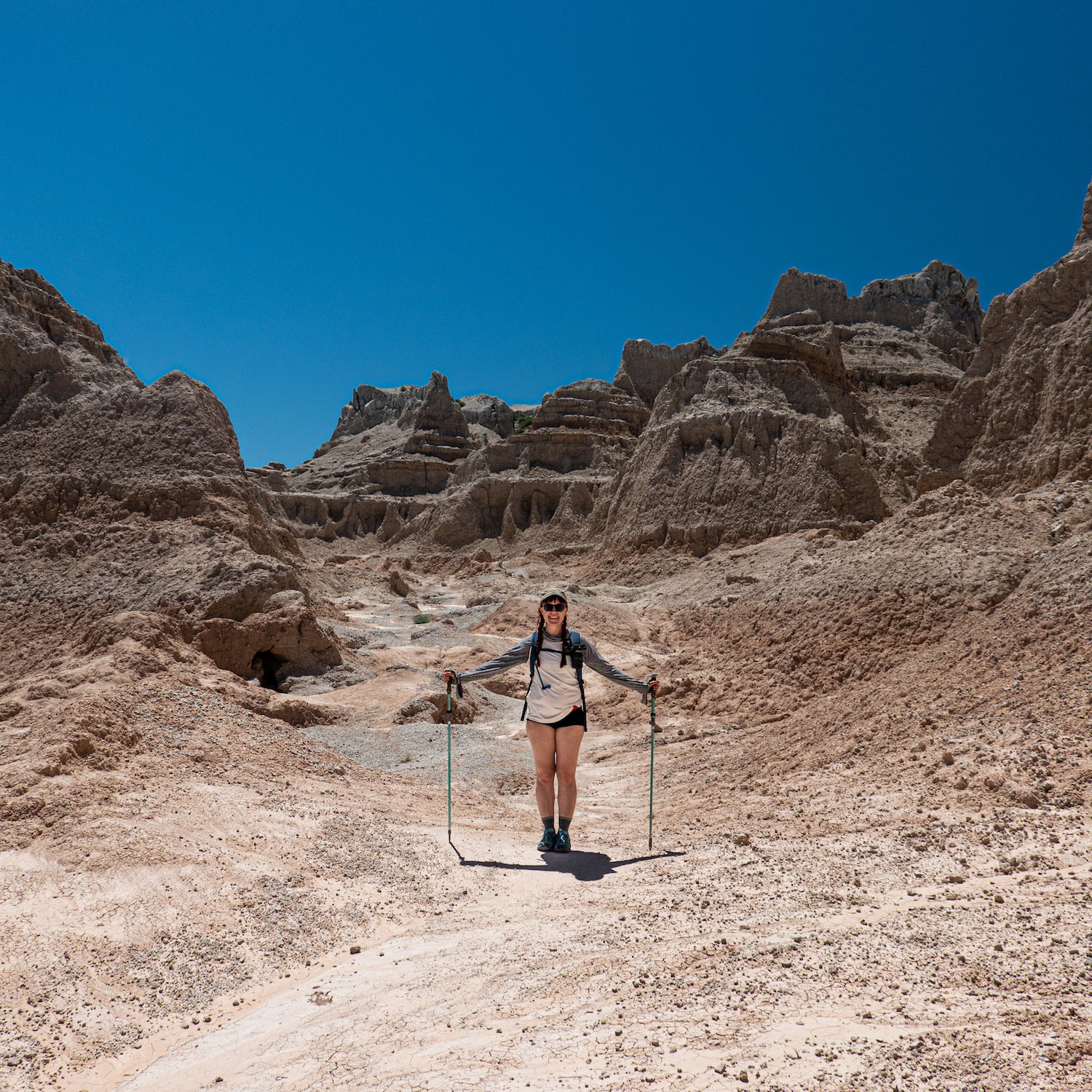 Heading out the door? Read this article on the new Outside+ app available now on iOS devices for members! Download the app.
63 Parks Traveler started with a simple goal: to visit every U.S. national park. Avid backpacker and public-lands nerd Emily Pennington saved up, built out a tiny van to travel and live in, and hit the road. The parks as we know them are rapidly changing, and she wanted to see them before it's too late.
Pennington has returned to traveling and is committed to following CDC guidelines during the COVID-19 pandemic to ensure the safety of herself and others. She's visiting new parks while closely adhering to best safety practices.
---
Entering Badlands National Park on the less-traveled Sage Creek Road is not for the faint of heart. After a long drive through a sea of mottled, green grasslands, I took a sharp left turn down a washboard road and watched as my van kicked up a plume of dust in the rearview mirror. A dozen miles later, I drove up to a sunny picnic table at Sage Creek Campground and was instantly greeted with a series of high-pitched alarm-like chirps. Hundreds of small rodents scattered and disappeared underground.
The campground was set in the middle of a prairie dog town.
I watched the playful little ground squirrels go about their daily dance, giggling every time they arched their backs, stood on their hind legs, and uttered a synchronized two-syllable screech. Caught up in watching them, I nearly forgot that there was a huge, wild park surrounding me. I was reminded of that again when I set off for the bathroom to find it casually guarded by a trio of male bison.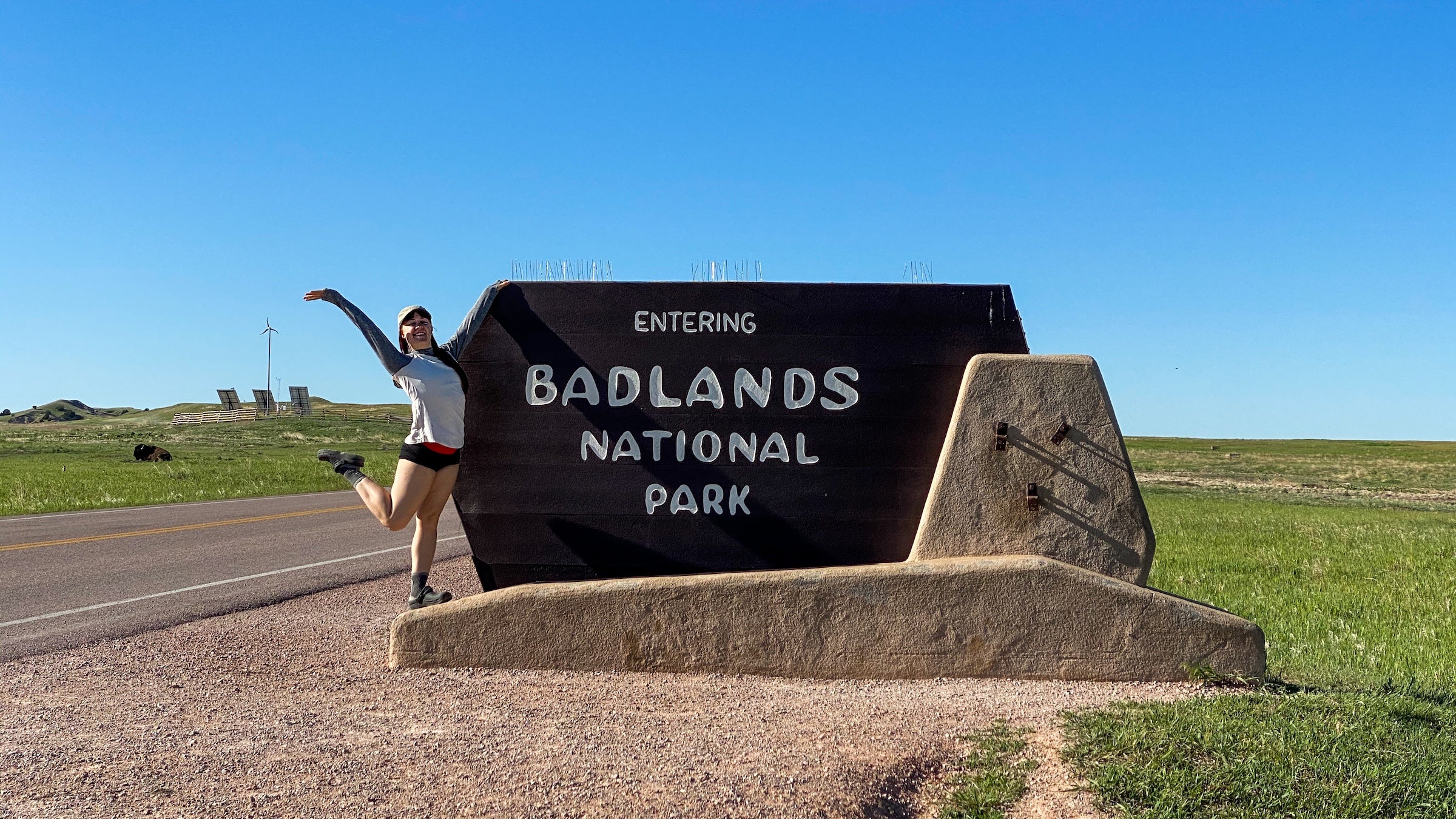 The next morning, I woke up at 6 A.M. to beat the forecasted 95-degree July heat and check out the Castle-Medicine Root Loop, a seven-mile trail that cuts through the heart of the park's most striking badlands formations. By 7 A.M., the temps were already in the mid-70s, and my poor Scandinavian body was lagging.
I ambled through the maze of sedimentary rock and big prairie vistas in awe of the stark desolation around me. Blood-red stripes perforated the otherwise dull, cream-colored buttes and spires. I couldn't believe that early American homesteaders once tried to navigate and farm these crumbling hills.
Once the thermometer hit 93, I was done. I dumped water over my head, hopped back into my van, and sped off toward the Cedar Pass Campground to escape the sweltering mid-day heat. Half-naked and sprawled out in the shade on top of my site's sole picnic table, I prayed for the sun to start sinking.
After what felt like an eon, I lifted my head to find that the once drab badlands were suddenly awash in color. The sun was beginning to dip below the horizon, turning the park and everything in it a blasphemous shade of pink. It was utterly captivating.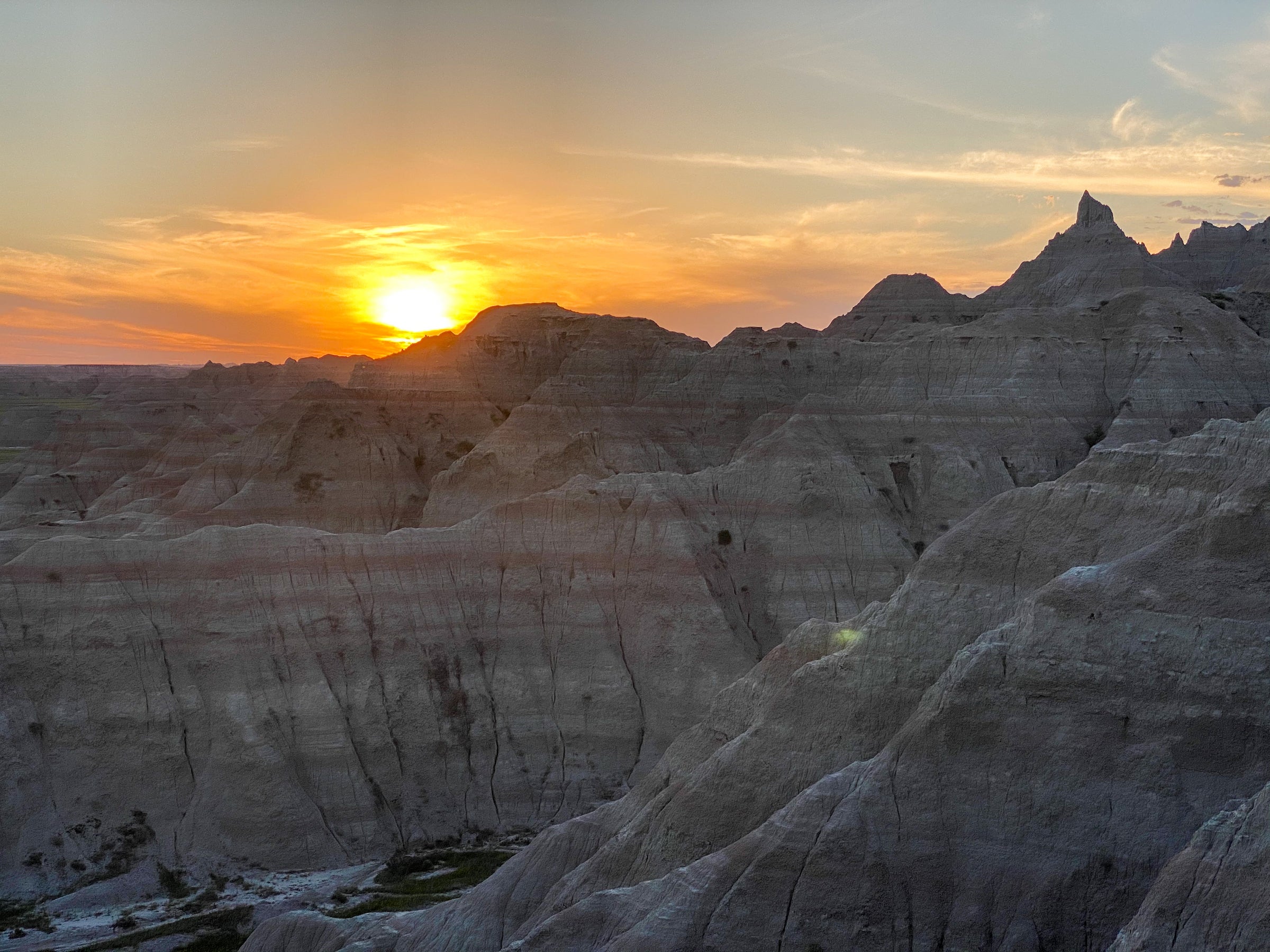 I jumped into my van in search of the perfect vantage point from which to view the evening's show. I pulled over near Norbeck Pass, just as the sun was dipping behind a toothy ridge of eroding rock.
As I stood in the still air and gazed out at the vast grasslands to the west, I noticed that several other groups of travelers were gathered in clusters nearby, staring awestruck at the same trick of the light. I found myself swelling up with gratitude.
The parks are so often a perfect excuse to subvert our ordinary busyness, beckoning us to do nothing other than slow down and watch the immense beauty of the light fading.
62 Parks Traveler Badlands Info
Size: 242,756 acres
Location: South Dakota
Created in: 1939 (national monument), 1978 (national park)
Best For: Scenic drives, hiking, car camping, geology, night sky viewing
When to Go: Spring (25 to 73 degrees) and fall (25 to 81 degrees) provide near-perfect temperatures for hiking and exploring the colorful badlands formations. Summers (56 to 100-plus degrees) are scorching with plenty of sunshine, while winters (below zero to 41 degrees) are frigid with intense winds.
Where to Stay: The park is home to two developed campgrounds: Sage Creek and Cedar Pass. Sage Creek is the more primitive, free option, located down a dusty dirt road on the park's western side. Cedar Pass (from $23) offers more creature comforts, like water, flush toilets, and showers, and is closer to the park's most famous formations.
Mini Adventure: Hike the wheelchair-accessible Window and Door Trails. Located in the heart of the park's Cedar Pass area, these two .25-mile boardwalk paths are kid-friendly and get visitors up close to the park's namesake badlands. After snapping a few photos, consider taking a scenic drive along Badlands Loop Road to see first-hand the miles-long expanse of the Badlands Wall.
Mega Adventure: Backpack the ten-mile (round trip) Castle Trail. As the longest trail in the park, this hike traverses some of the most scenic pinnacles and spires that make the area famous. For a change of scenery, consider taking the Medicine Root Trail on the return trip to check out the biodiversity of the park's mixed grass prairie landscapes. Backpackers, take note: many of the low-traffic trails are a maze of crumbling rock and badlands. GPS is encouraged, and lots of water is a must. This is not for beginner backpackers.
Trending on Outside Online