63 Parks Traveler
Black Canyon of the Gunnison Is a Park of Extremes
Scrambles, climbs, and spectacular scenery: it's our 63 Parks Traveler's 18th stop on her journey to visit every U.S. national park in a year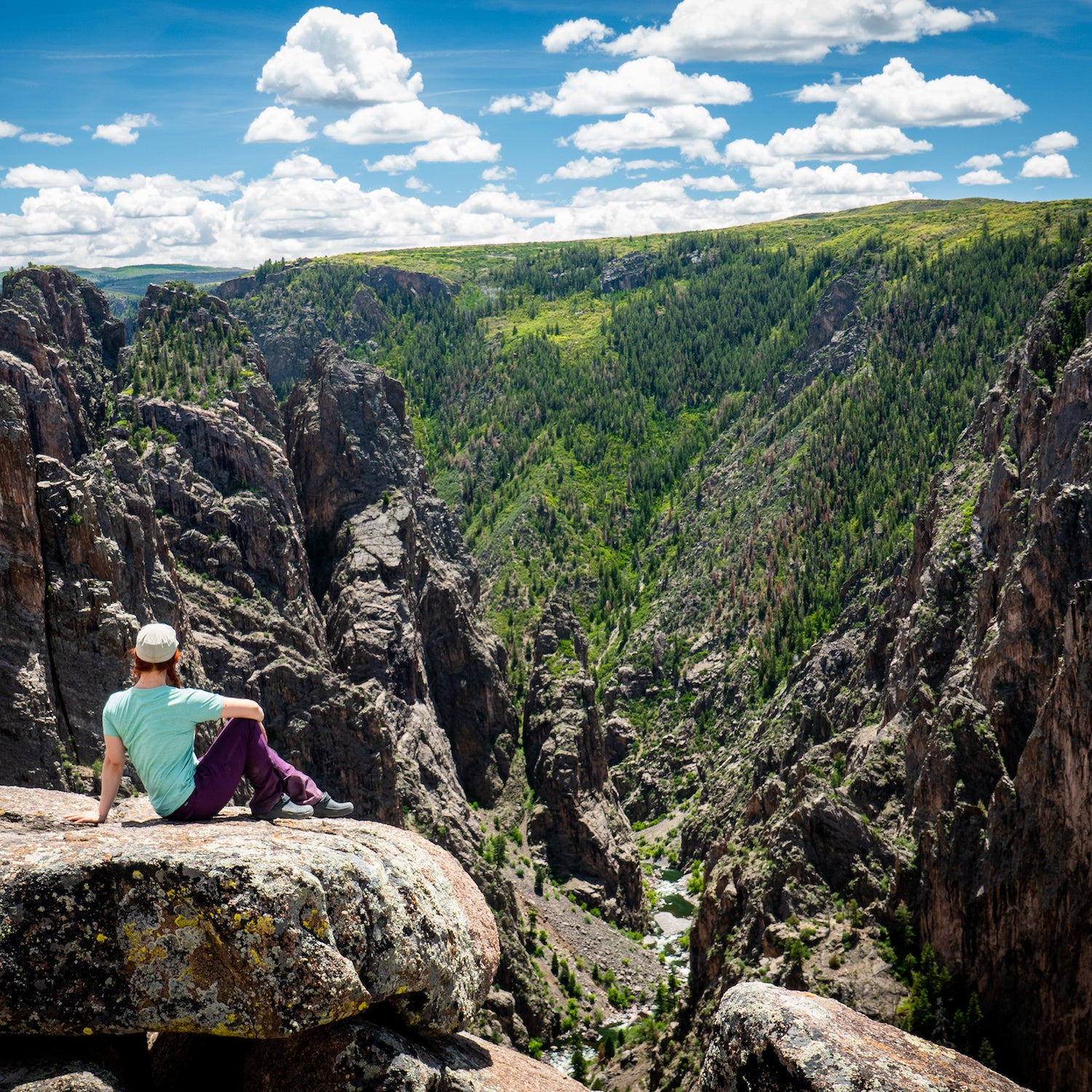 Heading out the door? Read this article on the new Outside+ app available now on iOS devices for members! Download the app.
63 Parks Traveler started with a simple goal: to visit every U.S. national park in one year. Avid backpacker and public-lands nerd Emily Pennington saved up, built out a tiny van to travel and live in, and hit the road. The parks as we know them are rapidly changing, and she wanted to see them before it's too late.
Pennington has returned to traveling and is committed to following CDC guidelines during the COVID-19 pandemic to ensure the safety of herself and others. She's visiting new parks as they open and closely adhering to best safety practices.
---
Black Canyon of the Gunnison is not a hikers' park. That fact became abundantly clear to me as I inched my van along South Rim Road, mouth agape at the sheer cliffs of dark, metamorphic rock. I parked at the visitor center, laced up my boots, and got ready for a long day of scrambling. To fully experience this destination, I would need to climb into the canyon's jagged mouth.
"This has got to be the most metal national-park name in the whole country," said Brian, my partner, who has joined me on the van trip for the long haul. "It's like something straight out of Mordor."
Ladies and gentlemen, this place lives up to its name.
We strolled up to the visitor center to grab the required wilderness permit for climbing into the canyon, and a friendly ranger greeted us with a binder full of images of the Gunnison Route, poison ivy warnings, and advice on how not to get lost.
It was early June, and as we set off on the two-mile Oak Flat Trail, I began to notice bright pops of wildflowers everywhere I looked. Bluebells, larkspur, and creeping mahonia swayed into my vision whenever I shifted my gaze. Black Canyon is a park of extremes, both fertile springtime folly and menacing gash of gneiss and schist.
One-third of a mile into the journey, we passed a sign marking the wilderness boundary. The type-two fun was just beginning. We would drop 1,500 feet in elevation over the next mile and have to turn around and gain it all back before the day was done.
Soon we found ourselves hopping over stray logs, skidding down loose rock, and jamming our trekking poles into the earth to steady our footing. Scree was par for the course, and some sections were steep enough to require me to grab onto nearby tree roots for balance. Mind you, this is the easiest way into the canyon.
After a descent of about 500 feet, there was a long chain secured to a pine tree, meant to help hikers navigate the most vertical 80-foot section. I slapped on a dollop of hand sanitizer and grasped the warm metal, rappelling slowly into the abyss. It took another hour of talus-hopping and butt-scooting down dusty scree before Brian and I made it to the bottom of the canyon and the Gunnison River.
After soaking our feet in the frigid water, the two of us sprawled out near the shore, gazing up at ravens performing dizzying aerial acrobatics high above our heads. Downstream, an angler cast his line, and behind me, I could hear hikers crunching through the final slope of loose rocks. It was a perfect afternoon.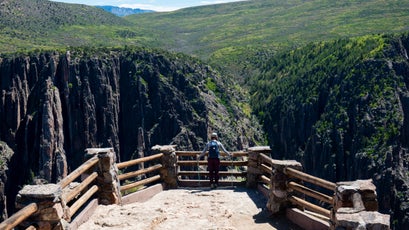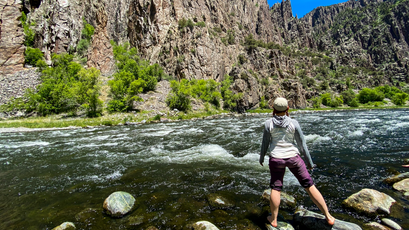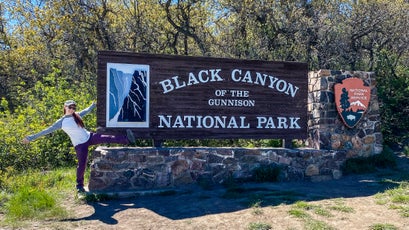 When it was time to return, I shouldered my backpack and slowly began the long slog up the crumbling canyon wall, sweating and panting for the entirety of the ascent.
We spent our final hours cruising around South Rim Road, staring awestruck at Painted Wall View, a panoramic lookout aimed at Colorado's highest cliff face. There was something mystical about emerging from the canyon's dark maw to watch the dying of the light from a boulder on its rim.
I felt spit up, flushed out, and made whole—exactly what the wilderness is for.
63 Parks Traveler Black Canyon of the Gunnison Info
Size: 30,750 acres
Location: Western Colorado
Created In: 1933 (national monument), 1999 (national park)
Best For: Climbing, scrambling, stargazing, fishing, scenic drives, panoramic views
When to Go: Spring (23 to 68 degrees) and fall (22 to 74 degrees) afford the best weather for an inner-canyon trip. Summer (45 to 85 degrees) is great for shorter hikes along the rim and scenic drives, while winter (13 to 42 degrees) sees a lot of road closures and snow. (Temperatures listed were taken at the South Rim Visitor Center. Inner-canyon temperatures are generally six degrees warmer.)
Where to Stay: Both the north rim and south rim of the canyon offer National Park Service campgrounds with fire rings, picnic tables, and food-storage boxes. Reservations are strongly recommended during the summer months.
Where to Eat: Zack's BBQ in nearby Hotchkiss, Colorado, does a mean rack of pork ribs. Enjoy them with spicy coleslaw and fries.
Mini Adventure: Drive the picturesque South Rim Road. Wind along the Black Canyon's edge, and check out Tomichi Point, Chasm View, and Painted Wall View along the way. Cap it off with a 1.5-mile round-trip hike to Warner Point, which overlooks the canyon's deepest section.
Mega Adventure: Scramble down to the Gunnison River. Both the north and south rims have several established routes for inner-canyon climbing (permit required). The Gunnison Route is the easiest of the bunch.