63 Parks Traveler
Capitol Reef Is the Most Peaceful of Utah's Mighty 5
Seek out slot canyons and sandstone cliffs at this lesser known park in Utah. It's our 62 Parks Traveler's 12th stop on her journey to visit every U.S. national park in a year.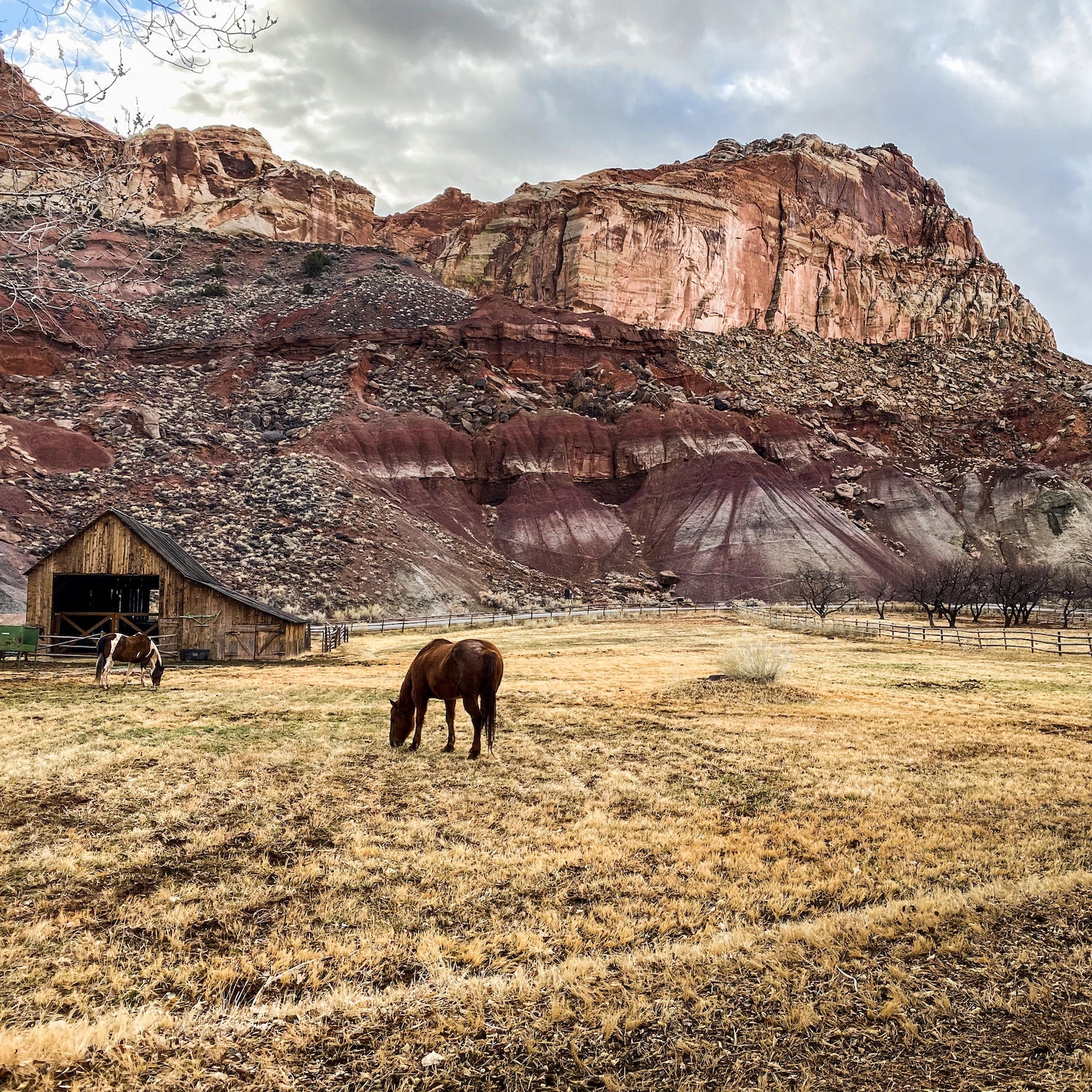 Heading out the door? Read this article on the new Outside+ app available now on iOS devices for members! Download the app.
62 Parks Traveler started with a simple goal: to visit every U.S. national park in one year. Avid backpacker and public-lands nerd Emily Pennington saved up, built out a tiny van to travel and live in, and hit the road. The parks as we know them are rapidly changing, and she wanted to see them before it's too late.
Pennington has returned to traveling and is committed to following CDC guidelines during the COVID-19 pandemic to ensure the safety of herself and others. She's visiting parks as they reopen and closely adhering to best safety practices.
---
When visiting Capitol Reef, it is customary for a ranger to try and convince you to eat pie for breakfast. At least that was my experience when I inadvertently traveled to the park on March 14, or Pi Day, the first day sweets are sold there. When I waltzed up to the counter at the visitor center, it was clear that baked goods were as almost as important as the region's natural bridges and slot canyons.
"It's got fruit in it" was the ranger's indisputable logic, when I initially balked at eating a dessert at 9 A.M. With an argument like that, how could I resist? I set off for the Gifford Homestead in the park's historic Fruita district, where I ordered the berry crumble. I have no regrets.
With a brain full of trailheads and a belly full of sugar, I drove my van 18 miles, clear across the park, past steep cliffs and mustard-hued canyon walls. My mission was an off-trail journey into one of Capitol Reef's most notorious slot canyons: Burro Wash, located in the far-flung Waterpocket Fold area.
Waterpocket Fold is the park's most defining geological feature. A 100-mile wrinkle in the earth's surface, it's a classic example of a monocline formation—a dramatic rift between otherwise horizontal layers.
I parked off Notom-Bullfrog Road under a gloomy sky and began hiking up a wide gravel wash, dodging cow patties and the occasional pang of loneliness. If you've ever wanted to embolden your feelings of solitude, setting off toward an unmarked slot canyon in the middle of rural Utah on a cloudy day is sure to do the trick. I waved at a timid herd of soot-black cows as though they were my companions. It felt nice not to be the only one on the trail.
Soon enough, the canyon walls began to narrow, and I found myself scrambling up and over huge hunks of Navajo sandstone to avoid stagnant pools of water. The hike was quieter than I expected, less Wild and more Cast Away. When I finally reached a dark pool that would have required a full-body soak to get across, I chose safety over brashness, humbly turned around, and clomped back to my van.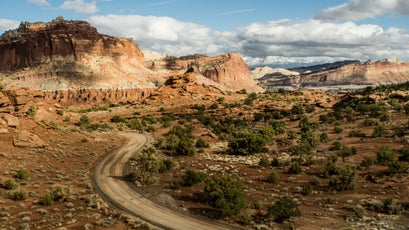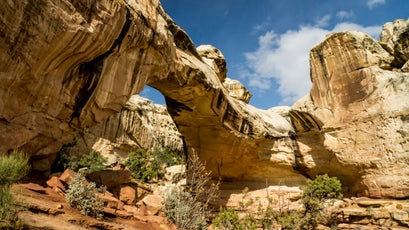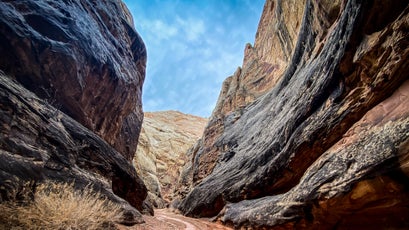 On day two, I opted for a more maintained trail into Spring Canyon, a deep winding groove cut into gigantic sandstone bluffs by flash floods that rip through the area during the summer monsoon season. Not even a mile into the hike, I was awestruck. Its big, crimson cliffs rose a thousand feet above the ground and were striped with deep purples and browns formed by millions of years of sedimentary strata. The trek had all the wow factor of Zion Canyon without the roads, the shuttles, or the crowds.
With its scenic drives through the red rocks and easy access to epic canyon treks, I wondered why Capitol Reef wasn't at the top of more travelers' lists. I hiked for three hours and only saw two other groups. It's a struggle to find that kind of solitude in Utah's other national parks.
Though the silence I encountered wasn't always a welcome companion, it challenged me to move carefully, take deep breaths, and learn how to feel secure inside my own skin. That's just about the most valuable thing a wild place can offer.
62 Parks Traveler Capitol Reef Info
Size: 241,904 acres
Location: Central Utah
Created In: 1937 (national monument), 1971 (national park)
Best For: Canyoneering, hiking, horseback riding, climbing, cultural history, backpacking
When to Go: Spring (34 to 75 degrees) and fall (31 to 80 degrees) bring near perfect temperatures. In summer (59 to 91 degrees), rain and flash floods are not uncommon. Winter is tolerable but cold (20 to 47 degrees), and visitors should watch out for snow on access roads.
Where to Stay: Although BLM land surrounds the park and provides easy camping for those following Leave No Trace principles, campers looking for amenities should check out Capitol Reef's Fruita Campground. It's centrally located and offers fire rings, picnic tables, potable water, and incredible views of the neighboring sandstone monoliths.
Where to Eat: The Rim Rock Patio in Torrey, Utah, serves up "spaghetti western" fare in casual digs just 12 minutes from the park's visitor center. Come for the freshly baked pizza, stay for the live music.
Mini Adventure: Cruise past Gifford Homestead, Grand Wash, and Capitol Gorge on Capitol Reef's eight-mile scenic drive. This paved motorway is full of turnouts and spectacular vistas perfect for the amateur photographer or geologically curious; just step out of the car for any number of views of the park's varied rock layers, from the Moenkopi to the Navajo Formations.
Mega Adventure: Seeking solitude? Backpack Upper and Lower Spring Canyon. The 23-mile journey takes in sheer cliffs of rust- and ivory-colored sandstone and is best experienced as a two-night point-to-point trek. Free overnight permits can be obtained at the Capitol Reef Visitor Center.