63 Parks Traveler
Hiking the Grand Canyon Is the Trip of a Lifetime
From epic views to Phantom Ranch, this trek should be on every adventurer's bucket list. It's our 62 Parks Traveler's tenth stop on her journey to visit every U.S. national park in a year.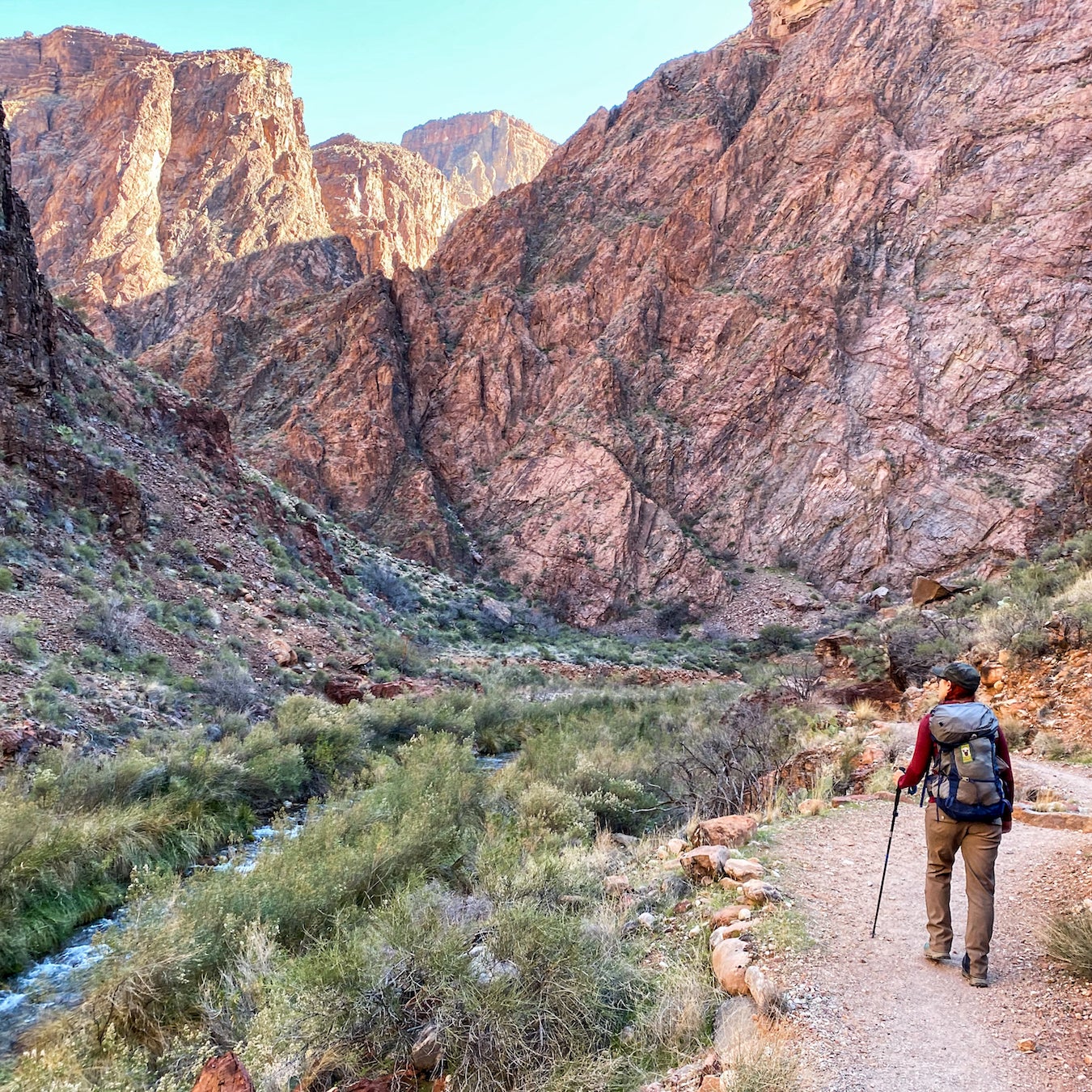 Heading out the door? Read this article on the new Outside+ app available now on iOS devices for members! Download the app.
62 Parks Traveler started with a simple goal: to visit every U.S. national park in one year. Avid backpacker and public-lands nerd Emily Pennington saved up, built out a tiny van to travel and live in, and hit the road. The parks as we know them are rapidly changing, and she wanted to see them before it's too late.
Pennington is committed to following CDC guidelines during the COVID-19 pandemic to ensure the safety of herself and others. She's currently on a travel break until the parks begin to reopen. In the meantime, we'll continue to publish her previously completed parks to help you take your mind off the pandemic and plan for future adventures.
---
Some trips feel like great misadventures in which nothing goes right, and some trips feel blissfully perfect from start to finish. I'm happy to report that my backpacking trip in the Grand Canyon fell into the latter category.
Because it's one of the most famous national parks in the country, hiking to the bottom of the Grand Canyon is a prize on most outdoor lovers' bucket lists, and overnight permits must be secured well in advance. Getting to the bottom is like stepping back in time—two billion years back in time, to be precise. To reach your destination, you have to descend nearly a vertical mile along precipitous switchbacks sliced into the very edge of the rust-colored canyon walls. The journey was too special to take alone, so my partner, Brian, insisted on tagging along.
We began our trek on the South Kaibab Trail, a steep gash on the eastern edge of the gorge that plummets 4,860 feet to the Colorado River below. As we walked, the light shifted dramatically. The sun played funny games with our eyes. Shadows moved and faded; we hiked on.
Down through layers of bright-red dirt. Down through cracked blue rocks like broken robin's eggs. Down past mule trains and men wearing unironic cowboy hats. It was like hopping into a time machine to the Wild West.
We pitched our tent at the famous Bright Angel Campground, a small cluster of 33 sites with surprising amenities for the backcountry. Flush toilets, sinks with running water, food-storage lockers, and picnic tables were all a stone's throw from my sleeping bag.
One of the great wonders of the Grand Canyon is Phantom Ranch, situated at the intersection of the North and South Kaibab Trails. It's near impossible to score one of its coveted cabins or dorm rooms via the lottery, but hungry campers can make a reservation there for breakfast or dinner. All food and supplies are carried in by mule train. How could I resist?
Brian and I feasted on hot corn bread, fresh salad, and a hearty serving of homemade stew, topping it off with a monstrous piece of chocolate cake. We waddled back to our campsite and lay down on the adjacent picnic table to gaze up at the immense tapestry of stars.
"You know, it's good luck if you and your partner both see the same shooting star," Brian whispered.
We saw two that night.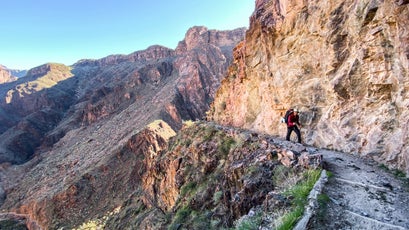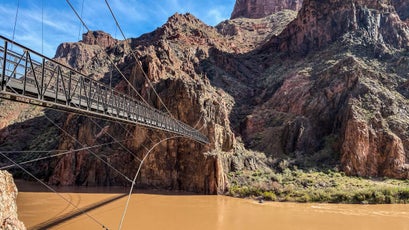 The next morning, we set off on the Bright Angel Trail, utilizing the park's shuttle system to create a big, 18-mile loop. We were hiking forward in time now, hopping over boulder after boulder of rock that was 200 million years old. After a steep climb of ten miles and 4,500 vertical feet, we'd be home.
I began to notice the sheer variety of visitors all around me: big groups of college friends, young Amish couples, and grandparents sharing the park's majesty with their little ones.
The views got better as we neared the top. I felt deliriously happy.
I took my final few steps out of the canyon, inhaled deeply, and smiled.
62 Parks Traveler Grand Canyon Info
Size: 1,217,403 acres
Location: Northern Arizona
Created In: 1908 (national monument), 1919 (national park)
Best For: Hiking, rafting, backpacking, scenic drives, mule riding, geology
When to Go: Spring (32 to 92 degrees) and fall (27 to 97 degrees) bring fewer crowds and more moderate temperatures, while winter (18 to 62 degrees) offers more solitude if you can brave the snow and ice. Inner-canyon hiking is not recommended in summer, when temperatures near the river can reach 106 degrees. Be aware that temperatures at the canyon bottom are generally 10 to 15 degrees warmer than those at the rim.
Where to Stay: Just an hour outside the park, Williams, Arizona, is a Route 66 mecca and home to dozens of affordable bed-and-breakfasts. We stayed at the quaint Canyon Country Inn as we were preparing for our trek. Those looking for the once-in-a-lifetime opportunity to stay at Phantom Ranch will need to enter the lottery 15 months in advance of their travel dates.
Where to Eat: Pine Country Restaurant in Williams serves up big portions of down-home cooking and over three dozen different flavors of pie every day. To dine at Phantom Ranch, make a reservation at least a week in advance in the winter and at least a month in advance in the summer.
Mini Adventure: Hike the 13-mile Rim Trail, located on the South Rim. This flat, mostly paved pathway is one of the longest accessible trails in the parks system. Start at Yavapai Point to learn about the canyon's geology before continuing on toward Trailview Overlook and Powell Point. When you've had enough, simply hop onto a park shuttle and ride it back to your vehicle.
Mega Adventure: Backpack the South Kaibab–Bright Angel loop. Park near the Bright Angel Trailhead, and ride the shuttle bus to South Kaibab, then travel thousands of feet below the South Rim and camp near the banks of the churning Colorado River at the Bright Angel Campground. Climbing out along the Bright Angel Trail, hikers can choose to stop overnight at Indian Garden Campground to break up the vertical gain. Permits are required for backcountry travel and become available four months in advance of the trip date. Visitors can enter an online lottery for the most popular trailheads.
Corrections:
(02/14/2022) A previous version of this story stated that Williams, Arizona, was a mile from the Grand Canyon. It's closer to an hour's drive. We regret this error.