63 Parks Traveler
See Some of the World's Oldest Trees at Great Basin
While most bristlecone pines are between 2,000 and 3,500 years old, a special few can live to be nearly 5,000—and they're easily found in this area of Nevada. It's our 62 Parks Traveler's 17th stop on her journey to visit every U.S. national park in a year.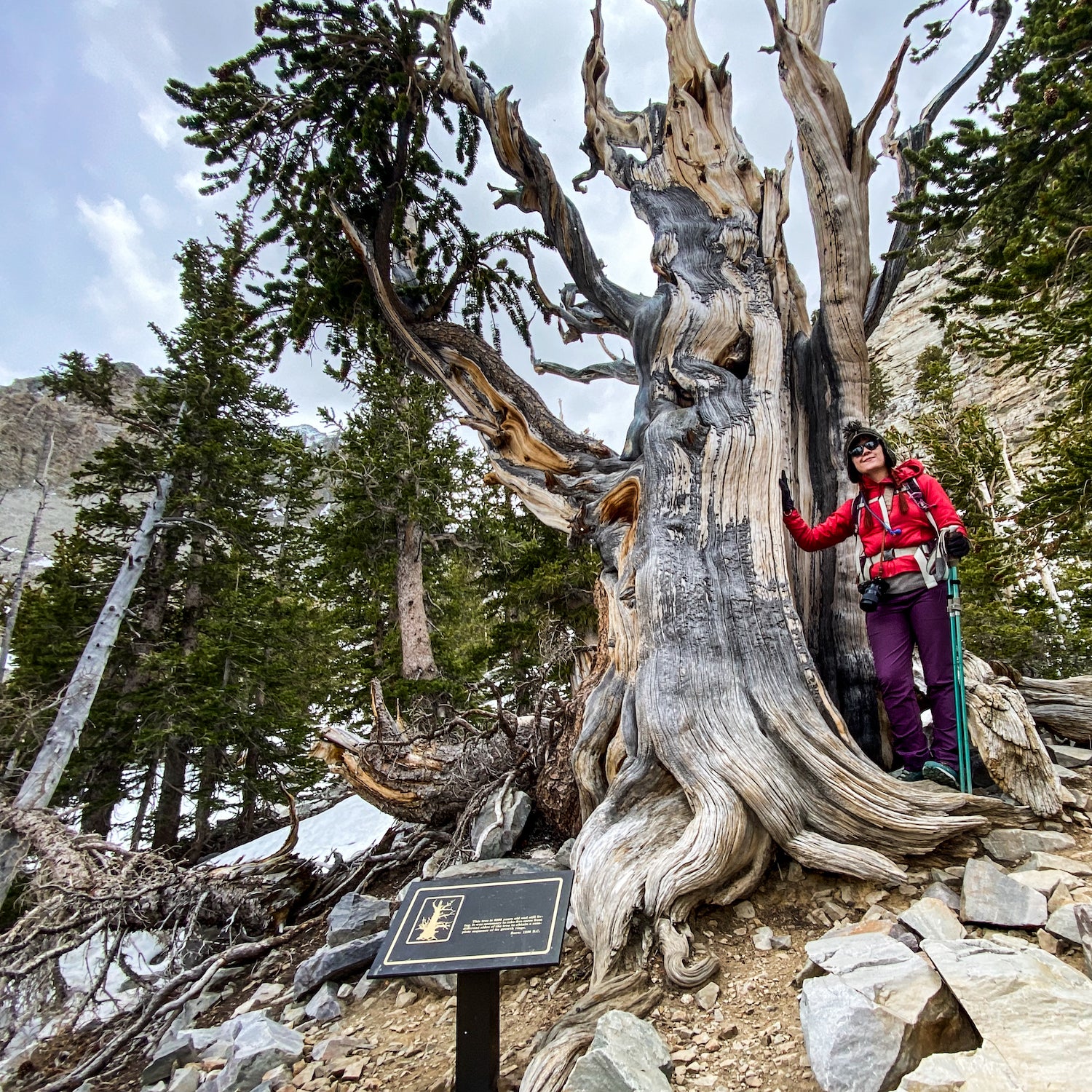 Heading out the door? Read this article on the new Outside+ app available now on iOS devices for members! Download the app.
62 Parks Traveler started with a simple goal: to visit every U.S. national park in one year. Avid backpacker and public-lands nerd Emily Pennington saved up, built out a tiny van to travel and live in, and hit the road. The parks as we know them are rapidly changing, and she wanted to see them before it's too late.
Pennington has returned to traveling and is committed to following CDC guidelines during the COVID-19 pandemic to ensure the safety of herself and others. She's visiting new parks as they open and closely adhering to best safety practices.
---
Visiting Great Basin National Park in eastern Nevada is like teleporting from the arid desert to the high alpine in a matter of minutes. After a six-hour drive along Highway 50, dubbed "the loneliest road in America," I cruised through the tiny town of Baker, then found myself transported into a lush pine forest.
I took a sharp right onto Wheeler Peak Scenic Drive and parked among the bright marigold-colored balsamroot blooms near Upper Lehman Creek Campground. A brisk wind occasionally tussled my hair as I packed up my things to hike. It was going to be a long day.
Not five minutes after I started on the trail, I passed a ranger doing maintenance work. "You going up?" he hollered. "Not all the way," I replied, "Just hiking to the bristlecones."
"That's like 5.5 miles each way!" he said. "I know! It's gonna be great," I replied. Eleven miles of pristine wilderness and not another car or hiker in sight—I was in heaven.
I set off beneath a canopy of Englemann spruce and ponderosa pine, the rushing water of Lehman Creek punctuating the silence. In three and a half miles, I was eating lunch on a park bench with a perfect view of Wheeler Peak, Great Basin's most notorious mountain, standing at an elevation of 13,065 feet.
As I walked through the closed campground at 10,000 feet, I bumped right into the same ranger I saw that morning. "You made it!" He said. "The Bristlecone Trailhead's right over there."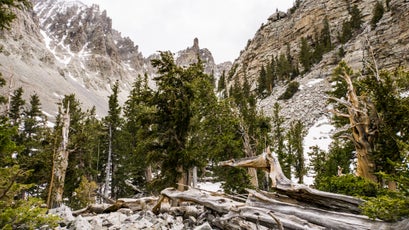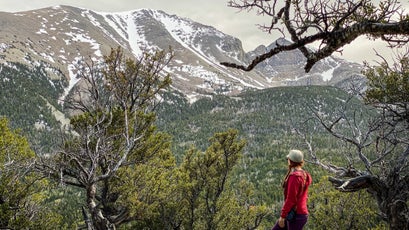 That's when the day took a left turn from casual stroll into full-blown adventure. I quickly became one of only two sets of footprints pushing uphill through the patchy May snow. Half a mile in, I was the only set. Breaking through thigh-deep, snowy sludge made for slow going on a trail that was supposed to be a mellow 2.8-mile jaunt into the ancient forest. It took me 30 minutes to go a quarter-mile.
Ever the stubborn hiker, I persisted, and eventually I found myself in a grove of giants, nestled under the craggy pinnacles of Wheeler Peak's cirque. It was so worth it.
Great Basin is one of very few places where visitors can get up close to the oldest trees on the planet. While most bristlecone pines are between 2,000 and 3,500 years old, a special bunch can live to be nearly 5,000.
I placed my hand on the ragged trunk of one of these timeless beings and took a deep breath. This tree has lived through the rise and fall of Julius Caesar, a civil war, and the French Revolution, I thought. What I wouldn't give for a bit of their perspective, especially during a year like this.
Suddenly, the temperature dropped over ten degrees in just five minutes, and a light snow began to fall. Not wanting to get caught in a storm, I leapt to my feet and rushed down the mountain to my cozy little van. I was thinking of my silent conversation with the tree the whole way.
62 Parks Traveler Great Basin Info
Size: 77,100 acres
Location: Eastern Nevada
Created In: 1922 (Lehman Caves National Monument), 1986 (Great Basin National Park)
Best For: Stargazing, hiking, caving, backpacking, peak bagging, car camping
When to Go: Summer (48 to 86 degrees) and fall (26 to 75 degrees) offer the best conditions for snow-free hiking in moderate temperatures. Spring (24 to 66 degrees) is less busy and might have road closures up high, while winter (18 to 44 degrees) is best avoided. (Temperatures listed here were taken at about 7,000 feet.)
Where to Stay: The stunning Wheeler Peak Campground is closed for the 2020 season, but the Upper Lehman Creek Campground offers a lower-elevation option—7,300 feet—tucked into a dense pine forest, with plenty of privacy between sites.
Mini Adventure: Tour Lehman Caves, then hike the Bristlecone Trail. Though the caves were closed when I visited, they've been a fan favorite and a staple of the park for nearly a century. I recommend starting your day with a morning tour (if available), then driving up to the 2.8-mile Bristlecone Trail for an afternoon hike when it warms up.
Mega Adventure: Summit Wheeler Peak. In summer and fall, once the snow has melted, a summit attempt of this mountain is one of the park's great thrills. It's a steep eight-mile round-trip, with over 3,000 feet of elevation gain, but the 360-degree views at the top make all the leg burn worth it.